King of the Cage invades the state of Idaho this week with two shows in three days. On Thursday May 19th, the Coeur d'Alene Casino in Worley ID will host King of the Cage: Battle Zone, with an incredible pro/am lineup scheduled. And then on Saturday May 21st, the promotion travels to Fort Hall Idaho, to hold King of the Cage: Counter Punch at Fort Hall Casino.
---
Since May of 2012, King of the Cage has been visiting the CDA Casino Resort 4 times a year, consistently producing great fights cards featuring talented fighters from around the NW. But it is perhaps this Thursday's "BATTLE ZONE" fight card that tops them all, with just its final three main card bouts. In the main event, a tantalizing matchup is set between two of the top 145 lbrs in the NW in Julian "Juicy J" Erosa (15-3) versus Daniel "Agent Orange" Swain (16-6-1).

Erosa hails out of Yakima MMA and most recently was a fighter with the UFC, having had a successful stint on The Ultimate Fighter Season 22 last year, and then going 1-1 with a decision win in December over Marcin Wrzosez, followed by a KO loss to Teruto Ishihara in March. Just last month though, Erosa was unceremoniously cut by the promotion. The 26 year old Erosa was quick to pick up a fight once he was cut, and no gimme either, obviously showing a desire to quickly work his way back to the UFC, starting with a high-quality opponent such as Daniel Swain.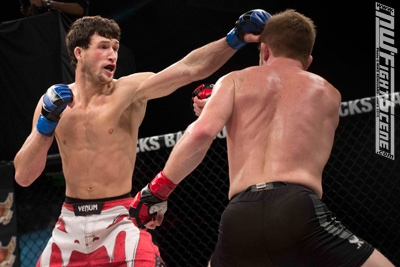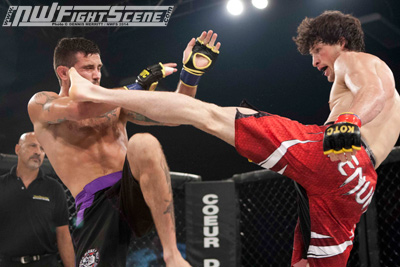 Meanwhile, the very active Daniel Swain has already fought twice this year, getting two submission finishes, and is 4-1 since August 2015. The talented 25 year old trains out of Trevor Prangley's AKA and has fight experience in Canada, Russia, Japan, and all over the Pacific NW. He's taken on and beaten some of the best fighters the NW has to offer, including a pro win over the UFC's Sam Sicilia early in both their careers, and a win over Erosa at Battle Zone will certainly pad his already impressive resume.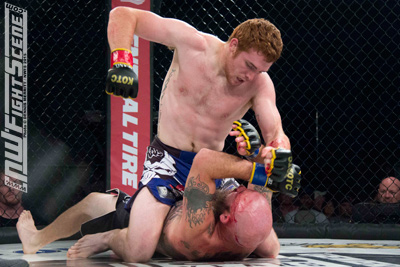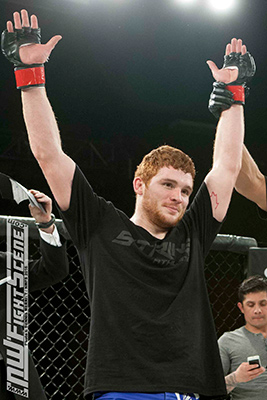 The Co-main Event features a battle of two of the NW's top big men in Jamelle "The Beast" Jones (6-2) versus Mike "300" Hayes (19-11-2) in a 215 lb catchweight bout. This is 28 year old Jamelle Jones first fight since his recent appearance as a light heavyweight on The Ultimate Fighter Season 23. Jones made the cut for the program but unfortunately lost his elimination fight to Myron Dennis to get into the TUF House. Previous to TUF, the explosive Jones went 4-0 in 2015, all TKO finishes, and has a professional record of 6-2, training with AKA and Sikjitsu.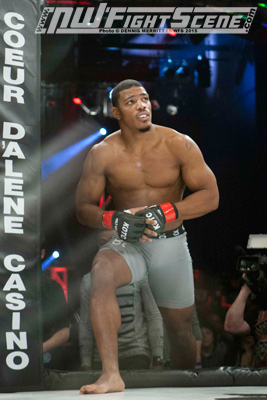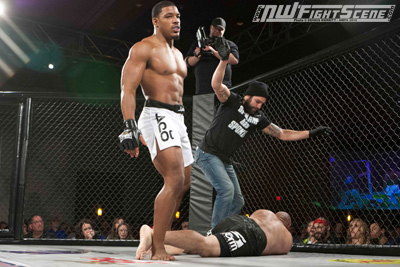 CDA Casino fight fans will remember Hayes from his appearance in the main event of KOTC Awakening in June 2015, where he fought MMA legend Trevor Prangley to a draw. Hayes is a veteran of both Bellator and Strikeforce, and has been active professionally since 2008. He most recent fight was a tough decision loss to Josh Copeland at WSOF 29 in March, and he looks to get back in the win column with a victory over Jones.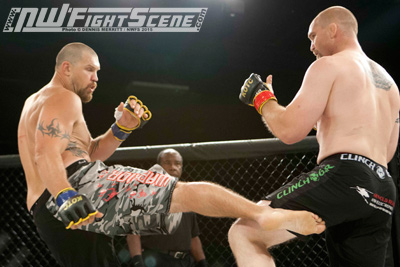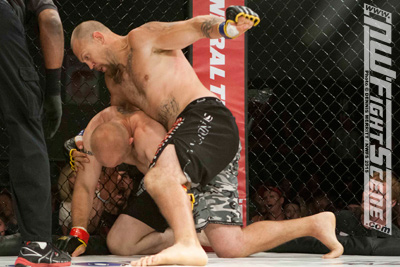 The KOTC Pro Cruiserweight Title (230 lbs) is on the line as Champion Wes "Soldier" Combs looks to defend his belt when he takes on Tony "The Gun" Bonello. Combs won the Cruiserweight title in 2011 and made a successful title defense in 2013. He has not fought since as he's had to overcome some injuries.

The Australian-bred Bonello fights out of Las Vegas and is a veteran of bouts all over the world, once holding the KOTC Cruiserweight Title in 2010. Bonello also has had time off from competition, last fighting in 2014 in Japan. Both these men are looking to make a statement in their quest for the King of the Cage Cruiserweight strap!

King of the Cage "Battle Zone" is at the Coeur d'Alene Casino on Thursday May 19th 2016. The casino is located at 37914 South Nukwalqw in Worley, Idaho. Doors open at 6 pm and fights start at 7 pm. Reserve seating, VIP, and ringside tickets are on sale at cdacasino.com or at the Coeur D'Alene Casino Resort Hotel box office. Event card and schedule are subject to change. More info at kingofthecage.com

KING OF THE CAGE "BATTLE ZONE" FIGHT CARD
Main Event - Pro 150 lbs
Daniel "Agent Orange" Swain (16-6-1, Trevor Prangley's AKA - Spokane WA) vs
Julian "Juicy J" Erosa (15-3, Yakima MMA - Yakima WA)

Co-main Event - Pro 215 lbs
Jamelle "The Beast" Jones (6-2, Trevor Prangley's AKA - Coeur d'Alene ID) vs
Mike "300" Hayes (19-11-2, White Buffalo Warriors - Cle Elum WA)

KOTC Pro Cruiserweight (230 lbs) Title
Wes "Soldier" Combs (20-6, Gracie Barra Portland - Portland OR) vs
Tony "The Gun" Bonello (16-3-1, Syndicate MMA - Las Vegas)

Pro 165 lbs
Ryan Schecterson (1-2) vs Travis Smith (2-2)

Pro 145 lbs
Mark Coates (4-2) vs Alex Eastman

Pro 170 lbs
Jessee Gengler (0-1) vs Tracy O'Brien (0-1)

Amateur 145 lbs
Dakota Schnall (5-1) vs Johnson Nasona (10-2)

Amateur 125 lbs
Kristen Maaranen (3-1-1) vs Gillian Noll (4-2)

Amateur 155 lbs
Daniel Smith vs Josh Bean

Amateur 135 lbs
Nolan Slette vs Kylan McKee

Amateur Heavyweights
Nick Masonholder vs Cary Ross
---
After wrapping up at the CDA Casino on Thursday, King of the Cage will travel across Idaho to Fort Hall, just North of Pocatello, holding "Counter Punch" - their debut show at the Fort Hall Casino. The fight card features a solid pro/am lineup of both local fighters from Pocatello and Idaho Falls, as well as fighters from Boise and further afield.

In the main event, a pro lightweight showdown is set between Western Washington fighter Jason "The Grinder" Gray (6-3) and local favorite Aaron "The Savage" Sutton (6-8). Gray has been an active fighter since turning pro in 2014, fighting mostly in Washington, and is 2-1 since October.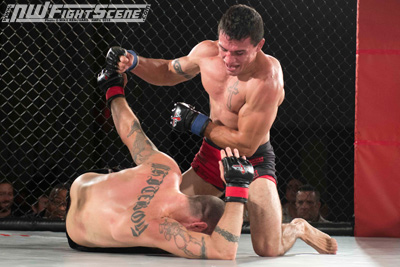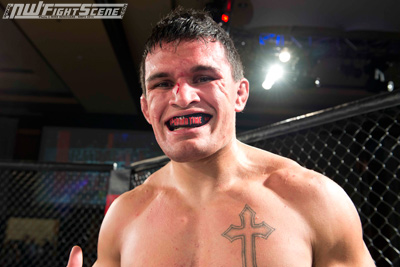 Sutton meanwhile, trains out of Team Davis in Pocatello and is looking to get back on the winning track for 2016 after going 1-2 last year.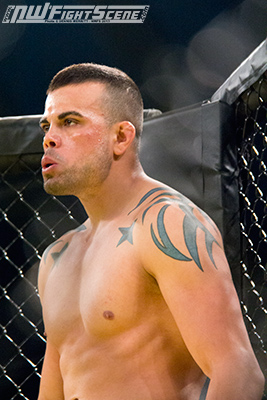 King of the Cage "Counter Punch" will take place at the Fort Hall Casino on Saturday May 21st 2016. The casino is located at Exit 80 on I-15, Simplot Road in Fort Hall ID. Doors open at 6 pm and fights start at 7:30 pm. Reserve seating, VIP, and ringside tickets are on sale at shobangaming.com or at the Fort Hall Casino box office. Event card and schedule are subject to change. More info at kingofthecage.com

KING OF THE CAGE "COUNTER PUNCH" FIGHT CARD

Main Event - Pro 155 lbs
Aaron "The Savage" Sutton (6-8, Team Davis, Pocatello ID) vs
Jason "The Grinder" Gray (6-3, Team Gray - Enumclaw WA)

Co-main Event - Pro 155 lbs
Storm Anderson (Debut - Bellevue ID) vs Darneal Stephens (1-0 - Pocatello ID)

Pro 145 lbs
Joe Aguirre (Debut - Idaho Falls) vs Chris Bateman (0-1 - Boise)

Amateur 205 lbs
Shay Baron (4-3 - Idaho Falls) vs Jameson Deschazer (1-0 - Boise)

Amateur 180 lbs
Wolf Cardona (4-2 - Pocatello) vs Grant DaCalio (0-1 - Boise)

Amateur 145 lbs
Lino Sanchez (2-0 - Caldwell ID) vs Ben Guymon (2-2 - Ogden UT)

Amateur 155 lbs
Frederick Powell (Debut - Victorville CA) vs Tristan Maes (1-2 - Boise)

Amateur 170 lbs
Ethan Beard (1-0 - Idaho Falls) vs Joe Valenzuela (Debut - Blackfoot ID)

Amateur 145 lbs
Tyson Craig (2-2 - Idaho Falls) vs Dominic Pierson (5-5 - Boise)

Amateur 125 lbs
Julie Daniels (3-1 - Bellevue) vs Pauline Macias (Debut - Los Angeles)
---