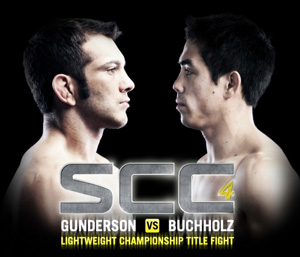 UFC vet and Team Alpha Male fighter Justin Buchholz (12-6), takes on UFC vet John "Quick Guns" Gunderson (32-12) for the Superior Cage Combat Lightweight belt in Las Vegas this coming Thursday, Feb 16th. Justin spoke with NW Fightscene's Spaniard last week about the fight and more...
---
NW Fightscene: You made recent comments about how you've gone above and beyond, and almost killed yourself in getting ready for this fight. You're a UFC veteran and so obviously have trained hard before. What was the difference this time from previous camps?
Justin Buchholz: It's just night and day from the way I used to train. Even from my fight with [Thiago] Meller [at SCC2 in Aug 2011], it's just been getting crazier and crazier the stuff I've been doing to myself. Times everything by 50 like the amount of rounds I'm doing, to cardio to road work to mitt work. I'm just doing way more than I ever thought I could. A lot of it has to do with my nutrition. Just having the energy to stay on the mat like that. I'm just trying to stay on the mat as long as I possibly can. When Team Alpha Male practice starts at 9:30, I'm in the gym at 8 AM every single time. And the last practice we have is 7:30 and I'm there till 8 PM every single night.. I've tapered that way down now since I'm a week out. But I just break my body down. It's like going deep down into hell. Just the worst kind of things you can have. I mean by the time I spar a UFC fighter or a top guy on the team, I've been on the mat for two hours, exhausted, a gallon of water out of my body, and I spar you at that point. Just imagine when I'm fresh and ready for this guy. I'm going to burn right through Gunderson. He's got no idea what's going to happen to him. I've said that before, but I'm on a completely different level right now.
NWFS: Training at Alpha Male obviously there are a lot of top guys there. Who have you used to mimic UFC vet John Gunderson?
Buchholz: I haven't... Everyone I train with in my opinion is a better fighter and more skilled [than Gunderson]. I don't think anyone really trains like we train. I actually coach the team practice in the morning at Alpha Male. I run it and set everything up. And I participate in it... I haven't really had anyone try to mimic him at all. Gunderson's been around for a long time. He's a crafty veteran. He's a tough guy. I've got respect for that dude because he was fighting when there wasn't even a lightweight division in the UFC. I was training in Alaska at the time and didn't have any kind of experience and was fighting in a small show up there. And a guy named Mike Joy came up and beat us all up back then, and then Mike Joy actually went on to get knocked out by Gunderson a couple weeks later. So I was really impressed with Gunderson for a long time. But his time is coming to an end. I think he knows that. And I'm coming into my prime. I'm 28 years old. I'm experienced now. I know what I'm doing. I've fought some of the best guys in the world when I had no business being in there. I was just a kid who kind of.. I mean I describe it like someone opening up a door that I was leaning against and I fell backwards into The Octagon and ended up fighting guys. I had no clue what I was doing. I didn't know how to cut weight. I didn't know how to make weight. That's when I first came to California and really learned how to train and push my body.
NWFS: Gunderson says its his hometown and that you coming into Vegas is going to be an issue for you. Do you feel that's true?
Buchholz: Vegas is an hour away. I've been to Vegas 4, 5 times in the last three months. We had [Danny] Castillo fight Dec 30th. We had TJ Dillashaw fight a month before that. And I cornered those guys. I was in Brazil after that. I'm used to this traveling lifestyle. After my fight I'm going to Australia with [Joseph] Benavidez. I cornered Chad Mendes in his world title fight. Wrapped his hands. I think I'm one of the best cornermen in the game. I'm one of the best fighters in the game right now. And that's something I'm going to prove here in this fight and my next fights after that... But that's silly, it's an hour away by plane. I'll be off the ground for an hour and then I'll be there ready to whoop his ass. So that's not going to be an issue at all.
NWFS: Do you have to do a drastic weight cut to get to 55 or is it an easy weight cut for you?
Buchholz: It's an easy weight cut for me. I stay between 170 lbs and 175 lbs. I never blow up. I'm always in the gym. Since I got cut from the UFC, I haven't missed a day in the gym unless I'm out of town. I've changed my nutrition so much I can't remember the last time I was even sick to miss a day at the gym. I'm there every single day. I live 8 blocks from Ultimate Fitness. I don't cut that much weight. I actually made 166 today so that's 11 pounds off my target weight and I feel fine. I'm going to eat whatever I want right now, but I only want to eat good things. So that kind of helps.
NWFS: You two are the first ever to fight for the Lightweight Title for the SCC. How important is that for you to take home the belt and what does it mean to be the first to fight for the Lightweight Title?
Buchholz: Man, I'm really excited about this. I've never fought five rounds before. And I just cannot wait to get in there. The SCC, I'm just impressed with the show overall. I've fought in a lot of terrible shows. And I've fought in very few good shows. And the UFC is one of the good shows I've fought in and the SCC is another one of the good shows I've fought in. They're very professional. They treat you like a pro and they respect the fighters, and they run their show smoothly. The production is great. Its like a 30 foot Octagon. The crowd is always good. It's packed in the Orleans Arena. I'm just excited. I've been putting on good fights for them. The first SCC I was the main event and this one I'm the co-main event, so they're trusting me with this spot to bring excitement and I'm not going to let them down. I'm going to put on a good show and do something crazy and spectacular for sure.
NWFS: That leads to my last question. What type of fight can fans expect to see?
Buchholz: They're going to see how much punishment Gunderson can take because I'm going to put it on him right from the opening bell. And we'll just see how long he can go because you got to survive 25 minutes. I don't see him doing that at all. I don't think he's durable enough. I mean he's a durable guy, he's been in there with a lot of tough guys. I sound like a cocky, arrogant dude but when it comes to fighting I think I am. I'm going to go in there and put it on this dude. Like I said in my other interviews, I don't think he's ready to die over this belt. I'm ready to do that. This is five rounds. I almost killed myself in the gym, you know what I mean. Let's go. When we're under the lights, I'm just going to be ready to rock. I just really appreciate being the co-main event and fighting for the belt. And I'm not going to disappoint.
NWFS: Any shoutouts?
Buchholz: Just Ultimate Fitness, Team Alpha Male. If you're anywhere near the Sacramento area, North Cal area, and you're not training with Team Alpha Male or the Diaz brothers, you're not gonna to do nothing. You better get with one of those teams. That's about it.
---
Many thanks to Justin for taking the time to speak with NW Fightscene. He'll be fighting John Gunderson for the SCC 155 lb title in the Co-main Event of SCC4 this coming Thursday, Feb 16th at the Orleans Arena in Las Vegas. More info at superiorcagecombat.com. Justin is online at twitter.com/jbmma155.