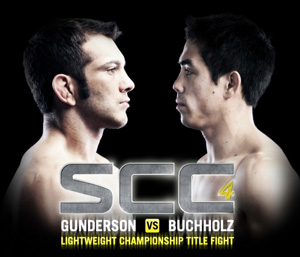 John Gunderson (32-12) , UFC vet training in Las Vegas at Xtreme Couture, fights Justin Buchholz (12-6) for the Superior Cage Combat Lightweight belt in Vegas this coming Thursday, Feb 16th, 2012. John spoke with NW Fightscene's Spaniard last week about the fight and more....
---
NW Fightscene: Training at Xtreme Couture, tell us about some of the things you're going through to prepare for this 5 round battle.
John Gunderson: I've just been putting in the work. I just train six days a week. Train on some Kickboxing, grappling. I train everywhere, every aspect. My strength and conditioning. Every aspect you can train for MMA, I've definately covered it. Every part of training I need to do. I've had plenty off fights. I know what it takes to get ready for a fight. I'm excited for this fight. I'm healthy. I'm not too busy with work. I'm pretty much focusing on this fight.
NWFS: Buchholz's kicks are a little unorthodox, he's long, he's lanky. Who are some of the people you've brought in or have at Xtreme Couture to kind of mimic him?
Gunderson: You know, we got so many good guys at Xtremem Couture. So many good guys coming in and out. I've called up certain guys in Vegas. Kickboxers that are pretty good. Guys that are better than Justin Buchholz in a lot of areas. Guys that are better kickboxers, better wrestlers, better grapplers. Just like him, he's got a bunch of good guys at his gym too. At Team Alpha Male. I pretty much got it covered. I'm not too much focusing on what he's going to do. I'm just going to focus on what I'm going to do to him.
NWFS: You said you're healthy. How important is it to a fighter to go through a full camp healthy?
Gunderson: It's real important, real important. It doesn't hardly ever happen. I'm not saying that I went through this whole camp being healthy, but I'm healthy right now. That's what matters.
NWFS: What are your thoughs on Justin as an opponent?
Gunderson: He's tough. He's fought in the UFC five times. He's knocked out one of my training partners. I've watched a lot of his fights. He's real exciting, he's real dangerous. He's coming in on a win streak so he's built some confidence. He seems to really believe in himself. He's cocky. He seems like he's going to be ready to go. I know he's a cardio machine. It's one of those things where I try to get back to how I used to really have an edge on fighters. I was just tough and I had great cardio. So I figured, you know what, I'm going to go back to what worked and I've really focused hard on my cardio. I feel like I got so much experience and I know what I'm doing, as long as I'm in shape and healthy, I think I can take him out.
NWFS: Where do you think he's most dangerous?
Gunderson: I think he's pretty much dangerous everywhere. He throws unorthodox punches, kicks. He's a finisher. Everything he throws and does is to finish the fight. But I also think he likes to show off a little bit... And I don't think he's fought someone like me for a long time, except maybe Mac Danzig. He hasn't fought someone well-rounded. He's fought guys that are good in certain areas but not everywhere. And I can win this fight anywhere the fight goes, i have a chance to win. I've got twice the experience he has and this [Las Vegas] is where I live now. I put a lot of work into this. I'm not going to go into this and get punked in my town where I'm living and where I've made a name for myself. I'm going to go out there and I'm going to look to put him away.
NWFS: Speaking of fighting where you live, how important is it for you to take home the title in your hometown?
Gunderson: It means everything to take home the title in front of all these people I got. I got a few hundred people I know coming to watch me fight. I want to be able to have bragging rights and hold my head high this summer. Until the next fight, when I'll worry about that one. I'm going to do everything in my power to go out there and put this guy away.
NWFS: What's the weight cut going to be like?
Gunderson: The weight's all right. I'm fine. I'm where I should be. I'm a little light right now just because I've done so much conditioning. Because its a five round fight, I've had to train extra hard. So I'm light. But I'll be ready to go.
NWFS: What's the next week going to be like for you before the fight?
Gunderson: You know, I just focus on drills. A lot of drills. A lot of time, I like to go sit in the sauna and just kind of think and relax and just focus. Basically at this point in time, it's mental preparation more than anything else. To me, Vegas doesn't get to me becuase I live here. I'm fighting in my back yard now, so it's not a big deal to me. I'm sleeping in my bed. I think he's the one who's going to be nervous. He's the one who's going to come out trying to take my head off, but he's going to have to worry about his head coming off before he gets a chance to do that to me.
NWFS: Last question. What type of fight will fans see February 16th?
Gunderson: I think its going to be a war man. To be honest with you, I want this to be my last year of fighting. I really want to have a good year of fighting. I'm coming after him. I really am. I'm coming after him. I don't mind spending the night in the hospital or going to the emergency room after the fight. As long as I look right next to me and he's in the room next to me, or he's on the other side of that curtain. I'm looking to hurt him. I really am. He's a good fighter. He's a good guy, a good person. But when he's in that cage standing across from me, I'm looking to put him in the hospital. And thats my goal, is to hurt him. And I'm in there to inflict a war on him and do everything in my power in that 25 minutes to either knock him out or make him unconscious.
NWFS: Any shoutouts?
Gunderson: I'd like to thank all my training partners at Xtreme Couture. Of course, I'd like to thank the SCC. Epic Fight Gym. The Gun Store. And Vegas Fighters.
---
NW Fightscene would like to thank John for taking the time to speak with us. He fights Justin Buchholz for the SCC 155 lb title in the Co-main Event of SCC4 this coming Thursday, Feb 16th at the Orleans Arena in Las Vegas. More info at superiorcagecombat.com. John is online on Facebook here.