ALL 13 BOUTS OFFICIAL FOR STAR-STUDDED WOMEN'S MMA EVENT

KANSAS CITY, Kan.(Jan. 4, 2013) - All 13 bouts, including the main event and first-ever Invicta Fighting Championships world strawweight (115 pounds) title fight between Carla Esparza (8-2) of Redondo Beach, Calif. and "Rowdy" Bec Hyatt (4-1) of Brisbane, Australia, were made official today for the promotion's fourth women's Mixed Martial Arts (MMA) event tomorrow, Saturday, Jan. 5 at Memorial Hall in Kansas City, live on Invicta FC.com..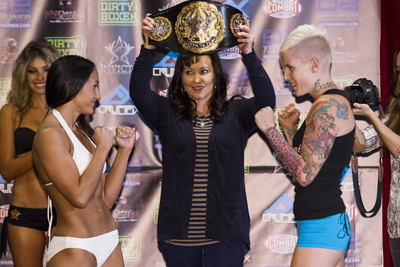 Carla Esparza vs Bec Hyatt
Esparza weighed in at 114.75 pounds while Hyatt weighed in at exactly 115 pounds.

Bantamweight (135 pounds) co-main event opponents Shayna "The Queen of Spades" Baszler (15-7) of Sioux Falls, S.D. and Alexis Davis (12-5) of Port Colborne, Ontario, Canada tipped the scales at 134.75 pounds and 135.75 pounds, respectively.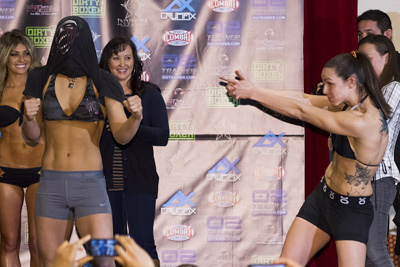 Shayna Baszler vs Alexis Davis

Of the 26 fighters on the card, only Veronica Rothenhausler (0-0) of Reno, Nev. weighed in one-half pound over the 146 pound limit for her featherweight (145 pounds) preliminary card bout with Katalina Malungahu (2-1) of Las Vegas, Nev. Rothenhausler will make her professional debut after reeling off two consecutive, five-second KO victories as an amateur.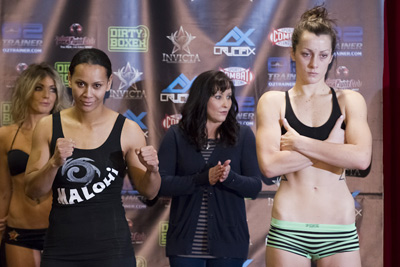 Katalina Malungahu vs Veronica Rothenhausler
Tickets for Invicta FC 4: Esparza vs. Hyatt, priced from $25, are on sale at Memorial Hall box office (913-549-4853), online at Ticketmaster.com and InvictaFC.com and by phone at 800-745-3000.


The live stream of the event, which will begin at 7 p.m. EST/4 p.m. PST, is available for purchase, in its entirety, on InvictaFC.com for a credit card charge of $7.95. MMA legend Bas Rutten, superstar "King Mo" Lawal and women's sensation Julie Kedzie will call the action cageside.

In other main card, power puncher Leslie "The Peacemaker" Smith (4-2-1) of Pleasant Hill, Calif. will square off with submission specialist Raquel "Rocky" Pennington (3-2-1) of Colorado Springs, Colo. at bantamweight.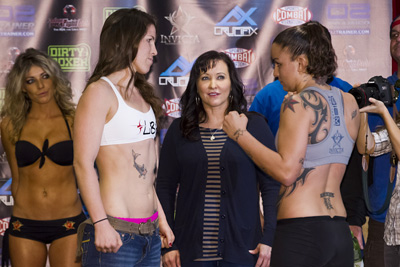 Leslie Smith vs Raquel Pennington
Hard-hitting KO artist Amanda "Lioness of the Ring" Nunes (7-2) of Salvador Bahia, Brazil will take on submission specialist Sarah "The Monster" D'Alelio (6-3) of San Jose, Calif. at bantamweight.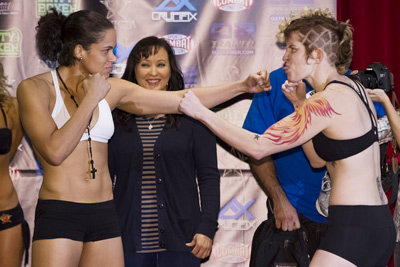 Amanda Nunes vs Sarah D'Alelio
JEWELS star Hiroko Yamanaka (12-2) of Kisarazu, Japan will battle Invicta FC 3 winner Ediane Gomes (8-2) of Fort Lauderdale, Fla. in a featherweight (145 pounds) contest.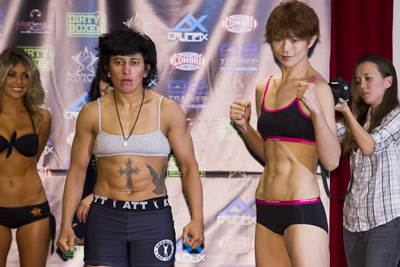 Ediane Gomes vs Hiroko Yamanaka

Unbeaten Matt Lindland-protégé and European Muay Thai Champion Livia von Plettenberg (1-0) of Vienna, Austria will meet undefeated Joanne Calderwood (4-0) of Glasgow, Scotland at strawweight.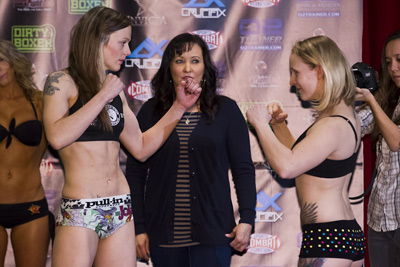 Joanne Calderwood vs Livia von Plettenberg
The seven-bout preliminary card will be capped off with an atomweight (105 pounds) matchup between Stephanie Frausto (4-4) of Cincinnati, Ohio and Cassie Rodish (3-3) of Des Moines, Iowa.

Unbeaten Tamikka Brents (1-0) of Springfield, Illin. will take on Amanda Bell (0-0) of Medford, Ore. at featherweight.

Jodie Esquibel(2-0) of Albuquerque, N.M. and Liz McCarthy (1-0) of Tigard, Ore. will square off at atomweight.

Emily Kagan(2-0) of Albuquerque, N.M. will put her undefeated record on the line against Rose Namajunas (0-0) of Milwaukee, Wis. In a strawweight matchup.

Paige Van Zant(2-0) of Sparks, Nev. will face off with Tecia Torres (1-0) of Ft. Lauderdale, Fla. at strawweight.

Laura MarcusseSanko (0-0) of Kansas City will make her professional debut in the cage in an atomweight matchup with Cassie Robb (0-0) Casper, Wyo.

Doors at Memorial Hall open for Invicta FC 4: Esparza vs. Hyatt open at 5 p.m. CST and the first preliminary bout begins at 6 p.m.
---
About Invicta Fighting Championships:
Invicta Fighting Championships (InvictaFC.com) is a world championship Mixed Martial Arts (MMA) fight series dedicated to providing female athletes with a major platform to hone their skills on a consistent basis. Founded in 2012 by longtime MMA executive Shannon Knapp and sports aficionado Janet Martin, Invicta is committed to pioneering the future growth of women's MMA by promoting the best possible matchups between female competitors and identifying and developing future superstars of the sport.
---