On April 28th 2012, the inaugural Invicta Fighting Championships went down inside Memorial Hall in Kansas City and streamed live to a large audience around the world on InvictaFC.com as 22 pro female fighters squared off in 11 MMA matchups. Photographer BJ Hickok was cageside repping NW Fightscene and turned in these amazing images from the nights action (plus weigh-in pics as well). In the main event, former Strikeforce 135 lb Champ Marloes Coenen took on French fighter Romy Ruyssen in a 145 lb rematch and it was all Coenen as she cruised to a unanimous decision, 30-26 across the board.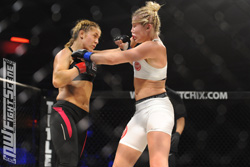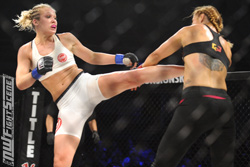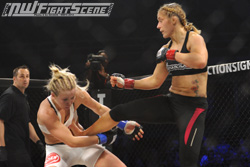 In the co-main event, the NW's own Lisa Ellis fighting out of Olympia's United Training Center took on So. Cal Fighter Jessica Penne at 105 lbs. This was a great fight to watch for the fans with both fighters showing tremendous skill both on the feet and the ground. The first round likely went to Penne and the 2nd definately went to Ellis, so in the third both fighters came out strong to try and take home the win, exchanging kicks and punches on the feet. Unfortunately for Ellis, a big knee from Penne caught her on the nose about a minute in, and it bled profusely from that point, changing the flow of the match and allowing Penne to eventually take her back on the ground and finish with punches at 2:48 of the third.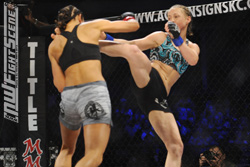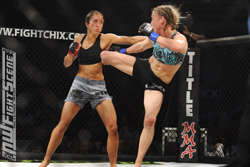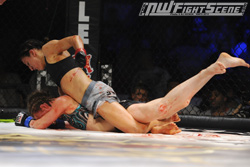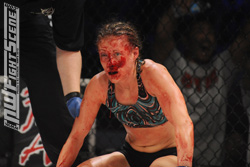 Sarah "The Monster" D'Alelio, who rose up out of the NW amateur MMA ciruit from Olympia WA and now trains in the Bay Area, took on LA based fighter Vanessa Mariscal at 135 lbs. The first round belonged to D'Alelio who came out, got the early takedown, and spent the remainder of the round working her ground and pound game while going for a submission finish which Mariscal did well to defend. In the 2nd round, a similar scenario came into play with D'Alelio getting the takedown, wearing Mariscal down with strikes that Mariscal eventually tapped to at 3:19 in.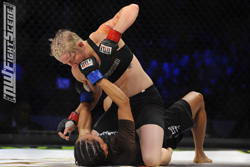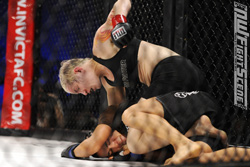 At 115 lbs, "Slick" Sally Krumdiack out of Charlie's Combat Club in Everett WA faced off with Kansas City's own Sarah Schneider. Krumdiack closed distance early and pushed Schneider against the cage, controlling the clinch. Schneider caught Krumdiack with an uppercut that caused a bleeder but Krumdiack was still in charge of the action. The fight went to the ground where Schneider pulled guard and threw up a triangle on Krumdiack, quickly transitioning to an armbar which Krumdiack was forced to tap to at 3:01 of the first.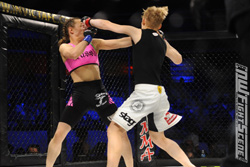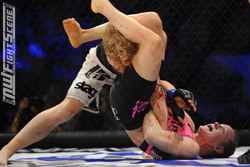 Idaho Falls fighter, Amy "Lil' Dyanamite" Davis, submitted Tulsa's Nicdali Rivera-Calanoc via a 2nd round Kimura in a 105 lb contest. Davis nearly submitted Rivera-Calanoc in a triangle attempt early in the first round but Rivera-Calanoc escaped and closed out the round strong with strikes on the feet. In the 2nd, Rivera-Calanoc, being cornered by former Strikeforce Champ Miesha Tate, looked sharp with her standup, scoring points and keeping Davis on the defensive. She went for a takedown but unfortunately wound up in a bad position which Davis capitalized on, eventually catching Rivera-Calanoc with a kimura that finished the fight at 3:47 of round 2.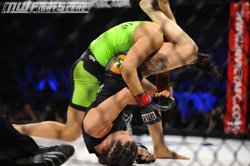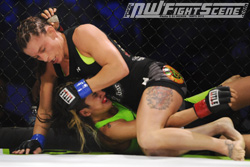 Fight of the night honors went to Minnesota's Kaitlin Young and Leslie "The Peacemaker" Smith fighting out of the Bay Area with the pair putting on an extremely entertaining 15 minute war that had the fans on their feet. In the end, the judges ruled it 29-28, 28-29, 29-29 for a Split Draw.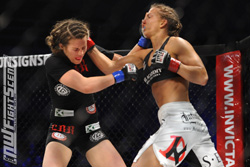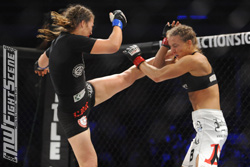 All bouts from Invict FC 1 can be watched on the Invicta FC Youtube Channel HERE. Invicta FC 2 is set for July 28th with another stacked all-female fight card. The main event features Sara McMann taking on Shayna "The Queen of Spades" Baszler at 135 lbs. The co-main event has Hitomi "Girlfight Monster" Akano going up against Alexis Davis, also at 135 lbs. Strikeforce vet Julia Budd out of Port Moody BC will face Swedish fighter Elina Nilsson at 145 lbs. Three other NW fighters are on the undercard: Sarah Moras of Kelowna BC fights Raquel Pennington, Cheryl Chan of Surrey BC makes her pro debut against Jocelyn Lybarger, and Tigard OR's Liz McCarthy battles Jessica Philippus at 105 lbs.
Learn more about Invicta FC online at InvictaFC.com and at their Facebook Page.