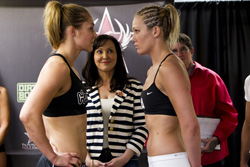 Marloes Coenen vs Romy Ruyssen
KANSAS CITY, Kan. (April 27, 2012) - All 11 bouts, including the featherweight (145 pounds) main event rematch between superstar Marloes Coenen (19-5) of The Netherlands and 22-year-old armbar wizard Romy Ruyssen (5-1) of France, were made official at today's weigh-in at Hotel Phillips for the inaugural Invicta Fighting Championships all-women's Mixed Martial Arts (MMA) event tomorrow/Saturday, April 28 at Memorial Hall, live on InvictaFC.com.
Coenen weighed in at 146 pounds and Ruyssen originally weighed in at 150.4 pounds, but cut to 149.8 pounds over the course of the next two hours to reduce the weight spread between the two headlining fighters to 3.8 pounds.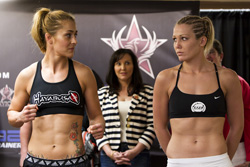 Marloes Coenen vs Romy Ruyssen
Kansas State Athletic Commission rules mandate that opponents, with the exception of those in the featherweight division, must weigh within three pounds of each other in order to compete the following day. Opponents in the featherweight division must weigh within five pounds of each other.
Tickets for the inaugural Invicta Fighting Championships event, priced from $35, are on sale at Memorial Hall box office (913) 549-4853), online at Ticketmaster.com and InvictaFC.com and by phone at (800) 745-3000.
The live stream of the event on InvictaFC.com will begin at 8 p.m. EST/5 p.m. PST with the five-bout preliminary card and continue with the six-bout main card. The stream will be available free of charge.
In the co-main event, two 29-year-old submission specialists - Jessica Penne (8-1) of Laguna Hills, Calif. and Lisa Ellis-Ward (14-7) of Lacey, Wash.- will square off with one another at strawweight (105 pounds).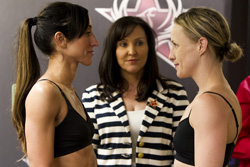 Jessica Penne vs Lisa Ellis-Ward
Strikeforce bantamweight star and United States Marine Liz Girl-Rilla Carmouche (5-2) of San Diego, Calif. will square off with unbeaten prospect Ashleigh Curry (1-0) of Kansas City, Mo.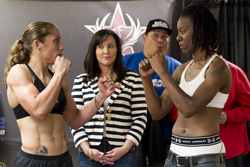 Liz Carmouche vs Ashleigh Curry
Leslie Smith (3-2) of Pleasant Hill, Calif. will meet Kaitlin Young (7-5) of St. Louis Park, Minn. at bantamweight and Sally Krumdiack (9-4) of Bellingham, Wash. will duke it out with Sarah Schneider (5-5) of Kansas City, Mo. at flyweight (115 pounds).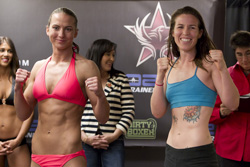 Kaitlin Young vs Leslie Smith
Grappling specialist Sarah D'Alelio (left) will face off with unbeaten Brazilian Jiu-Jitsu brown belt Vanessa Mariscal in a bantamweight (135 pounds) matchup.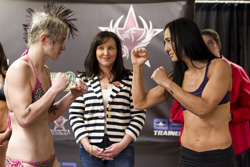 Sarah D'Alelio vs Vanessa Mariscal
In preliminary card action, 2008 Olympic wrestling bronze medalist Randi Miller (0-0) of Denver, Colo. will make her highly-anticipated MMA debut against Mollie Estes (1-0) Lake Lotawana, Mo.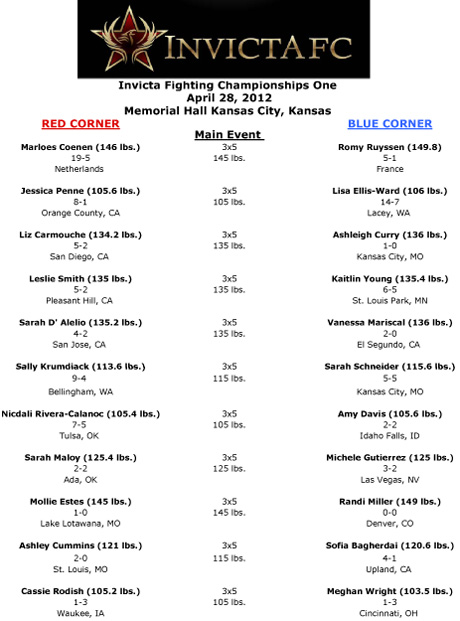 ---
About Invicta Fighting Championships:
Invicta Fighting Championships is a world championship Mixed Martial Arts (MMA) fight series dedicated to providing female athletes with a major platform to hone their skills on a consistent basis. Founded in 2012 by longtime MMA executive Shannon Knapp and sports aficionado Janet Martin, Invicta is committed to pioneering the future growth of women's MMA by promoting the best possible matchups between female competitors and identifying and developing future superstars of the sport.