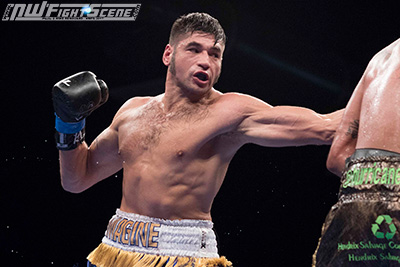 Mike Gavronski took a major step towards realizing his goal of fighting for a world title in 2018 as the Tacoma fighter cracked the World Boxing Association's Top 15 world rankings for the first time in his career.

Gavronski, the North American Boxing Association super middleweight champion, came in at No. 13 in the most current WBA world rankings.

Gavronski (25-2-1, 15 KOs) won the vacant NABA super middleweight title on Nov. 18 after defeating Andrew Hernandez by technical decision. The championship victory marked the fifth consecutive win for Gavronski.

"We're now part of the conversation," said Gavronski when asked his thoughts about potentially receiving a world title shot in the near future. "It's everyone's goal when they get involved in boxing to eventually become No. 1, and this (ranking) is a step towards that. It actually feels terrific."

Gavronski kicked off his winning streak on Sept. 10, 2016 by knocking out previously undefeated Jake Carr. He followed up that victory by snapping Thomas Awimbono's 18-fight winning streak which spanned more than five years. Additional wins over Quinton Rankin and Brian Vera occurred in 2017.

"I'm not sure exactly what's next for me. We're still figuring that out," said Gavronski. "I'm just going to keep working and improving, and control the things I can control."

"Mike has an incredible opportunity in front of him," said Gavronski's promoter, Brian Halquist. "Mike is very deserving of this world ranking. We are already fielding calls about Mike fighting in a huge fight. We should know more within the week. It's been awhile since a Northwest fighter has been poised for a world title fight."

Gavronski is looking to join a select fraternity of former world title holders who hail from the City of Destiny. The list of former Tacoma world champions include Johnny "Bump City" Bumphus, Rocky Lockridge, Leo Randolph and Freddie "The Tacoma Assassin" Steele.

Bumphus (29-2-0, 20 KOs) won the WBA Light Welterweight title in 1984. Lockridge (44-9-0, 36 KOs) won his first world title in 1984 by defeating Roger Mayweather for the WBA Junior Lightweight championship before winning the IBF Junior Lightweight crown in 1987 with a win over Barry Michael.

Randolph, who went 17-2-0 in his career and won the gold medal in the flyweight classification at the 1976 Olympic Games in Montreal, defeated Ricardo Cardona in 1980 to capture the WBA Super Bantamweight title.

Steele (123-5-11, 58 KOs) became the first Tacoma boxer to win a world title when he stopped Babe Risko in 1936 to win both the National Boxing Association (NBA) and New York State Athletic Commission (NYSCA) World Middleweight titles. Steele dropped the titles the following year before beating Carmen Barth in 1938 to become a two-time world champion.

Like Bumphus, Lockridge and Randolph, Gavronski was a product of the Tacoma Boxing Club, where he won numerous amateur titles, including a pair of Tacoma Golden Gloves championships, before turning pro in 2010.