TACOMA, Wash. - Brian Halquist Productions is proud to announce the signing of super middleweight contender Mike "Imagine Me" Gavronski (24-2-1, 15 KOs) to a multiple-year promotional contract.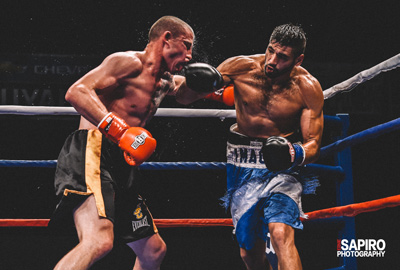 Gavronski is currently ranked No. 5 by the WBA's North American Boxing Association (NABA), No. 5 by the IBF's United States Boxing Association (USBA), and No. 2 by the WBC's North American Boxing Federation (NABF).

"It's exciting. I think we have some big opportunities coming our way," said Gavronski, a native of Tacoma, Wash.

Gavronski will have his first bout under the promotional agreement in the main event at Battle at the Boat 113 at the Emerald Queen Casino on Saturday, Nov. 18 against top contender, Andrew Hernandez. for the WBA-NABA super middleweight title.

"Tacoma has this incredible tradition of producing world-class boxers," Promoter, Brian Halquist said. "The list is legendary. You have Olympic Gold Medalist Sugar Ray Seales. You have former world champions in Leo Randolph, Johnny Bumphus and Rocky Lockridge. Mike Gavronski is the next in the line to join that highly selective fraternity."

Gavronski is coming off a TKO victory over Brian Vera on Sept. 9. It was his fourth consecutive win.

"We're just looking to keep this thing rolling along," Gavronski said. "I really believe I have the perfect people in my corner with my coach Eddie Rivas and Sam Ditusa. We just all click together."

Following a loss to Dashon Johnson in a bout for the vacant WBA-NABA USA super middleweight championship on Nov. 7, 2015, Gavronski has been on a tear.

He returned to his winning ways on Sept. 10, 2016 by handing previously undefeated Australian champion Jake Carr his first career setback with a sixth-round TKO. Carr has since won his last three fights.

Following the Carr victory, Gavronski squared off against knockout artist Thomas Awimbono, who was looking to extend his 18-fight winning streak in their Nov. 19, 2016 bout.

That failed to happen as Gavronski dominated their showdown, winning by unanimous decision in a lopsided affair.

"Mike's next fight will be the biggest of his career," said Halquist. "He has worked hard and is ready to make his move towards a world title shot. By winning the WBA's NABA title, Mike will essentially be guaranteed a top ten world ranking in the WBA. Our intention is to win this fight and come right back in January to defend the title. Each and every fight going forward will be the biggest fight in Mike's career. That's how close Mike is to a title fight. This will be a great ride for the Northwest boxing fans. It's been awhile since we've had a legitimate world title contender and I couldn't be more excited. Our goal is to have Mike fight for a title right here in the Northwest."

Gavronski made his 2017 debut on June 3 when he stepped into the ring to face Quinton Rankin (12-3-2). Gavronski would once again win by unanimous decision, placing him right on the doorstep of a top 20 world ranking.

Before turning pro in 2010, Gavronski was a local amateur sensational. Training with the Tacoma Boxing Club, he was a three-time Tacoma Golden Gloves champion, winning the 165-pound title three consecutive years (2006-2008), and earned the prestigious Tacoma Golden Boy title, which is presented annually to the tournament's most outstanding boxer, in 2008.

Gavronski made his pro debut on Jan. 9, 2010, defeating Darren Anzai by TKO at the Emerald Queen Casino.

He has fought 12 times at the Tacoma venue, posting a remarkable record of 11-1-0 with 6 KOs.

After opening his career with a record of 14-0-1, Gavronski faced future WBC Silver middleweight champion Tureano Johnson for the vacant WBC Continental Americas middleweight title on July 11, 2014. Johnson would win by decision.

Gavronski responded to the setback by winning his next six bouts, including a victory over Dashon Johnson.

For more information, please visit the Battle at the Boat Facebook page and www.halquistproductions.com.

ABOUT BRIAN HALQUIST
Brian Halquist Productions is the Northwest premiere fight promotion company creator of the famed "Battle at the Boat" boxing series promoting more than 20 years and over 150 fights at the Emerald Queen Casino. BHP has also built the largest professional MMA series on the USA's west coast with "Cage Sport MMA" nearing more than 50 fights. Brian Halquist Productions has promoted events for ESPN, ShowTime and HBO and featured on Showtime's historic boxing event in St Lucia, West Indies. Brian Halquist Productions has been promoting fights and concerts for over 30 years in the Pacific Northwest.