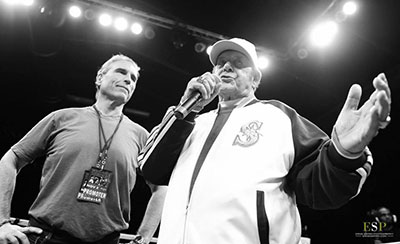 Brian Halquist (left) and Stan Naccarato (right). Photo credit: Halquist Productions
Original voice of Battle at the Boat played large role in long-time boxing series' success

TACOMA, Wash. – To say Stan Naccarato was instrumental to the success of the Battle at the Boat boxing series would be an understatement.

A former multiple-time chairman of the state boxing commission and two-time President of the Tacoma Athletic Commission, Naccarato was at the forefront during the series' infancy.

"Stan was there from the start doing a lot of the heavy lifting as we were looking to get things rolling," said Brian Halquist, president of Halquist Productions, the organization which runs Battle at the Boat. "He sold tickets. He was our ring announcer. He was invaluable, just a jack of all trades."

The inaugural Battle at the Boat took place on July 9, 1997. Naccarato was the ring announcer for the opening bout – a heavyweight clash between Eric "Butterbean" Esch and Scott Lindecker.

The fight went exactly 80 seconds with Esch scoring a victory by knockdown. Naccarato's involvement would last much longer.

"The interest in boxing in the Pacific Northwest was nonexistent 20 years ago. Stan played an incredibly large role in not only getting things rolling, but also helping us growing the series since its inception," Halquist said. "We have now done more than 100 shows at the Emerald Queen and we are the nation's longest-running tribal casino professional boxing series, and Stan's contribution to all of that is enormous."

Naccarato, who's involvement in boxing stretches seven decades and touches nearly any figure in Washington state's rich boxing history, would be the Battle at the Boat ring announcer for the next dozen years, serving as the announcer for multiple world title bouts and televised broadcasts.

"Stan would show up at the events and it seemed like he knew everyone. The fans would cheer for him just as much as they did the boxers," Halquist said. "He was just so passionate about Tacoma and sports. He was such a great ambassador for both. This was the perfect venue for him."

Known affectionately as "Mr. Tacoma," Naccarato passed away on May 25 at Tacoma General Hospital. He was 88.

"Today is a sad day for Tacoma as we lost one of our great leaders," said Emerald Queen Casino GM, Frank Wright. "Stan played such an important role for all age groups and all of their sports activities. Knowing its importance, he was always there to support and played a huge role in raising funds for the boys and girls clubs. Tacoma was everything to Stan and he will be dearly missed."

"We were with him at the hospital the other day and he was cracking everyone up, saying "Look at those shoes,'" said Halquist, referring to Naccarato's iconic catch phase which he would use to describe the ring card girls at Battle at the Boat. "There will not be another one like Stan. He will be greatly missed."

ABOUT BRIAN HALQUIST
Brian Halquist Productions is the Northwest premiere fight promotion company creator of the famed "Battle at the Boat" boxing series promoting more than 19 years and over 100 fights at the Emerald Queen Casino. BHP has also built the largest professional MMA series on the USA's west coast with "CageSport MMA" nearing more than 50 fights. Brian Halquist Productions has promoted events for ESPN, ShowTime and HBO and featured on Showtime's historic boxing event in St Lucia, West Indies. Brian Halquist Productions has been promoting fights and concerts for over 30 years in the Pacific Northwest.