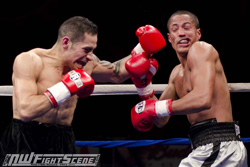 Tacoma, WA (December 30th, 2012) - Promoter, Brian Halquist, thought his days as a boxing promoter were going to slow down now that Joe Hipp had been taken to his shot at the Heavyweight Title and Greg Haugen had been promoted to his 4th world title.
That thought has now been changed.
In 1997, Brian Halquist Productions was contacted by casino manager, Frank Wright, about doing a show at the newly built Emerald Queen Casino (EQC). Call it fate, but Halquist Productions had been contacted a day earlier by Bob Arum's Top Rank. Arum and company had a problem; 10 days before a scheduled world title fight, the original venue had issues and they were looking for a new home for the Emmett Linton vs. Jose Flores world title fight. Halquist explained the situation to Wright and a few minutes later, Frank called Halquist back and said it's a go. What better way to promote a show? Linton was a Tacoma native and with some long days in the coming week, the show could be pulled off.
The two faced one problem. The EQC didn't have a venue at all. That changed later in the day when Wright found a gigantic tent that could fit 2,500 people. Chairs, lighting, seats.... Well an entire venue would be put together in those 10 days and the first Battle at the Boat would be in the books. That was Wednesday July 9th, 1997. Linton would have a no contest and the four round famous Butterbean would treat Northwest boxing fans to a 4th round knockout win over Scott Lindecker. The show was actually called Quarrel at the Queen followed by the next show that was called Slaughter on the Water. When the two planned the third show, both parties agreed that one name would suffice and they went with Battle at the Boat 3, signifying the riverboat that was located right next to the tent.
On January 5th, 2013, The Battle at the Boat will turn 90. Little did anybody know that that first fight would turn 90 16 years later.
Through the past 16 years, Northwest fight fans have been treated to the longest running fight series at any tribal Casino in the U.S.
Over the years, fight fans have seen literally every boxing network in North America that covers boxing, shooting shows out of the EQC including: Showtime, ESPN, ESPN 2, Azteca. Telefuturo, Telemundo - well you get it! Halquist Productions has promoted numerous title fights that can be seen below.
July 9th, 1997 - IABA Light Middleweight Title:
Emmett Linton (23-2-0, 12 KO's) NC Jose Flores (34-6-0, 21 KO's)
September 19th, 1997 - NABF Super Bantamweight Title:
Enrique Sanchez (22-0-0, 17 KO's) UD Nelson Medina (12-13-2, 2 KO's)
May 6th, 1999 - Northwest Heavyweight Title:
Alexander Zolkin (25-3-0, 17 KO's) KO Willie Williams (15-2-0, 10 KO's)
September 29th, 2001 - WBO Intercontinental, NABO, WBO Latino Super Bantamweight Title:
Joan Guzman (15-0-0, 13 KO's) UD Edel Ruiz (21-4-3, 17 KO's)
April 12th, 2003 - NABO Middleweight Title:
Kenny Ellis (28-4-2, 18 KO's) UD Fernando Zuniga (22-5-0, 17 KO's)
July 19th, 2003 - NABO Lightweight Title:
Luis Villalta (29-4-1, 25 KO's) UD Martin O'Malley (21-1-0, 14 KO's)
August 29th, 2003 - NABF, NABO, NABA Middleweight Title:
Kingsley Ikeke (17-1-0, 9 KO's) TKO Kenny Ellis (30-4-2, 19 KO's)
April 3rd, 2004 - NABA Middleweight Title:
Kenny Ellis (32-5-2, 21 KO's) TKO Darrell Woods (20-7-0, 15 KO's)
April 8th, 2006 - NABA Light Welterweight Title:
David Torres (14-0-0, 10 KO's) UD Marteze Logan (22-22-2, 5 KO's)
July 28th, 2007 - WBC Light Middleweight Title:
Vernon Forrest (38-2-0, 28 KO's) UD Carlos Baldomir (43-10-6, 13 KO's)
September 1st, 2007 - IBO Super Middleweight Title:
Fulgencio Zuniga (19-2-1, 16 KO's) TKO Victor Oganov (26-0-0, 26 KO's)
April 12th, 2008 - NABO Cruiserweight Title:
Ola Afolabi (11-1-3, 4 KO's) TKO Eric Fields (11-0-0, 9 KO's)
August 2nd, 2008 - IBF Super Flyweight Title:
Vic Darchinyan (29-1-1, 23 KO's) KO Dmitry Kirillov (29-3-1, 9 KO's)
August 29th, 2009 - NABA Super Middleweight Title:
Kingsley Ikeke (25-3-0, 14 KO's) SD Mark Woolnough (19-5-1, 6 KO's)
April 3rd, 2010 - NABA Super Middleweight Title:
Kingsley Ikeke (26-3-0, 14 KO's) MD Zane Marks (17-4-0, 10 KO's)
December 11th, 2010 - IBF Bantamweight Title:
Joseph Agbeko (27-2-0, 22 KO's) UD Yonnhy Perez (20-0-1)
December 11th, 2010 - IBO and WBC Silver Bantamweight Title
Abner Mares (20-0-1, 13 KO's) SD Vic Darchinyan (35-2-1, 27 KO's)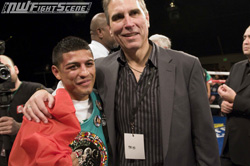 Brian Halquist poses with fighter Abner Mares
Battle at the Boat 90 takes place January 5th 2013
at the Emerald Queen Casino in Tacoma with the first bout starting at 7 PM.

MAIN EVENT: 10 rounds at 144 Lbs.
Rob Frankel (31-12-1, 6 KO's) - Denver, CO
vs.
Jermaine White (17-5-0, 9 KO's) - Chicago, IL

UNDERCARD: All scheduled for 4 rounds
Dex Montenegro (0-1-0) vs. Angel Diaz (0-1-0) @ 154 Lbs
Zachary Cooper (debut) vs. Rafael Umarov (1-5-0)
Marcelino Pineda (2-0-0, 2 KO's) vs. Carlos Rodriguez (1-0-0,1 KO)
Daryl Gardner (1-0-0, 1 KO) vs. Ricardo Pinell (0-0-1) @ 160 Lbs
Cory Vom Baur (1-1-0) vs. Juan Martinez (1-0-0) @ 142 Lbs
Enoch Wilson (debut) vs. Frankie Orr (debut) @ 172 Lbs.

Get up to date information at: www.Halquistproductions.com