Fight Night XXVIII: Punch Drunk - March 17th, 2012
Club Zoo - Vancouver, Washington
Post Interviews by Spaniard
---
Split Decision Entertainment presented a night of Brawls & Beers on St Patty's Day with Fight Night XXVIII: Punch Drunk at Club Zoo in Vancouver WA. 11 amateur MMA bouts plus a submission match went down, including a 165 lb Superfight and the 185 lb Championship. In the Middleweight Title, Sean Gordon beat Sean Johnson in a rematch, this time via 1st round choke. In the Superfight, Christian Graves edged Esteban Salazar by Split Decision.
The next Split Decision Entertainment event is Saturday April 7th at inferno Fitness & Sports in Vancouver WA. The Split-Jitsu Submission Tournament, open to adults and kids, will be from Noon-4:30 PM. No-Gi only. That same evening, Fight Night XXIX: Annihilation will take place with 14 fights scheduled, including 3 title bouts.
More info at SplitDecisionMMA.com.
---
FIGHT NIGHT XXVIII: PUNCH DRUNK Results
Issac Rockmore def James Wade by Rear Naked Choke @ 1:42 RD 1
Genna Kachankov def Justin Hart by KO @ 1:40 RD 1

Aaron Tanner def Jon Rumsey by Rear Naked Choke @ 1:46 RD 1

Kevin Standford def Romain Brooks by Tap to Strikes @ 1:40 RD 1

Chad Mertens def Luis Luna by KO @ 2:08 RD 1

Nick Stanford taps Don Wheeler twice in submission challenge

Scott Baker def Kevin Dill by Rear Naked Choke @ 2:03 RD 1

Kenny Williams def Jordan Tibbetts by KO @ 0:31 RD 1

Jeramy Burford def Joey Lockwood by TKO @ 1:14 RD 1

Tim Mcalexander def David Lewis by KO @ 0:58 RD 1
165 lb Superfight
Christian Graves def Esteban Salazar by Split Decision
185 lb Championship
Sean Gorden def Sean Johnson by Choke @ 1:52 RD 1
---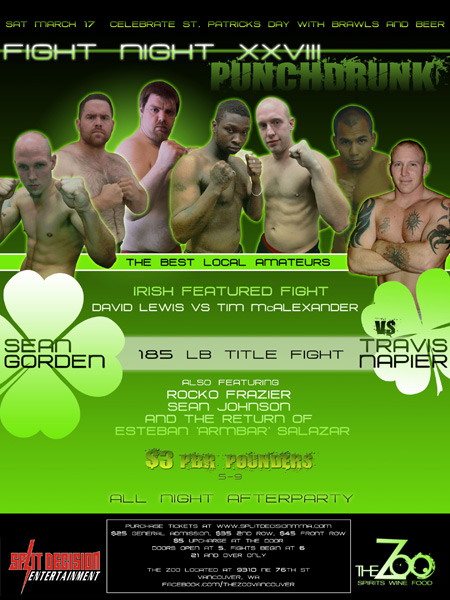 ---