Fight Night XXVII: Formidable - February 18th, 2012
inferno Fitness and Sports - Vancouver, Washington
Post Interviews by Spaniard
---
Split Decision Entertainment returned to inferno Fitness and Sports in Vancouver WA on February 18th for another night of full-on NW amateur MMA action. 13 fights in total went off inclduing a 170 lb Superfight, the 170 lb Interim Championship, and the Heavyweight Championship. It was this last fight between Alive MMA's Ryan Harrington and 503 WCJJ's Jeremy Morse that had everyone talking when it was all over as these guys THREW DOWN! This back and forth blood-fest went 5 rounds with Harrington coming out the winner via a split decision with 2 judges seeing it 49-46 in his favor, while the dissenting judge saw it 48-47 for Morse. This one is certainly an early entrant into NW Fightscene's 2012 Amateur Fight of the Year for Washington!
In other action, Team Quest's Jason Novelli scored a KO win with just a second left in the first round to win the Split Decision 170 lb Interim Title over Ryan Truitt. Brave Legion's Luis Iniquez beat Desert Dogs' Dustin Duffy via a 1st Round TKO in their 170 lb Superfight. The official KO of the Night went to 17 year old Jamal Weeks with KO at 9 second in of Jacob Sanders. Sub of the Night went to Brave Legion's Ryan Cook with an armbar of Luis Luna at 45 seconds into thier 155 lb bout. The Fight of the Night (given out before the main event) was between Brave Legion's Ivan Martinez and Team Brutality's Sam Wilson with Martinez coming out on top via decision.
The next Split Decision Entertainment show is on March 17th at Club Zoo in Vanvcouver with Fight Night XXVIII: PunchDrunk. More info on their brand new website at SplitDecisionMMA.com.
---
FIGHT NIGHT XXVII FORMIDABLE Results
Heavyweight Championship
Ryan Harrington (Alive MMA) def Jeremy Morse (503 WCJJ)
by Split Decison (49-46, 47-48, 49-46)
170 lb Interim Championship
Jason Novelli (Team Quest) def Ryan Truitt (Truitt's Recruits)
by KO @ 2:59 Rd 1
170 lb Superfight
Luis Iniquez (Brave Legion) def Dustin Duffy (Desert Dogs)
by TKO (Ref Stoppage) @ 1:07 Rd 1
205 lbs
Rock Schneider (Portland) def Rocko Frazier (Portland)
by TKO (Ref Stoppage) @ 1:50 Rd 1
195 lbs
Paul Sims (503 WCJJ) def Jason Williams (Yacolt)
by TKO (Ref Stoppage) @ 0:18 Rd 1
155 lbs
Ryan Cook (Brave Legion) def Luis Luna (Team Brutality)
by Armbar @ 0:45 Rd 1
145 lbs
Luke Newberry (Valhalla) def Don Wheeler (Scorpion MMA)
by TKO @ 1:36 Rd 1
135 lbs
Zach Clark (Oregon) def Stephone Taylor (Vancouver WA)
by Split Decison (29-28, 29-28, 28-29)
155 lbs
Ivan Martinez (Brave Legion) def Sam Wilson (Team Brutality)
by Split Decison (29-28, 29-28, 27-30)
135 lbs
Jalam Weeks (Steel Dragon Dojo) def Jacob Sanders (Oregon)
by KO @ 0:09 Rd 1
180 lbs
Scott Baker (Alive MMA) def Jordaan Tibbits (Team Brutality)
by TKO @ 1:16 Rd 1
155 lbs
Christian Graves (Desert Dogs) def James Wade (Teaam Brutality)
by TKO @ 2:12 Rd 1
135 lbs
Mattija Weeks (Aumsville OR) def Andreas Rueda (Brave Legion)
by TKO (Ref Stop - Armbar) @ 2:30 Rd 1
---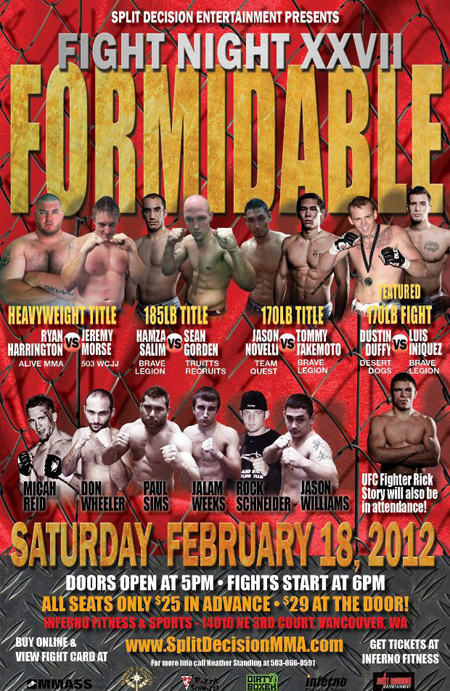 ---