Tillamook, OR - On Saturday, June 9th the Full Contact Fighting Federation (FCFF) will journey to Tillamook, Oregon for its first-ever event in the area as a fundraiser for the Tillamook High School Wrestling Program. The "Cage Fights in Tillamook" mixed martial arts (mma) event will feature one FCFF Championship fight in the Bantamweight Division and two Superfights, all held in the 25-foot steel cage known to fight fans as "The Slammer." Get your tickets at the door at the Tillamook County Fair Grounds or at three other Tillamook locations listed below or at thefcff.com.
In the Championship Fight at "Cage Fights in Tillamook" on June 9th the current FCFF 135-pound Bantamweight Champ: Dylan Atkinson from Portland, Oregon will attempt his first Title defense against Adam King of Team Chaos. This fight is more of a "Champion verse Champion" scenario. The current FCFF Bantamweight Champion Dlyan Atkinson first earned his belt at Rumble @ The Roseland 61 on January 21st 2012. There, he beat Justin Mark via tapout in round number one.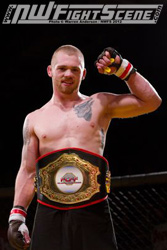 His competition for June 9th is FCFF Flyweight Champion Adam King. King is stepping up ten pounds from the 125-pound flyweight division to the 135-pound division and is looking to take home two belts from the FCFF. King took the FCFF Flyweight 125-pound Title at Rumble @ the Roseland 60 on December 3rd 2011 by beating Alex Corrales via KO in only 1:26 of round number one.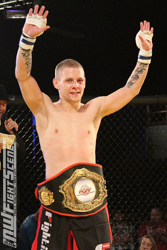 Two Tillamook fighters will also get their chance to take home FCFF Superfight Belts on June 9th. In the Main Event for the 185-pound Superfight belt, John Garcia of Tillamook (the 2008 Tillamook High School State Champion wrestler) will face Jesse Apodaca of Alive MMA. Jesse holds the FCFF's 195-pound Superfight belt from Caged on the Coast 5 on Aug 27, 2011. There he beat the Jordan Hinchman who is a outstanding fighter (who's held the 205-pound FCFF Title Belt until recently). He beat Hinchman by TKO due to doctor stoppage at 2:14 of round number three.

Additionally, there is a 150-pound superfight belt where wrestling all-star Sean Soliz of Redmond, Oregon will face Joaquin Rodriguez of Team USA.

---
Watch A Chael Sonnen Training Session BEFORE The Fights
All Ticket holders for the "Cage Fights in Tillamook" event will get the rare chance to enter the venue early (Tillamook County Fair Grounds) at 6pm to watch Chael Sonnen train in the FCFF cage.

Sonnen is the #1 UFC Middleweight contender scheduled to fight Anderson Silva on July 7th in Las Vegas, Nevada for the biggest prize in MMA - the UFC Title Belt.

Sonnen will hold a training session in the FCFF cage from 6pm-6:50pm with the official "Cage fights in Tillamook" happening at 7pm. This is going to be a great night of action. Do not miss out!
---
Ticket Locations:
Tillamook County Fairgrounds office
4603 3rd Street
Tillamook, OR 97141
South Prairie Store
6730 S Prairie Rd
Tillamook, OR 97141
(503) 842-6468
Mar Clair Inn
11 Main Avenue
Tillamook OR 97141
*Mention CAGE FIGHTS and get a Room Discount!

Tillamook Country Smoker Outlet
8335 Highway 101 N
Bay City, OR 97107
More info at thefcff.com.
---