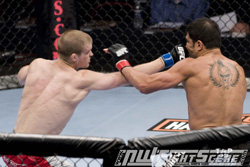 Evan Dunham (5-2 UFC), Eugene OR native fighting out of Las Vegas, will be taking on Nik Lentz (5-1-1, 1 NC in UFC) in a Lightweight battle on the preliminary card of UFC on Fox 2 happening in Chicago this Sat Jan 28th. NW Fightscene's Spaniard spoke to Evan on Thursday about the fight which will be aired on Fuel TV.
---
NW Fightscene: Nik Lentz replaced Paul Sass who pulled out due to injury. How much do you know about Lentz and when did you learn of the change?
Evan Dunham: Learned about the replacement a little over a month. Its a bit of a change. Sass likes to be on his back. Lentz likes putting people on their back. So that's the main change. But I've fought several guys who fight like Lentz. You know, it's an area of comfort that I'm in knowing what he brings to the table and how to fight a guy like that. It's a good fight for me. He's a tough kid. I think that he's going to try to put me against that cage and get me to the ground, and just kind of grind out the decision. But unfortunately that's not going to happen for him.

NWFS: He's had some strong words about you, saying things like he's going to make an example out of you. What are your thoughts on the stuff he's said?
Dunham: Oh, I think its a joke. When it comes down to it, I'm the better fighter. He knows it and I'm going to prove it on Saturday. The only thing being made an example of on Saturday is how to take an ass-whooping by Evan Dunham.

NWFS: Now he's said he thinks he's the better fighter. How do you think you match up together stylistically?
Dunham: Well, his stand up is not that great. His ground in not that great. His wrestling is good but I'm a better wrestler. I don't really know where he's getting this idea that he is better overall, let alone in one aspect. I'm kind of puzzled by it.
NWFS: He's put it out there that he trains with Sean Sherk and thats going to give him an advantage. You previously fought Sherk in a war. Do you think that gives him any advantage having a teammate in person you've fought before?
Dunham: Maybe. But he's not Sean Sherk. It might give him an advantage but I really don't know how. All he can do is watch videos and get second hand advice from somebody. Maybe it gives him a little advantage but unless he's a better fighter than Sherk, he sure as hell ain't going to beat me.
NWFS: What changes did you make in your camp for Lentz?
Dunham: A little more emphasis on wrestling and that sort of stuff. But not a big change. I'm just going to go out there and worry about me and fight my fight. And make him adjust to that.
NWFS: What are the next couple of days like for you in Chicago before the fight?
Dunham: At this point, just trying to rest and recuperate. Just trying to get my weight down pretty much at this point. I'm just about to go downstairs and get some mitt work in and get a good sweat in. That way i wake up in the morning within striking distance of my weight. And then weigh in tomorrow, get a good meal in me, and go to work.
NWFS: You've fought on some good cards and now this one, UFC on Fox 2. How excited are you to be a part of this new era of the UFC on Fox, Fuel TV, and FX? And what are the differences you see?
Dunham: Not a lot of differences that I see but its great to be on the 2nd card on Fox, even though we're actually not being aired on Fox. But it's really cool to help this sport go mainstream. So hopefully people who are planning to watch it on Fox tune into Fuel TV as well. It's an honor to be the last fight on Fuel to kind of kickstart the Fox show. There hasn't been any lightweight yet on Fox and I'm looking to give the UFC a reason to put some lightweights on there.
NWFS: Anyone you want to give a shoutout to?
Dunham: Just to all my fans out there, especially everybody in the Northwest. Everybody is great. Thanks for your continued support. I'm going to go out there and make you guys proud Saturday. I want to thank my sponsors Headrush and SE Solutions. And all my teammates at Xtreme Couture and all my coaches.
(Listen to the interview HERE.)
---
Many thanks to Evan for making the time in speaking with NW Fightscene. He fights Nik Lentz on January 28th, 2012 on the preliminary card of UFC on Fox 2 in Chicago's United Center. The bout will be aired live on Fuel TV with the broadcast starting at 2 PM PT. The 3 fight main card which features the NW's own Chael Sonnen vs Michael Bipsing in the co-main event will air on FOX starting at 5 PM PT. Learn more at UFC.com. Evan is online at dunhammma.com, on twitter at @evandunham155, and on Facebook.