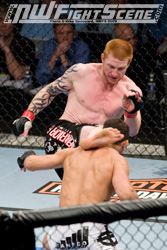 Ed "Short Fuse" Herman (19-7, 6-5 UFC) fights undefeated Clifford Starks (8-0, 1-0 UFC) on the main card of UFC 143: Diaz vs Condit this Sat, Feb 4th in Las Vegas. Herman spoke to NW Fightscene's Spaniard on Tuesday about the impending fight with Starks and more...
---
NW Fightscene: What are you going through this week leading up to the fight?
Ed Herman: This week. Just get some light workouts in and relax and focus on the weight cut. I feel good about this fight. It's a great matchup for me. It's always dangerous fighting an up and coming guy who people don't know a lot about. You're supposed to win. If you lose its a pretty big deal. But I'm ready. Just like I would be if I was fighting for the world title, you know what I'm saying. I'm not taking this kid lightly. He's a tough athletic dude but I feel like his skills don't match up to mine. I feel like i can beat him pretty much anywhere it goes.

NWFS: How's the weight cut going?
Herman: It's great. My weight's fuckin awesome. It's probably better than its ever been. I got it down to a real science and got good people around helping me. Things are good man.
NWFS: How much did you get to find out about him?
Herman: There's a little bit of tape on him. So the little bit of tape that we do have, we looked at that... He came up out of a show in Arizona. Forgot what it's called but.. there are guys that came out of that show just because there's some talent out in Arizona, but the quality of competitors in that show I don't think is real high. So I don't really think that he's been tested. He definately hasn't fought the competition I have or fought anybody like me.

NWFS: What do you think are going to be the keys to victory?
Herman: I think that he's going to use his athleticism and his speed and kind of dance around. Use his feints and try to maybe outpoint me a little bit, instead of just takedowns with his fakes and his strikes. You know, I'm going to just keep coming forward. It's hard to do that stuff when someone's just in your face non-stop like I am. I think just keeping the pressue on him. Seeing how he reacts under the pressure with some of my knees just in his face. Walking through his punches and hitting him harder than he's ever been hit before. I feel like just keeping the pressure on, whether it be on the outside game coming in, or in the clinch. If he does take me down, I'll beat him up from my back then break his arms off, you know what i'm saying. I'm not going to lay there and hold onto him. I'm going to stay active the whole time. I feel like my itensity is just too much for him.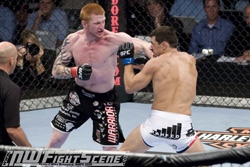 NWFS: You're out there in Colorado at Trials MMA, your gym. Ryan Schultz is out there with you. Who else has been helping you get ready for this fight?
Herman: I've been training at my gym Trials MMA in Fort Collins. But I've also been spending a lot of time traveling around the state. Working with The Grudge Training Center and Trevor Wittman, who's a great coach. I've been traning with guys like Nathan Marquardt markhart, Eliot Marshall, Brendan Schaub. There's a lot of good talented guys at The Grudge. And I've also been working with the Easton Jiu-jitsu guys. He has four or five gyms in Colorado. I stop by quite a few of them and working out with some phenomenal jiu-jistu guys. I've just had great training partners. A lot of guys helping me out, helping me learn a ton of new stuff. I couldn't ask for more. It's been a really great move for me out to Colorado. I miss Oregon and all my people out there and all my training partners. But it's nice to change things up and train with some different people. I'm just really enjoying it. I think it was a great move for me.
NWFS: Speaking of Colorado, I heard you won UFC Fighter of the Year down there at some MMA awards in Colorado. What's that about?
Herman: Yeah, I got nominated for UFC Fighter of the Year in Colorado. I guess I won the other night which is pretty cool. Wasn't able to make the ceremony because it was just the other night and I was getting ready to leave town. But want to thank all the fans who went on and voted for me, and definately all the people in Colorado who supported me being the new kid on the block. I've been feeling a little bit like that. The new kid in this town with all this hype. Sometimes people don't take kindly to that. But really everybody's been pretty welcoming. All the guys at the different gyms. So it's been cool to get that support from Colorado.
NWFS: Any shoutouts?
Herman: Yeah, of course everybody in the NW who still supports me. I get a lot of love on my facebook and twitter, so I appreciate that. Definately follow me on Twitter at twitter.com/EdHermanufc. Can't wait to come back and visit. Hopefully we'll come back and throw a big summer party and invite all the fans down and do a big bash. I want to thank NW Fightscene for backing me up and always giving me some exposure, as well as all the other media outlets who have been sticking behind me through these rough times. And my sponsors, RevGear and Dethrone who've stuck by me for quite awhile. My strength coach Ken [Pytluk], ESPXC.com. Check it out. And all the students at Trials. Just everybody. I couldn't do it without everybody. My family, my friends. There's too many people to thank. I could go on forever.
(Listen to the interview HERE.)
---
NWFS thanks Ed for taking the time to speak with us. He fights Clifford Starks at 185 lbs on the main card of UFC 143 at the Mandalay Bay in Las Vegas on Sat Feb 4th. The main card starts at 7 PM PT Live on Pay-per-View. More at UFC.com.
Ed is online at ed-herman.com, twitter.com/EdHermanufc, & on Facebook.
Ed and Ryan Schultz's gym, Trials Martial Arts and Fitness, is located at 2649 East Mulberry St. (Suite #A12 & 13) in Fort Collins CO and online at TrialsMMA.com.