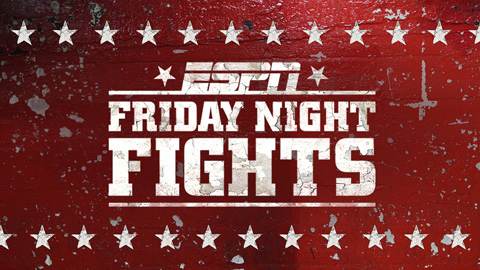 "LIGHTWEIGHT INTERNATIONAL"
JOHN MOLINA, JR. BATTLES ANDREY KLIMOV
LITTLE CREEK CASINO RESORT SHELTON, WA
ESPN "FRIDAY NIGHT FIGHTS" JUNE 7, 2013
Sherman Oaks, CA (May 7, 2013) - Goossen Tutor Promotions presents what is sure to be an explosive night of world-class lightweight contenders, where the "Lightweight International" main event features USA's fast-talking, hard-hitting slugger, John Molina, Jr. from Covina, CA against Russia's undefeated and dangerous Andrey Klimov engaging in a battle scheduled for ten rounds on June 7th at the Little Creek Casino and Resort in the town of Shelton, Washington and televised live on ESPN "Friday Night Fights" series.
This night will mark the second ESPN-Goossen Tutor Promotions world-class boxing event taking place at the Skookum Creek Event Center at Little Creek. Their first event drew a sold-out and enthusiastic crowd. Doors open at 6 PM with the first bout starting at 6:30 PM and the live ESPN2 broadcast beginning 7 PM Pacific Time (10 PM Eastern).
Molina (25-2, 20 KOs) is looking to fight his way back to the top of the lightweight division taking on what many consider a fifty-fifty fight against the relatively unknown Klimov (15-0, 8 KOs). In the other high-profile bout on tap, super middleweight Farrah Ennis (20-1, 12 KOs) of Philadelphia, PA takes on former amateur sensation, Anthony Hanshaw (23-2-2, 14 KOs) of High Point, NC.
Just three months ago on ESPN, Molina stopped Dannie Williams (22-3) in Santa Fe, New Mexico and demonstrated in four rounds that he's still among the strongest 135-pounders in the world in a performance that kept him among the elite lightweights. Last September, Molina was stopped in one round during his title challenge against then-world champion Antonio DeMarco in what he believed was a questionable stoppage. He insisted it was too quick and used his fight against the favored Williams to prove his point. It was an emphatic win and statement by Molina.
Now Molina, 30, seeks to prove that the very talented Klimov will not be able to beat him either.
Klimov, 30, was born and raised in the town of Klimovsk in Russia, but is no stranger to Southern California fight fans. His most impressive victory was two years ago when he knocked out the talented Ty Barnett at the Home Depot Center in Carson, CA in three rounds. He's also defeated a trio of hungry Mexican boxers in Southern California fight cards. But the question will be can the IBF Inter-Continental champion trade blows with Molina?
The winner will surely be in a position to demand a world title shot.
"Molina-Klimov is one of those fights that I believe won't have a loser," stated Promoter Dan Goossen. "Look at the Brandon Rios-Mike Alvarado bouts as an example. The fans want exciting, competitive fights, and no matter who wins in that type of fight, both fighters come out on top and get other opportunities. This will be a fight for the fans."
In the semi-main event 10-round Super Middleweight bout, Ennis will try again making his debut at Little Creek Casino after being denied last March when his opponent failed to make weight cancelling the bout. "I was ready for a great fight here in March," the elated Ennis stated. "Now I can't wait to show the fans and ESPN why I'm so excited about this opportunity." Ennis, a former sparring partner of current world champions Sakio Bika and Gennady Golovkin, is dubbed The Quiet Storm' for his reserved demeanor, except when he steps into the ring where he looks to make some noise in the talent rich Super Middleweight division and becoming the next Philadelphia World Champion.
Anthony Hanshaw is primarily known for his stellar amateur career. Ring Magazine featured him early in his career as a rising star in boxing after going 11-0 in less than a year after turning professional. Hanshaw, who lost back-to-back fights to Roy Jones Jr. in 2007 and Andre Dirrell in 2008, endured personal problems and injuries costing him almost four years of his career. Anxious to get back to the rising star moniker given him a few years back, Hanshaw is focused now on the job at hand and believes he's ready to take on the dangerous Ennis to do it. "The talent and solid amateur background has always been there, now it's just a matter of putting it all together," said Hanshaw.
Doug Loughrey, ESPN Director of Programming said, "We are pleased to return to Little Creek Casino for another ESPN FNF telecast. Michael Starr & his staff have a tremendous, intimate setting for boxing productions. The Little Creek Casino brings an enthusiastic and engaged boxing fan base and whether watching on ESPN2 or in attendance, fans will see a solid match between Molina & Klimov.
Tickets for the event are priced at $30 for bleachers, $40 for floor seats and $50 for the first two rows of the Skookum Creek Event Center and can be purchased by calling 800.667.7711 or online at www.little-creek.com.
Little Creek Casino Resort is home to the highly acclaimed Salish Cliffs Golf Club and also recently celebrated the opening of Seven Inlets Spa, Skookum Spirit Cigar and Wine Lounge and a state-of-the-art RV Park.
"We are delighted to have ESPN Friday Night Fights return to Little Creek Casino Resort so soon after our debut show," said Little Creek CEO Michael Starr. "We know that with ESPN and promoter Goossen Tutor, the fans are guaranteed to see action-packed, competitive bouts on June 7th. The tremendous worldwide exposure we receive from ESPN is a benefit to Little Creek and the Squaxin Island Tribe and we look forward to another great evening of world-class boxing."
Little Creek Casino is located in the great Pacific Northwest at the gateway to the Olympic Peninsula in Shelton, Washington just minutes north of Olympia on Highway 101. For more information, visitFor more information please visit www.little-creek.com or call 800.667.7711.
---
FIGHT CARD (Subject to change)
Main Event - Lightweight (10 Rounds)
John The Gladiator' Molina (Covina CA - 25-2, 20 KO's)
vs. Andrey Klimov (Klimovski Russia - 15-0, 8 KO's)
Light Heavyweight (10 Rounds)
Farah Ennis (Philadelphia PA - 20-1, 12 KO's)
vs. Anthony Hanshaw (Warren OH - 23-2-2, 14 KO's)
Lightweight (4 rounds)
Maurice Lee (Covina CA - 1-1, 1 KO) vs. TBA
Lightweight (8/6 rounds)
Ik Yang (Dalian, China - 12-0, 8 KO's) vs. TBA
Junior Welterweight (4 rounds)
Ray Lampkin Jr. (Portland OR - 3-0, 1 KO)
vs. Guillermo Delgadillo (Walla Walla WA - 4-3-1)
Junior Welterweight (4 rounds)
Landon Horseman (Yakima WA - 1-1) vs. TBA