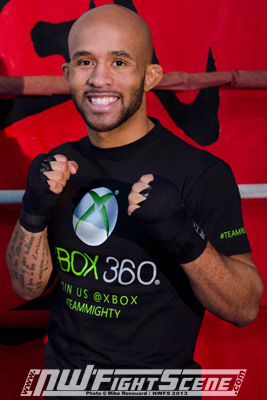 UFC Flyweight Champion, Demetrious "Mighty Mouse" Johnson, speaks to NW Fightscene ahead of his first title defense against John Dodson in the main event of UFC of FOX 6 happening in Chicago January 26th and broadcast live on the FOX network. Johnson also talks about his partnership with Microsoft's Xbox and the games he's currently playing, plus much more...
---
Many thanks to Demetrious for taking the time to speak with us. He'll be fighting John Dodson for the UFC Flyweight Title in the 5-round main event of UFC on FOX 6 at the United Center in Chicago on January 26th 2013. The bout will air live on FOX TV with the main card starting at 5 PM PT. The weighins will air live on FUEL TV on Fri Jan 25th at 2 PM PT. Learn more at UFC.com.
Follow Demetrious online at twitter.com/MightyMouseUFC and on Facebook.