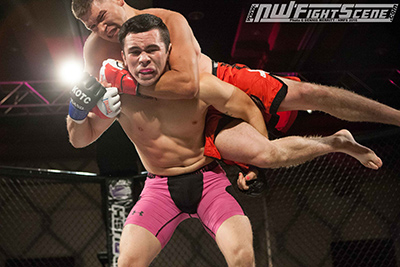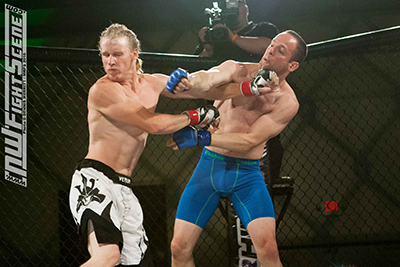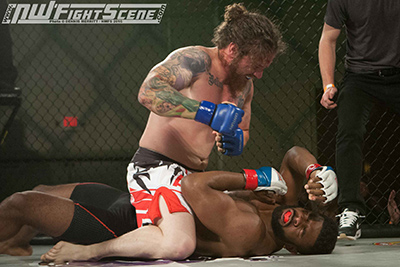 Rick Little's Excite Fight promotion was back at the Northern Quest Resort and Casino in Spokane WA on June 10th, for another rendition of the long-running Conquest of the Cage MMA series. 13 fights in total took place, including 6 pro bouts and 2 amateur championships. In the main event, Spokane's "Insane" Dave Courchaine returned to the cage after a nearly two year hiatus, taking on perennially tough Charon Spain in a pro lightweight bout.

Opening the fight, it was Spain who struck first, attacking with a flurry of punches, finding Courchaine's face with a couple of hard shots. Courchaine came out of the exchange all smiles, and then charged in with a big right hand followed by a knee that landed flush, dropping Spain to the canvas. Courchaine immediately backed off, preferring to make Spain stand up and bang. In the next exchange, Courchaine landed a hard straight left that snapped Spain's head back. Moments later, he feinted a body shot and went up high with a resounding head kick that crumpled Spain against the fence. A couple of hammer fists later and it was all over, Courchaine getting the knockout win at 1:08 of the first round.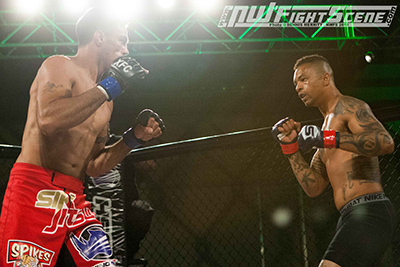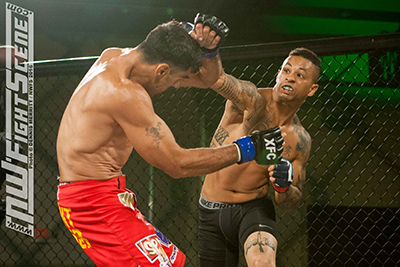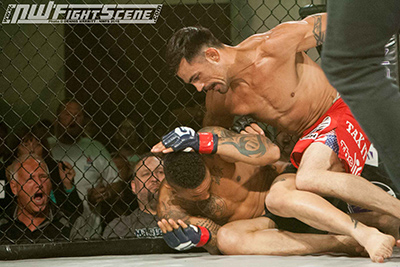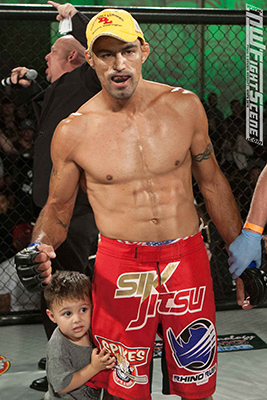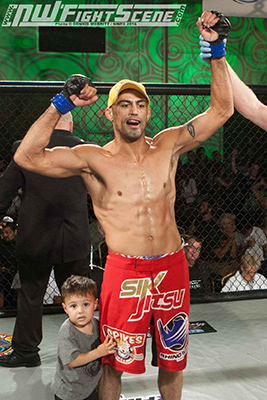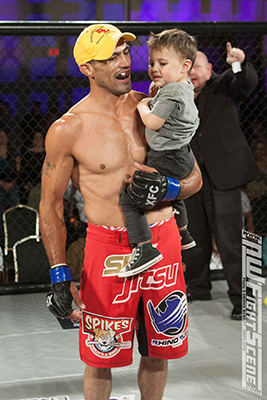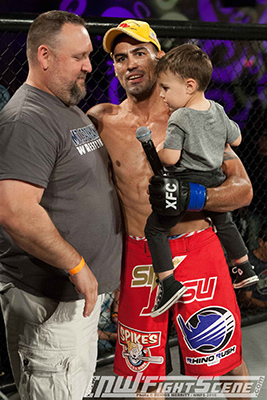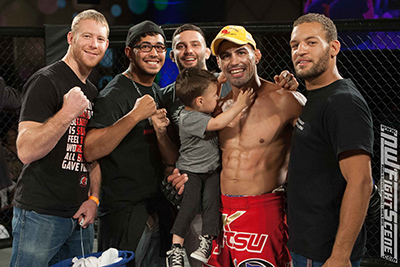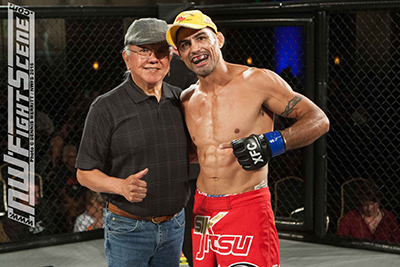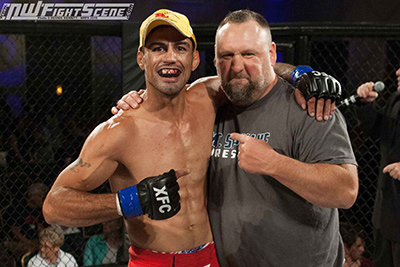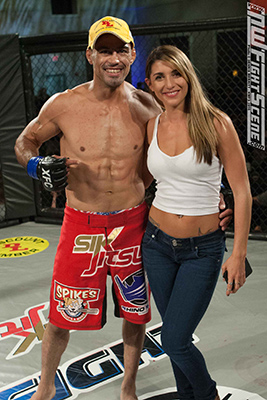 The evening's Co-Feature featured a pro lightweight contest between 53 yr old Ken Bebout -fighting out of Spokane Valley BJJ - matching up with Warrior Camp's Calvin Green, who was a bit younger. Green charged pass the the touch of the gloves, pushing Bebout against the cage in search of the takedown. A scramble ensued with Green taking Bebout's back and locking in a rear naked choke. With Green on the bottom, Bebout defended the choke for nearly two minutes before extricating himself and then punishing Green with some hard punches to the delight of the crowd.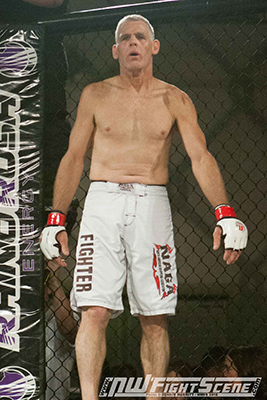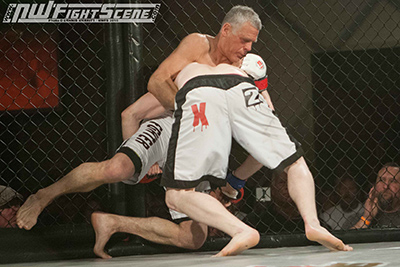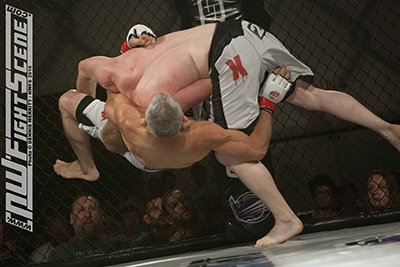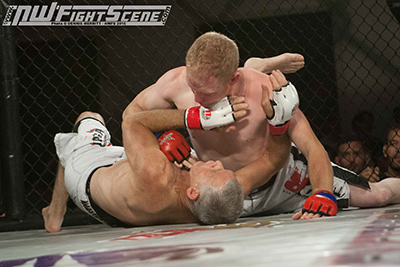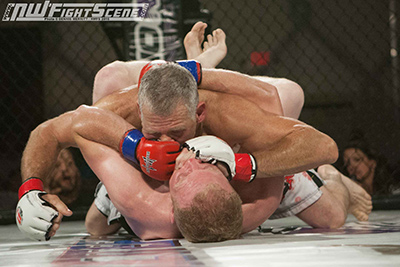 In the 2nd frame, Bebout connected early with a combo, Green answering with a takedown. Bebout scrambled into top position where he worked hard to pass guard. From side control, Bebout put Green in a crucifix, finishing with punches and elbow strikes for the TKO ref stoppage at 3:04 of the 2nd. Bebout moves to 2-0 with the win, while Green drops his pro debut.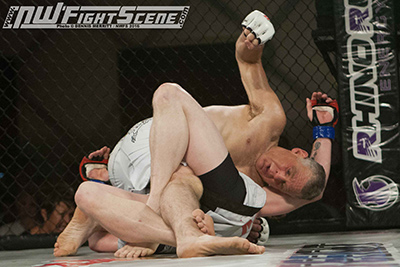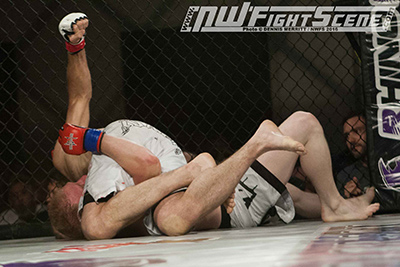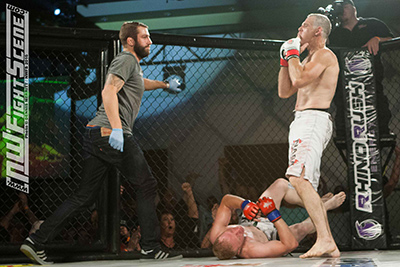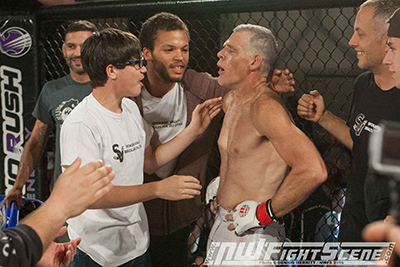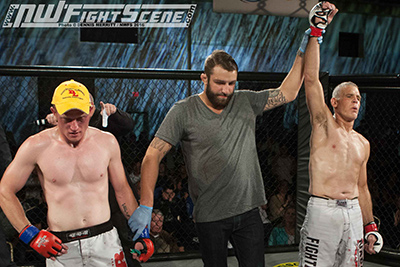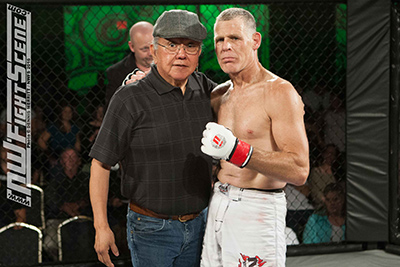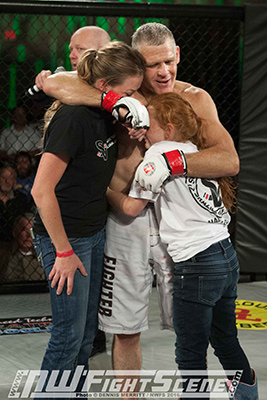 Sikjitsu's Eric Higaonna reeled off 4 straight wins since turning pro in 2014, all finishes against NW fighters with similar pro experience. In his fifth bout, Higaonna took a huge step up in competition in Minnesota fighter Kurt Ehrhorn - a veteran of 12 bouts since 2009, and winner of 3 of his last 4. It become obvious immediately just how dangerous Ehrhorn was as he dropped under a Higaonna charge and immediately took his back for a RNC. From there, the bout became an amazing grappling chess match - with punches thrown in. Higaonna twisted his way out of the submission attempt but Ehrhorn punished Higaonna with some nasty strikes. Higaonna went for an ankle lock, and Ehrhorn had to barrel roll his way free, taking Higaonna's back again. Higaonna gator rolled and went for a leg lock. Ehrhorn standing up, landed a couple blows as Higaonna held on. Ehrhorn fell into Higaonna's guard, landing more strikes before transitioning to a leg lock attempt of his own. Higaonna reversed and from side control, scored with some hard elbows. The round ended with the pair back on the feet slinging hard leather before a Higaonna takedown at the bell.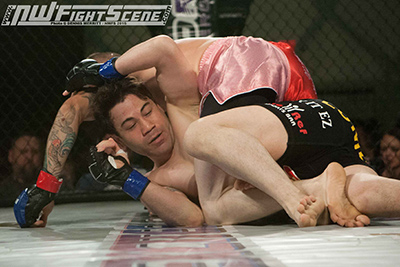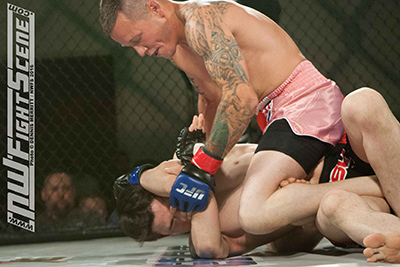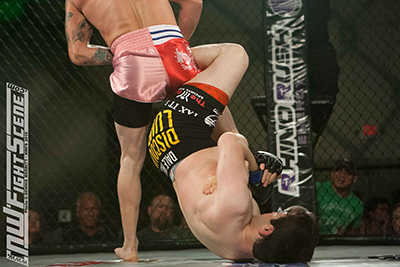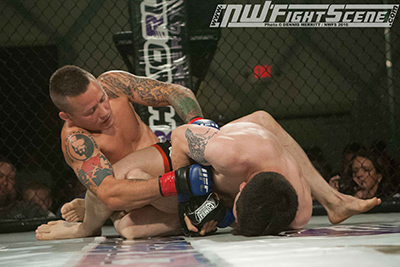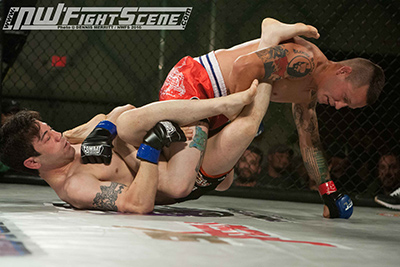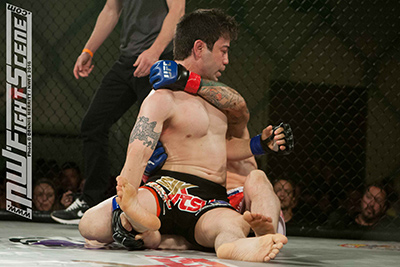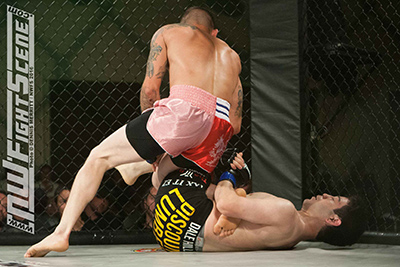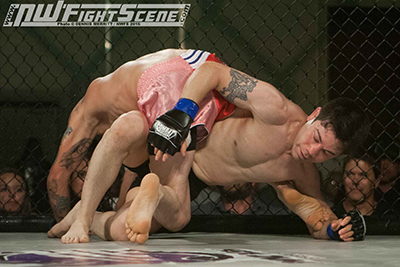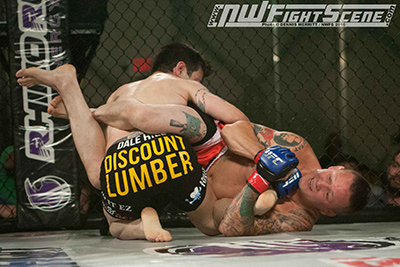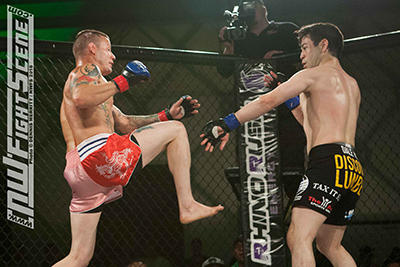 In the 2nd, Higaonna started with a huge slam of Ehrhorn, but Ehrhorn was quick to slap on an inverted triangle/armbar. Higaonna escaped and worked on a choke as Ehrhorn dripped blood. Ehrhorn exploded up with punches and a knee, but Higaonna soon had him back on the mat and began to seriously punish the Minnesota fighter with hard elbow shots and then numerous unanswered punches, before finishing with a rear naked choke at 3:22 of the 2nd.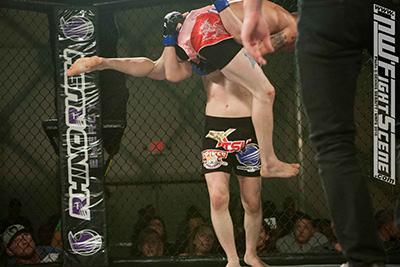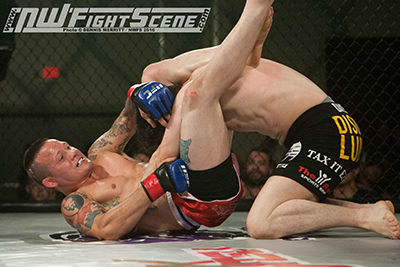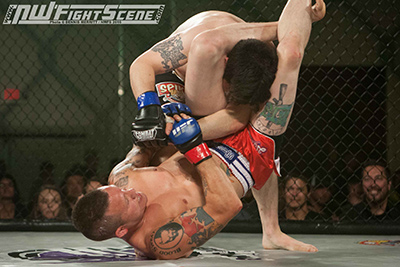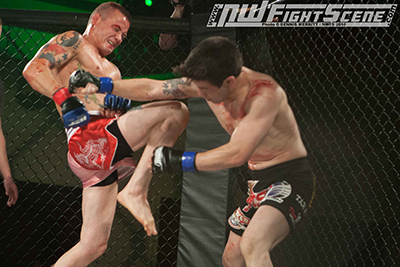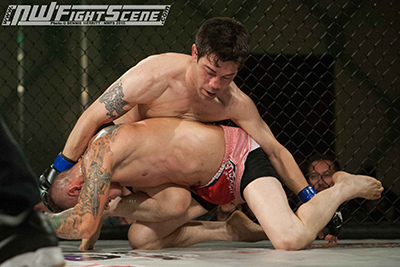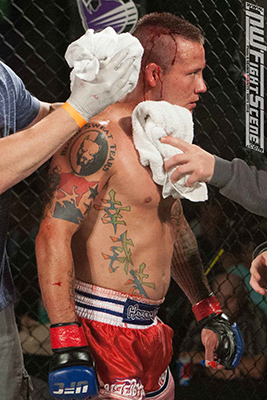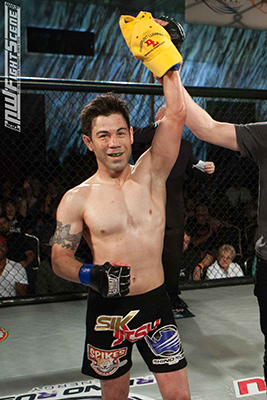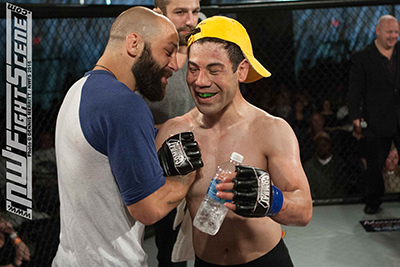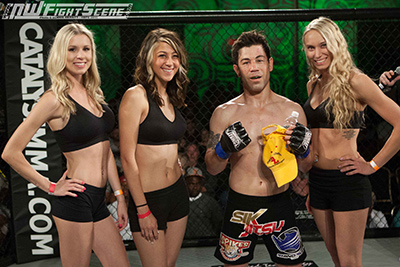 Sikjitsu's Tyler McGuire moved to 4-0 as a pro with a 1st round submission of Kamiah's Jessee Gengler in a 170 lb contest. At the opening bell, McGuire shot in, scored a single leg takedown, worked to take McGuire's back on the ground, and secured a rear naked choke at the 2:04 mark of the first round.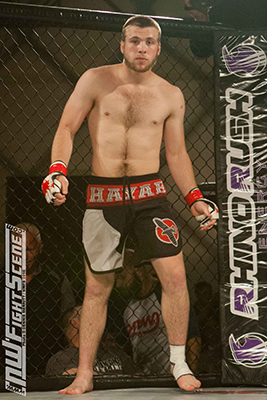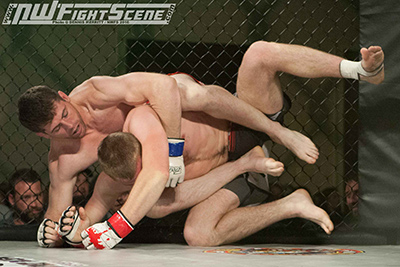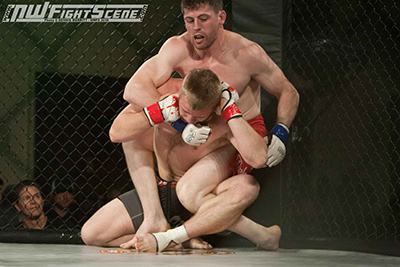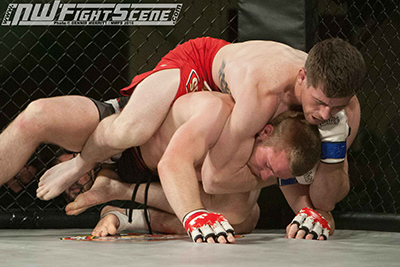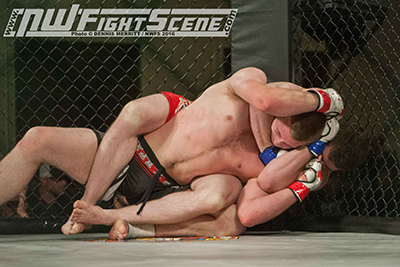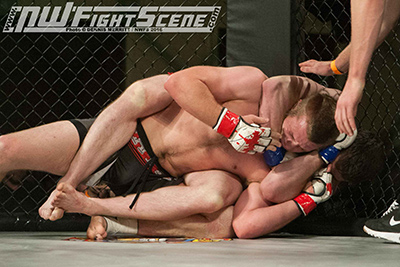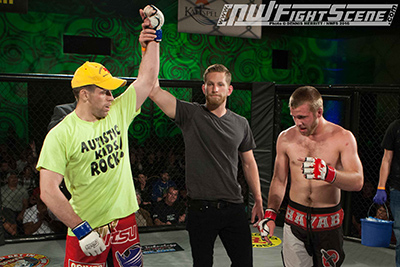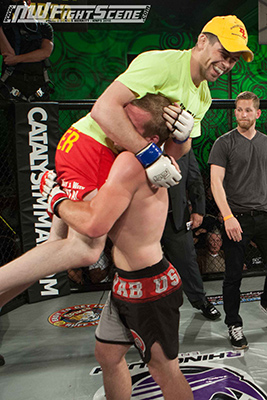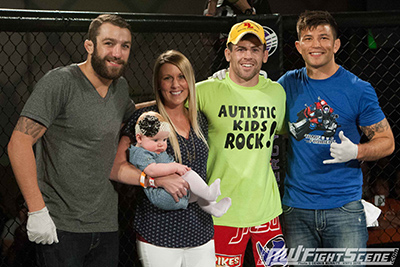 Oroville's Nathan Thompson and Spokane's Kevin Shaw rematched in pro 145 contest, having met in the ExciteFight cage in 2015, the fight resulting in a No-contest from an illegal elbow that left Shaw unable to continue. This time round, Thompson would leave no doubt, winning via TKO to 1st round ground strikes. At the opening bell, Thompson fired off a leg kick that put Shaw off balance, following with a rapid-fire blitz of punches. A couple more similar exchanges saw Thompson utilizing his speed to score with his standup. Shaw clinched up and tripped Thompson to the mat. Thompson popped back up along the fence, but Shaw executed another nice takedown to land in top position. However, Thompson kept Shaw from mounting any sustained offensive attack, scrambled his way free and wrestled Shaw to the mat, where he threw down elbow strikes & punches for the TKO stop at 2:10 of the first.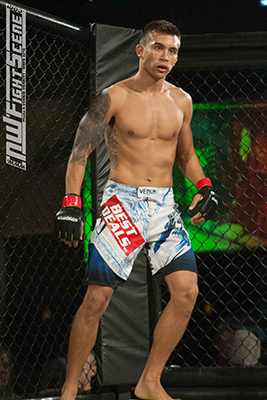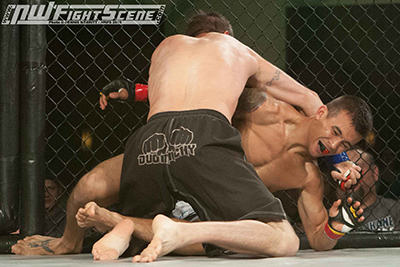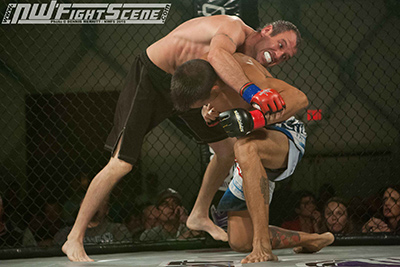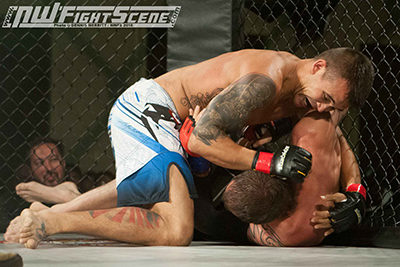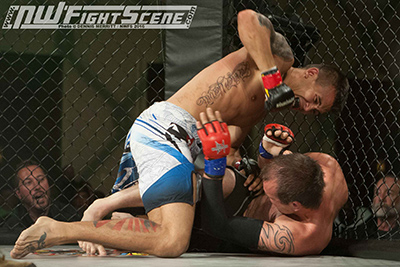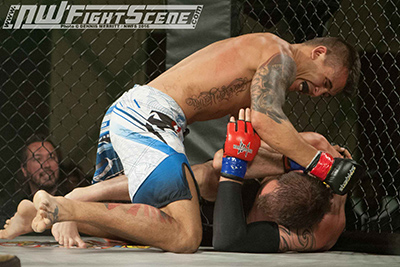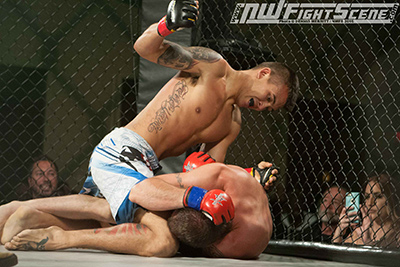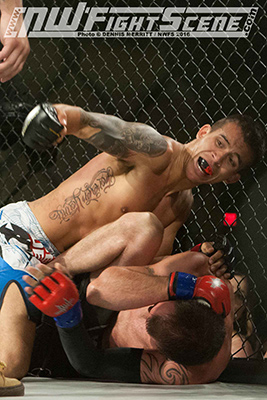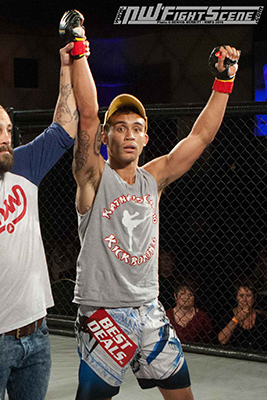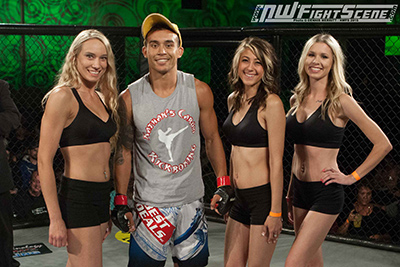 In a battle of debuting pro flyweights, Sikjitsu's Marcos Lopez submitted Warrior Camp's Jesse Jacobsen by 1st round Guillotine Choke. Lopez landed early with a spinning back kick. Jacobsen answered by moving in for a double leg takedown. Lopez latched onto Jacobsen's neck, held on through the slam from Jacobsen, and then applied the fight ending guillotine at 33 seconds into the round.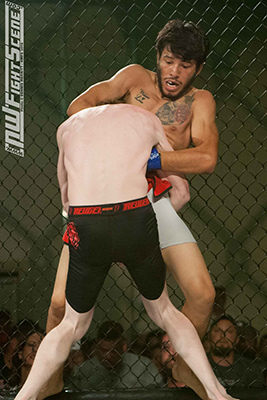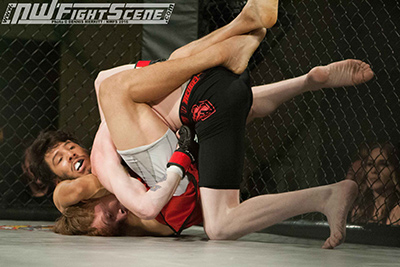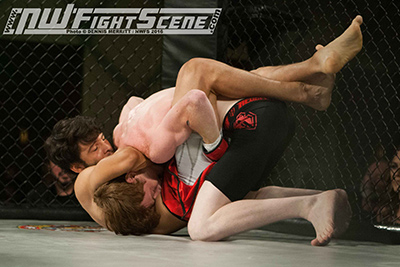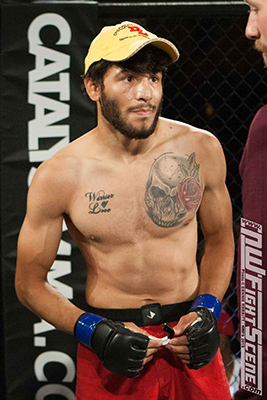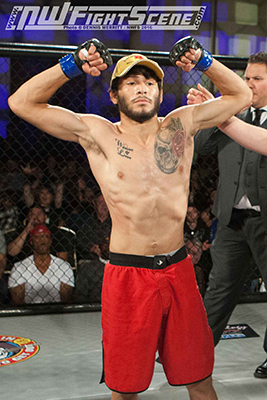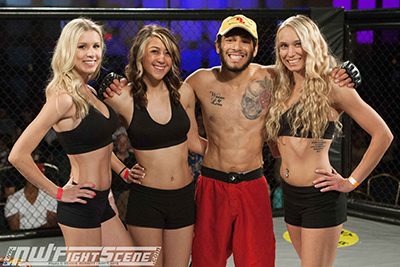 The Excitefight Amateur 185 lb belt was won by Post Falls' Killian Estes who put in an impressive performance en route to a 2nd round TKO of Jon Gover. The first round started with Estes throwing a big high kick, nearly finding it mark. Gover moved in and pressed Estes against the cage, Estes grabbing Gover's neck and working for a standing guillotine. Gover popped his neck out and worked the clinch game, landing knees to the body. A nice takedown by Estes led to some solid ground and pound before the round ended. In the 2nd, Gover opened with an inside leg kick, but slipped on his next attempt, Estes moving in and clinching up, and later executing another nice takedown. On the ground, Estes went to work, punishing Gover with punches until referee Austin Arnett had seen enough, stopping the fight at 2:08 of the second.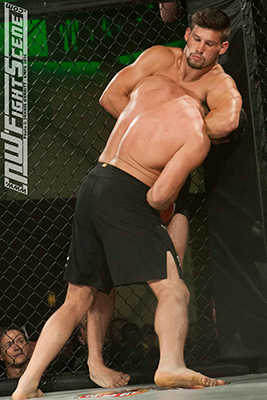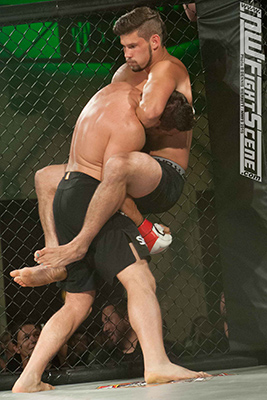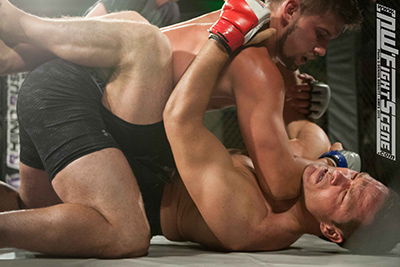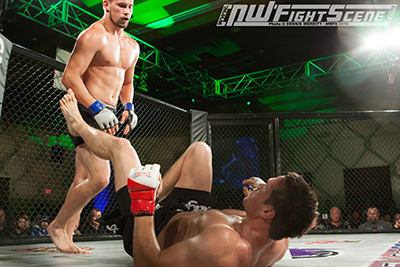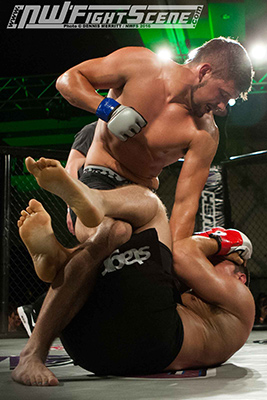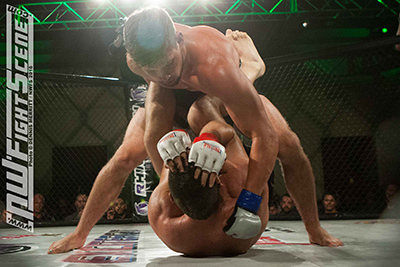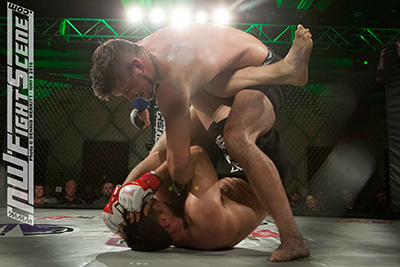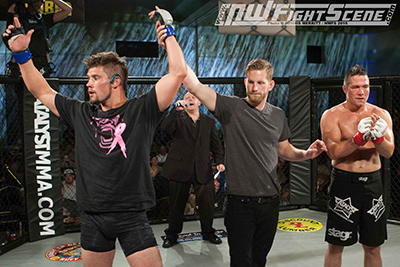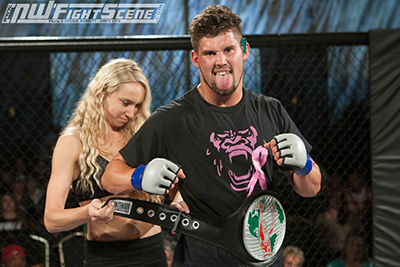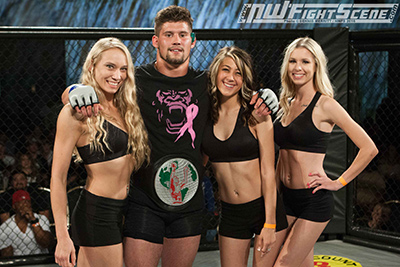 Spokane's Elijah Ross won the Excite Fight Amateur Lightweight Title by submitting Justin Gentemann with a rear naked choke at the end of a wild first round. A front kick from Ross early was caught by a charging Gentemann with the pair tumbling to the canvas, Ross grabbed the advantage in the scramble to lock on a nasty-looking armbar. Gentemann escaped and latched onto Ross, who did a flip to shake him off, but instead wound up with Gentemann on his back, working on a tight rear naked choke attempt. Ross though seemed to possess a neck of steel, avoiding the RNC finish, and then making Gentemann eat some short had punches that turned the tide. Hammerfists from Ross led to him taking Gentemann's back, and big punches to the head led to the rear naked choke finish from Ross just before the bell.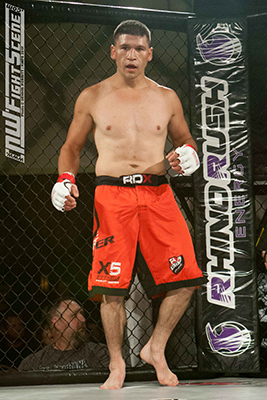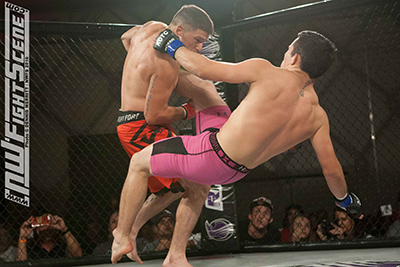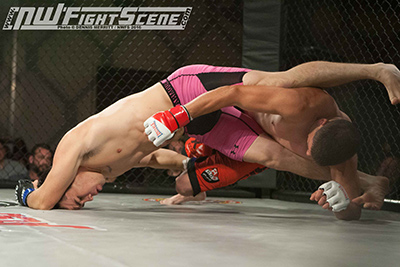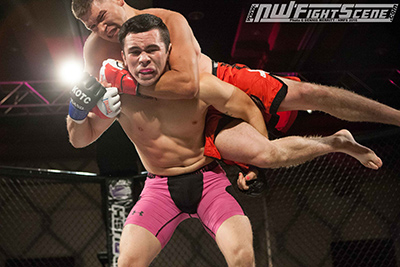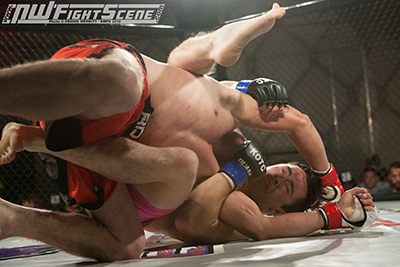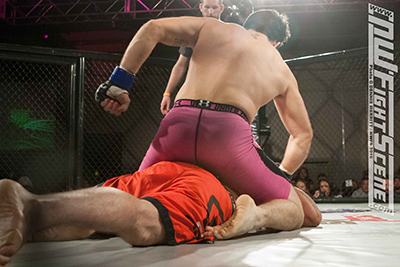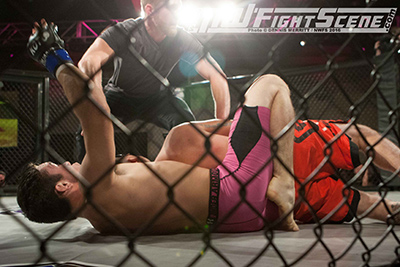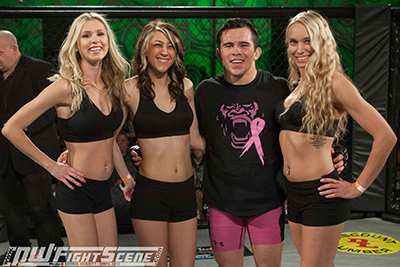 In an amateur 205 lb contest, Spokane's Chance Haskins executed a big slam of Evander Cobbs, and once he broke free from Cobbs defensive grip, was able to posture up and deliver strike after strike, knocking out his opponent at 1:57 of the first.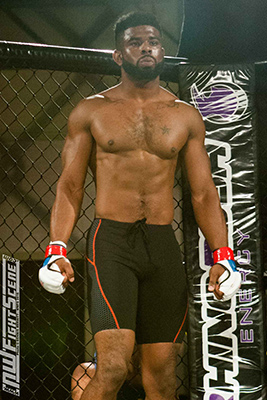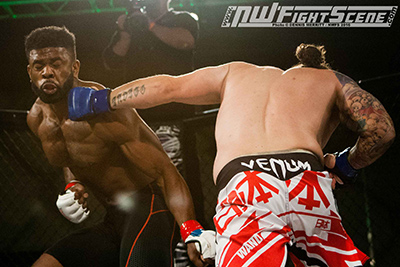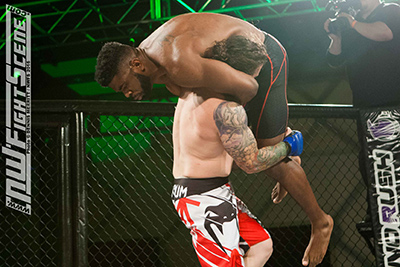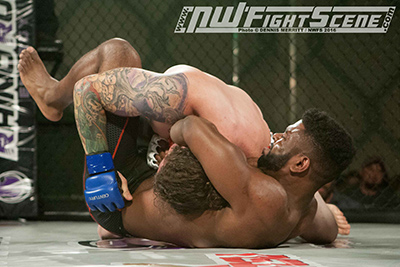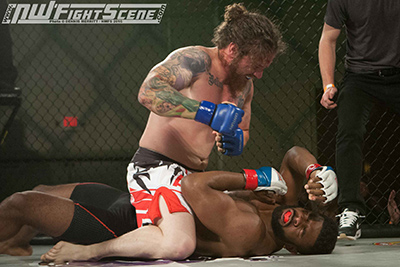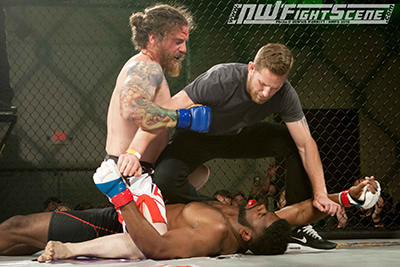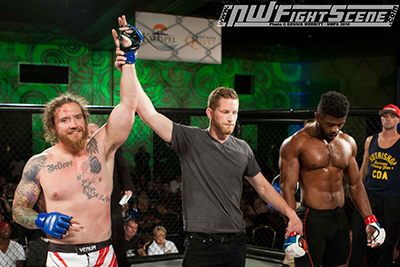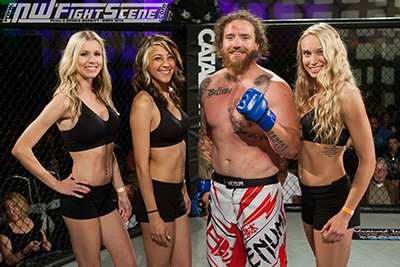 Spokane's Cordell Chunn pinned Michael Ward against the fence and secured a kimura submission eliciting a tap from Ward at 2:39 of their amateur 170 lb contest.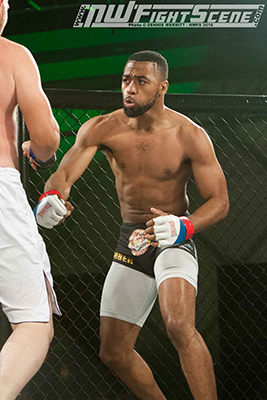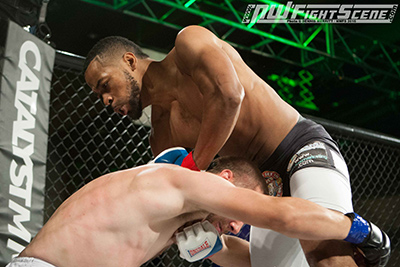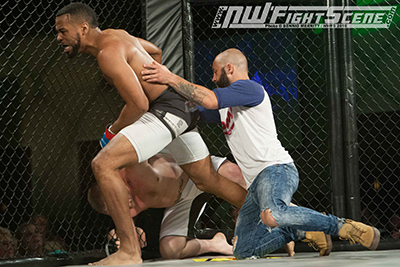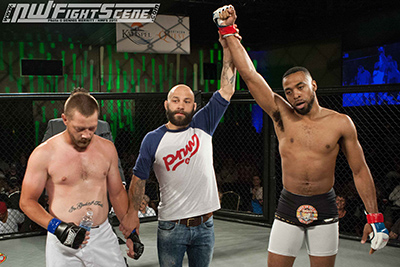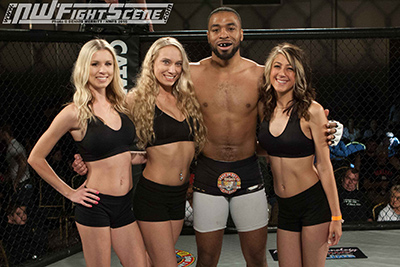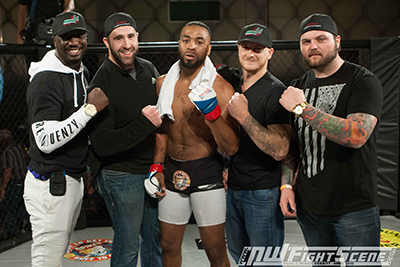 In an ammy lightweight matchup, Sikjitsu's Joe McHale let his hands do the talking, stinging Oregon's Tyler Lynch with numerous straight lefts, before finishing the fight with a barrage of punches at 1:15 into the first.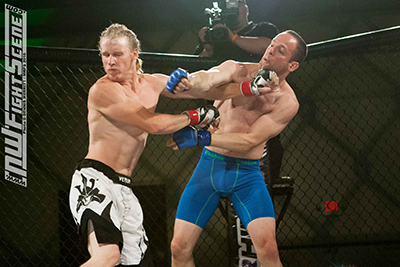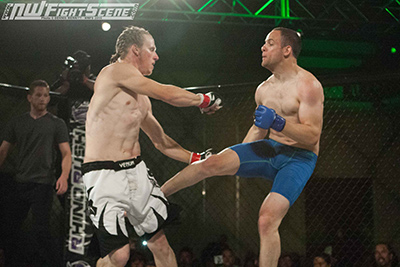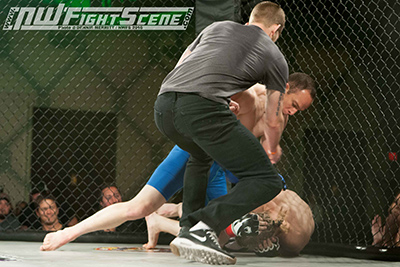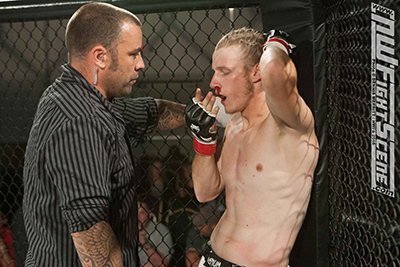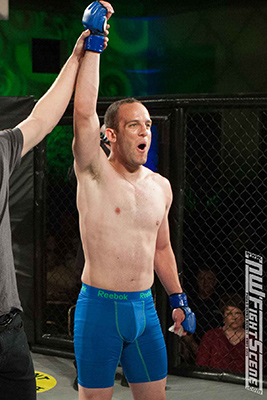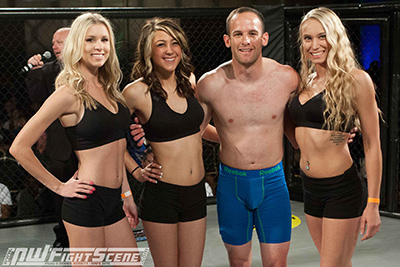 Casey McDonald - repping Montana's Absolute Fight Factory - submitted Spokane's Matt Main via rear naked choke at 1 minute into their amateur 145 lb contest.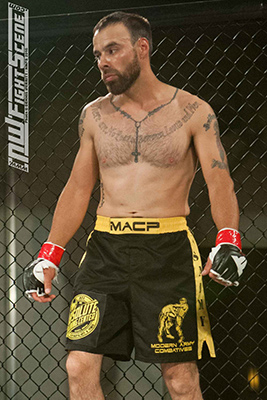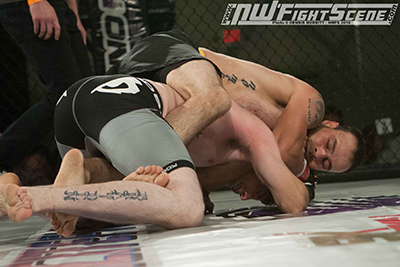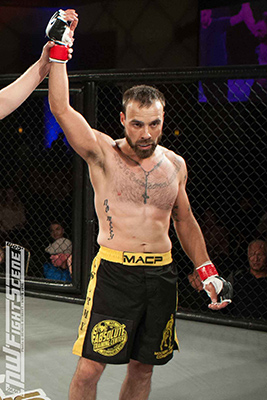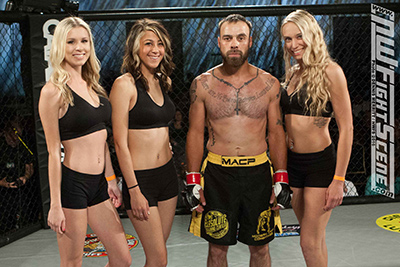 An entertaining amateur 135 lb fight saw Catalyst Fight Team's Chanthol Hang take home a unanimous decision win over Spokane's Aaron Schmidt, 29-28 x3.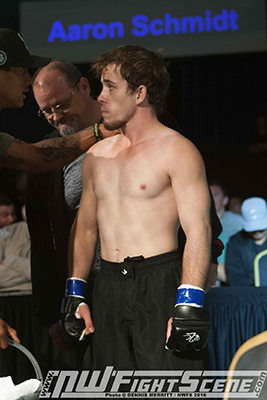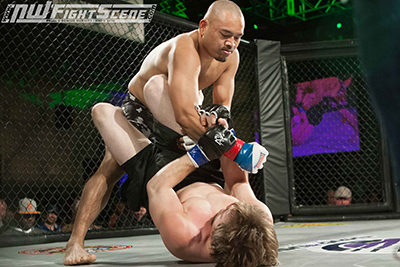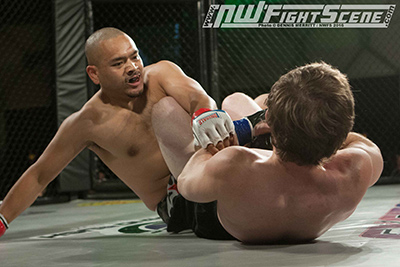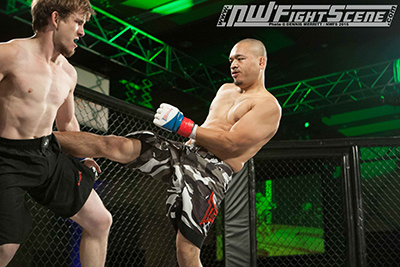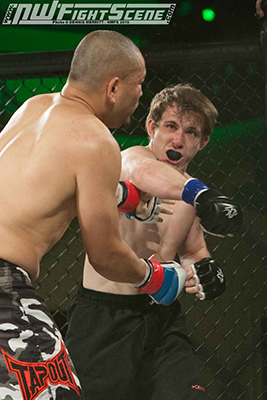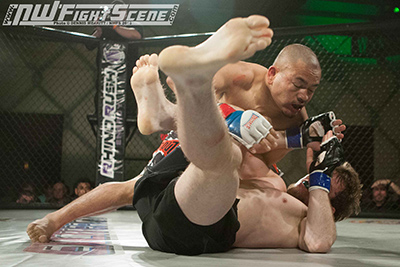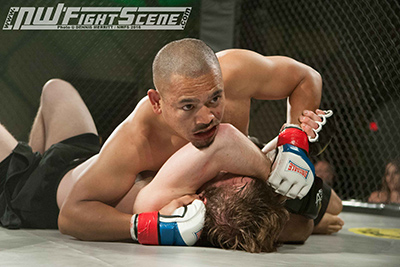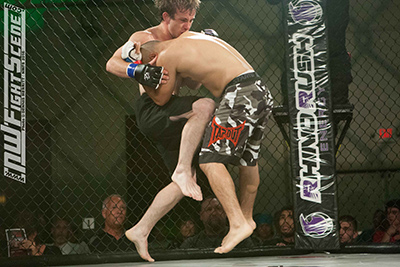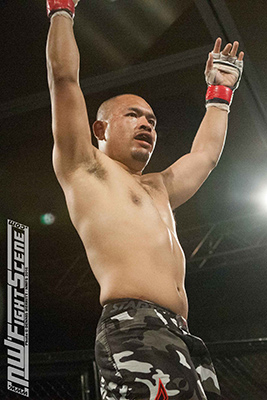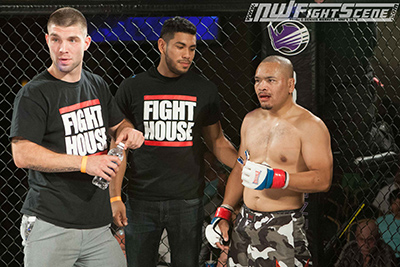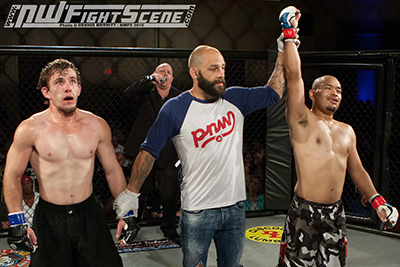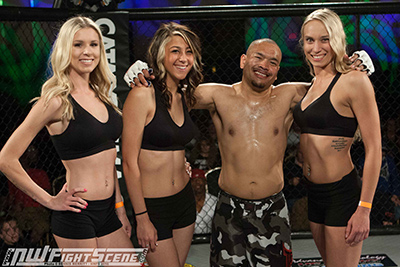 ExciteFight will hold their next event, Summer Showdown 3, on August 6th at the Tulalip Casino in Tulalip WA. Learn more about the promotion at excitefight.com.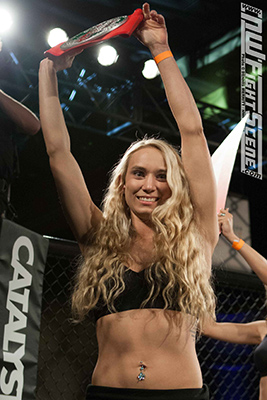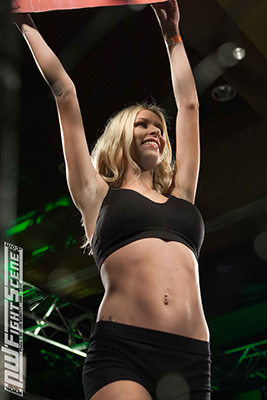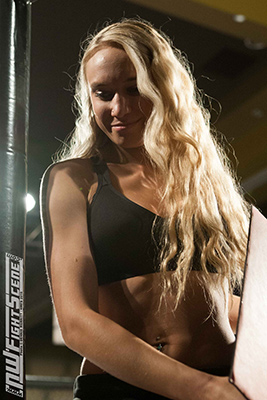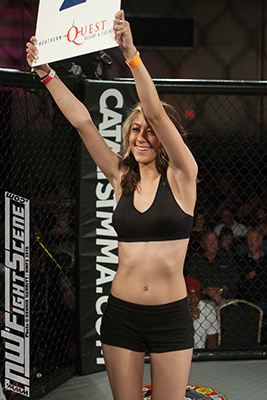 ---