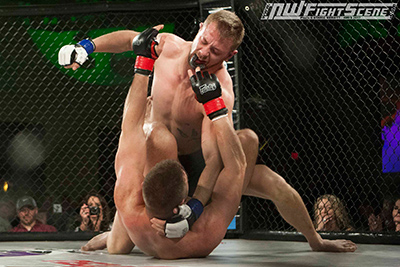 Dan Bolen en-route to victory in the Co-main Event
Rick Little's Excite Fight MMA promotion returned to the Northern Quest Casino on Friday February 3rd with 4 pro and 6 amateur fights taking place. In the main event, UFC vet Elizabeth Phillips, fighting out of Spokane, looked to rebound from a recent KO loss at Invicta FC, taking on Bellator Kickboxing veteran Sarah Howell of Pasco WA at 135 lbs. Howell was making her pro MMA debut, but had quite a bit of success on the NW amateur circuit in MMA (fighting as Sarah Weeks), including a win over current Invicta FC fighter Sarah D'Alelio.

In the first round, Phillips got an early takedown but Howell defended well and was able to walk her self back up the cage. Phillips scored with another nice takedown, but again Howell defended from the bottom, the fight stalling out and being stood up. Phillips lands a big right to close out the round. In the 2nd, Phillips scores with a combo before dropping levels and nailing a takedown. Again Howell defended, working from the bottom with short strikes, but Phillips was able to break through the defenses with some hard elbows.

In the final round, Howell holds the center of the cage while Phillips works from the outside, both women connecting with strikes. A body kick from Howell is answered by a takedown from Phillips. Howell has her neck though and rolls for the guillotine. She loses her grip but has her hooks in and takes Phillips back. Phillips though stands up to reverse and the round ends with Howell searching for an armbar. The competitive fight goes to the judges, all three seeing it for Phillips 29-28.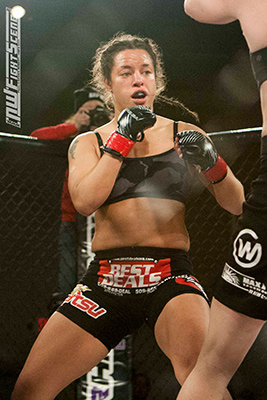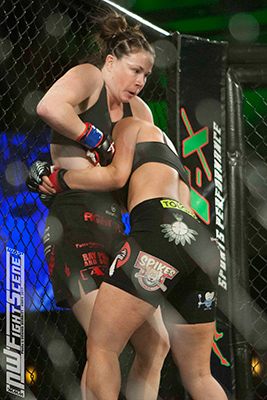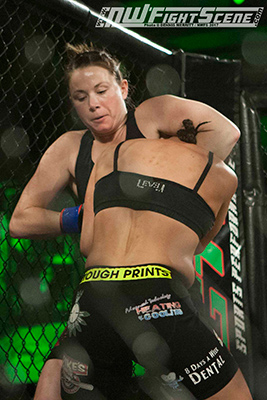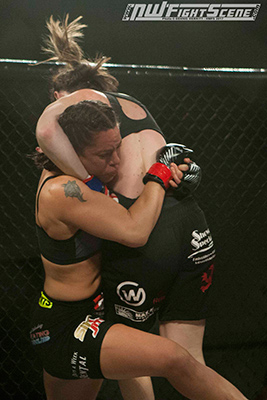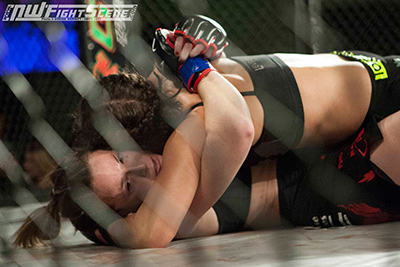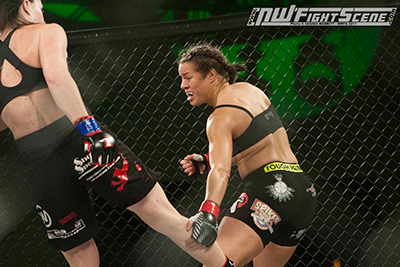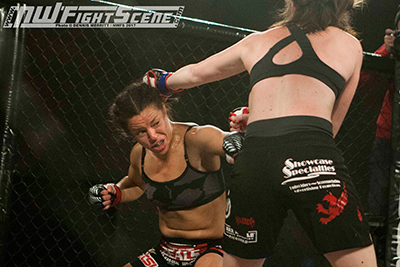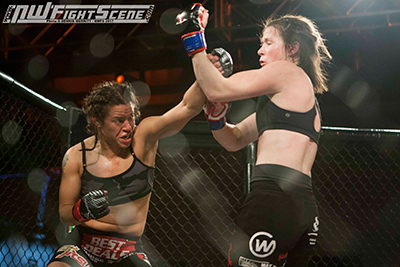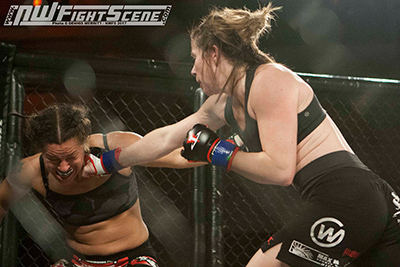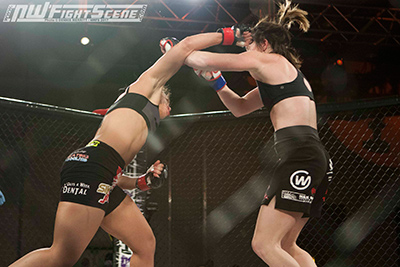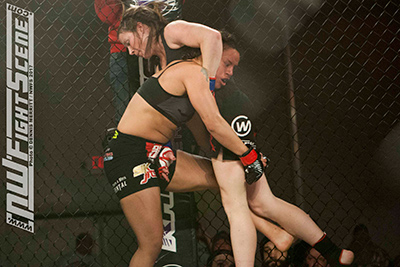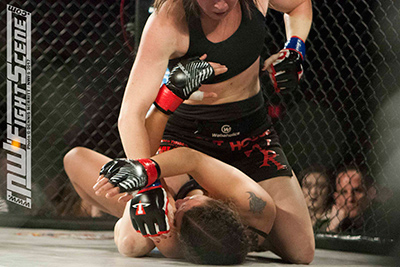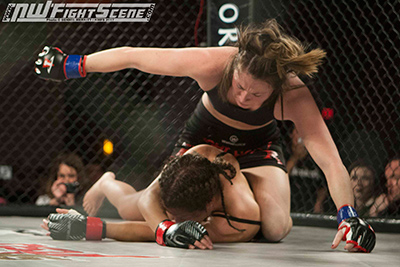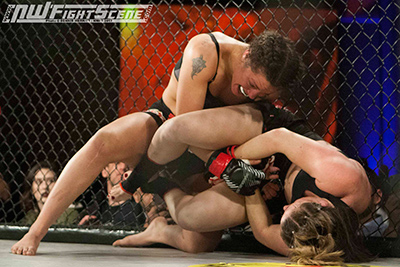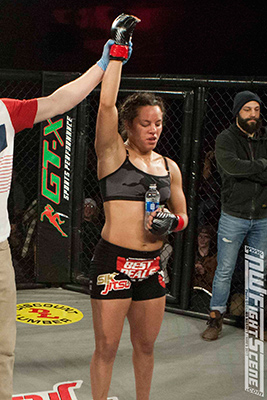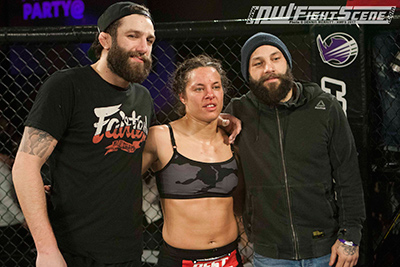 The fight of the night was most definitely the pro 205 lb contest between Dan "D-bo" Bolen and Adam Clark, both out of Spokane. Promoter Rick Little predicted that this grudge match would be a bloody war and he was not mistaken. From the get go, both fighters went right at each other with bad intentions. In a scramble it was Clark who gained the advantage, taking Bolen's back and landing huge bombs before going for a rear naked choke. Bolen was able to defend and eventually reverse, though not before taking more punishment from Clark. Once Bolen got on top, he went to work with some heavy strikes to the round's end.

In the 2nd stanza, again both fighters went at each other, the first couple minutes of the round being a true slobberknocker. Clark started to get the better of the striking, but Bolen executed a timely leg trip takedown to get top position. A big elbow smash from Bolen causes the blood to flow from Clark's forehead, with Bolen landing more heavy shots. Clark counters with an armbar attempt that looks dangerous, but Bolen gets free, takes Clark's back and sinks a fight-ending rear naked choke at 3:30 of the 2nd. What a fight!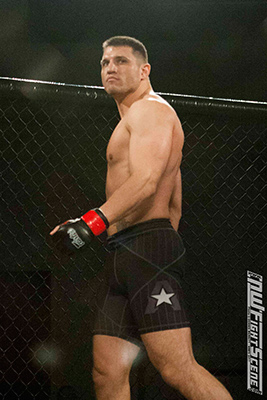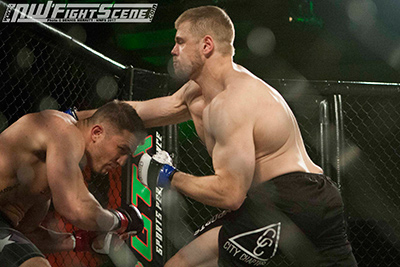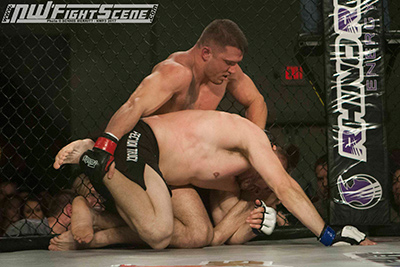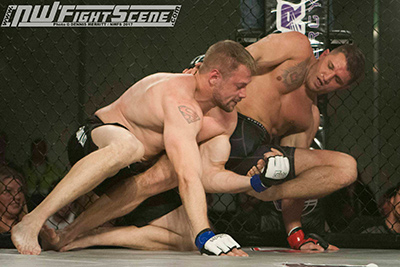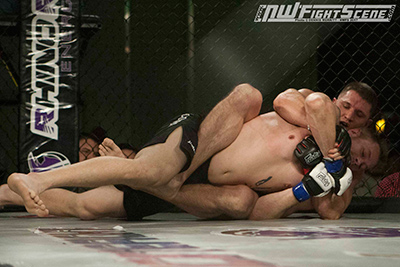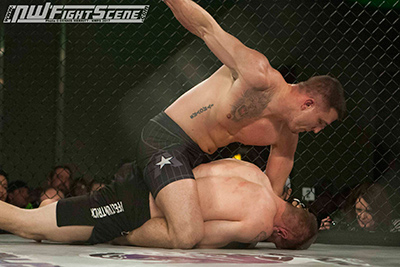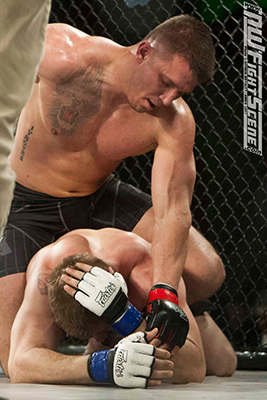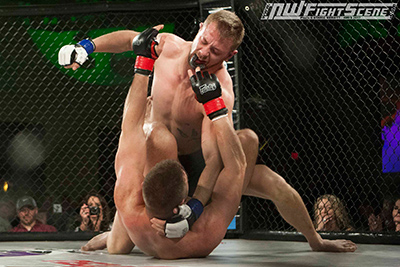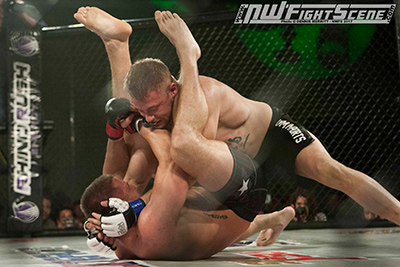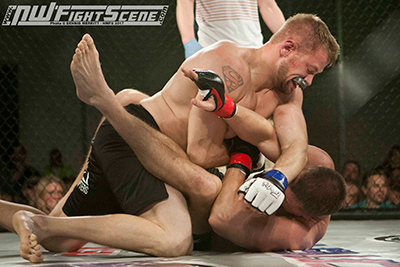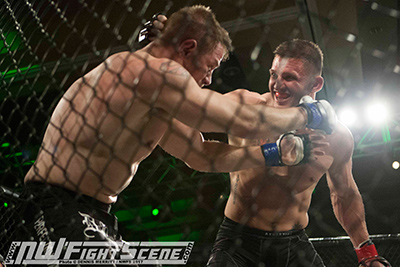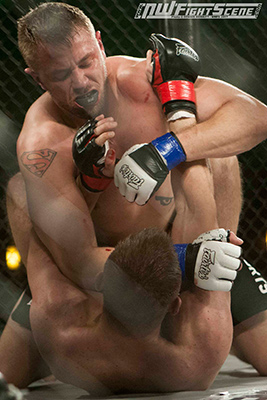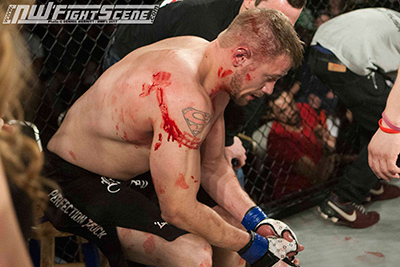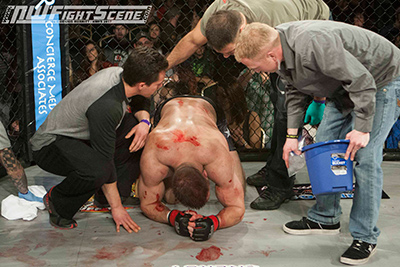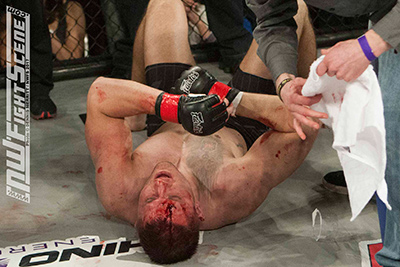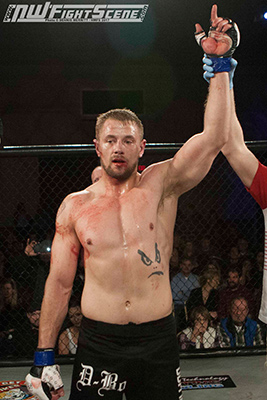 In a pro middleweight contest, Tyler McGuire and Jose Mendoza had a rematch, meeting once before last November with McGuire coming out the victor with a quick 1st rd KO via spinning back fist. In their 2nd meeting, McGuire nailed an early takedown off a Mendoza kick but Mendoza had hold of McGuire's neck and defended for a couple minutes on the bottom. McGuire though would not be denied, breaking free and punishing Mendoza with numerous elbow strikes, before gaining mount and letting loose with big bombs. Mendoza turned, giving up his back, and McGuire sunk the rear naked choke just before the end of the round. McGuire moves to 7-0 as a pro with the win.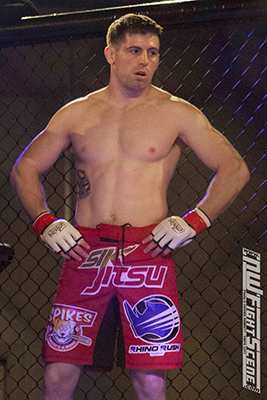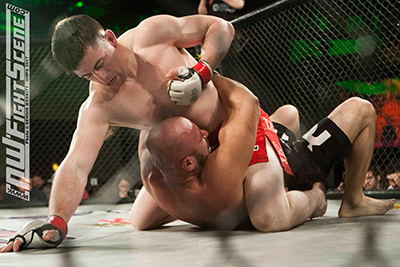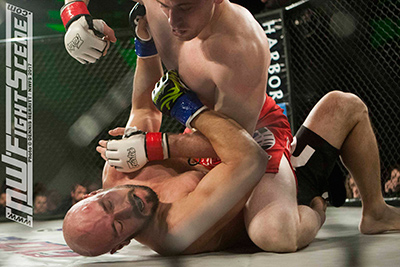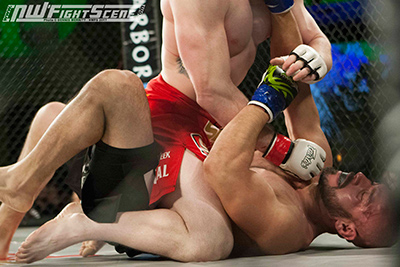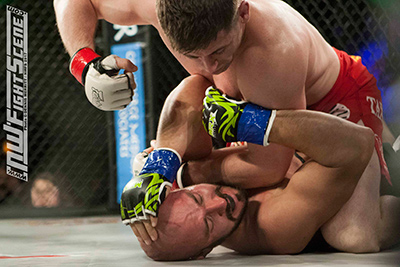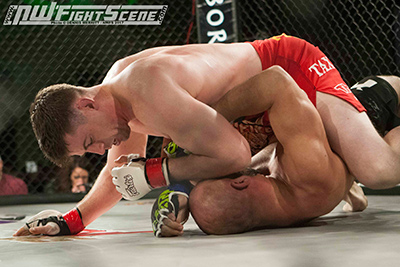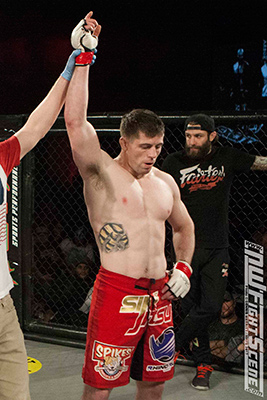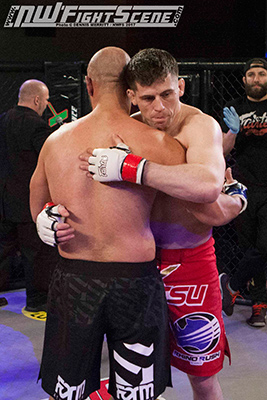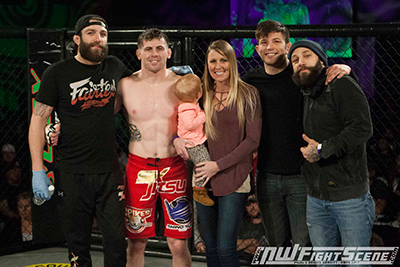 In the first pro bout of the evening, taking place in the flyweight division, Eric "Hurricane" Higaonna took on Jesse "The Butcher Boy" Jacobsen. Jacobsen started out with kicks, but Higaonna quickly answered with a big right hand then moved in to clinch up. Jacobsen took his neck, maintaining his grip despite a huge slam from Higaonna. But Higaonna was able to cartwheel into a better position to break free, and then once on top, landed some hard shots to Jacobsen's head before grabbing Jacobsen's arm and finishing with the armbar at 1:30 of the first. HIgaonna moves his pro record to 6-0.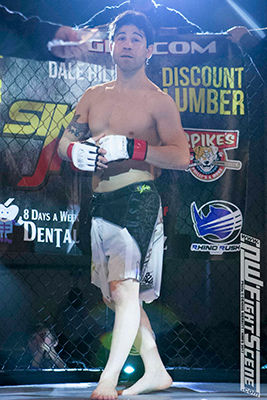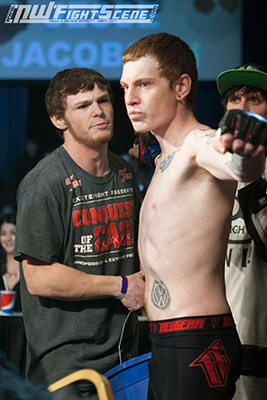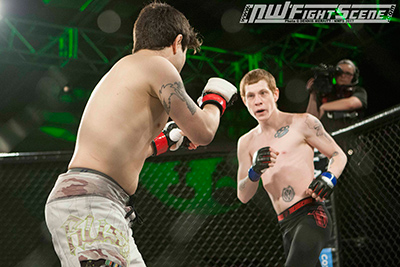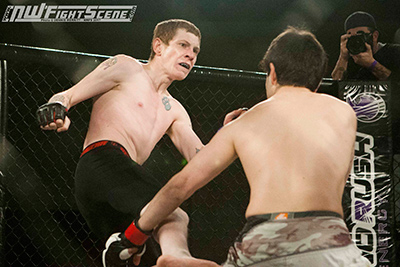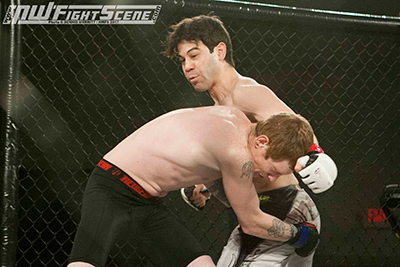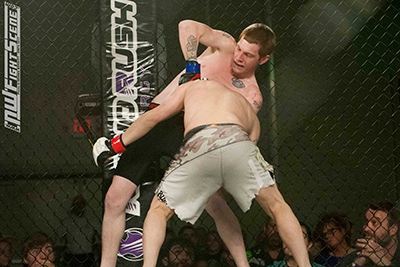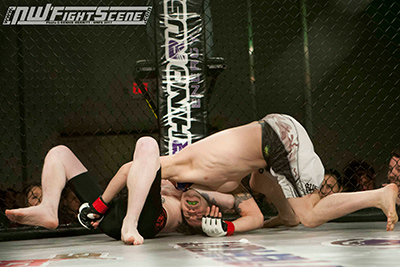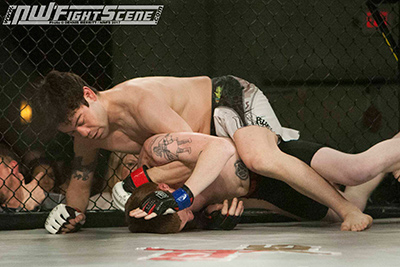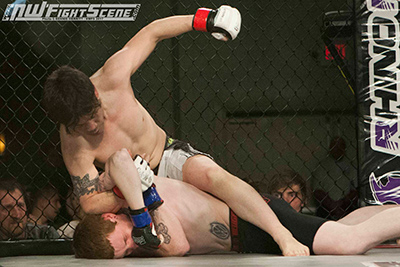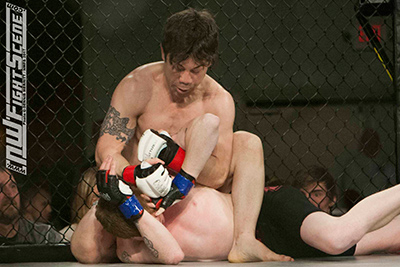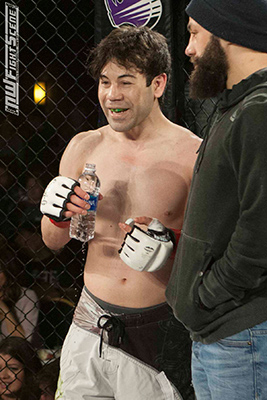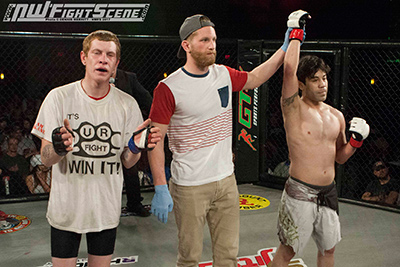 Spokane's Elijah Ross became the new Excite Fight Amateur Lightweight Champion, garnering a well-deserved unanimous decision over former champion Seun Adedeji, all judges calling it 30-27 for Ross.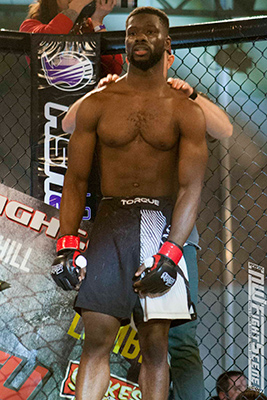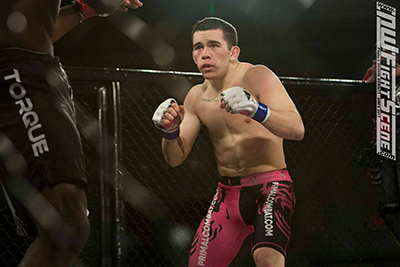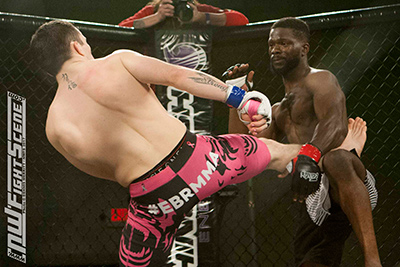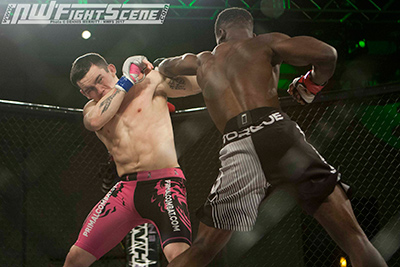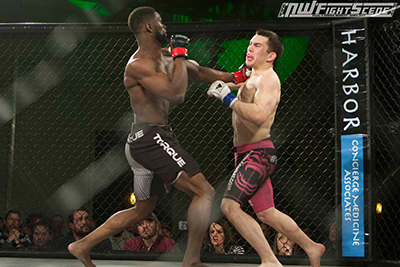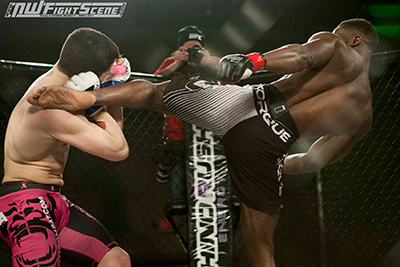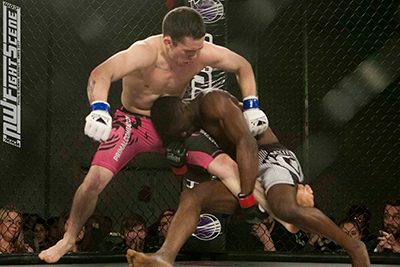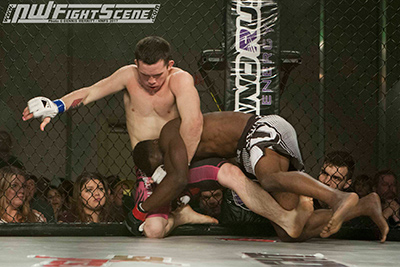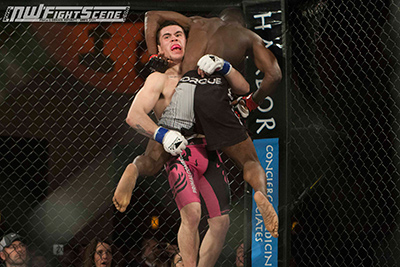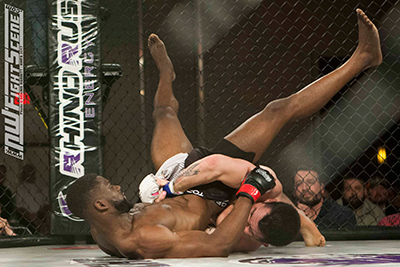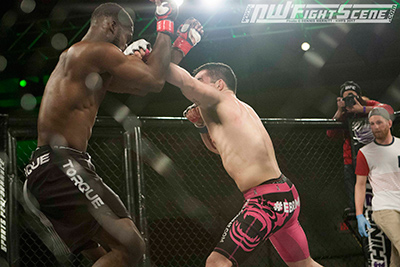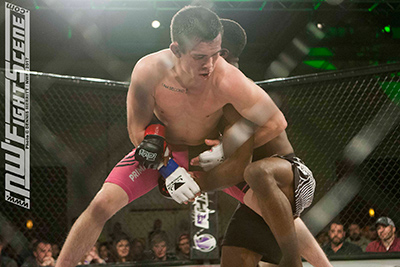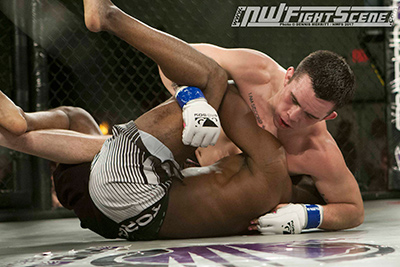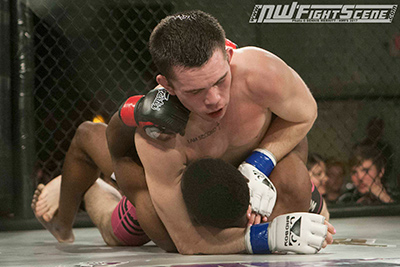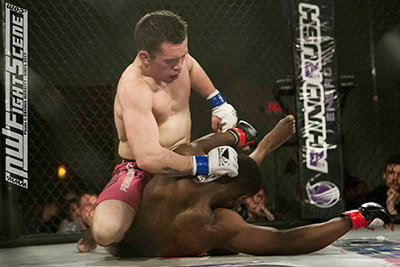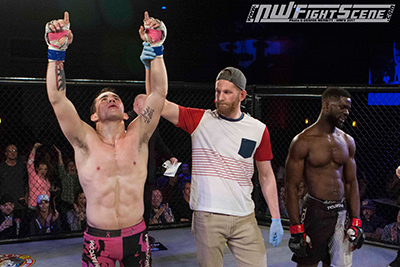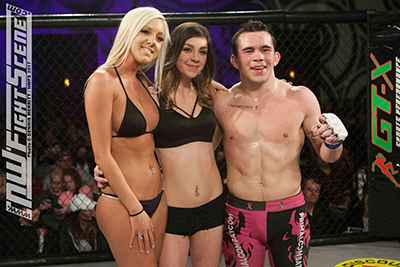 Joe McHale submitted Taylor Rodgers with a 2nd round rear naked choke in a competitive amateur lightweight contest.
]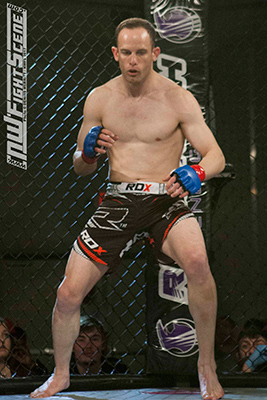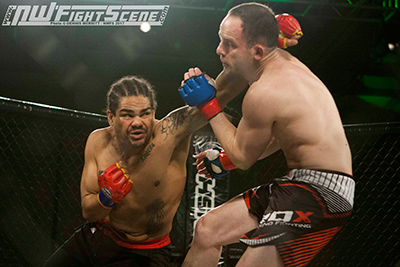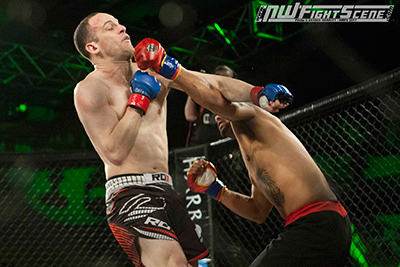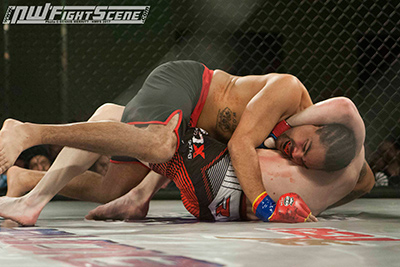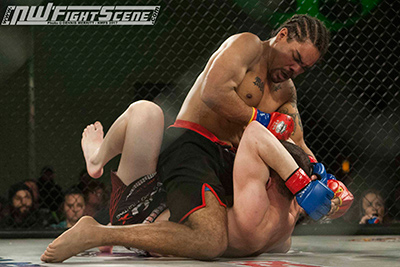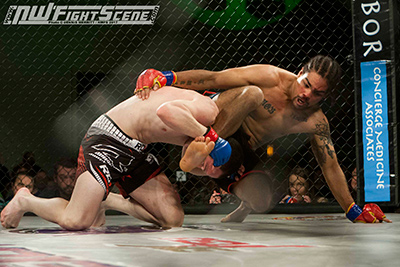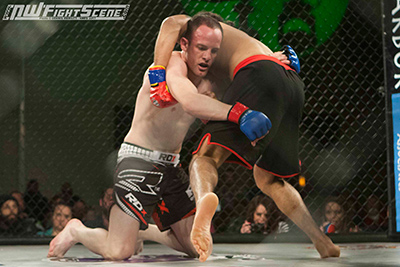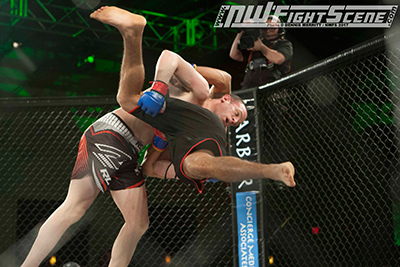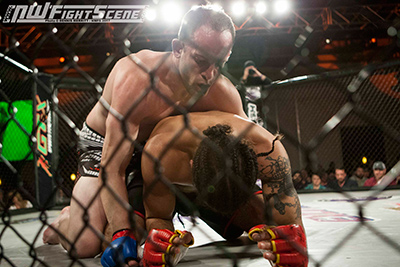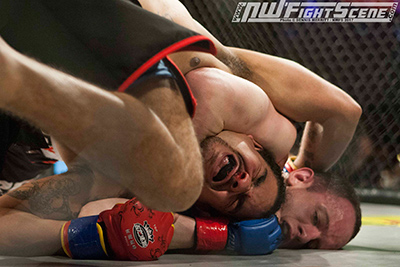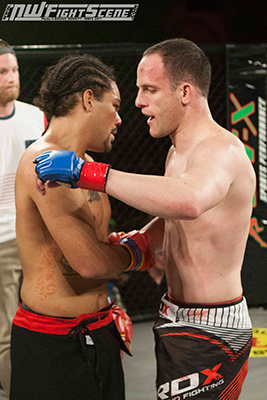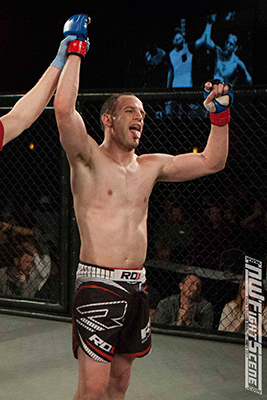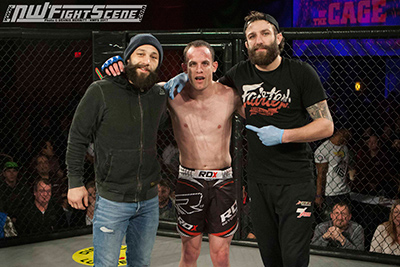 In an amateur heavyweight contest, Moses Lake WA fighter Brian Chamberlain earned a TKO win over Rathdrum Idaho's Seth Waddell. Chamberlain got a huge takedown and was delivering strikes when referee Austin Arnett called a halt to the contest due to Waddell's knee being split open. The TKO to injury came just under a minute into the fight.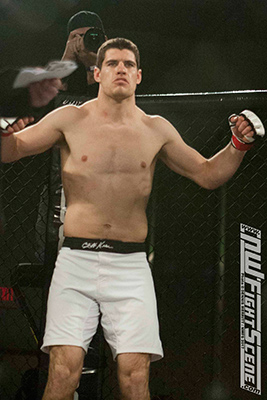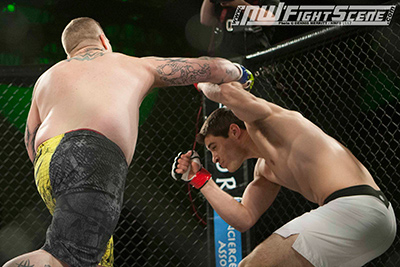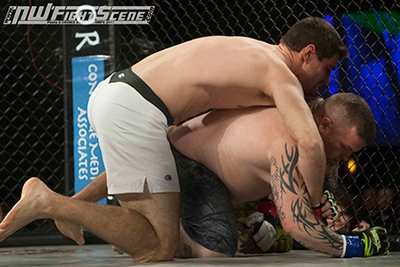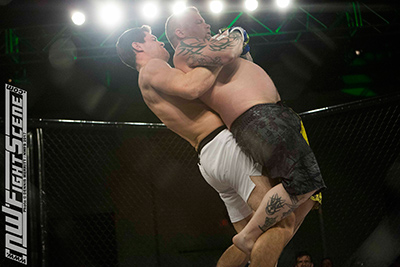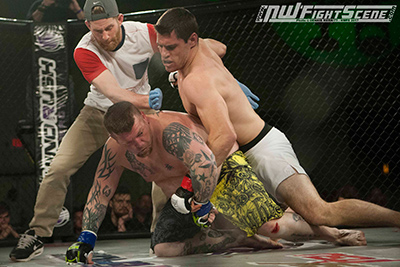 Spokane's Michael Ward finished Noah Seigel with punches for the TKO win just under a minute into their amateur welterweight bout.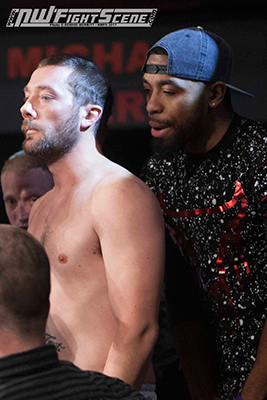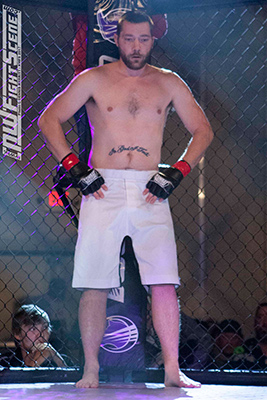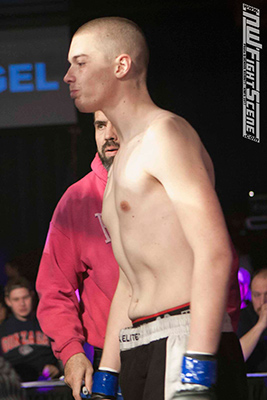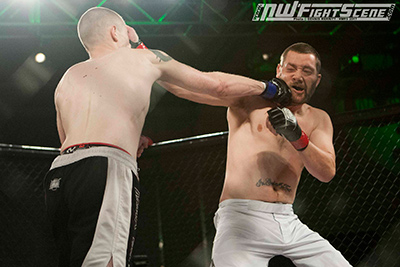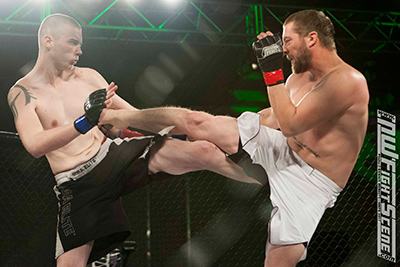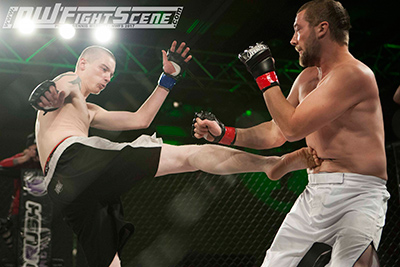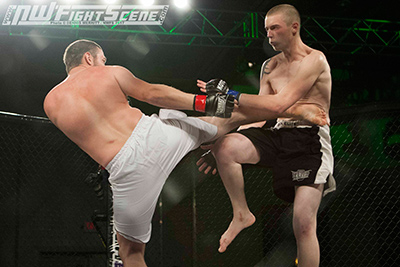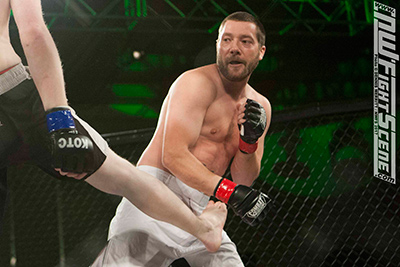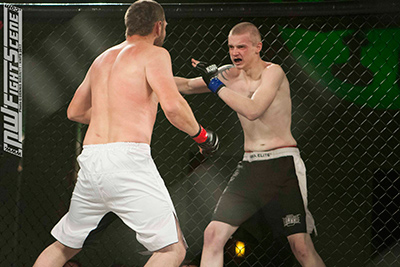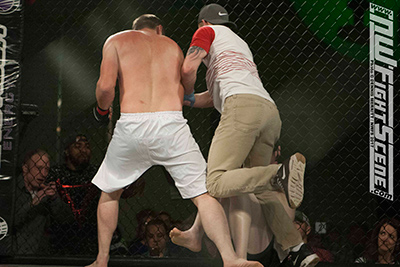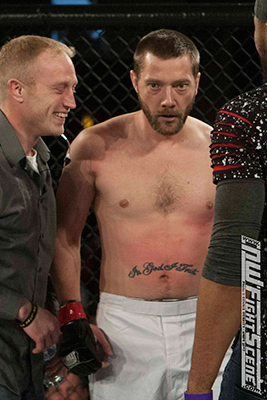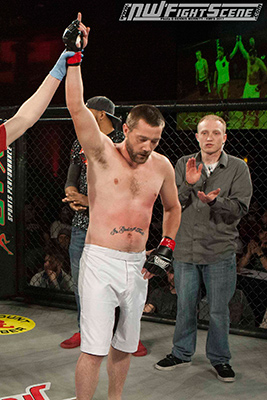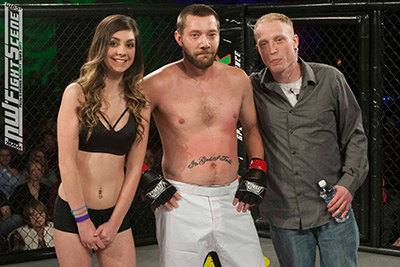 Spokane fighters Brent McNeil and Cameron Johnson matched up in the amateur 145 lb division, with McNeil coming out the winner by triangle choke late in the 2nd round.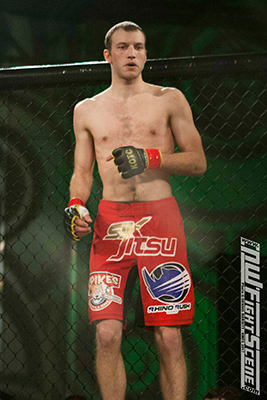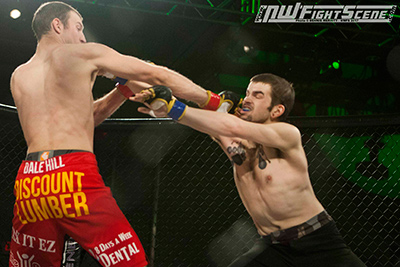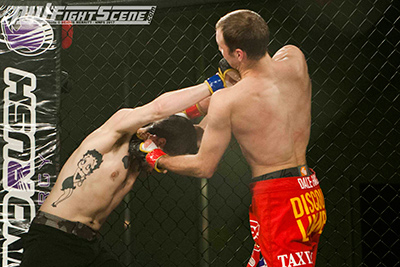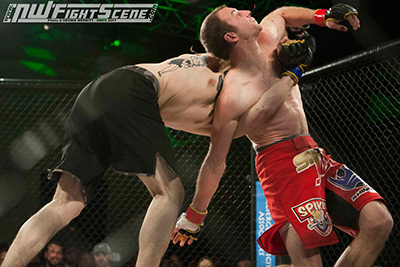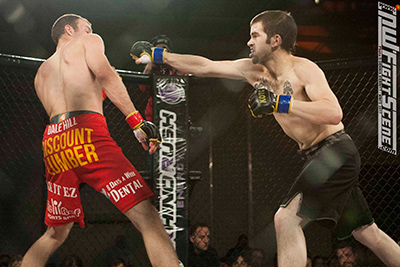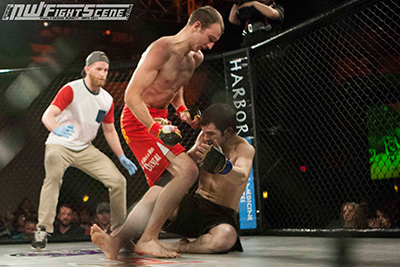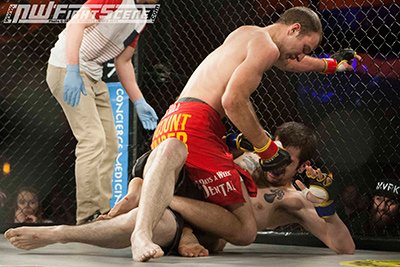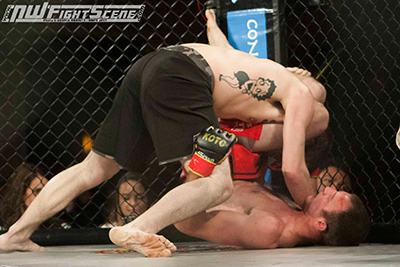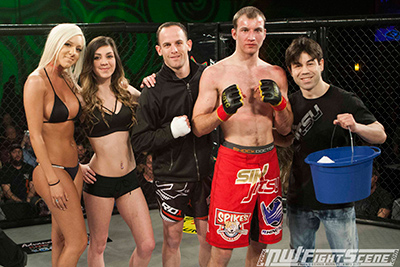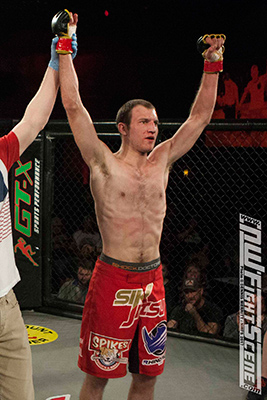 Both amateur 145 lb fighter Matt Main and amateur 125 lb fighter Cadence Ross had their respective opponents fall of the card last minute, so they matched up against each other. Main utilized his size advantage to quickly take down Ross and sink a rear naked choke for the win at just under 40 seconds in.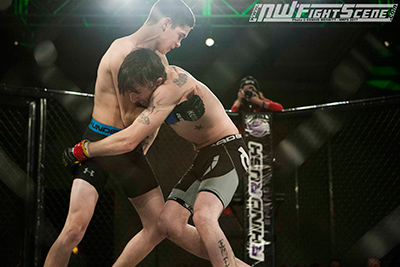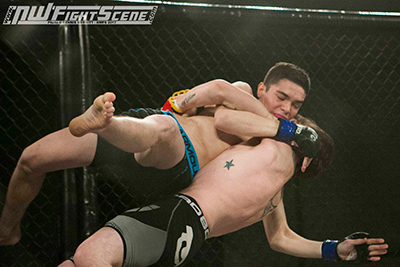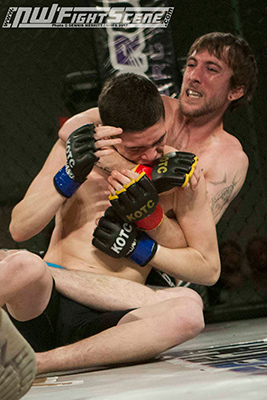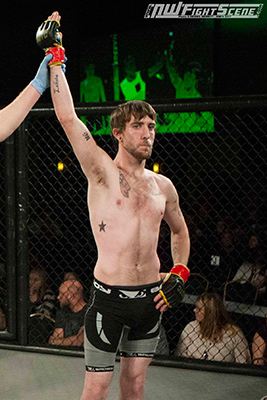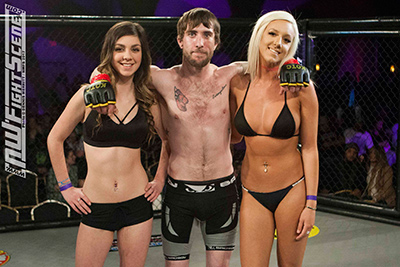 Watch all of the fights on Youtube.
Learn more about ExciteFight at excitefight.com.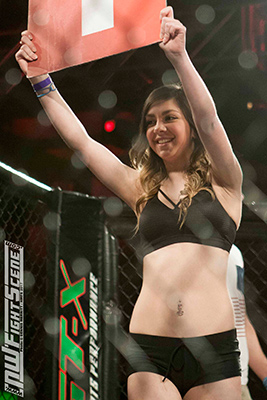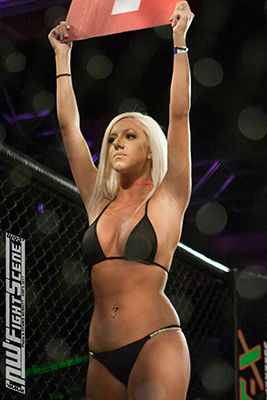 ---