NEW YORK – January 3, 2017 – Combate Americas today announced four spectacular Mixed Martial Arts (MMA) bouts, including a bantamweight (135) main event between rising stars Steve Swanson (14-2) and Gustavo Lopez (6-2) - for the league's much-anticipated, historic debut in Mexico on Thursday, Jan. 19, live on Azteca America (10 p.m. ET/PT) and UFC FIGHT PASS® (8 p.m. ET/5 p.m. PT).

The event, which will take place at El Plaza Condesa in Mexico City, will also air via tape delay in Mexico the following night, Friday, Jan. 20 at 11 p.m. CT., on TV Azteca, S.A.B. de C.V. (BMV: AZTECA; Latibex: XTZA), one of the two largest producers of Spanish-language television programming in the world.

In the atomweight (105 pounds) co-main event, former world championship challenger Nicdali "The Night Queen" Rivera-Calanoc (9-9) will make her long-awaited return to La Jaula, the Combate Americas cage, and face red-hot Lisbeth Lopez Silva (3-3).

"We are excited to be assembling a phenomenal fight card, and to have the opportunity to be at the forefront of MMA's growth in Mexico with our unique and fast-growing sports franchise," said Combate Americas CEO Campbell McLaren.

In other main card action, two hard-hitting, Mexico City rivals, Rodrigo "Kazula" Vargas (9-5) and Marco Antonio "La Rocka" Elpidio (4-1-1) will collide at lightweight (155 pounds).

Fellow upstarts Jose "The Ghost" Ceja (4-3) and Joey "El Cazador" Ruquet (3-1) will square off at bantamweight.

Additional bouts for the Combate Americas event will be announced soon.

The 5-foot-5, 36-year-old younger brother of UFC star Cub Swanson, Steve of Indio, Calif. is a 36-year-old prolific knockout artist whose family originally hails from Chihuahua, Mexico.

Swanson is a winner of his last four fights, all by way of (T)KO. He is coming off an explosive, 38-second stoppage of Christian Rios on October 22.

Fighting out MMA legend Randy "The Natural" Couture's Xtreme Couture camp in Las Vegas, Nev. Lopez is a 5-foot-5, 27-year-old finisher originally from Yakima, Wash.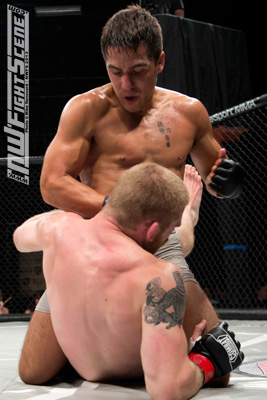 Gustavo Lopez

Lopez emerged unbeaten, with a record of 3-0, during the Combate Americas "Road To The Championship" fight series that spanned from September 2015 to May 2016. He has notched five of his six professional career victories via (T)KO or submission.

Rivera-Calanoc is a 5-foot-3, 31-year-old resident of Las Vegas, Nev. and native of Tulsa, Okla., as well as a battle-tested veteran of the sport who has faced a handful of top rivals in the women's field, including Jessica Penne.

Rivera-Calanoc, whose ancestral roots are in Chihuahua, took a split decision in her last start on March 12, from Ronni Nanney.

Lopez Silva of Mexico City is aiming for her fourth straight win on the heels of a unanimous decision over Marcel Yineris Nieto on December 2 in Panama City, Panama.

A former welterweight (170 pounds), Vargas of Mexico City is a 5-foot-8, 31-year-old powerhouse who will put a three-fight win streak on the line.

To date, the Mexican Pride team member has claimed all of his wins by way of (T)KO or submission.

Elpidio, whose nickname translates to "The Rock," is also a former welterweight standout who will look to secure his third consecutive win.

In his last effort on March 19, Elpidio, a member of the Renzo Gracie affiliate team in Mexico City, scored a second round (3:16) TKO on Francisco Vargas with an onslaught of punches.

The 5-foot-7, 31-year-old Ceja of Port Arthur, Texas will make his second start under the promotion of Combate Americas.

In his debut for the league on October 14, Ceja avenged a previous loss in dynamic fashion, scoring a first round (4:22) knockout on Irwin "The Beast" Rivera in the first live televised, professional MMA event since UFC 7 in September 1995.

Ruquet of Las Vegas, Nev. via Venice, Fla. is a 5-foot-8, 24-year-old upstart and seasoned striker who will make his second appearance in La Jaula after submitting Luke Faultersack with an anaconda choke in the second round (4:28) of action on April 25.

UFC FIGHT PASS is a digital subscription service which gives fans access to exclusive live UFC events and fights, exclusive live MMA and combat sports events from around the world, exclusive original and behind the scenes content and unprecedented 24-7 access to the world's largest fight library.

Download the UFC App now.

ABOUT COMBATE AMERICAS
Combate Americas, LLC. is the first U.S. Hispanic Mixed Martial Arts (MMA) sports franchise in history, designed to build Latino fighting champions and serve Hispanic fans, one of the world's most avid groups of prize fighting enthusiasts. The Combate Americas franchise includes reality TV programming, live events and mobile programming. The company's CEO, Campbell McLaren, is universally recognized as the co-founder/co-creator of the Ultimate Fighting Championship (UFC). New York Magazine described McLaren as "the marketing genius behind the UFC" and Yahoo! Sports proclaimed that he "knows more about the sport than just about anyone in it today." With an unprecedented product and a blue-chip ownership and management team, Combate Americas is poised to break new ground and bring about a new era in world championship level MMA competition.

ABOUT TV AZTECA
TV Azteca is one of the two largest producers of Spanish-language television programming in the world, operating two national television networks in Mexico, El trece and Azteca 7, through more than 300 owned and operated stations across the country. TV Azteca affiliates include Azteca US, a broadcast television network focused on the rapidly growing U.S. Hispanic market, and Azteca Web, an Internet company for North American Spanish speakers.

ABOUT AZTECA AMERICA'S NETWORK
Azteca America engages Spanish-language viewers by creating unique, passionate and enlightening content that is relevant to the daily lives of our audience. Wholly owned by Mexican broadcaster TV Azteca, S.A.B. de C.V. one of the two largest producers of Spanish-language content in the world, Azteca America complements its Mexican programs with an innovative lineup of shows from third-party producers and distributors to ensure the finest programming for its audience. The company provides tailored, multi-platform advertising solutions for clients seeking to reach the most dynamic consumer group in the country.

About UFC®
UFC® is a premium global sports brand and the largest pay-per-view event provider in the world. Headquartered in Las Vegas with offices in London, Toronto, Sao Paulo and Singapore, UFC produces more than 40 live events annually that consistently sell-out some of the most prestigious arenas around the globe. UFC programming is broadcast in over 156 countries and territories to more than 1.1 billion TV households worldwide in 29 different languages. UFC FIGHT PASS®, a digital subscription service, delivers exclusive live events, thousands of fights on-demand and original content to fans around the world. For more information, visit UFC.com and follow UFC at Facebook.com/UFC, Twitter, Snapchat and Instagram: @UFC.