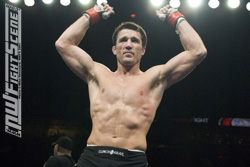 Chael Sonnen
UFC Superstar, Chael Sonnen, sits down with NW Fightscene's Spaniard after a training session at Team Quest Tualatin and talks about his upcoming co-main event fight on UFC on FOX 2 in Chicago, happening January 28th, 2012. This interview was filmed on January 12th, before Sonnen learned his opponent Mark Munoz was off the card to be replaced by Michael Bipsing. That being said, this is still an interview very much worth watching as Sonnen eloquently touches on a number of different topics. These include why he thinks he'll never fight Anderson Silva again, his thoughts about possible future fights with Jon Jones or George St. Pierre, and his opinion of Women's MMA. A follow up interview was done backstage with Chael on January 21st at Rumble at the Roseland 61 where he talks about the opponent change.
---
NW Fightscene thanks Chael for taking the time out of his training to speak with us. He'll be fighting Michael Bipsing at 185 lbs in the Co-main Event of UFC on FOX 2, happening Saturday January 28th from the United Center in Chicago and broadcast LIVE on FOX at 5 PM PT. More info at UFC.com.
Fans can meet Chael on January 21st at the Roseland Theater in Downtown Portland when The FCFF - the amateur fight promotion owned by Chael and partner Kevin Keeney - holds its 10 year Anniversary show with Rumble at the Roseland 61. More info at TheFCFF.com.
This interview took place at Team Quest's Tualatin gym, located at 20110 SW 112th Ave in Tualatin OR & online at teamquestmma.net.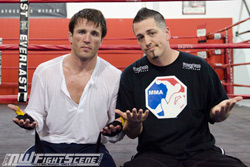 Chael Sonnen & Spaniard