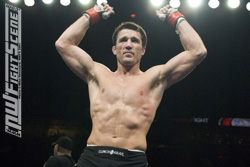 Chael Sonnen
Chael Sonnen, UFC Superstar and Co-owner of Mean Streets Pizza in his hometown of West Linn OR, treated NW Fightscene to lunch recently at his pizzeria and let us tell you, Mean Streets Pizza makes a mean pizza! (READ: DAMN GOOD!) Chael talks with NW Fightscene's Spaniard about opening the pizza joint, his favorite slice (and you would never guess), the brouhaha surrounding the Springfield OR School District canceling The FCFF's benefit MMA show at Thurston High, about The FCFF winning NW Fightscene's Amateur Promotion of the Year for the 2nd year in a row, his training for his upcoming fight with Anderson Silva, and much more...
---
NW Fightscene thanks Chael for his time in giving us this interview, and for lunch as well! Fight fans or just anyone who likes a great pizza should head down to Mean Streets Pizza located at 21700 Salamo Rd in West Linn Oregon.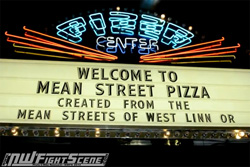 Chael will be fighting Anderson Silva for Silva's UFC Middleweight Title this summer (originally June 23rd in Rio, now possibly July 7th in Vegas). More info at UFC.com.
Chael & partner Kevin Keeney own The FCFF - the nation's premiere amateur MMA promotion - and will be holding Rumble at the Roseland 63 on May 19 at the Roseland Theater in Portland. More info at TheFCFF.com.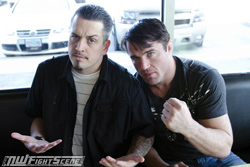 Spaniard & Chael Sonnen