E&R Promotion presents CAGEQUEST - March 3rd, 2012
Clover Park Tech College - Lakewood, Washington
Photos by Mike Renouard
---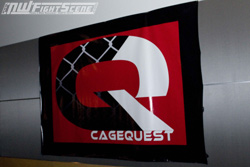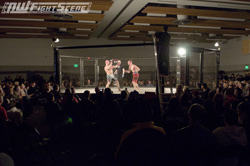 E&R Promotion, headed by Pro fighter Eddie "One Speed" Blackburn, held their inaugural fight event "CAGEQUEST" on Mar 3rd at Clover Park Technical College in Lakewood WA. A full house of enthusiastic fight fans were on hand to bear witness to history in the making, and with 14 fights there was plenty of action, thrills, as well as one really unfortunate fight, to make a lasting impression.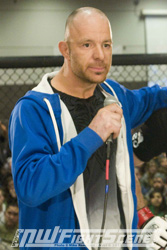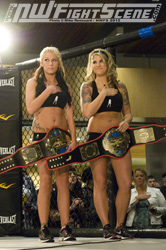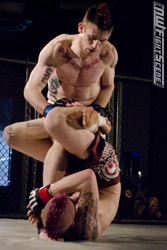 The main event was for the Cagequest 145 lb Title and featured a pair of tough fighters from the Aberdeen WA area. Jordan Harrington fighting out of Bad Company MMA & Team Hatton utilized solid ground control over 5 rounds to beat Twin Dragons' Nathan Stolen via Unanimous Decision. Stolen was effective on the feet but Harrington never allowed the fight to be there too long, and Stolen was unable to stop Harrington's varied takedown techniques.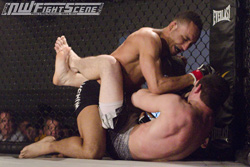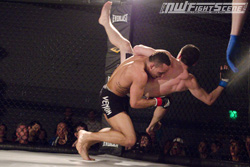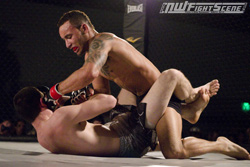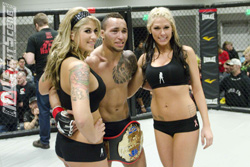 The Co-main Event was for the Cagequest 155 lb Title and it was Battleground MMA's JD Burns taking on Arlington Kickboxing Academy's Matt Davis. The first stanza was a battle for submissions with both fighters vying to finish in a technical round. In the 2nd, Burns locked in a slick Triangle Choke and finshed the fight at just over a minute into the round. With the win, Burns takes home the belt and remains undefeated at 5-0.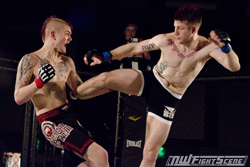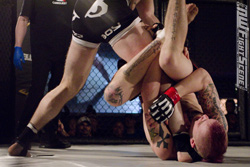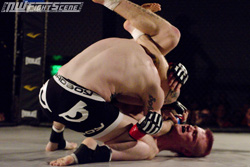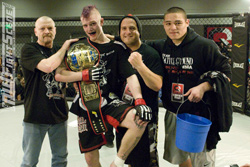 Injuries are a constant in the sport of MMA, and the potential for serious injury when the doors close and two combatants face each other across the cage is a core reality of any and every fight. The risk of serious injuries is reduced with skilled refs working the fight, and having ringside physicians and EMT personnel nearby, as was the case at CageQuest. But the potential is always there and unfortunately on this evening a horrific injury occured in the 2nd bout of the night when Justin Fowler picked up Bryan Jones Jr against the fence and carried him across the cage for the slam. Jones Jr had his leg caught under him and the force of the slam twisted his lower leg back 180 degrees, causing massive damage and stopping the fight immediately. Jones Jr was stabalized by the emergency personnel before he was transported to a nearby hospital.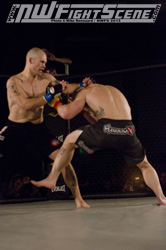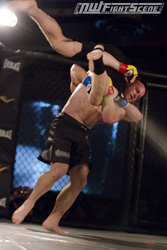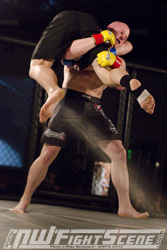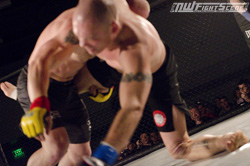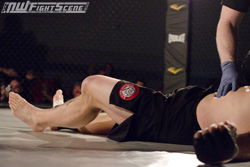 A few days later, Jones Jr sent out a message on his Facebook Page: "...I get to keep my leg. I did tear all ligaments and tendons in the knee not just the main 4. So although i do not remember them all but i did tear the PCL, LCL, MCL all the damn LC's in my leg, lol. My Miiscus is folded in half and turned upside down, so it will need surgery all alone. The goal is one massive fix it all in 6 to 8 weeks once the swelling goes down and things will heal correctly. I will be able to walk and eventually run, more than likely the recovery is going to take a year but you all know me I plan to come back sooner than that without pushing too hard. I can't say thank you enough to all the support, everyone has been so supportive." Bryan is a warrior and everyone at NW Fightscene wishes him a speedy recovery!
One of the best fights of the night was the entertaining battle at 130 lbs between Evolution MMA's Kamm Freudenstein and Yakima MMA's JR Martinez. On paper it looked that Martinez might have the edge due to having 16 amateur fights to his credit versus only 3 for Freudenstein. But in the flyweight class, the only thing for certain is that its going to be high-octane and all over the cage. Freudenstein came out super agressive, throwing wild overhands while leaving himself open and begging for Martinez to load up on him. Martinez started cautious but eventually had to give in to this enthusiasm, and the pair went toe to toe over the first two rounds, enjoying it so much they hugged after each round ended and to open the third. Thats when Freudenstein wasted no time in shooting and getting the takedown. Once on the mat, Freudenstein opened up and puunished Martinez with ferocity for nearly the entire round until finishing with a rear naked choke at 2:53 of the third. A definate crowd pleaser!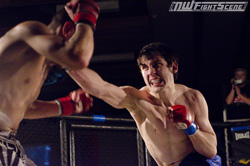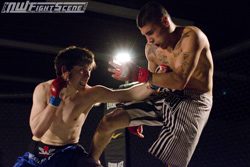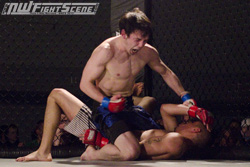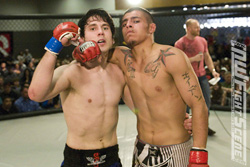 In other action, Taki Uluilukepa moved to 5-2 with a unanimous decision over Dominique Smith in a 170 lb fight. Jeremy Cosio landed a nice kick to drop Andrew Palmer to the mat in their 155 lb contest, but unfortunately he rushed in and connected with a knee to Palmer's head and truly knocked him senseless. Palmer was unable to continue and due to the unintentional illegal knee, the fight was declared a No Contest.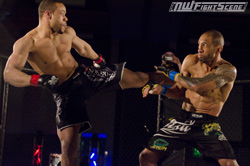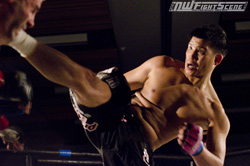 Jacob Solis subbed Kenny Beach with a first round armbar in their 160 lb bout, and moves to 7-3 while Beach falls to 5-5. And GUMMA's Alfonson Gonzales dealt some retribution to Kevin Schumacher, who failed to make weight, by subbing him with a first round armbar.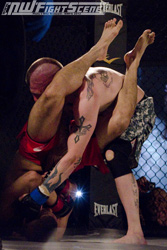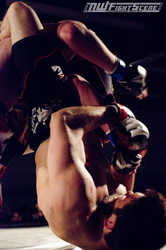 Despite the injury to Jones Jr, E&R Promotions can be proud of a sucessful first show. When the injury happened, no one panicked and emergency care was on the spot, proving that the safety procedures work. And with the bouts that followed, all the fighters rose to the the occasion and put on highly entertaining fights. Stay tuned for a future CageQuest event this coming summer.
---
Bout 1 - 175 lbs
Aaron Goodhardt (2-0, Team Damage) def Zack Tingle (1-0)
by Rear Naked Choke 2:23 Rd 3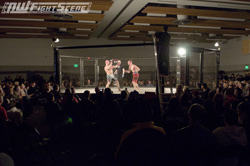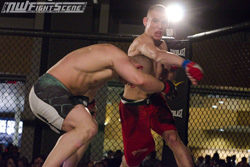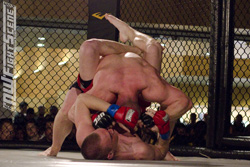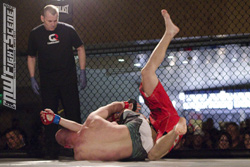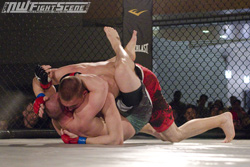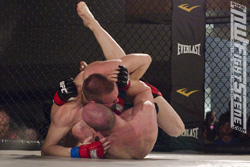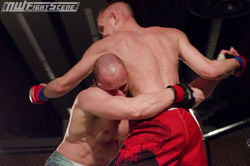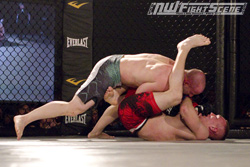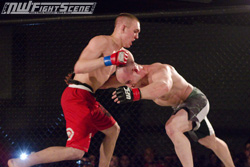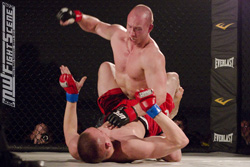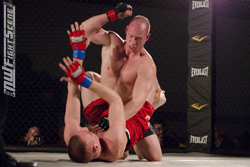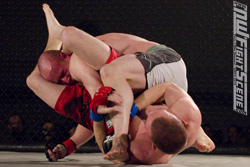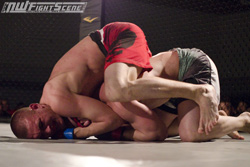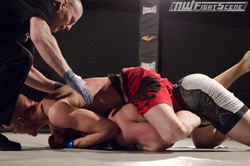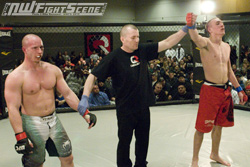 Bout 2 - 185 lbs
Justin Fowler (0-1) def Bryan Jones Jr (Debut, Marcelo Alonso BJJ)
by TKO (Injury - Dislocated Knee due to slam) @ 0:30 Rd 1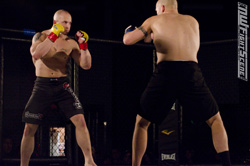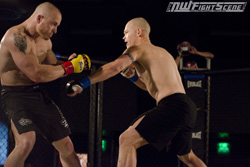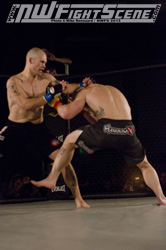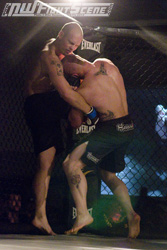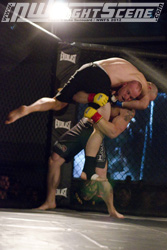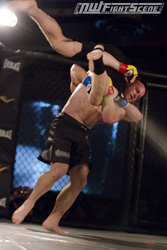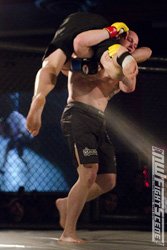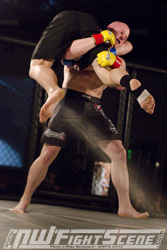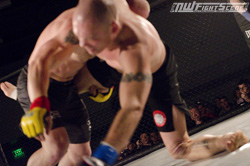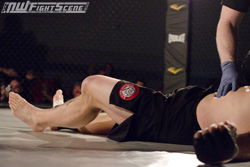 Bout 3 - 175 lbs
Charlando Peoples (2-0, GUMMA) def Albert Neris (0-1)
by TKO (Ref Stop - Strikes) @ 0:33 Rd 1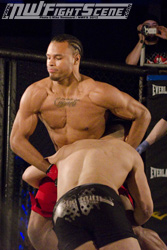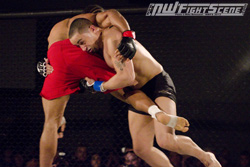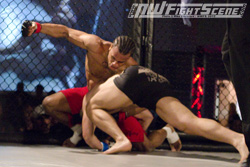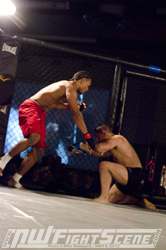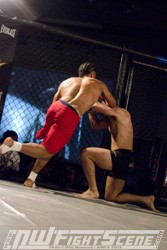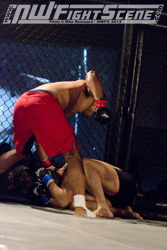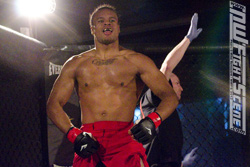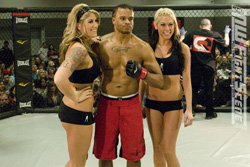 ]
Bout 4 - 170 lbs
Nick Coughran (2-2, Battleground MMA) def Brandon Cruz Jr (3-5)
by Technical Submission (Ref Stop - Standing Guillotine Choke) @ 1:02 Rd 1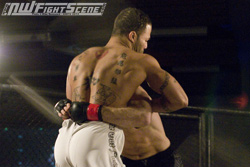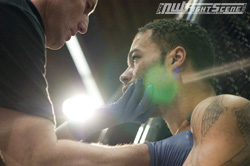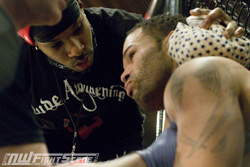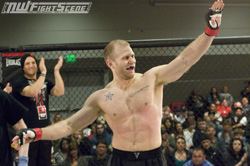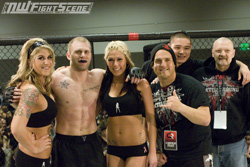 Bout 5 - 195 lbs
Ira Jarmon (Debut) def Derrick Waldrop (0-1)
by Tap to Strikes @ 2:20 Rd 1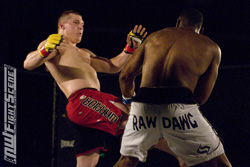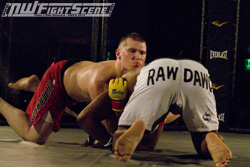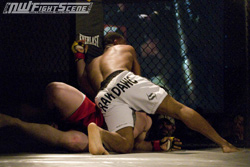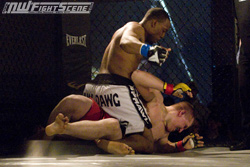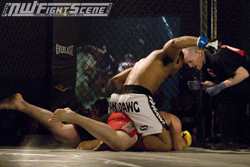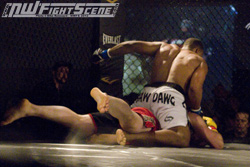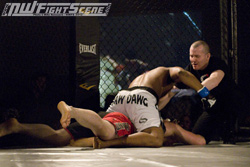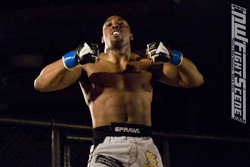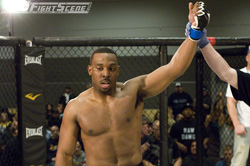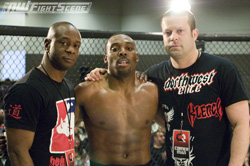 Bout 6 - 145 lbs
Bobby Grady (0-1, Gumma) def Thomas James Pierce Jr (1-2)
by Triangle Choke @ 2:22 Rd 2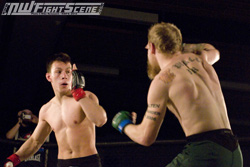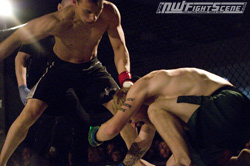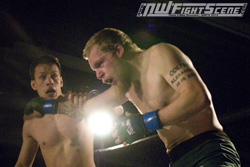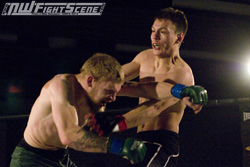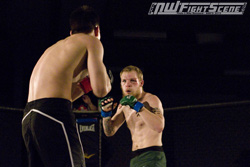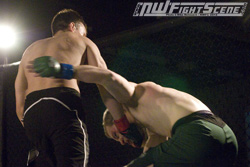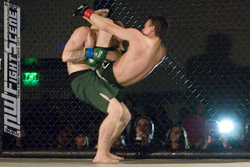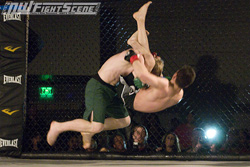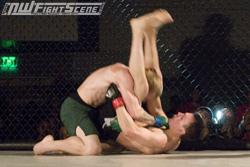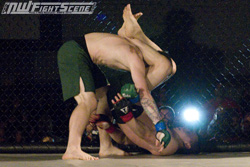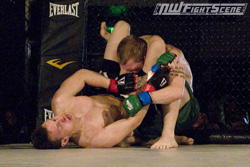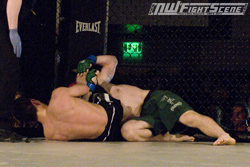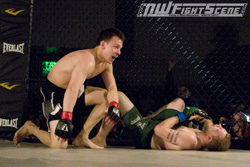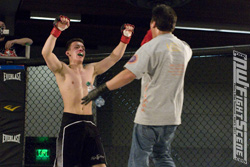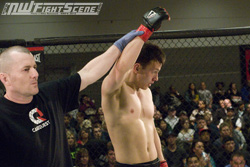 Bout 7 - 170 lbs
Taki Uluilukepa (4-2) def Dominique Smith (1-2)
by Unanimous Decision (All judges 30-27)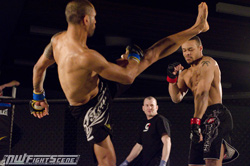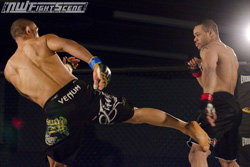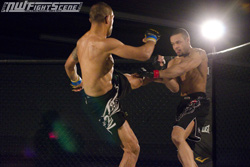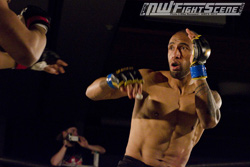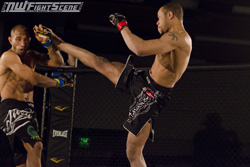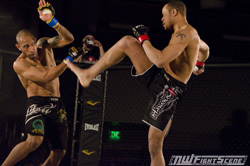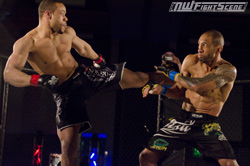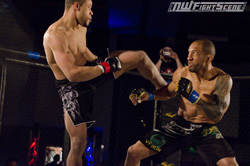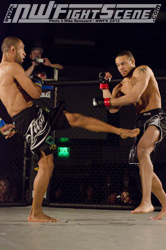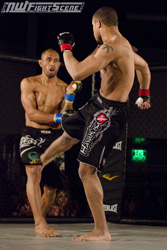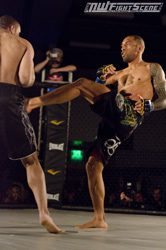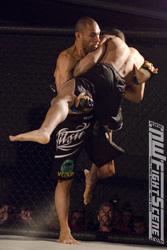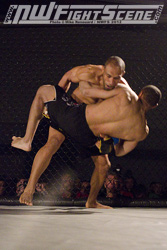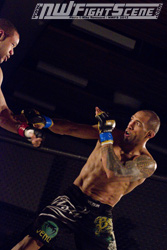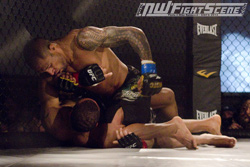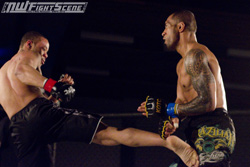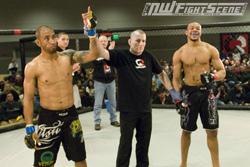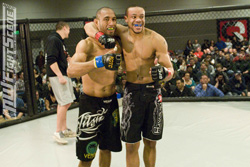 Bout 8 - 155 lbs
Jeremy Cosio (1-0, NW Elite) vs Andrew Palmer (0-2)
result in a No Contest in Rd 2 (unintentional knee)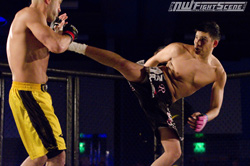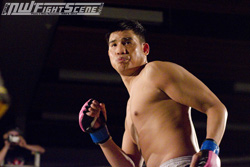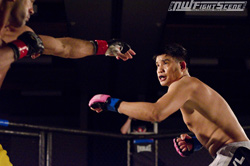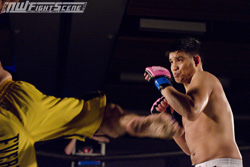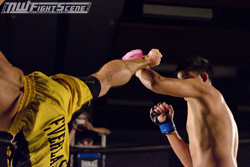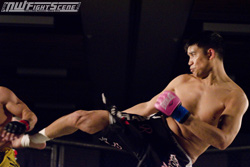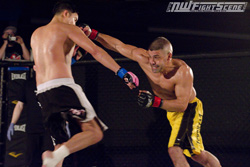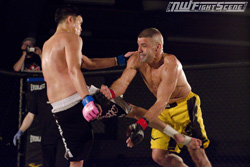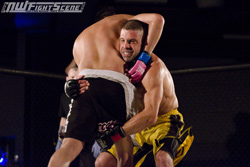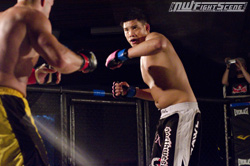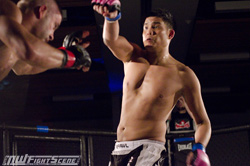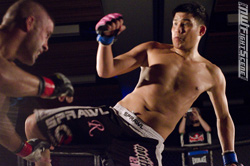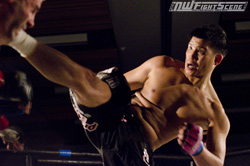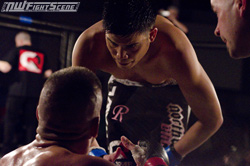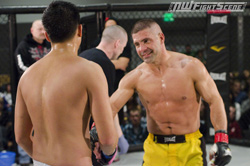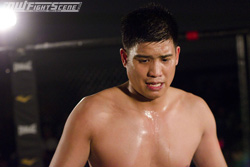 Bout 9 - 130 lbs
Kamm Freudenstein (2-1, Evolution MMA) def JR Martinez (10-6, Yakima MMA)
by Rear Naked Choke @ 2:53 Rd 3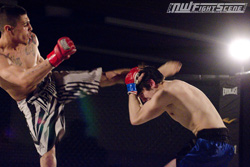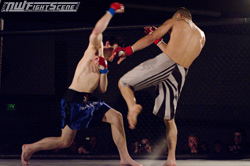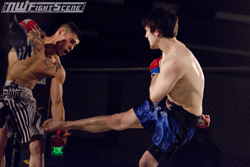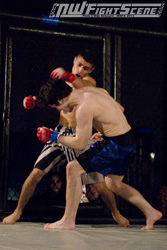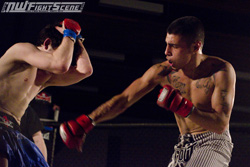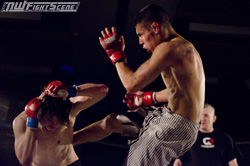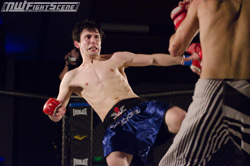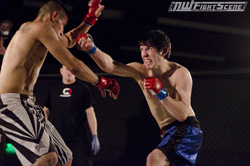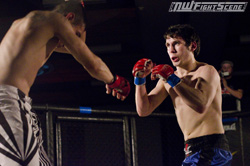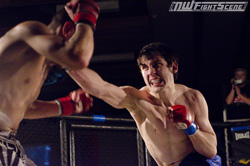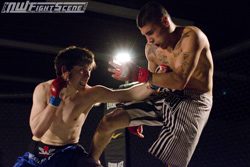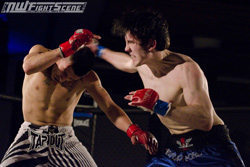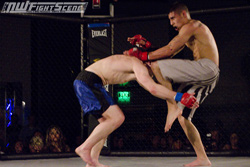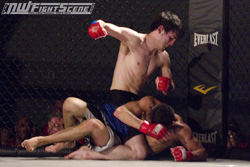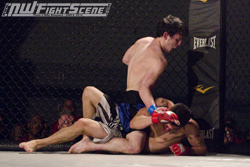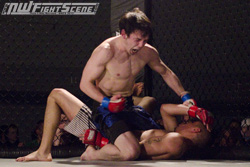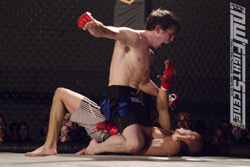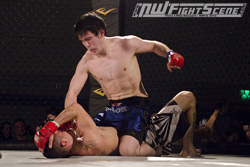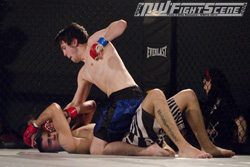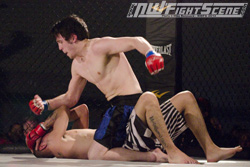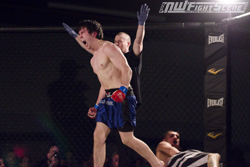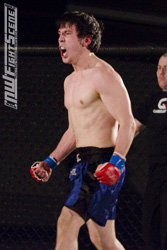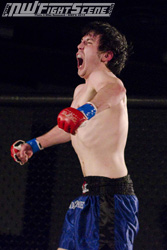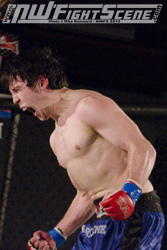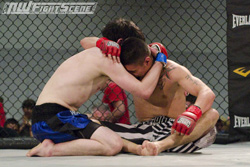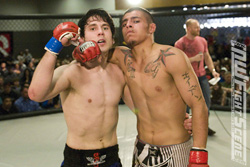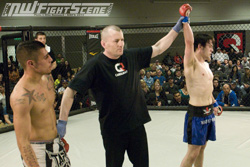 Bout 10 - 185 lbs
Omar Petty (2-0, Northwest Elite) def Sefo Nasen (1-0, Jacobs Fight Team)
by TKO (Ref Stop - Strike) @ 1:50 Rd 2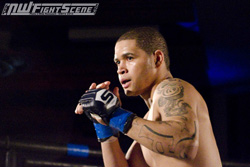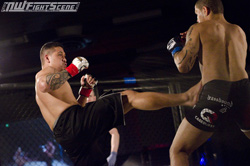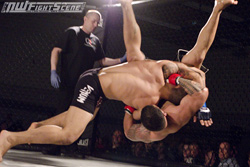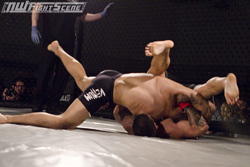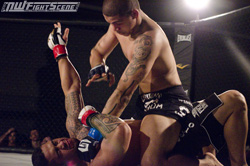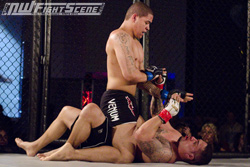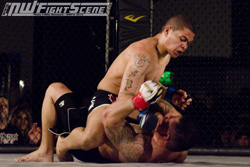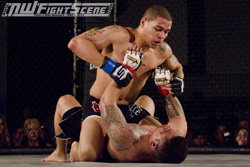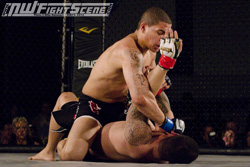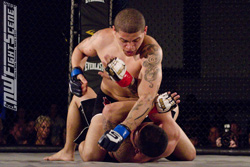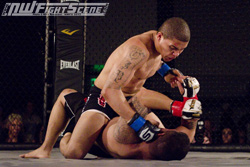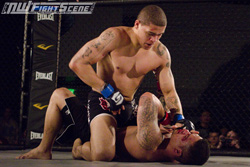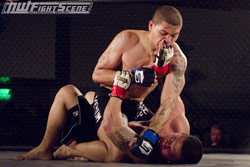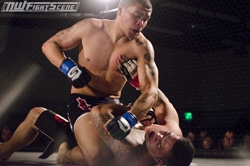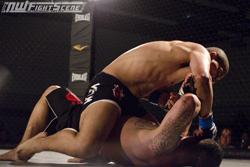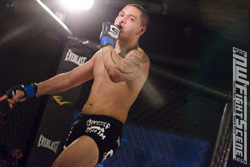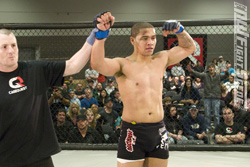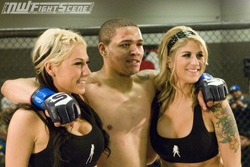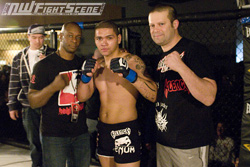 Bout 11 - 160 lbs
Jacob Solis (6-3, Yakima MMA) def Kenny Beach (5-4, United Fight Team)
by Armbar @ 0:58 Rd 1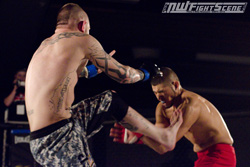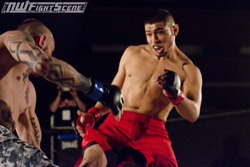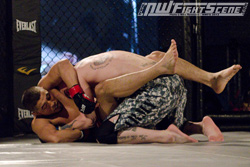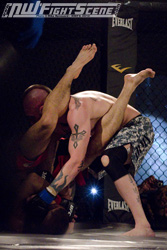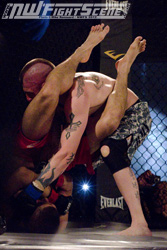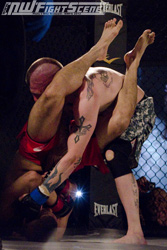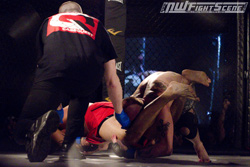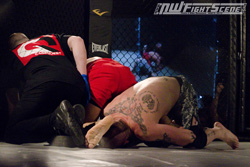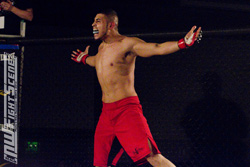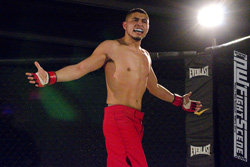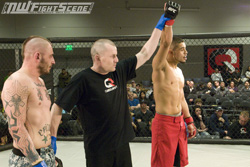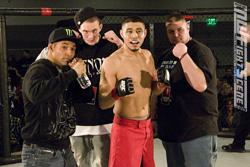 Bout 12 - 200 lbs
Alfonso Gonzales (2-0, GUMMA) def Kevin Schumacher (5-2, NW Elite)
by Armbar @ 2:53 Rd 1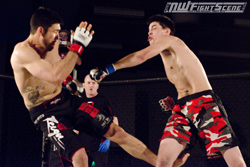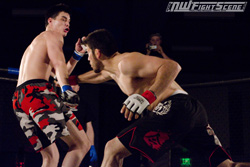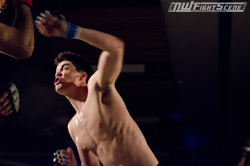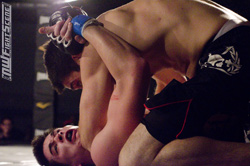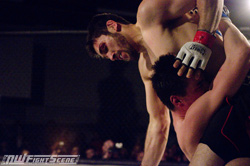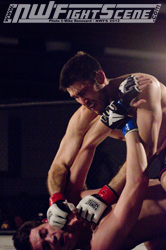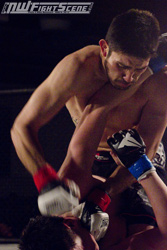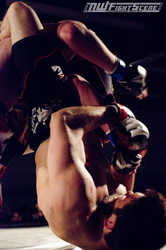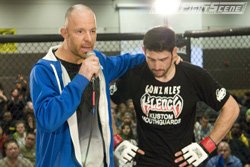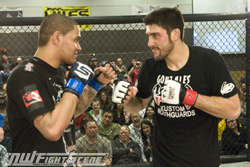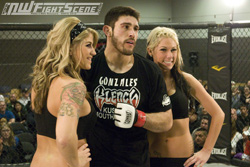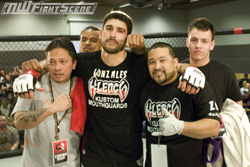 Co-Main event: 155lb CAGEQUEST Title Fight
JD Burns (4-0, Battleground MMA) def Matt Davis (7-4, AKA)
by Triangle Choke @ 1:02 Rd 2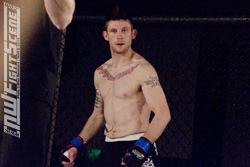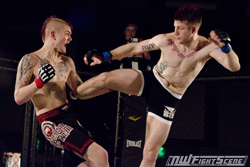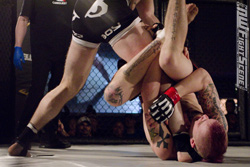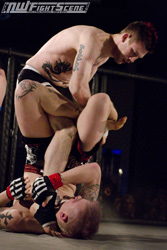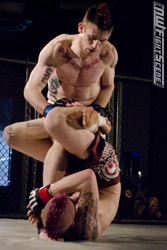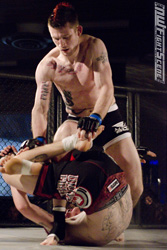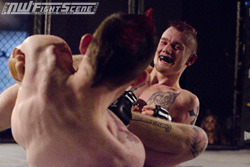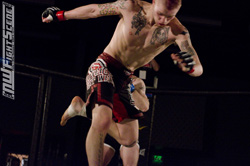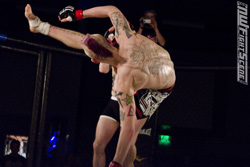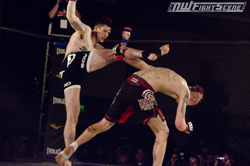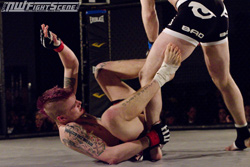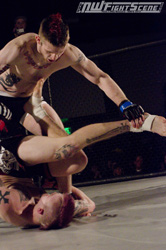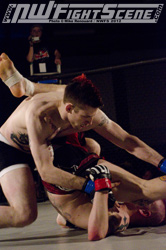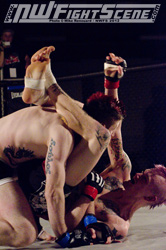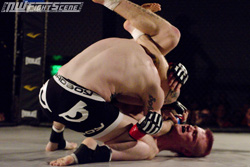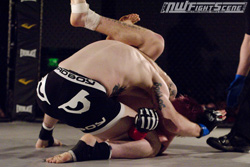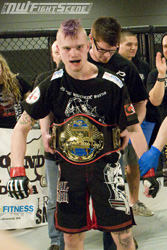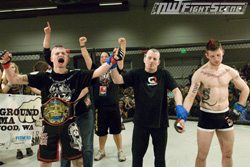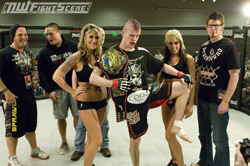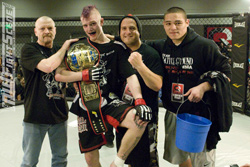 Main event: 145lb CAGEQUEST Title Fight
Jordan Harrington (6-2, Team Hatton) def Nathan Stolen (6-3, Twin Dragons)
by Unanimous Decision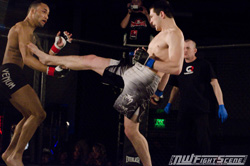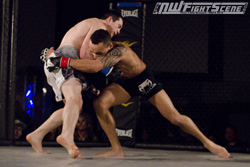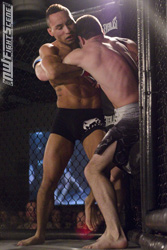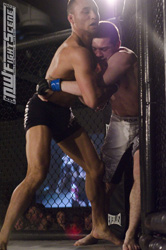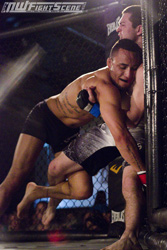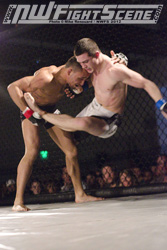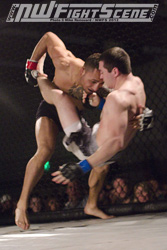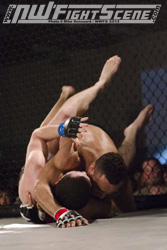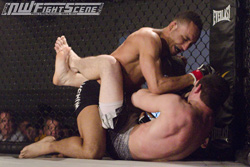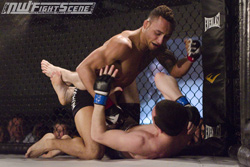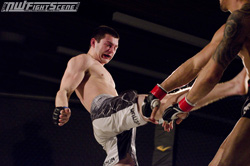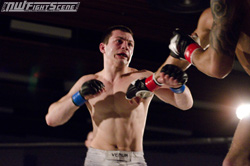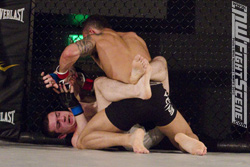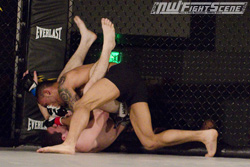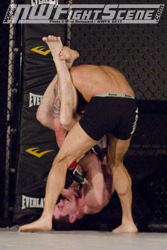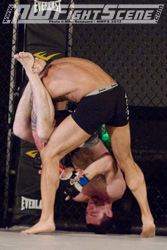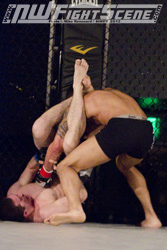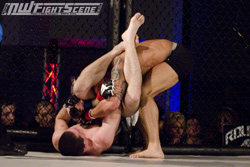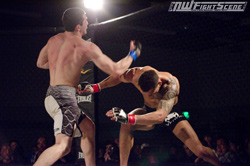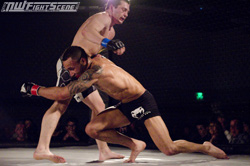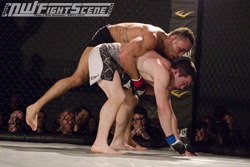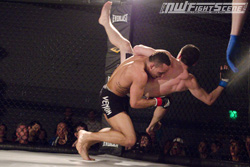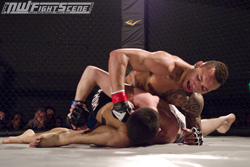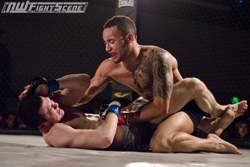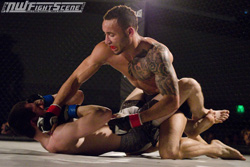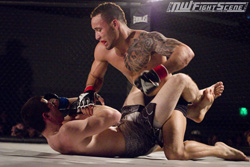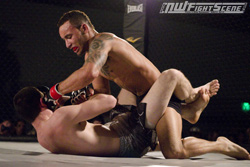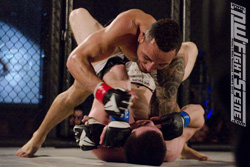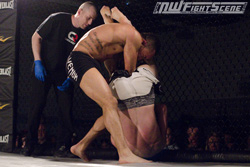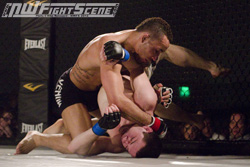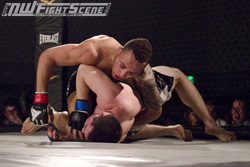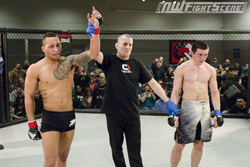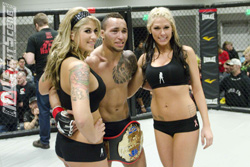 ---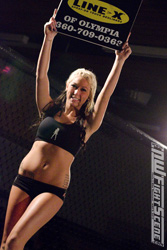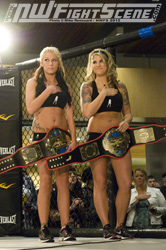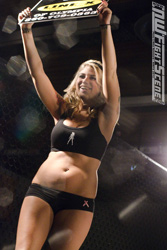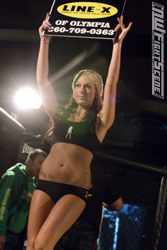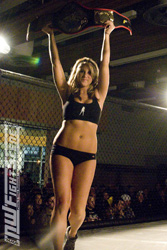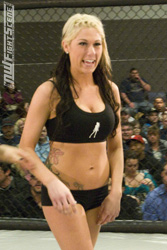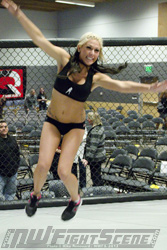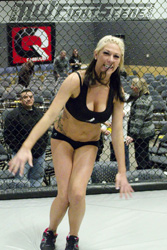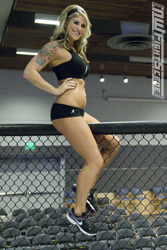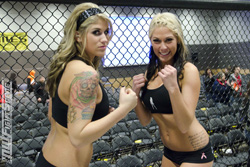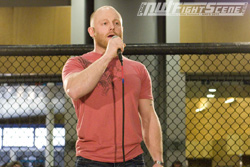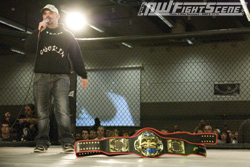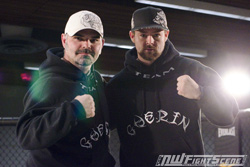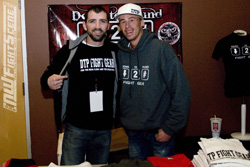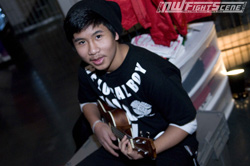 ---