Halquist Productions presented CageSport MMA 44 on February 25th at the Emerald Queen Casino in Tacoma WA, holding 9 pro MMA contests. In the main event, Yakima WA's Julian "Juicy J" Erosa captured the CageSport 155 lb belt with a 1st round triangle choke submission of previous belt-holder Justin "Ruckus" Harrington. This was an amazing fight, with Harrington looking on point to start with great movement and sharp counter-striking. The fight went to the canvas and looked pretty evenly matched. Harrington picked up and slammed Erosa but was immediately caught in a triangle. It looked as if he might slip out, but Erosa readjusted and got the tap at 2:23 of the first to win the belt.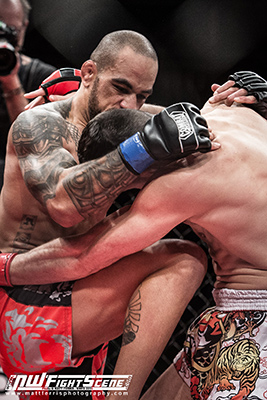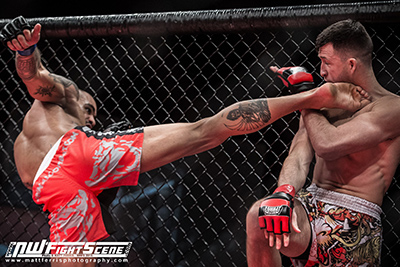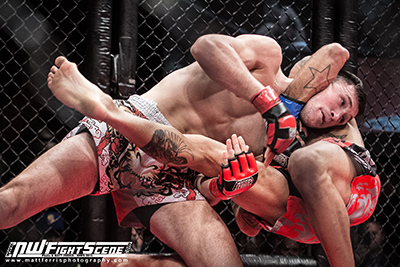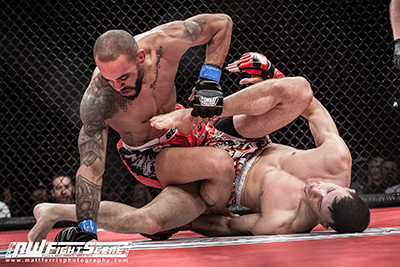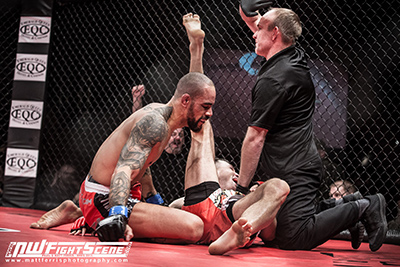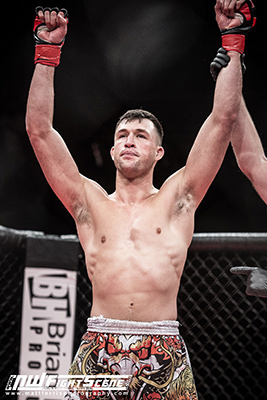 In the co-main event, Fay Bursell picked up his first professional win with a 2nd round TKO of Jon Gover. The fight started with both standing and trading, each showing good movement. Once Bursell decided to take it to the ground though, he started to assert his dominance. Every time Gover pushed himself away, Fay would be right back on him and punish him with ground strikes. Late in the 2nd, Fay had Gover pinned to the mat and landed hard shots to Gover's head that forced a stoppage at the 4:47 mark.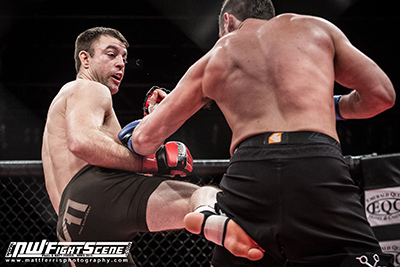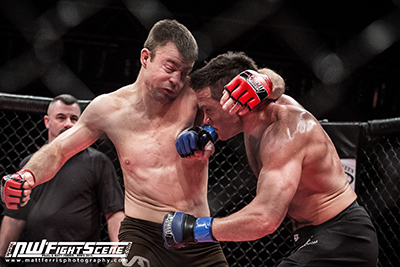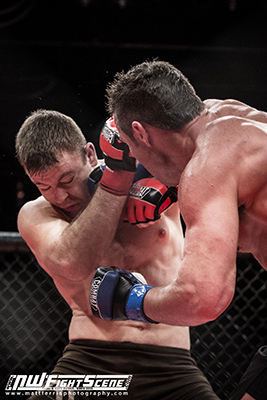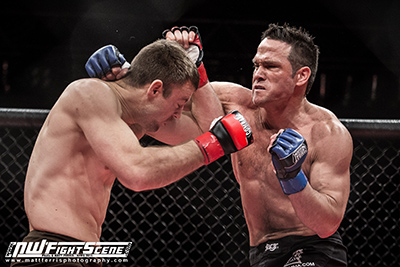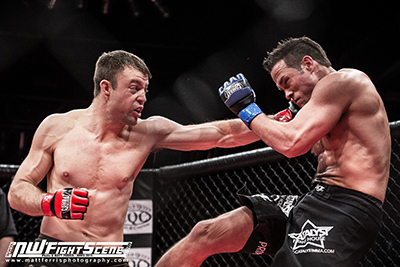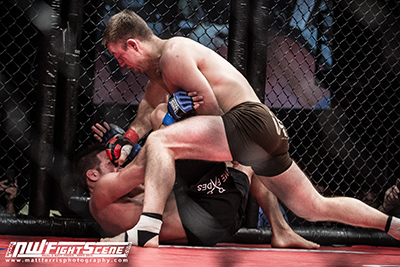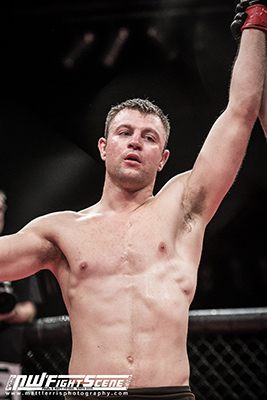 Rafael Brewster continued his unbeaten streak with a 1st round TKO of Frankie Orr in a 190 lb catchweight bout. Brewster shows some serious pop with his punches, dominating the standup. The end came with a big Brewster knee to Orr's body, followed by hammer fists on the ground for the stoppage at 3:05 of the round. Brewster moves to 4-0 with the win.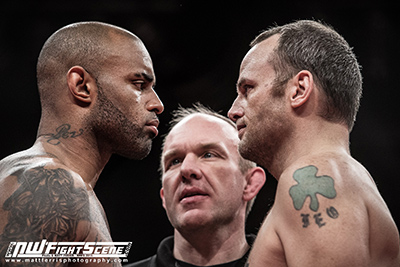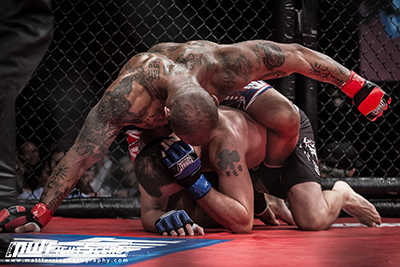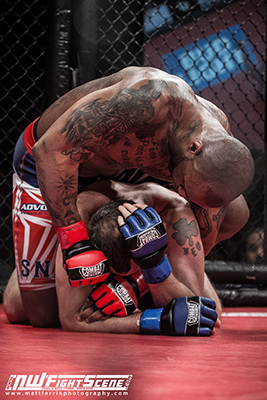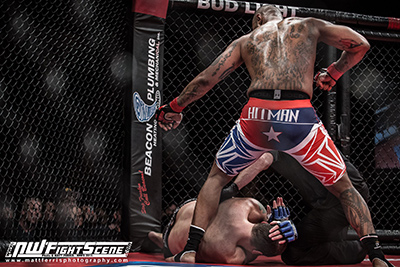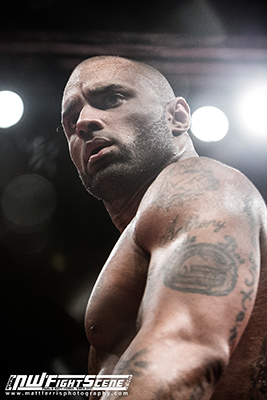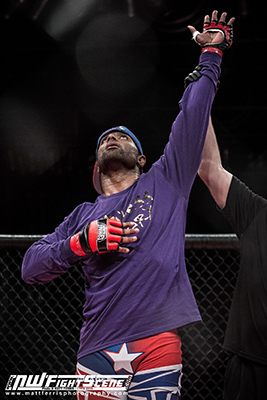 A barn-burner of a scrap took place between veteran Zach "Skindog" Skinner and undefeated prospect Eric Higaonna in a 133 lb catchweight battle. Higaonna displayed both speed and accuracy in his standup. Skinner would counter with big bombs after being backed against the cage. On the ground, it was Skinner utilizing his wrestling to stay heavy and strong on the ground, punishing Higaonna with elbows and strikes. After 3 rounds of action, the judges saw it unanimously for Skinner.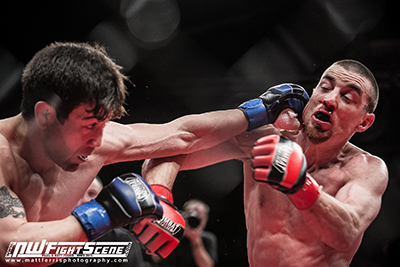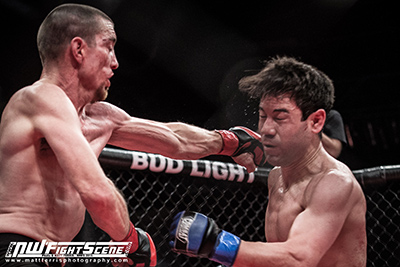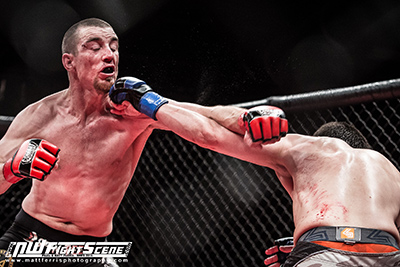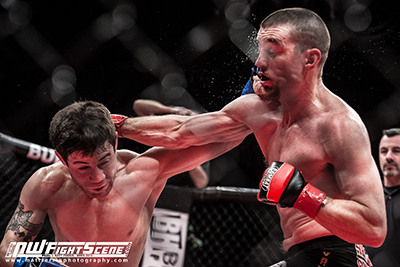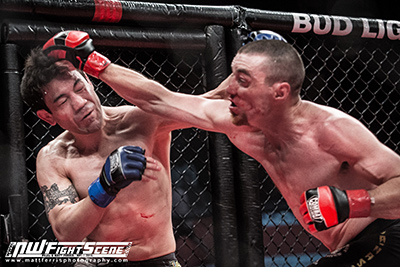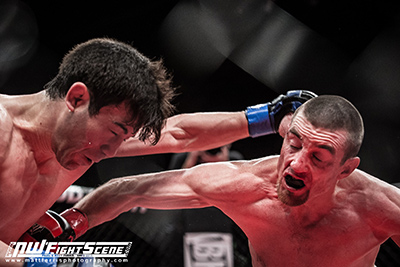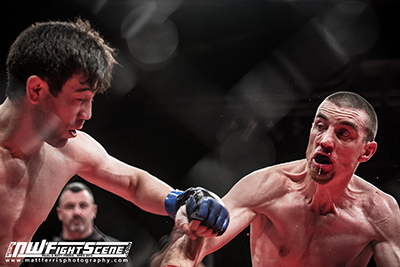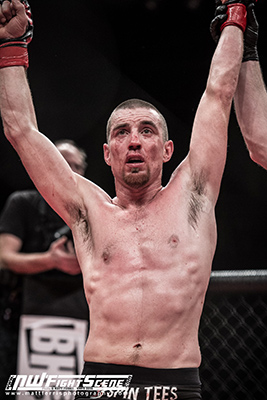 In a bantamweight affair, Olympia's Anthony Zender gets his 8th pro win in his last 9 fights with a hard-fought majority decision over Portand's Sean Gee.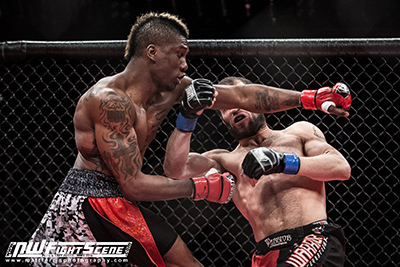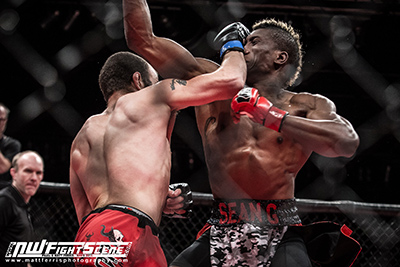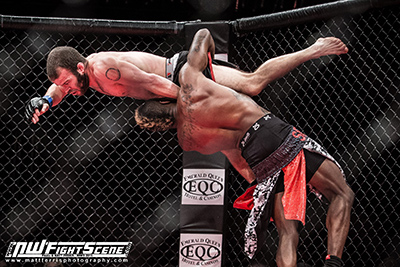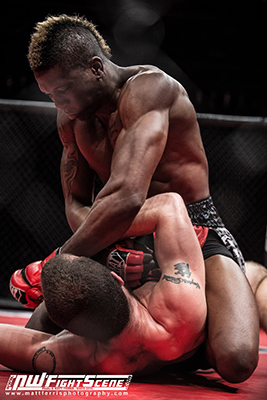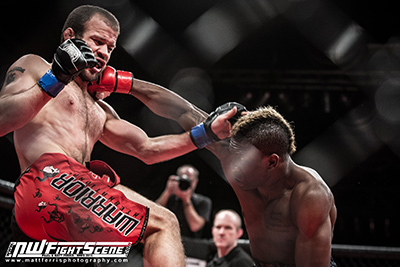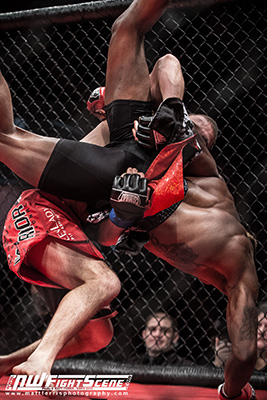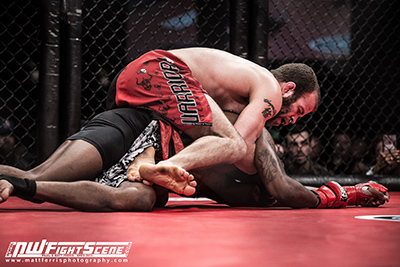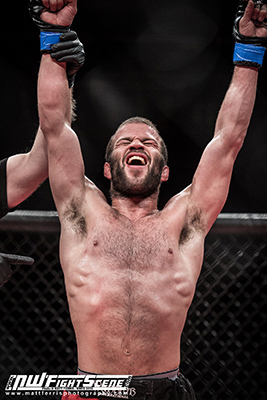 In a 140 lb catchweight bout, Portland's Journey Newson got the finish of opponent Jordan Mackin with just 5 seconds remaining via rear naked choke. Newson moves to 5-1 as a pro with the win.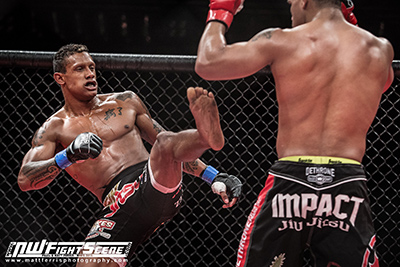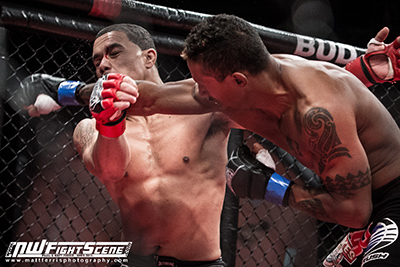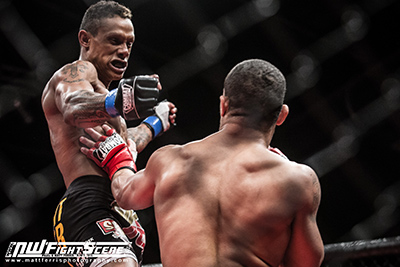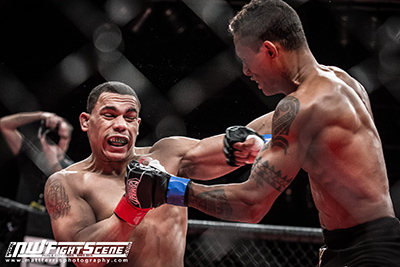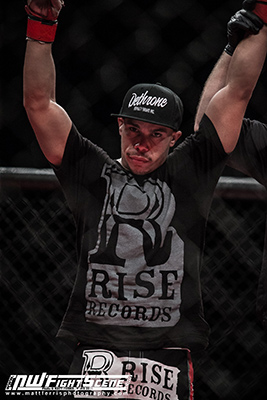 Cris "Sunshine" Williams wins his pro debut with a well-deserved unanimous decision over Wyatt Gonzales in an excellent 150 lb battle. Good technique from both fighters both standing and on the ground. Gonzales had a slight edge with the standup, so Williams looked for takedowns and displayed dominance on the mat to get the judges nod.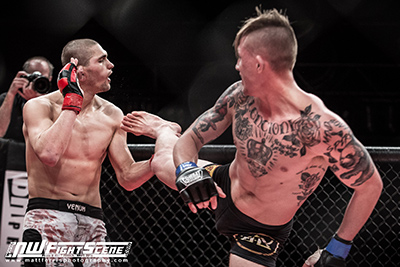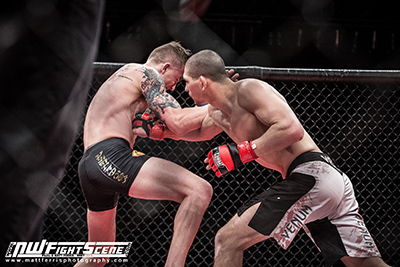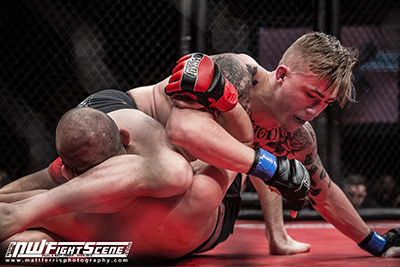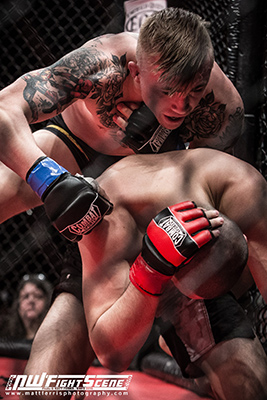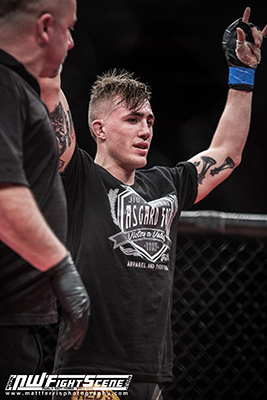 A bantamweight attraction saw a lot of action and pure intesity from both fighters. Stephen Wing came out the winner, submitting Marco Lopez in the 2nd with a rear naked choke.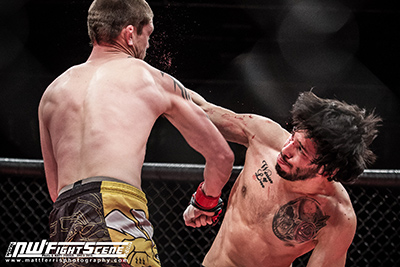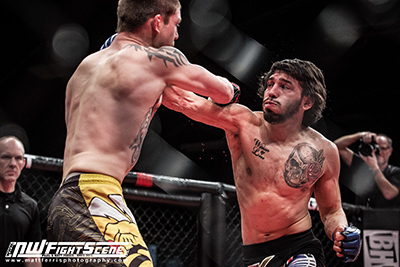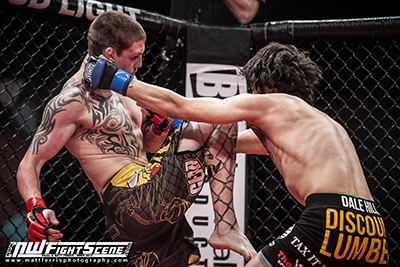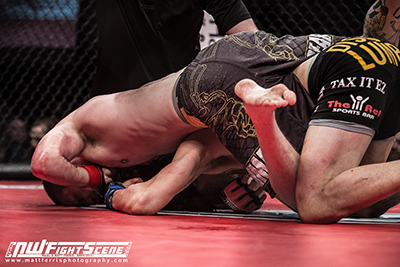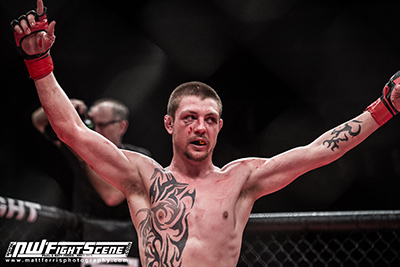 A double KO nearly took place in the opening fight of the night, a pro featherweight bout between Portland's Justin Mark and Tacoma's Armando Best. A great scrap saw both fighters coming forward with a lot of punches. Near the end of the first, a straight right form Best and a huge overhand right from Mark landed at the same time with both fighters going down. Best was out cold when he hit the floor, while Mark quickly recovered and was awarded the KO win at 4:48 of the first.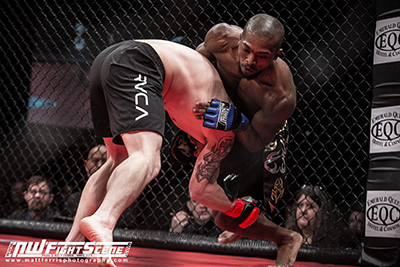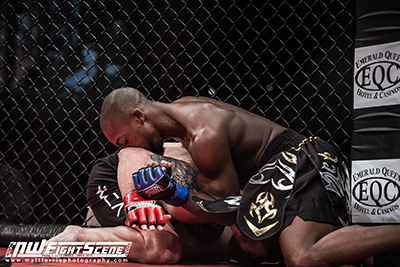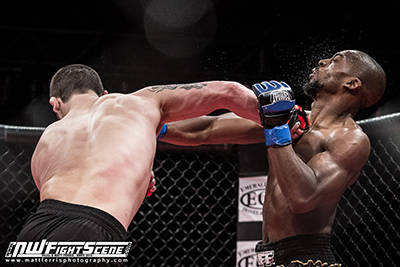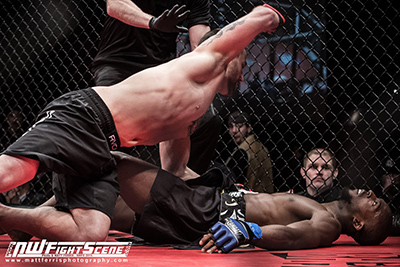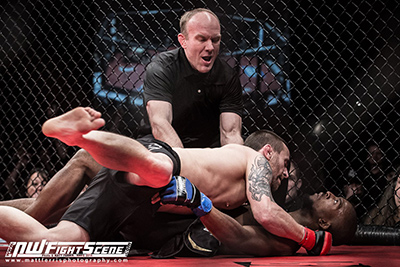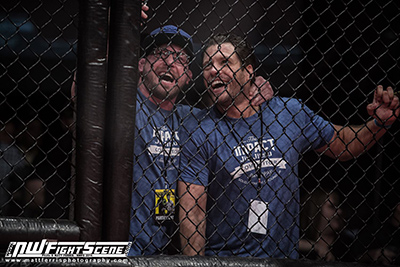 Halquist Productions will hold CageSport 45 on April 22nd. More info at www.halquistproductions.com.
---
CageSport 44 Results
Bout 1 - 146 lbs
Justin Mark (2-4) def Armando Best (1-4) by KO @ 4:48 Rd 1

Bout 2 - 136 lbs
Stephen Wing (0-1) def Marcos Lopez (1-1) by Rear Naked Choke @ 1:54 Rd 2

Bout 3 - 150 lbs
Cris Williams (Debut) def Wyatt Gonzales (0-1) by Unanimous Decision

Bout 4 - 140 lbs
Journey Newson (4-1) def Jordan Mackin (3-6) by Rear Naked Choke @ 4:55 Rd 3

Bout 5 - 136 lbs
Anthony Zender (7-9) def Sean Gee (2-2) by Majority Decision

Bout 6 - 133 lbs
Zach Skinner (9-11) def Eric Higaonna (7-0) by Unanimous Decision

Bout 7 - 190 lbs
Rafael Brewster (3-0) def Frankie Orr (3-7) by TKO @ 3:05 Rd 1

Bout 8 - 171 lbs
Fay Bursell (0-1) def Jon Gover (1-0) by TKO @ 4:47 Rd 2

Main Event - CageSport MMA Lightweight Championship
Julian Erosa (17-4) def Justin Harrington (9-2) by Triangle Choke @ 2:23 Rd 1