CageSport Lightweight Title Up For Grabs at Emerald Queen Casino

TACOMA, Wash. – One of the most anticipated title fights in Pacific Northwest MMA history will take place at CageSport 44 when Justin "Ruckus" Harrington and Julian "Juicy J" Erosa meet in the main event for the CageSport Lightweight championship at the Emerald Queen Casino in Tacoma, Wash., on February 25.

"We wanted to open up our 2017 schedule with something exciting for the fans and you really can't get anything bigger in the Northwest right now than Harrington/Erosa," promoter Brian Halquist said. "It's a dream matchup."

The 155-pound title fight is slated for five rounds and will headline the nine-bout card.

Tickets are available through the EQC box office and all Ticketmaster outlets. Preliminary bouts start at 7 p.m. Doors open at 6 p.m.

Harrington (9-2) and Erosa (17-4) have both excelled at the Emerald Queen Casino.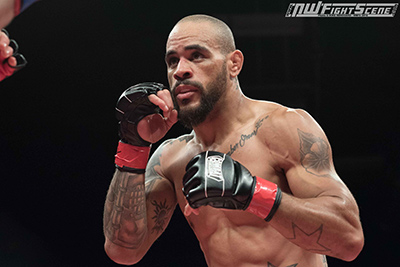 Justin Harrington

Harrington, who has won his last three fights, is 6-1 all-time in Tacoma with wins over Bryan Nuro, Bobby McIntyre and Harrison Bevens.

Erosa, a finalist on UFC's The Ultimate Fighter: Team McGregor vs. Team Faber, has fought a record 14 times locally, winning 12 of those contests with victories over Drew Brokenshire and Bevens. He defeated Marcin Wrzosek on the UFC – The Ultimate Fighter 22 Finale on Dec. 11, 2015 before losing to Teruto Ishihara on the undercard of UFC 196 – McGregor vs. Diaz.

"Both Justin and Julian have been champions on multiple occasions in CageSport,"Halquist said. "I've never seen this much excitement for an MMA title fight here."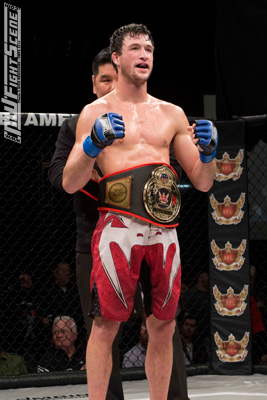 Julian Erosa

Highlighting the undercard will be a pair of undefeated fighters in Rafael Brewster and Jon Gover.

Brewster (3-0) faces Frankie Orr in a 186-pound match-up.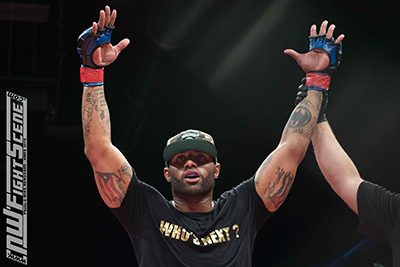 Rafael Brewster

Gover, who was supposed to make his professional boxing debut at Battle at the Boat 109 on Jan. 20, will meet Jorge Cordoba in a clash of 170 pounders.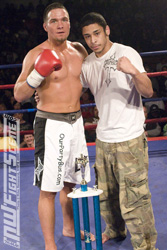 Jon Gover with coach Eddie Grant

Gover was forced to step out of his boxing commitment due to medical reasons after receiving 11 stitches from a stab wound to his calf.

The incident occurred on Jan. 15 at the Alderwood Mall in Lynnwood after Gover, a former member of the United States Navy, stepped in to save a mall employee from a knife attack.

The victim was stabbed four times in the back before Gover ended the quarrel by placing the suspect in a rear naked choke and wrestling him to the ground.

Additional undercard bouts include: Anthony Zender facing Sean Gee (136 pounds), Jose Hernandez facing Dylan Atkinson (140) and Justin Mark against Armando Best (146) with three more additional bouts.

CageSport 44 is brought to you by Brian Halquist Productions and CageSport MMA. For more information, please visit the CageSport MMA Facebook page and www.halquistproductions.com

CageSport MMA – Saturday, Feb. 25, 2017
Emerald Queen Casino, Tacoma, Wash.

Main Event – 5 Rounds
CageSport Lightweight Championship
Justin Harrington (9-2) vs. Julian Erosa (17-4)

Undercard – 3 Round Bouts
140-pounds: Jose Hernandez (2-1) vs. Dylan Atkinson (4-3)
136-pounds: Anthony Zender (7-9) vs. Sean Gee (2-2)
146-pounds: Justin Mark (2-4) vs. Armando Best (0-4)
170-pounds: Jorge Cordoba (5-4) vs. Jon Gover (1-0)
186-pounds: Rafael Brewster (3-0) vs. Frankie Orr (3-7)

*Additional bouts to be announced shortly*

ABOUT BRIAN HALQUIST
Brian Halquist Productions is the Northwest premiere fight promotion company creator of the famed "Battle at the Boat" boxing series promoting more than 19 years and over 150 fights at the Emerald Queen Casino. BHP has also built the largest professional MMA series on the USA's west coast with "Cage Sport MMA" nearing more than 50 fights. Brian Halquist Productions has promoted events for ESPN, ShowTime and HBO and featured on Showtime's historic boxing event in St Lucia, West Indies. Brian Halquist Productions has been promoting fights and concerts for over 30 years in the Pacific Northwest.