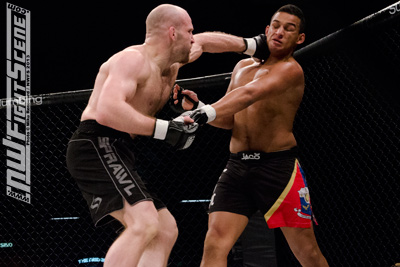 CageSport 185 lb Champ Brent Knopp catches Darrio Mobley with a left hook
The place to be for NW fight fans on February 16th was the I-5 Showroom at the Emerald Queen Casino as Halquist Production's presented CageSport XXIII. This event sold out quickly and it was not surprising given the talent on the all-pro card. The first four fights went to the judges, and all 9 fights were battles without a single submission on the night. The evening climaxed with 2 Co-main events - both championship fights - the first for the vacant 185 lb title, and the 2nd featuring Drew Brokenshire's first defense of his 145 CageSport belt against a super tough Enoch Wilson. In the house was Tacoma's own Miesha "Cupcake" Tate who recently became a UFC fighter after moving over from the defunct Strikeforce organization.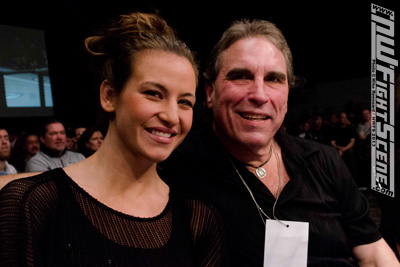 UFC Fighter Miesha Tate with CageSport promoter Brian Halquist
It took the CageSport matchmaker a while as many a fighter turned down a fight with Brent "Mankill" Knopp from AMC, but an opponent was finally found in Darrio "Super Darrio Brother" Mobley from Alive MMA in Portland OR. The pair had met once before at CageSport XX where Knopp was the victor via a 2nd Rd TKO. In this rematch, the vacant 185 lb title was up for grabs and both men wanted it. Mobley came in with a smart gameplan that he was executing well. Never staying in one spot, sticking and moving the entire time, he tried making sure not to be on the recieving end of Knopp's heavy hands. At one point he took Knopp down, slipped around to Mankill's back when Knopp went to stand up, and sunk in a good rear naked choke.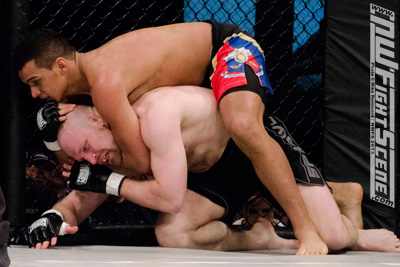 Knopp though calmly defended the deep choke and regained his feet and went to work at chasing the elusive Mobley down. Knopp was able to land three solid punches in the fight with all three visibly stunning Mobley. This included the left hook that dropped him to the canvas and that was the beginning of the end to the fight. Knopp followed Mobley to the mat and held him in place as he relentlessly punched Mobley's shell away until the ref stepped in and put a stop to the fight at 4:14 of round one. With the win, Brent Knopp becomes the new CageSport 185 lb champion and remains undefeated as a pro at 4-0.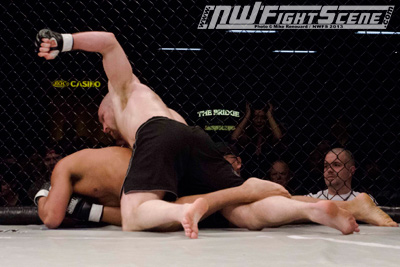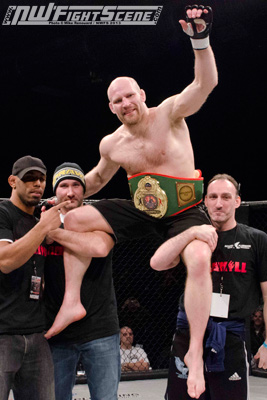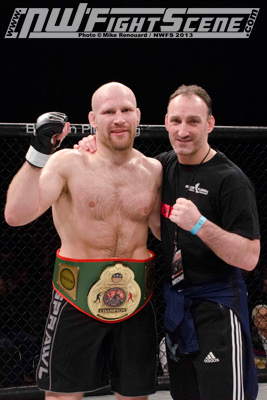 The 2nd Co-main event for the 145 lb title was even more exciting. Champion Drew "The Eternal Fire" Brokenshire of Ludus FC was ready for a tough fight with Enoch "Animal" Wilson (Animal House MMA), and Wilson gave it to him as both fighters came in prepared and displayed impressive skills. Brokenshire stayed light and fast on his feet, but couldn't out-footwork Wilson enough to completely dominate the stand-up. Wilson decided to utilize his wrestling and judo skills to get Brokenshire down repeatedly in the fight.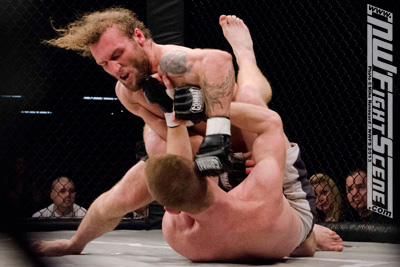 Brokenshire used his wrestling skills to regain his feet without expending too much energy. The first three rounds were a high paced back-and-forth between two incredible fighters. Toward the end of the first, Brokenshire was able to clinch and land solid knees that doubled Wilson over but didn't put The Animal out. Brokenshire started the second round at an even higher pace while Wilson upped his takedowns with a beautiful hip toss. After scrambling on the ground with both trading some short strikes and transitioning well, Brokenshire popped back to his feet and clinched-kneed again. Wilson dive-rolled out of the clinch and attacked Brokenshire's knee, forcing Brokenshire to end up in Wilson's guard defending the kneebar. Brokenshire worked hard to pass to halfguard, then to side control in order to land some knees to Wilson's side as time ran out in the second.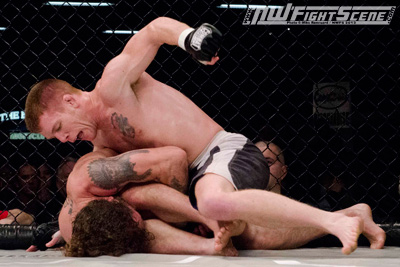 In the third round it was Brokenshire's hands that were able to stun Wilson for a moment, putting him on his knees on the canvas with Brokenshire looking to finish. Wilson recovered like he'd never been hit and jumped back to his feet, picked Brokenshire clean off the ground, and slammed him down. When the dust cleared, they were in a deep north/south with Wilson working an ankle lock and Brokenshire a toe-hold. Neither gave and scrambled well, Wilson striking before standing up just to have Brokenshire ankle drag him down.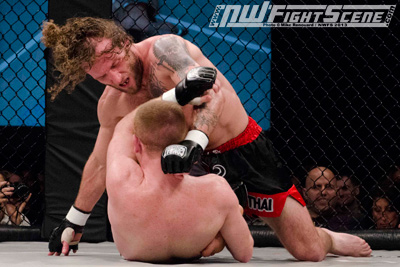 Wilson pinned a sitting Brokenshire's back to the cage wall and let his hands go. Brokenshire rolled out and reversed position to strike from side control as the round ended. As the fourth round started neither man looked tired, but after their first exchange on the feet Wilson stepped back and signaled to Brokenshire to pause. The ref stepped in and Wilson verbalized an injury to his right hand that forced him to make the hard choice to not continue, thus giving Brokenshire the victory. Not the ending either fighter wanted, but definitely fight of the night in this well-matched battle of two of the best 145ers in the northwest.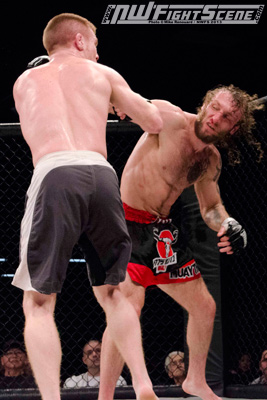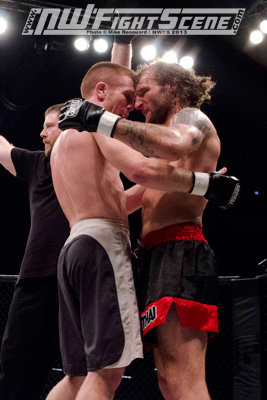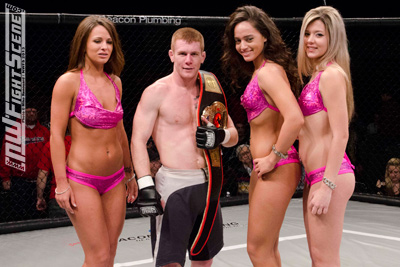 NW veteran fighter Charon Spain graciously stepped up to fill in for a injured fighter on just 3 days notice, facing an impressive wrestler a weight class above him in Harrison Bevens. While the fight went all three rounds and Spain going for an interesting inverted triangle in the second, it was Harrison Bevens' wrestling that shone bright. Taking a couple knees to the face from Spain when he'd move in for the takedown, Bevens still got the fight to the ground and kept it there. While Spain was able to neutralize any effective ground and pound, he couldn't get out from under the wrestler. Bevens transitioned well and kept moving out of guard or half guard into side control, even taking mount occassionally. But it was obvious he was more comfortable staying to the side instead of risking Spain shrimping free. When the last 10 second warning bell sounded at the end of the third, Spain powered his way back to his feet but was off-balance and was pushed down by Bevens. As he shot to his feet again, Bevens dove into a forward sommersault and up-kicked Spain to land the last strike in the fight. All three judges scored the fight 30-27 in favor of Bevens.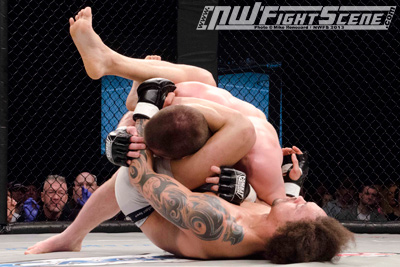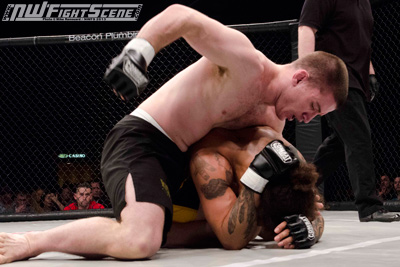 There were a lot of pro debut fighters on the card and every one of them looked like a veteran. Aaron Martin (Marcelo Alonso's BJJ/ Brian Johnson Fight Team) is a well-known local fighter with an impressive amateur background as a 155 pounder, moving down to the 145 lb weight class to start his pro career. His first challenge was getting past Irish Hit Squad head Daniel Atnip. The crowd was battling as well in this one as chants of "Martin, Martin" began on one side of the room, answered by "Atnip, Atnip" from the other side. It was the Martin's fans who won the chanting contest as Martin repeatedly dragged Atnip to the canvas to grind out dominant position after dominant position. To his credit, Atnip defended all sub attempts and stayed intensely aggressive on the feet. But Martin stuck to his game plan and kept slipping, circling, and counter-striking on the feet before moving in for the takedown where he would control Atnip on the ground. Three rounds of Martin staying smart and composed on his feet, and relentless on the ground earned him the unanimous decision.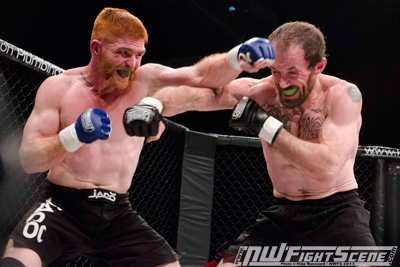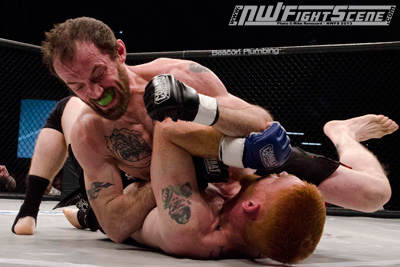 Another two debuting fighters met in the 185 lb division with Steve Simpson (BJJ Tacoma) and Alfonso Gonzales (NW Elite) engaging in a short but exciting fight. Both came out striking with heavy hands, but as Gonzales started to connect a little more, Simpson clinch-tripped Gonzales to the mat. Gonzales landed in a sitting position with his back to the cage and wall walked to his feet where he landed a solid knee before dragging Simpson down. A few punches to the face later, the ref stepped in and stopped the fight at 2:02 of round one, giving Gonzales his first pro win.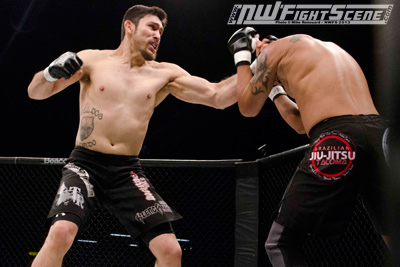 The 170 lb division also saw two new fighters enter the pro ranks when Eric Ramsey (Flores Fitness) stepped into the cage with Michael Ross (Ivan Salaverry MMA). The first round was even, both getting a takedown and both landing some good strikes on the feet. Ramsey was putting together good combos, while Ross was counterstriking well. In round two, Ramsey began to pull ahead, pushing the pace and continuing to secure takedowns. Ross was starting to show fatigue and would wrap Ramsey up on the ground, stalling him out. Ramsey followed the same plan in the third that worked so well in the second and almost got an armbar for his efforts, but Ross quickly defended. Ramsey finished the fight with some elbow strikes. Both men's faces were well marked by punches, but it was Ramsey the judges declared victorious.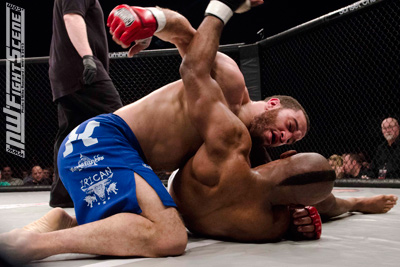 A 170 lb bout between Chaz Jordan (Yakima MMA) and Freddie Bauman (Eatonville MMA) saw a tough first round as both fighters exchanged well and each landed strikes. But early in the 2nd, "Nasty" Jordan was able to land a beautiful left hook/straight right combo when Bauman got more aggressive and got too close while circling. Bauman stepped to his left looking to lessen the impact of the hook but ran straight into Jordan's right hand that put him down 10 seconds into the second round for the KO.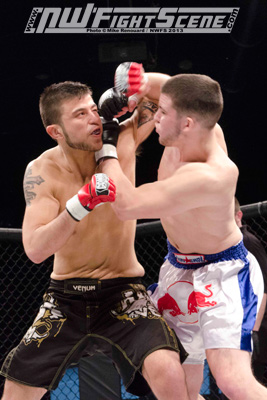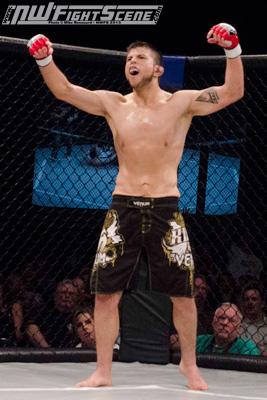 Thea Wolfe of Ivan Salaverry MMA faced off against Spokane's Sarah Lagerstrom in the atom-weight (105lb) division, both fighters making their pro debuts. Wolfe showed dominate Muay Thai skills with a Thai plum throughout the 15 minute fight, repeatedly clinching Lagerstrom and kneeing non-stop. Lagerstrom would throw vicious body shots while blocking as many knees as possible, and occassionally coming over the top with her right hand and elbow. However, Wolfe never let go and was able to keep the open-mat exchanges with the fast and heavy-handed Lagerstrom to a minimum. The judges unanimously awarded Wolfe the win at the end of this 3 round fight.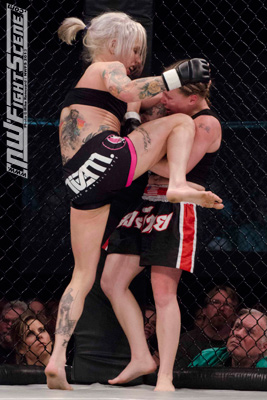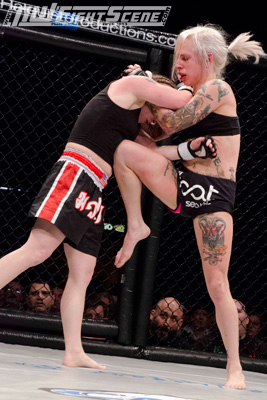 To start off this night of amazing fights, Paul "Predator" Njoku from Ethnic MMA stepped in for an opponent that pulled out at the last minute against Eureka California's Chris Roman. This 150lb catchweight fight was a 3 round, all-out war. Njoku is known for his fast-paced solid stand-up and good wrestling skills on the ground, and Roman put all those skills to the test. Roman defended a rear naked choke to end the first round, rocked Njoku in the second with a head kick before attacking with his own rear naked choke attempt.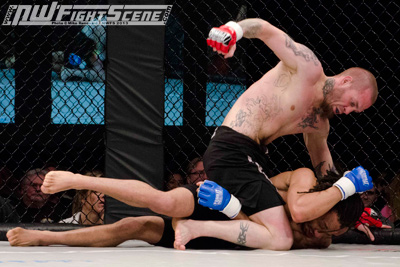 In the third round, both men were tired and would catch their breath while circling around the cage. Roman was the one to recover first and literally bent over and drew a line on the ground, taunting Njoku to dare come cross it. Unwilling to wait for Njoku to answer his challenge, Roman moved across the cage and right into a takedown. Njoku quickly took side control before moving into mount, looking for the ground and pound. Roman kept moving, but was still in a defensive position when the bell sounded, sending it to the judges. They scored it a unanimous decision for Njoku and the fight set the pace for the rest of the card.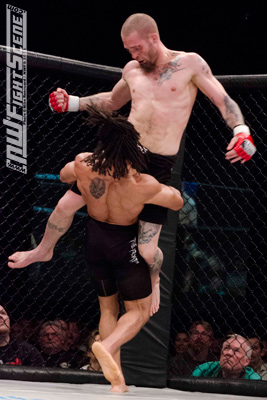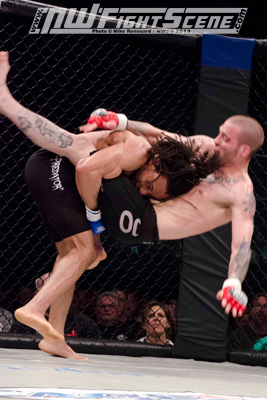 Halquist Productions' next MMA event is CageSport XXIV scheduled for April 27th. They will also hold their 91st all-pro boxing Battle at the Boat event on March 23rd. Both events take place in the I-5 Showroom at the Emerald Queen Casino.
For more info about Halquist Productions, visit HalquistProductions.com.