Tacoma, WA (January 22nd, 2012) - Halquist Productions and CageSport are hitting the ground running to start off 2013. Scheduled for February 16th, CageSport XXIII will feature Drew "The Eternal Fire" Brokenshire (5-1) defending his featherweight title for the 1st time against MMA veteran Enoch "The Animal" Wilson (16-8-2) in the semi-main event. In the Main Event, Brent Knopp (3-0) and Darrio Mobley (2-2) will battle it out for the 2nd time, but with the vacant CageSport middleweight title up for grabs this time around.
Tickets for CageSport XXIII are still available and can be purchased through Ticketmaster or at the Emerald Queen Casino in Tacoma, WA.
Brent "Mankill" Knopp is quickly gaining a fan base ever since turning pro in early 2012. He has accumulated a record of 3-0 (all 3 fights coming at CageSport) and has finished every fight via the 2nd round KO or TKO. Training out of one of the most respected MMA gyms on the west coast, AMC Pankration, Knopp is surrounded by UFC and StrikeForce stars along with being coached by one of the world's best, Matt Hume.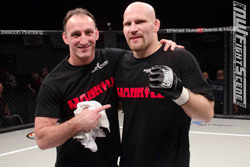 Matt Hume and Brent Knopp
Knopp last fought on September 29th at CageSport XXI against Team Quest's Brandon Pitts. The event was televised in 5 states on regional sports network ROOT SPORTS. In July, Knopp entered the cage for the 1st time with his upcoming opponent, Dario Mobley. After being cut badly in the 1st round, Knopp rebounded and TKO'd Mobley in the 2nd to earn the 2nd victory of his career.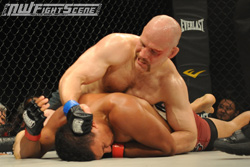 Knopp finishing Mobley at CageSport XX
Mobley will be coming into the fight with the mindset of getting a 2nd chance after the disappointing loss the 1st time around. It was clear that Mobley had won the 1st round, but he wasn't able to sustain the momentum and got caught. This will be his chance to prove himself to the fans that he's a legitimate contender in the state.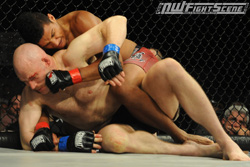 Mobley in the 1st Round against Knopp at CageSport XX
Drew Brokenshire, fighting out of Tacoma, WA, may be the most captivating fighter that has ever fought at CageSport. He made his CageSport debut back in December at CageSport XXII when he took on the then featherweight champ, Julian Erosa. The two duked it out for all 5 rounds in what turned out to be one of the most thrilling MMA fights ever presented to the Emerald Queen Casino showroom.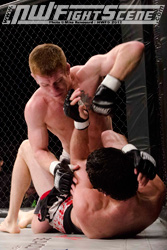 Brokenshire over Erosa at CageSport XXII
Both fighters brought huge fan bases to the event and each fighter had moments of brilliance that had their fans on their feet the entire time showing enthusiasm that fighters live for. Brokenshire also stops by and trains at AMC Pankration from time to time along with the Academy of Brian Johnson in Lacey. He will have another big test at CageSport XXIII when he takes on Enoch Wilson.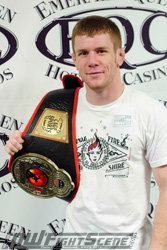 CageSport 145 lb Champion Drew Brokenshire
Team Quest's Enoch Wilson brings lots of experience to the table as his 16-8-2 record would suggest. Most recently, Wilson participated on Halquist Productions' Battle at the Boat boxing show on January 5th and came out with a dominant victory, knocking down his opponent 4 times with kidney shots before the referee stopped the fight.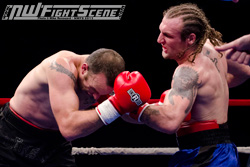 Wilson at Battle at the Boat 90
This will be Wilson's 1st appearance on a CageSport card and has the potential to bring another exciting night to the Emerald Queen Casino as he also has a large fan base in the area.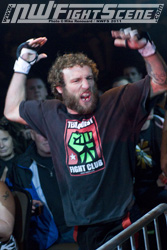 Enoch "The Animal" Wilson
Eight other action packed bouts are scheduled at CageSport XXIII including two female fighters making their debuts, Thea Wolfe vs. Sarah Lagerstrom. Up and comers scheduled to fight include: Aaron Martin and Freddie Bauman. With CageSport, Halquist Productions has created the most premier MMA promotion in the Northwest. Many fighters that have fought on a CageSport Card have moved on to fight in national organizations such as StrikeForce, Bellator, and the UFC. More information about CageSport XXIII and all other Halquist Productions can be found at HalquistProductions.com.