CageSport Title fight set!
Len Bentley has stepped in to face David "Hollywood" Hulett for the Cagesport Welterweight Title Saturday evening in the main event of Halquist Productions' "Cagesport XVIII".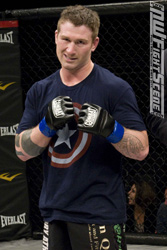 Len Bentley
Hulett was scheduled to face "Fast" Eddy Ellis, but the latter withdrew Monday after injuring his shoulder in training.
A submission specialist, Bentley participated on the 13th season of "The Ultimate Fighter" and was known as the most outspoken contestant. Bentley is a veteran of both Strikeforce and M-1, winning undercard matches for both organizations. The Olympia, WA native, who is 10-5 in the octagon, has 2 professional boxing matches and fought last month at the Emerald Queen.
"It's truly unbelievable that we were able to make this fight on such short notice," said Promoter Brian Halquist of Halquist Productions. "Len is a top fighter and the fact that he was ready to challenge a quality opponent in David Hulett with less than a week's notice is one of the most admirable things I've ever seen. The reality is I feel this is a better fight for the fans. Furthermore, it shows just how tough David Hulett is. He didn't balk at the change. He said he would fight anybody."
In addition to the Bentley-Hulett bout, "Cagesport XVIII" will feature an action-packed undercard including Jeff Hatton, Chanti Johnson, Julian Erosa and Ryan Mulvihill among others. Individual tickets start at $35 and are available at the EQC box office or by going to EmeraldQueen.com. For more information, go to Halquist Productions.comto HalquistProductions.com.
---
CageSport XVIII Fight Card (with Weigh-in Results)
Main Event: CageSport Welterweight Title Fight
Len Bentley (10-5, 169.5 lbs) vs. David Hulett (18-10-0, 170 lbs)
Semi Main Event:
Chanti Johnson (7-4, 142 lbs) vs. Ryan Mulvihill (4-2, 142 lbs)
Undercard:
Casey Campbell (Debut, 170 lbs) vs. Sam Carney (0-2, 170 lbs)
Christian Ortiz (1-3, 125.5 lbs) vs. Jorey Taylor (0-4, 131 lbs)
Jerome Jones (3-1, 158 lbs) vs. Julian Erusa (5-0, 155.5 lbs)
Harrison Bevens (3-0, 155.5 lbs) vs. Dustin Praxedes (1-5, 155 lbs)
Trevor Sojot (2-7, 145 lbs) vs. Anthony Zender (0-1, 143 lbs)
Corey Roska (2-1, 135 lbs) vs. Jeff Hatton (5-0-1, 135.5 lbs)
Brent Knopp (Debut, 186 lbs) vs. Mike Kirkman (Debut, 185.5 lbs)
CJ Marsh (1-1, 171 lbs) vs. Scott Boehler (1-0, 171 lbs)
*Under card not in bout order
*Bouts subject to change
---
It's Showtime: Jimmy Lennon Jr. to Announce "Cagesport XVIII"!
Press Release from Halquist Productions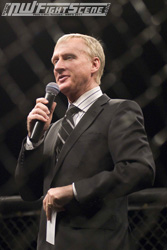 Jimmy Lennon Jr.
Tacoma, WA (February 17, 2012) - Legendary ring announcer Jimmy Lennon Jr. will serve as the master of ceremonies for "Cagesport XVIII".

The card takes place Saturday, February 25 at the Emerald Queen Casino and is promoted by Halquist Productions. Tickets starting at $35 are available at the casino box office or on EmeraldQueen.com.

A member of the World Boxing Hall of Fame, Lennon Jr. has announced numerous big-time fights for the most respected networks, appearing on Showtime, HBO and Fox Sports amongst others. Globally recognized for exclaiming "It's Showtime!" prior to the main event, he also called five cards in 2011 for Halquist Productions.

"We are always excited to have Jimmy announce our shows," said Halquist Productions' CEO Brian Halquist. "It's truly an honor to have the best in the business working with us."

Known as "Classy", Lennon Jr. is thrilled to be back in Tacoma and passed up other opportunities to make it happen.

"I am fortunate enough to be asked to announce shows all over the world," said Lennon Jr. "(The same weekend as Cagesport XVIII) I was asked to announce a show in London, but I chose to be in Tacoma with Halquist Productions. I love the atmosphere, I love the fights and I love the fans in Tacoma. It's truly something I am proud to be a part of."

Cagesport XVIII has a total of ten world-class mixed martial arts bouts, headlined by a five round welterweight title match-up between local favorite "Fast" Eddy Ellis and David "Hollywood" Hulett.

Doors for CageSport XVIII open at 6 pm and the first match takes place at 7 pm. For more information, go to Halquist Productions.comto HalquistProductions.com.