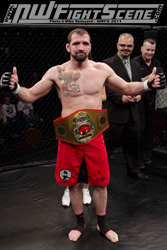 Tacoma, Washington (February 8, 2012) - Strikeforce veteran "Fast" Eddy Ellis of Yelm, WA defends his Cagesport Welterweight championship Saturday, February 25 when he challenges David "Hollywood" Hulett in the five round main event of Halquist Productions' "CageSport XVIII" at the Emerald Queen Casino.

Individual tickets start at $35 and are available at the EQC box office or by going to emeraldqueen.com.

Although his professional ledger is 17-15, Ellis has won nine of his last ten fights, eight of which came via knockout or submission. In his most recent bout, the well-rounded Ellis stopped J.T. Taylor in the opening round.

Like his foe Hulett, 18-10, doesn't believe in leaving the fight in the judges' hands. The Las Vegas native is a submission specialist who forced 12 of his opponents to tap out, many of whom failed to make out of the opening round.

"This is going to be an amazing fight without question," said Brian Halquist, the card's promoter and CEO of Halquist Productions. "Eddy has a huge following in Washington and Hulett's fought all over the place, so coming into enemy territory isn't a problem for him. I'd be shocked if this one heard the final bell."

In the co-featured bout of the evening, hard-hitting veteran Chanti "The Brooklyn Knight" Johnson faces surging submission specialist Ryan Mulvihill of Spokane, WA. Both Johnson, 7-4, and Mulvihill, 4-2, are CageSport veterans.

Doors for "CageSport XVIII" open at 6 pm and the first match takes place at 7 pm. For more information, go to HalquistProductions.com.

CageSport XVIII fight card:
Main Event: CageSport Welterweight Title Fight
Eddy Ellis (17-15-10) vs. David Carruth Hulett (18-10)
Semi Main Event:
Chanti Johnson (7-4) vs. Ryan Mulvihill (3-3)
Jeff Hatton (5-0-1) vs. Corey Roska (2-1)
Christian Ortiz (1-3) vs. Jorey Taylor (0-4)
Jerome Jones (3-1) vs. Julian Erosa (5-0)
Harrison Bevens (3-0) vs. Dustin Praxedes (1-5)
More fights to be announced.