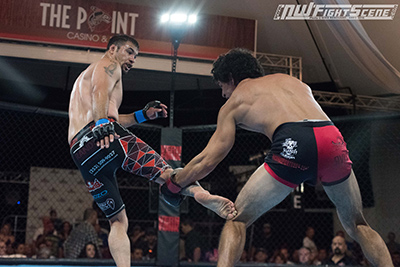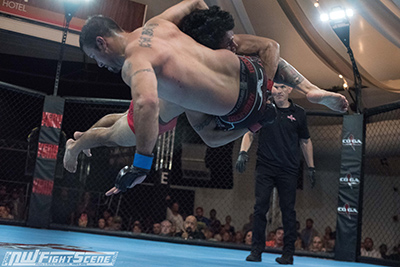 On June 25th, Combat Games MMA partnered up with The Point Casino to bring cage fighting back to Kingston WA. "Breaking Point 1" featured 3 professional and 9 amateur MMA and Kickboxing matchups - including 3 title fights and a superfight - and provided plenty of excitement for the full house of fight fans inside the casino's Events Center.

In the main event, two top NW pro lightweights threw down in Base Fitmass MMA's Jason Gray and Team Hard Knox fighter Rob Cann for the COGA MMA Pro 155 lb Title. This was a close fight that went the distance. Cann had the definite edge in the standup department, though Gray did have his moments over the five rounds. Gray though never allowed for too many exchanges on the feet before switching levels and going for - and usually getting - a takedown. Sometime this entailed quickly getting Cann to the canvas, other times picking up Cann and carrying him across the cage for a thunderous slam. Once on the mat though, Gray had trouble getting through Cann's tight ground defense. Cann tied up Gray from the bottom, not allowing much damage and which led to numerous standups as the fight stalled. In the final frame though, Gray had his biggest success on the mat, posturing up after a nice takedown, and delivering a few massive bombs before Cann scrambled free. The fight ended with both fighters leaving it all in the cage with a wild standup exchange. After 25 minutes of action, two of the three judges saw it for Rob Cann who becomes the COGA MMA Lightweight Champion.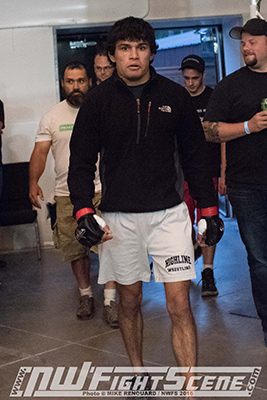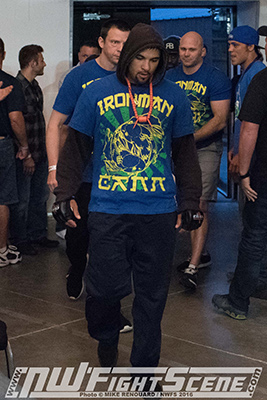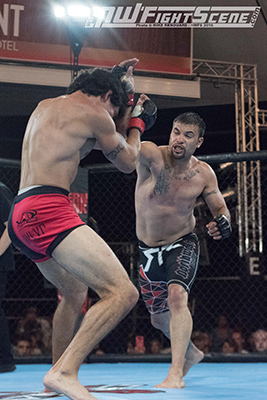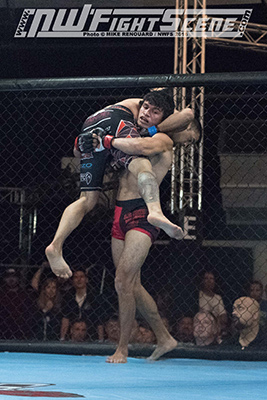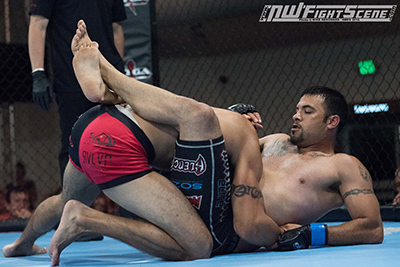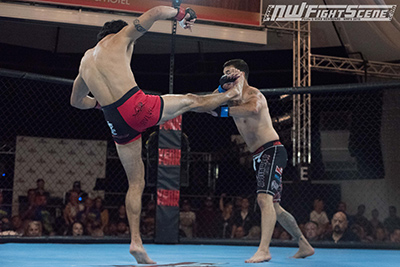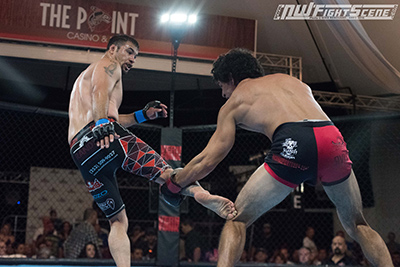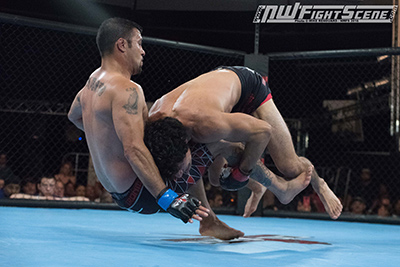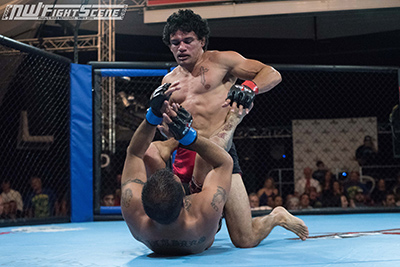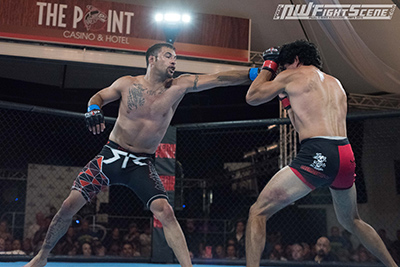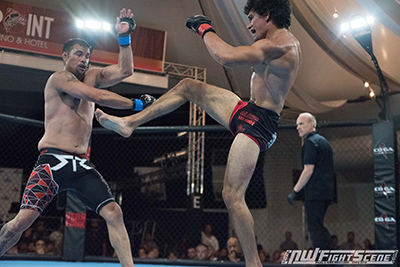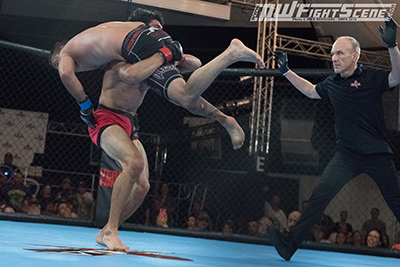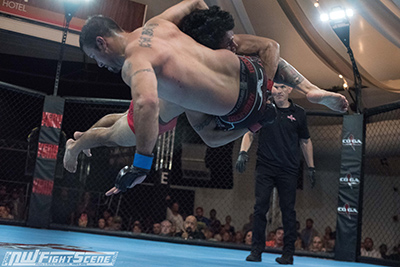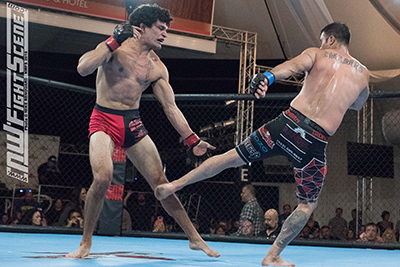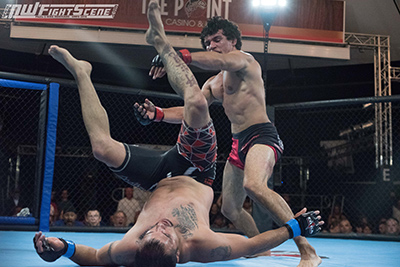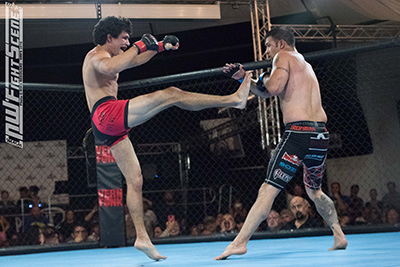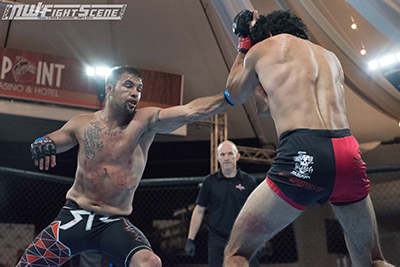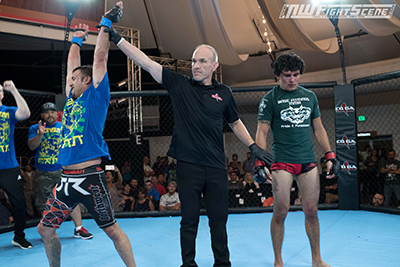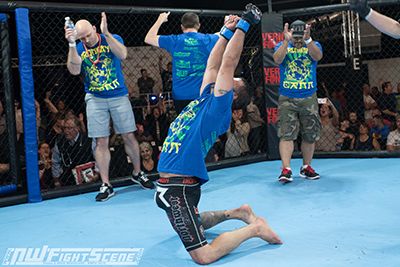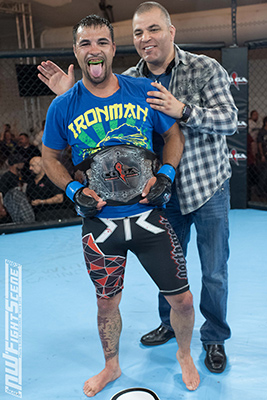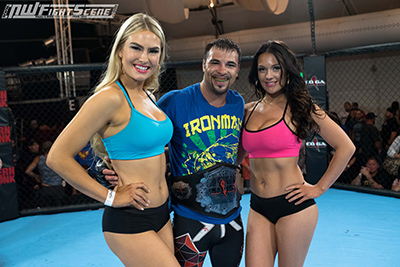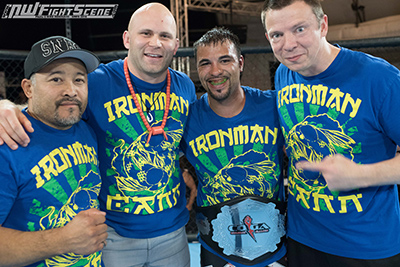 The Co-main Event featured two tough fighters in the pro 145 lb division with COGA MMA veteran Jordan Mackin - repping Spokane's Sikjitsu - taking on CageworX MMA's Jake Blaski. Early in the first, the fighters circled each other, trading wtih hard kicks. Mackin shot in for a takedown but Blaksi sprawled and took hold of Mackin's neck, searching for a guillotine. Mackin though simply dumped Blaski against the cage and proceeded to rain down punches. Blaski went for an ankle lock, but Mackin dropped in shots to Blaski's ribs before standing up and scrambling free from the hold. Mackin then went right back to more punishing ground strikes which forced a referee stoppage giving Mackin the TKO win at 3:33 of the first round.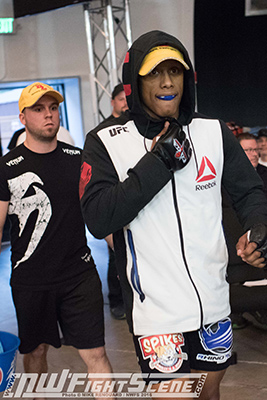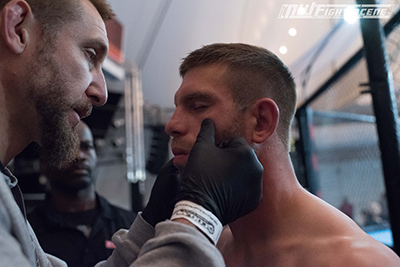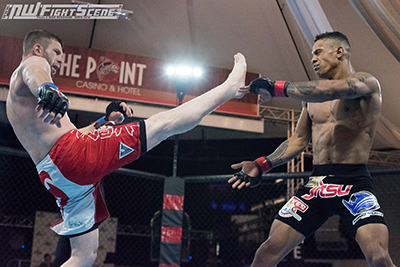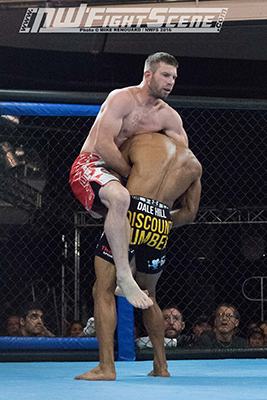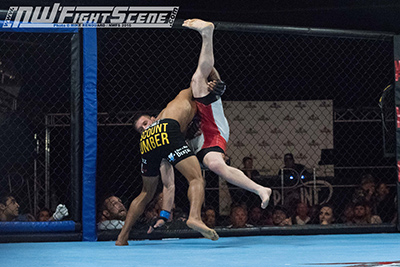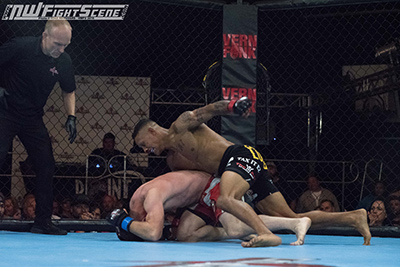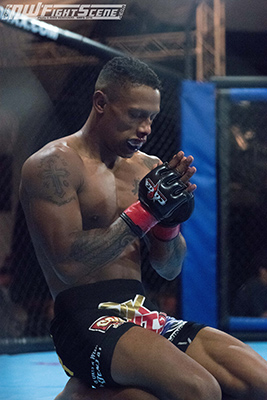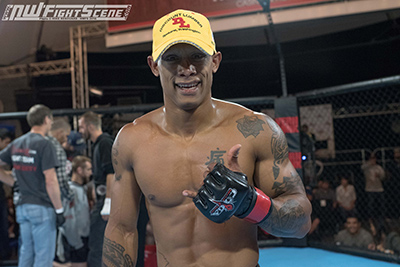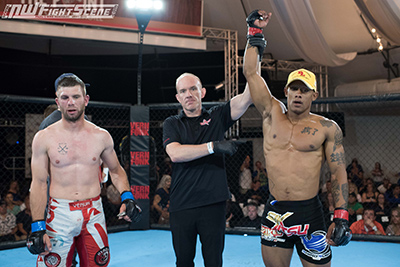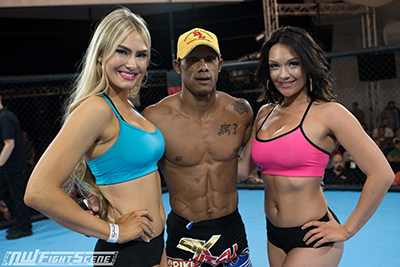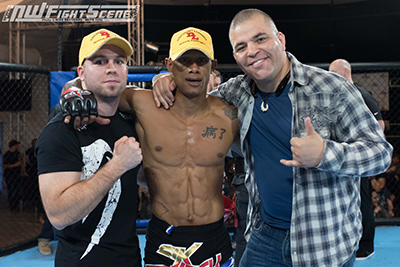 Bad Company MMA's Nathan Stolen made a huge statement in his pro debut, displaying some heavy hands en-route to a 1st round TKO of BMMA's John Keay. The two fighters both came out aggressive, throwing hard punches as they circled each other around the cage. It was Stolen though, who scored with a wicked body shot that put Keay on the canvas. Stolen moved in for the kill, getting the TKO ref stoppage at 1:55 of the first.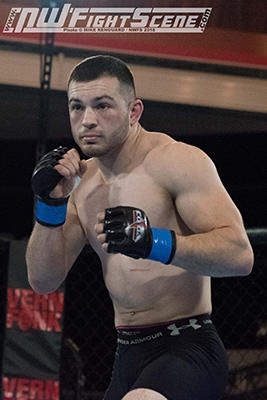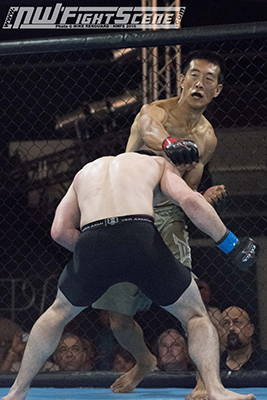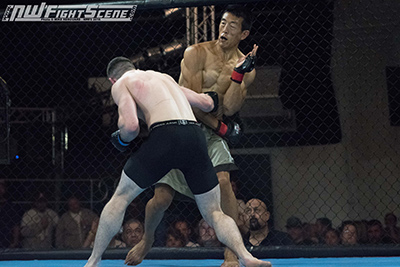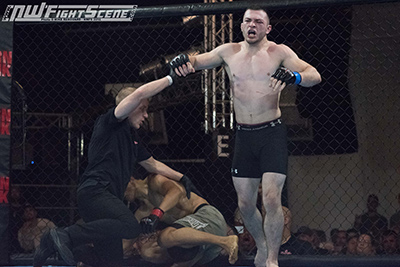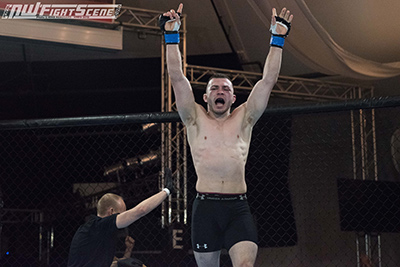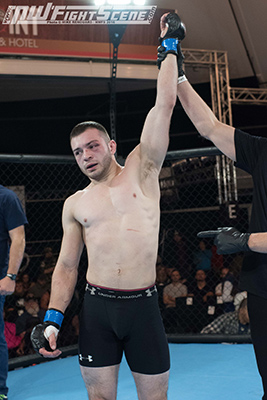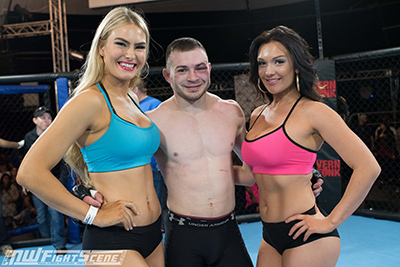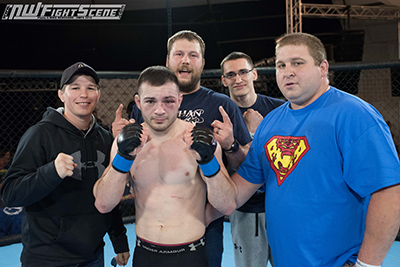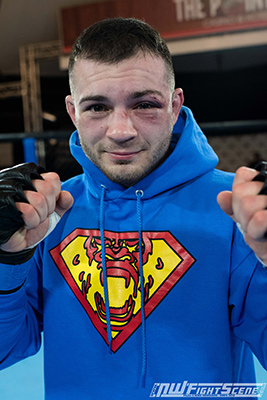 A battle of the big men took place as AKA's Teddy Zarza and Independent fighter Cody Sutherland went the distance in a Heavyweight Kickboxing Superfight. Zarza was the more active and accurate of the two, but Sutherland had his moments throughout. Both men fought hard until the final bell, with all three judges seeing it for the winner, Teddy Zarza.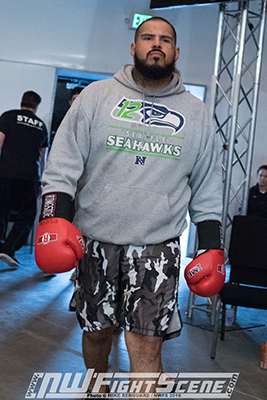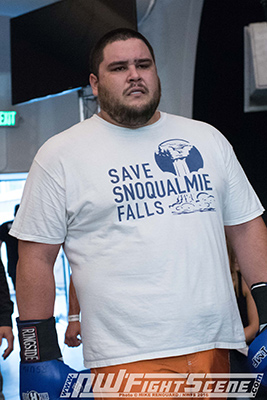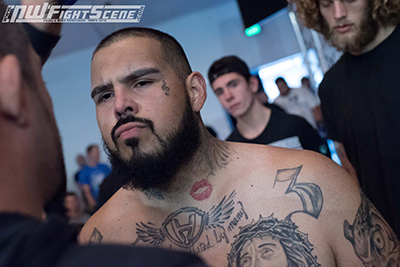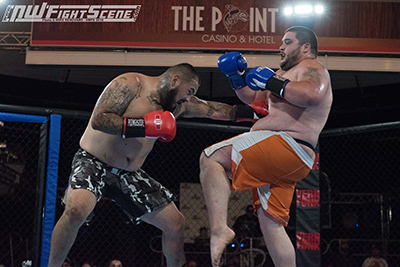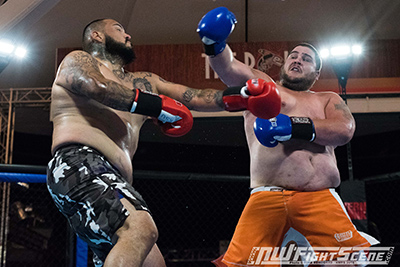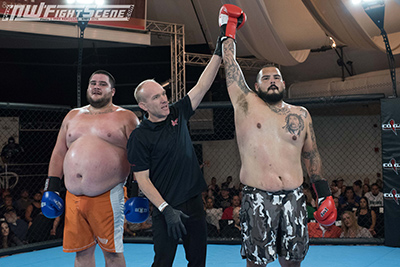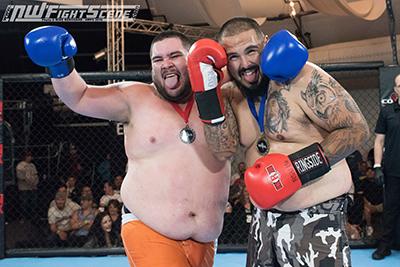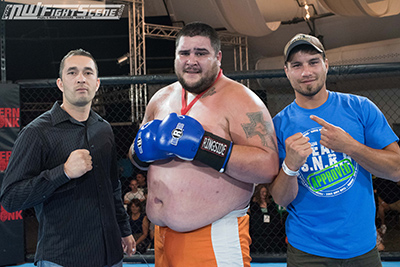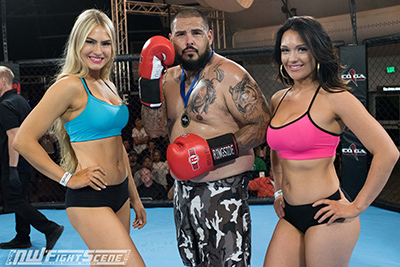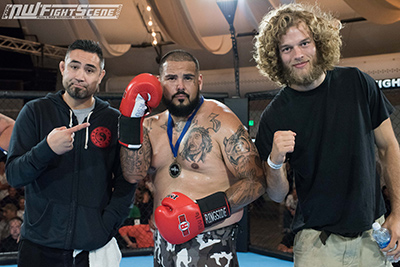 CageworX MMA's Jacob Goudie captured the COGA MMA Amateur Featherweight title, taking Team Damage MMA's Keith Wolf down early and sinking a rear naked choke at 52 seconds into the first round.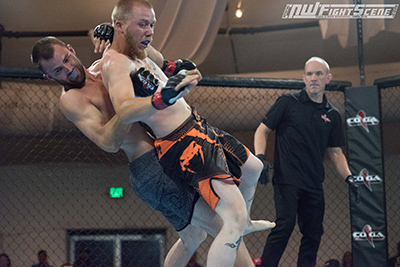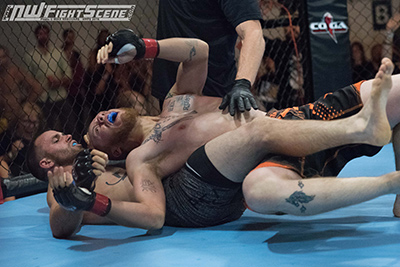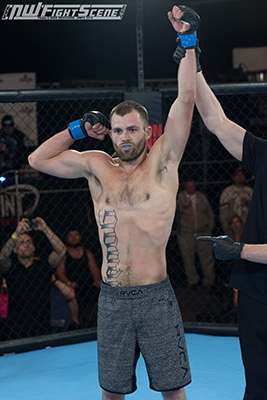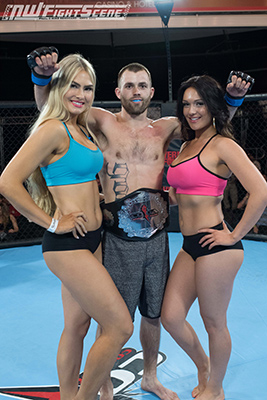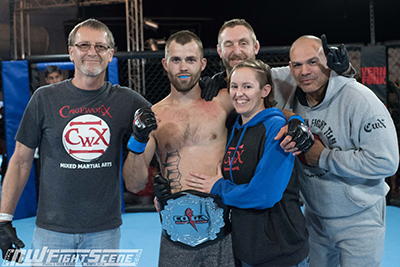 CageworX MMA head Cody Houston won the COGA MMA Amateur Welterweight Title with an impressive 2nd round TKO of Bellingham MMA's John Rupp. The first round saw lots of measured back-and-forth action, Rupp moving forward with big punches, Houston mixing in kicks up high to the body and head. In the 2nd, Houston switched gears, amping up his standup game and scoring with precise combos before getting Rupp to the mat. Houston started to throw bombs from top position, Rupp trying to defend, but Houston trapped Rupp in a crucifix and a number of short punches later, the fight was over to TKO at 2:55 of the round.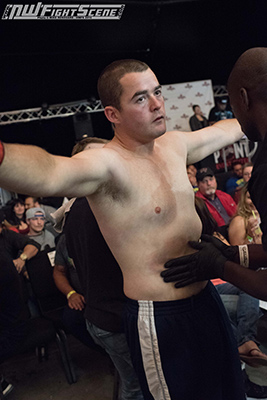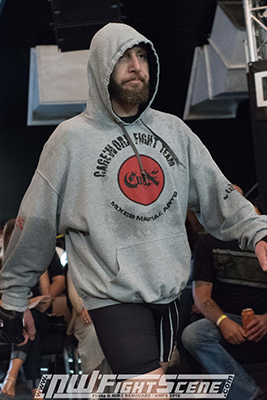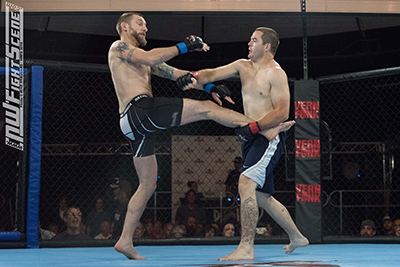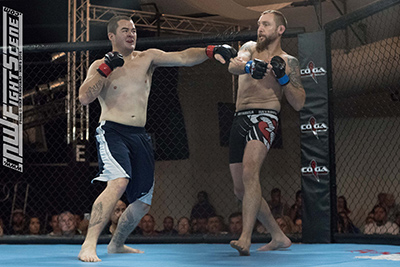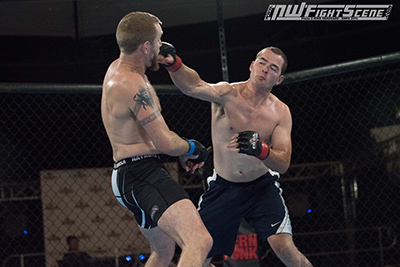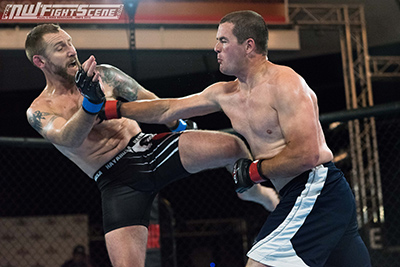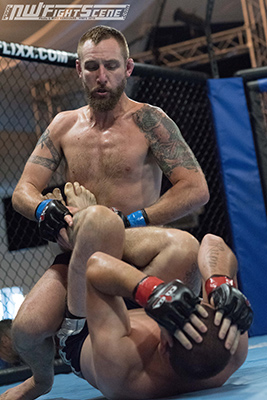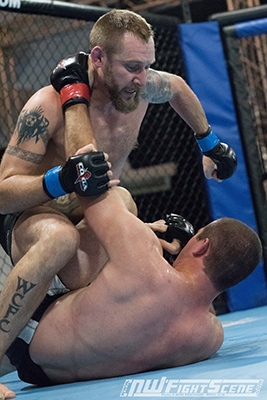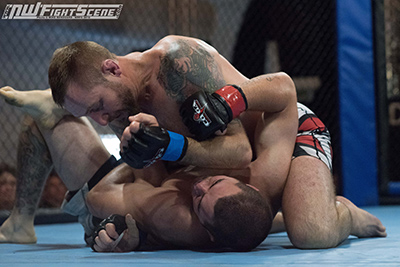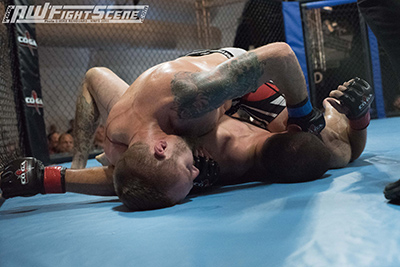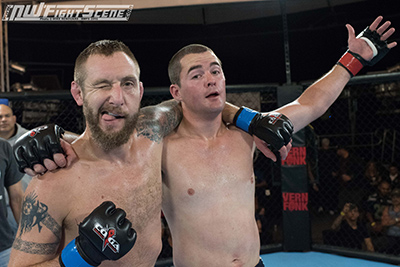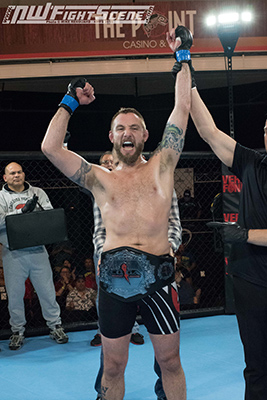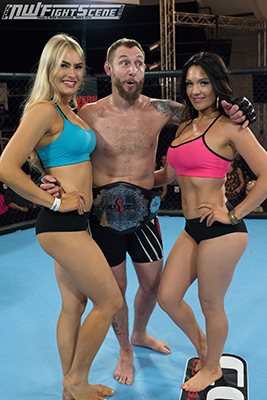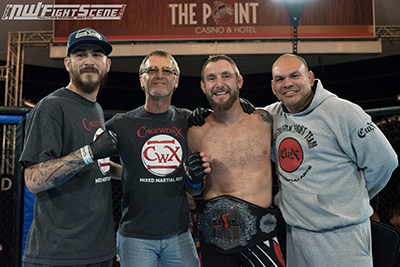 Amateurs RJ Hoyt of Team Hard Knox and Eugene Yakovenko of C3 were just getting going in their lightweight scrap, when Yakovenko verbally tapped to an injury at 1:24 of the first.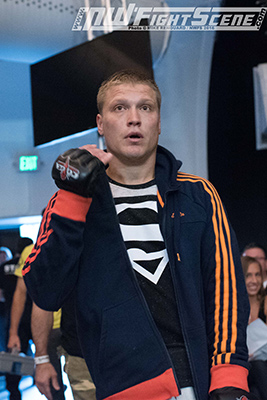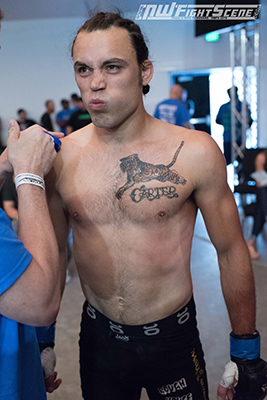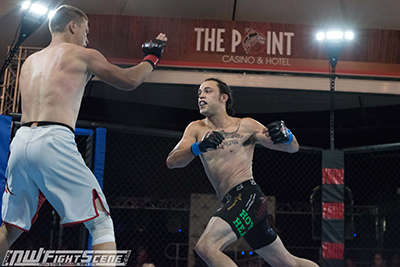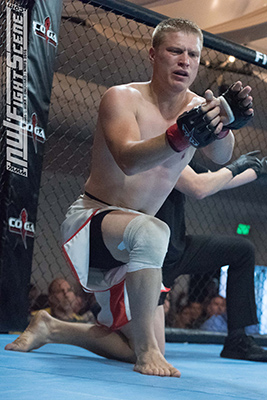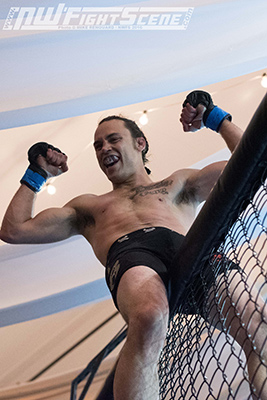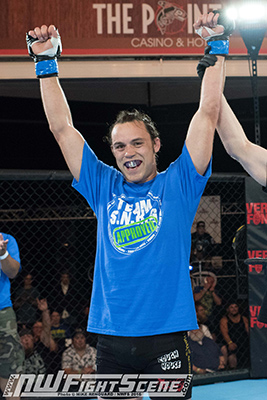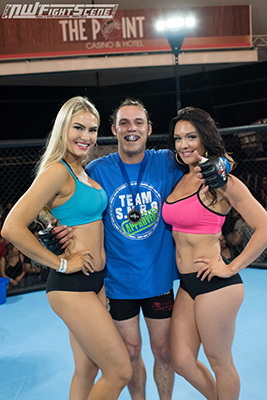 Amateur fight of the night took place between bantamweights Sean Kalinoski of Sharks MMA and C3's Jamie Morgan. Early in the first, a wild exchange on the feet preceded Kalinoski latching onto Morgan's back and taking him down. Morgan would scramble to his feet, just to be dragged down again by the relentless Kalinoski who was dropping in punches from odd angles. The fight went back to the feet and the round ended with another furious exchange. In the 2nd, Kalinoski came out the aggressor, pursuing Morgan around the cage with punches before getting another takedown. Morgan reversed out and a big scramble ensued, followed by an impressive takedown from Morgan and the round finishing with a Kalinoski armbar attempt. In the third and final round, the pair went back to punishing each other with big shots. Kalinoski got another takedown, gaining full mount and landing big bombs. Morgan got out of the position, but Kalinoski was able to get his back as the round ended. After 3 rounds of action, the judges saw it unanimously for Sean Kalinoski.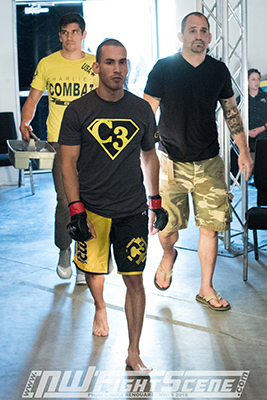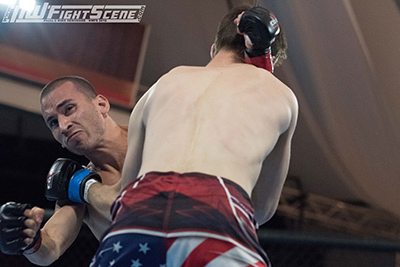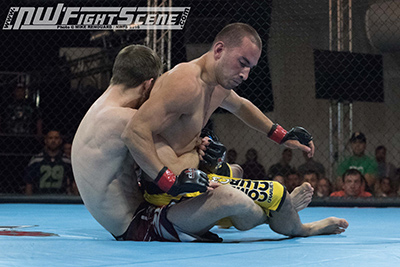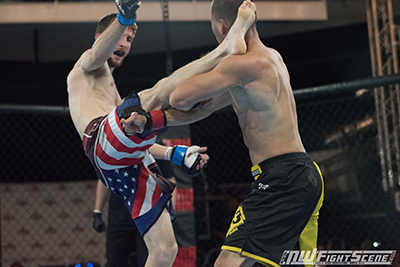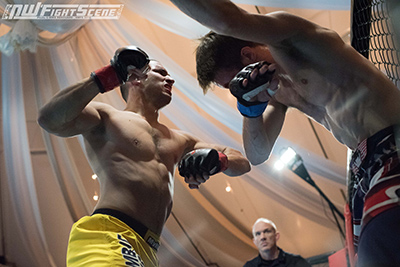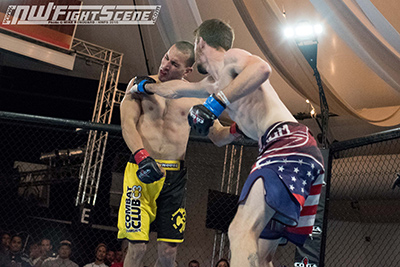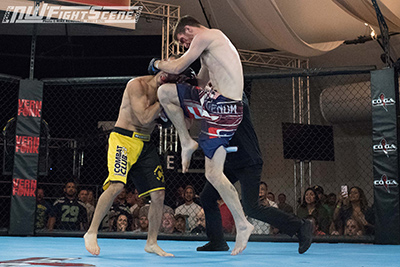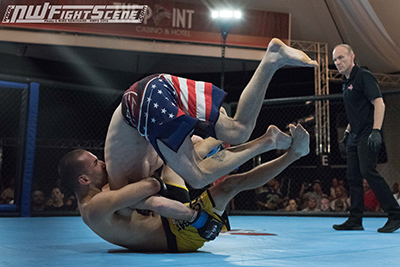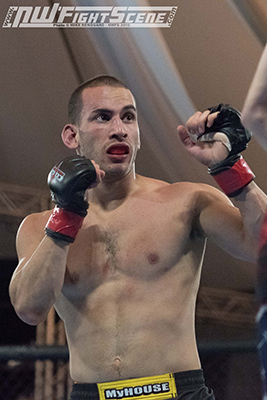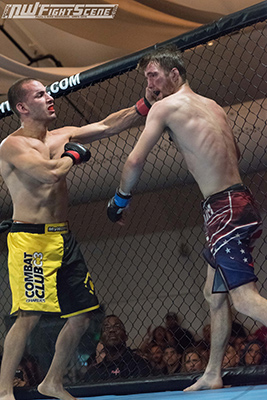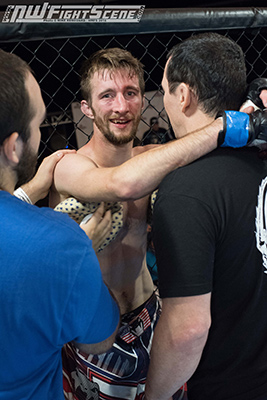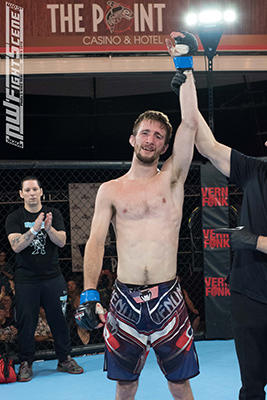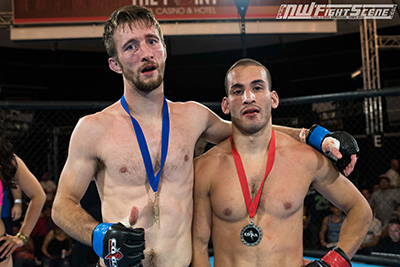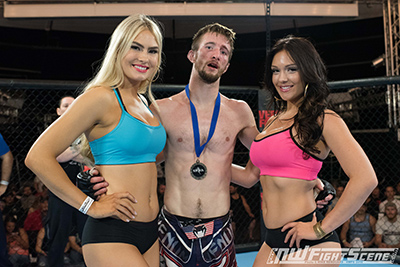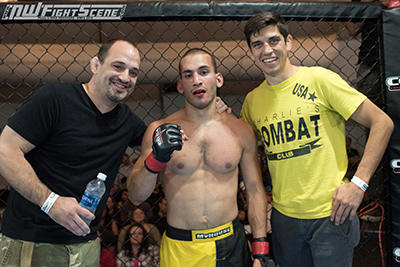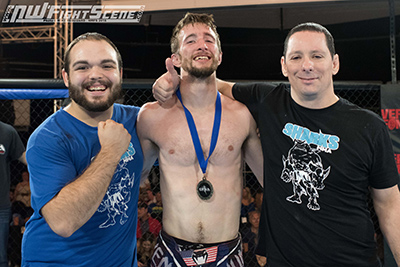 Portland OR's Roberto Saenz, fighting out of Sharks MMA, won his amateur 155 lb bout over AKA's Patrick Harris by way of 3rd round TKO. Both the first and second rounds had some early standup exchanges, followed by Saenz taking Harris down and working in some hard ground and pound. In the final frame, Saenz finished on the feet, backing Harris up and ending it at the 1:24 mark with a barrage of punches.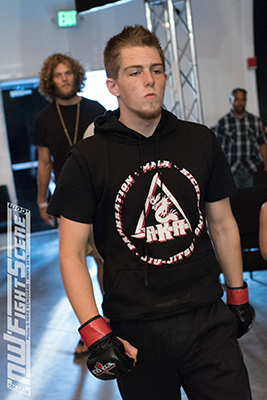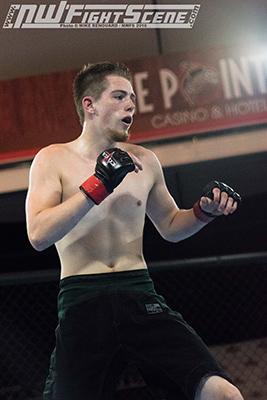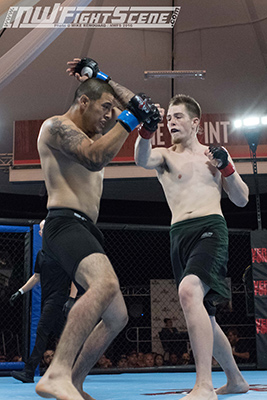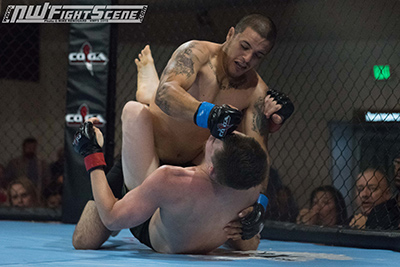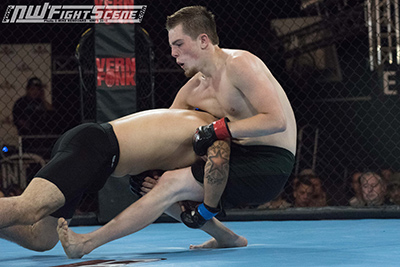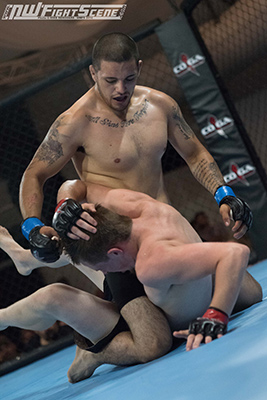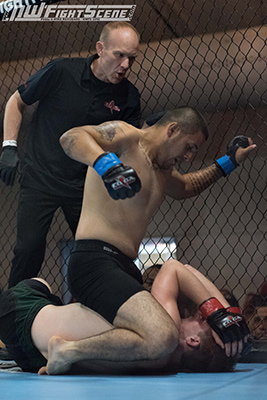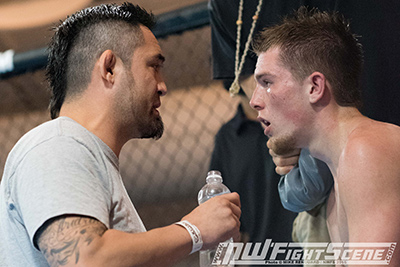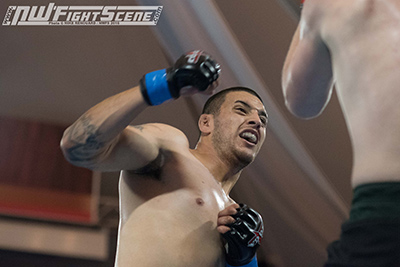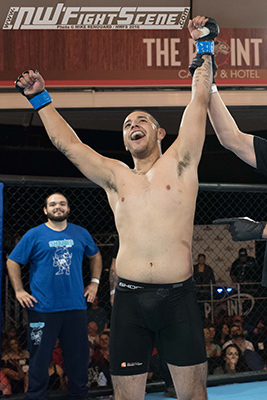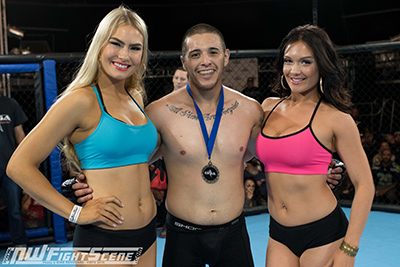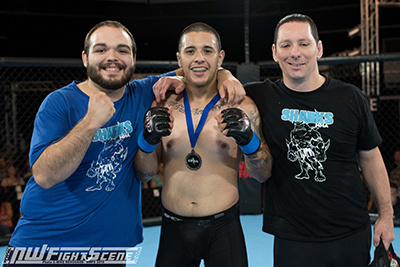 In an amateur middleweight contest, Straydog MMA's Matt Walsh executed some big slams of opponent Abraham McGowan in the first round, which led to punishing ground and pound. In the 2nd, Walsh unleashed a perfectly timed right hand that put McGowan to sleep at 13 seconds in for the knockout win.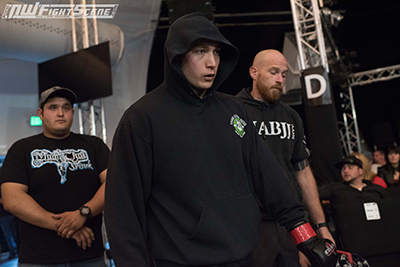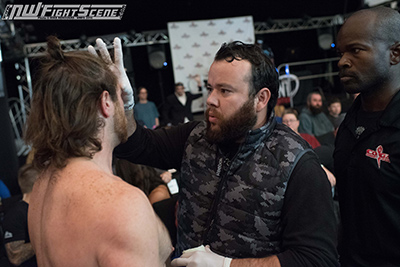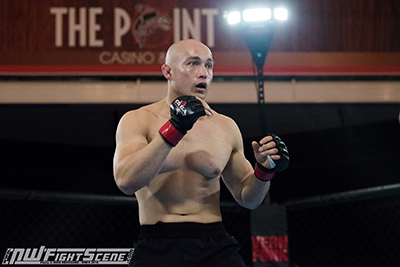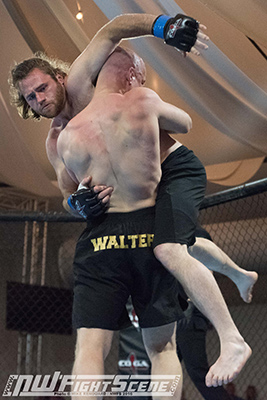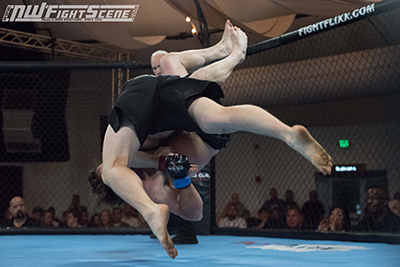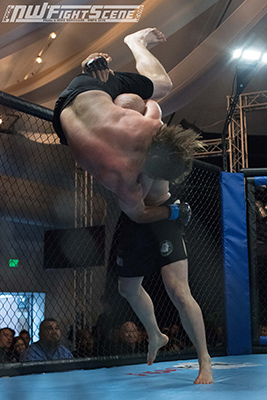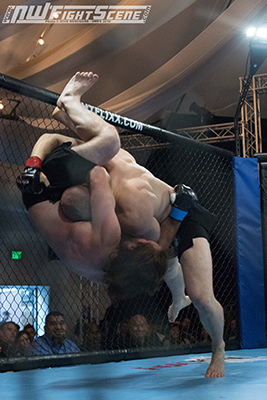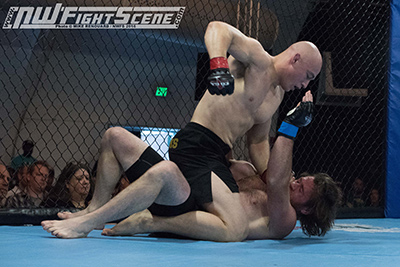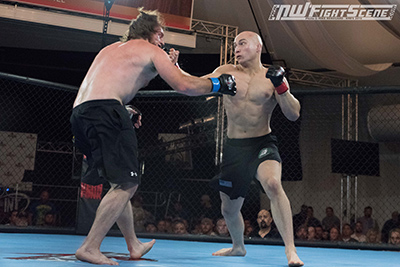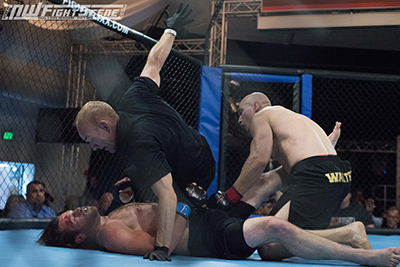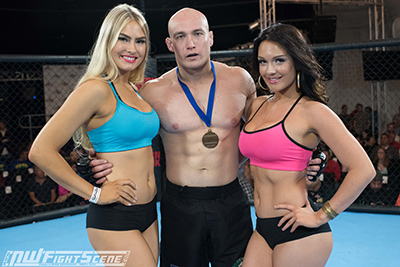 The action was non-stop in the 135 lb kickboxing battle between Team Damage fighter Anthony Rubio and BMMA's Hunter Clagett, both athletes scoring with their offensive forays and leaving it all in the cage over three rounds of fighting. In the end, it was up to the judges who all saw it unanimously for Rubio.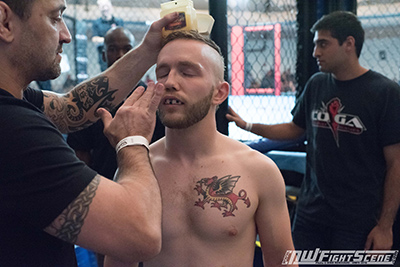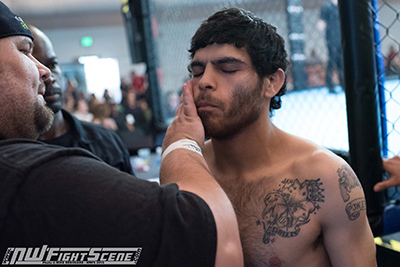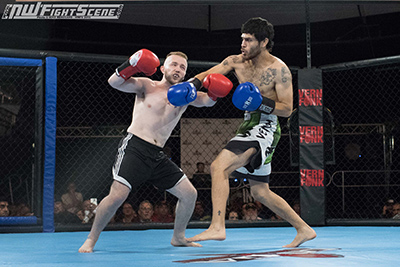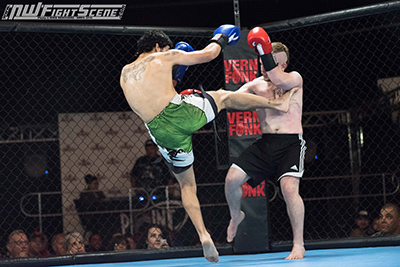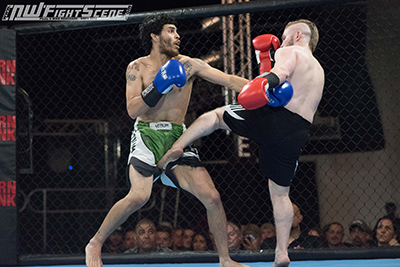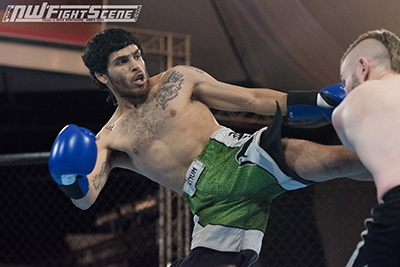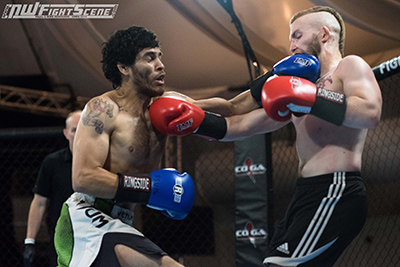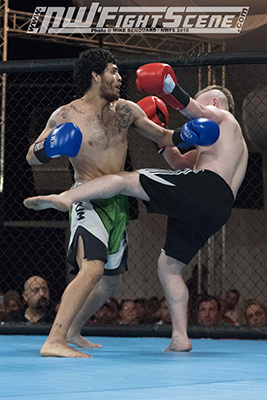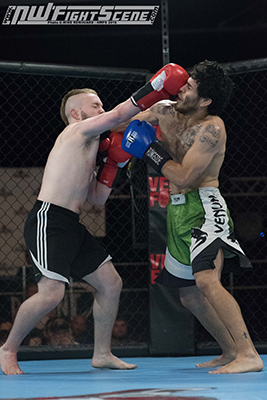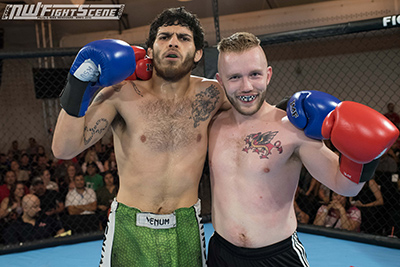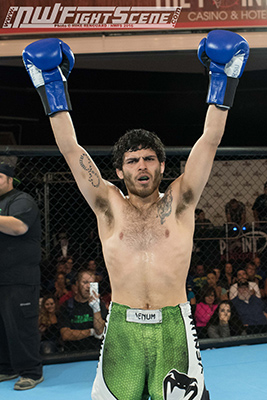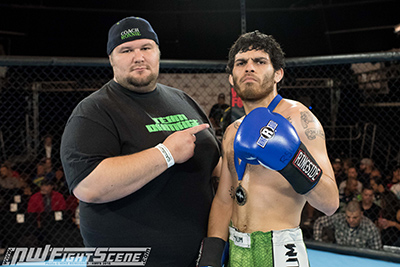 Amateur Heavyweights Marco Huerta and Jeamel Lopez opened the night of combat action with a spirited battle. In the first, the fighters let their fists fly before Huerta executed a takedown and punished Lopez with ground strikes. Lopez reversed before the round's end and laid down some shots of his own. In the 2nd, Lopez connected with huge punches before Huerta got a takedown for more ground and pound. In the 3rd round, Lopez pressed Huerta against the fence, looking for the takedown. Huerta though saw an opportunity to lock on a standing guillotine, getting the tap from Lopez at 49 seconds into the 3rd.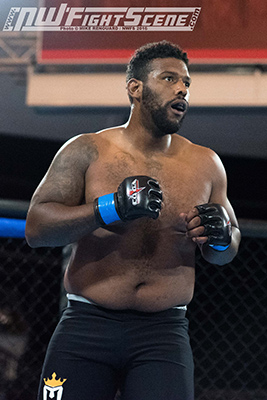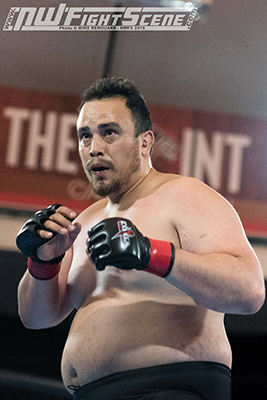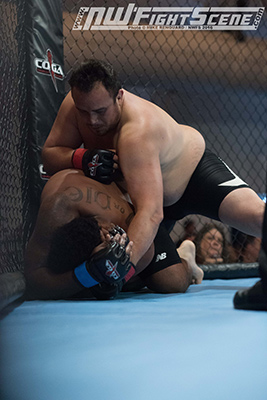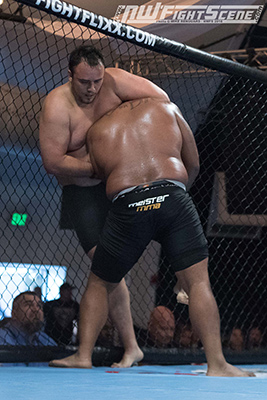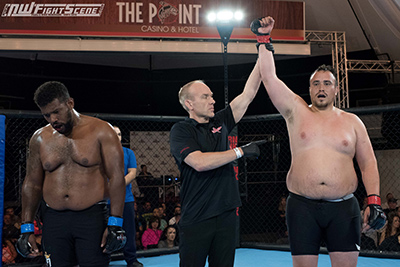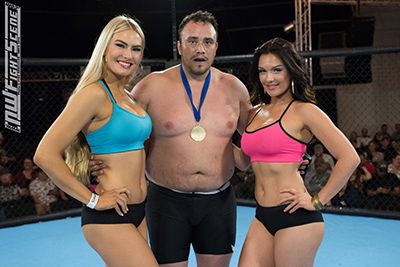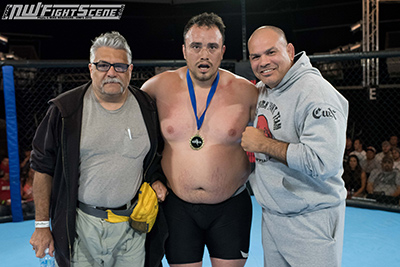 Combat Games MMA returns to The Point Casino in Kingston WA for Breaking Point 2 on Saturday September 24th. More info about COGA MMA at combatgamesmma.com.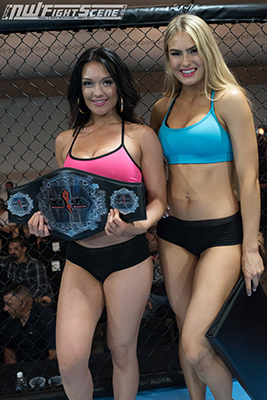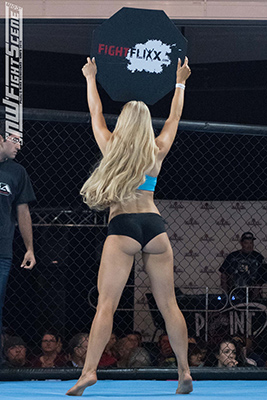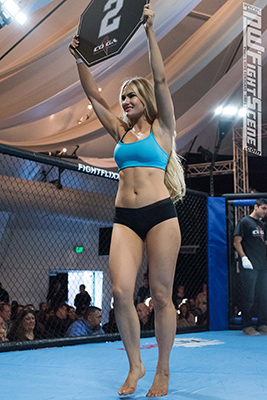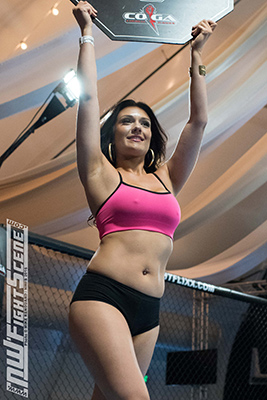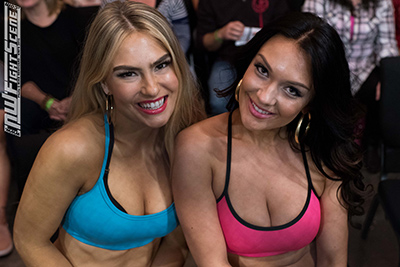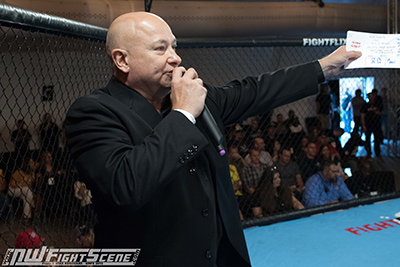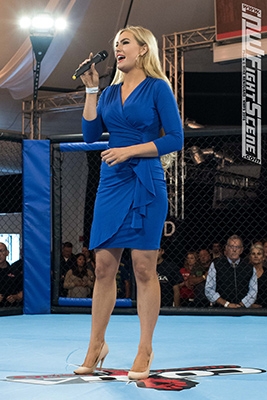 ---
BREAKING POINT 1 Results

Bout 1 - Amateur Heavyweights
Marco Huerta (Independent) def Jeamel Lopez (Sharks MMA)
by Guillotine Choke @ 0:49 Rd 3

Bout 2 - Amateur 135 lb Kickboxing
Anthony Rubio (Team Damage) def Hunter Clagett (BMMA)
by Unanimous Decision

Bout 3 - Amateur 155 lbs
Roberto Saenz (Sharks MMA) def Patrick Harris (AKA)
by TKO @ 1:24 Rd 3

Bout 4 - COGA MMA Amateur 170 lb MMA Championship
Cody Houston (CageworX MMA) def John Rupp (BMMA)
by TKO @ 2:55 Rd 2

Bout 5 - Amateur 135 lbs
Sean Kalinoski (Sharks MMA) def Jamie Morgan (C3)
by Unanimous Decision

Bout 6 - Amateur 185 lbs
Matt Walsh (Straydog MMA) def Abraham McGowan (Independent)
by KO @ 0:13 Rd 2

Bout 7 - Amateur 155 lbs
RJ Hoyt (Team Hard Knox) def Eugene Yakovenko (C3)
by Verbal Submission (Injury) @ 1:24 Rd 1

Bout 8 - COGA MMA Amateur 145 lb MMA Championship
Jacob Goudie (CageworX MMA) def Keith Wolf (Team Damage MMA)
by Rear Naked Choke @ 0:52 Rd 1

Bout 9 - COGA MMA Amateur Heavyweight Kickboxing Superfight
Teddy Zarza (AKA) def Cody Sutherland (Independent)
by Unanimous Decision

Bout 10 - Pro 155 lbs
Nathan Stolen (Bad Company MMA) def John Keay (BMMA)
by TKO @ 1:55 Rd 1

Bout 11 - Pro 145 lbs
Jordan Mackin (Sikjitsu) def Jake Blaski (CageworX MMA)
by TKO @ 3:33 Rd 1

Main Event - COGA MMA Pro 155 lb MMA Championship
Rob Cann (Team Hard Knox) def Jason Gray (Base Fitmass MMA)
by Split Decision
---