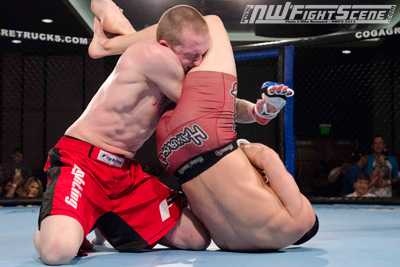 In the main event, Ikaika Tampos submits Tim Abell with a 3rd round armbar
COGA MMA and the Swinomish Casino presented their 3rd event together to a sold-out of crowd of enthusiastic fight fans on March 30th. "Battle @ the Bay 3" was an extremely well run show of 8 amateur and 2 pro fights, with members of the Seattle Mist on hand acting as ring girls and sports radio personality Jeff "The Fish" Aaron was the ring announcer.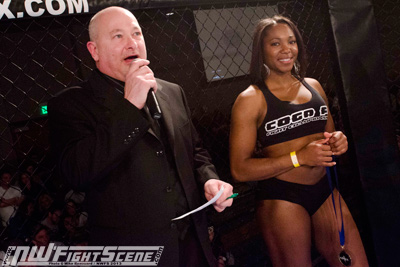 The main event lived up to its billing by being the Fight of the Night. This 145 lb pro contest was between two strikers in long time NW fighter Tim "One Punch" Abell out of NW Elite and Combat Sport & Fitness fighter Ikaika Tampos who is a recent transplant from Hawaii. The pair came out firing in the first, both landing punches and body kicks in a fairly even and active round of standup.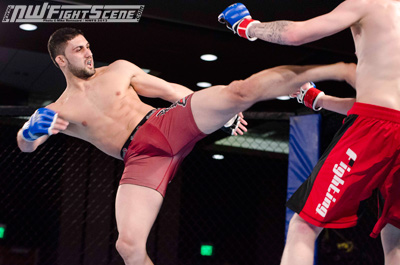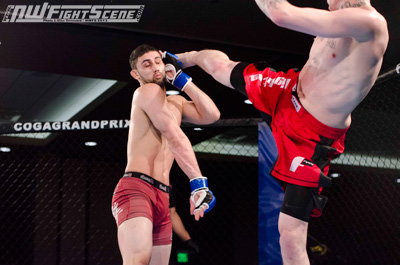 In the 2nd, Tampos started landing powerful leg kicks that clearly bothered Abell, knocking him off his feet to the canvas on more than one occasion. In response, Abell took the fight to the mat throwing down a couple strikes from mount before Tampos used his legs to reverse position by kicking off the cage. Tampos then threw down a couple strikes of his own before Abell again scrambled and reversed, taking Tampos back and looking for the RNC finish. The round ended with the bout back on the feet and both fighters firing away.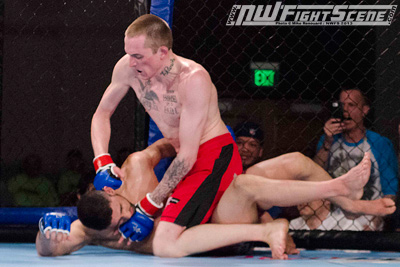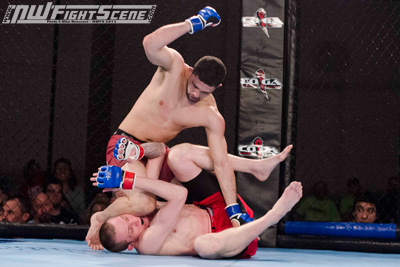 In the third, Tampos again came out looking to land his devastating leg kicks but Abell was ready, utilizing a well timed push kick to keep Tampos at bay, moving in to clinch and riding Tampos to the mat with a nice leg trip. From top position, Abell connected with a couple elbows to Tampos' face when suddenly Tampos grabbed Abell's other arm and locked on a tight armbar for an immediate tap at 1:00 even in the third round. Afterwards, both fighters spoke to NWFS about the bout and their respective pro careers.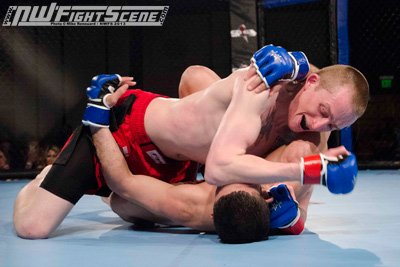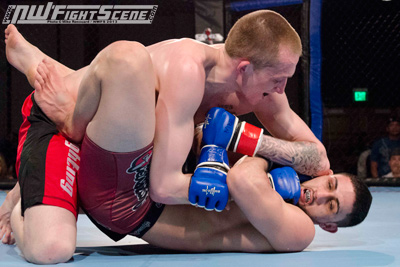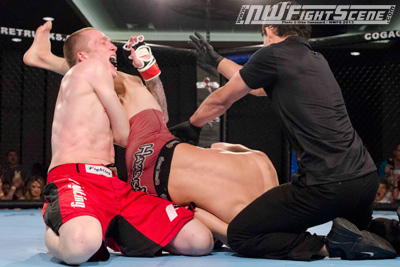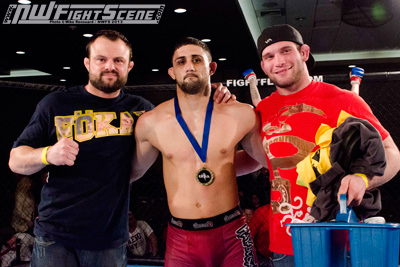 In the night's other pro bout, C3's Chris Garcia won his pro debut against Sikjitsu's Will Comstock via guillotine choke at 43 seconds of Rd 1. Opening the 170 lb fight, Garcia fired off a couple leg kicks before the pair clinched up. Comstock grabbed a leg and went for a takedown which he eventually got. Unfortunately for him, Garcia had hold of his neck and sunk the loop choke for a quick tap from Comstock.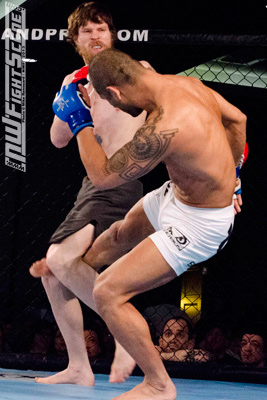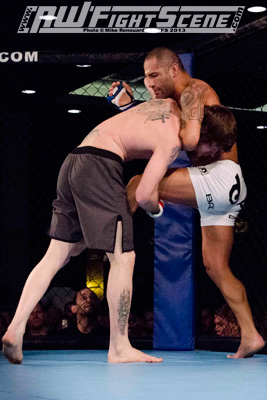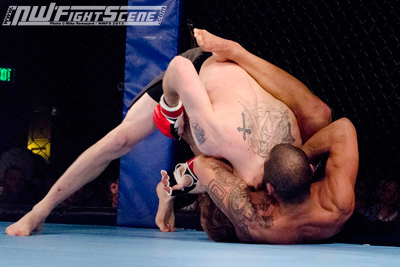 C3's Jonny "Cage" Gilbertson and Victory Athletics' Patrick Benson clashed for the COGA Amateur 145 lb Belt in the sole title bout on the night. Both fighters pressed the action in this one with Benson landing some good shots on the feet and Gilbertson nailing the takedowns. Once on the ground, Benson defended well and ref Anthony Hamlett stood them up when action stalled. Late in the 2nd, Gilbertson floored Benson with a punch and went in for the kill with a stunned Benson literally being saved by the bell.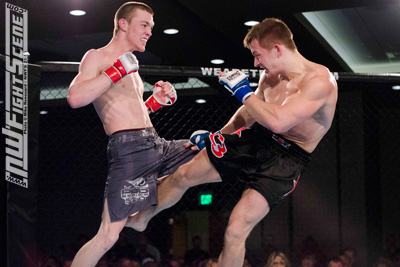 In the third, the fight went to the ground and this time Gilbertson took Benson's back, softened him up with strikes and then sunk the rear naked choke at 2:36 of the round.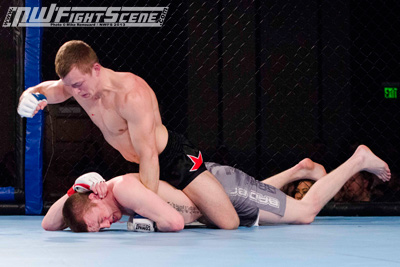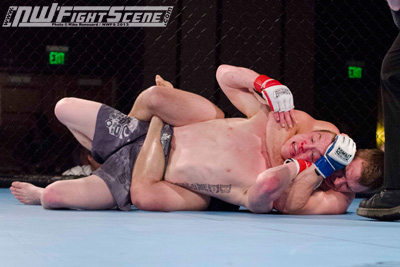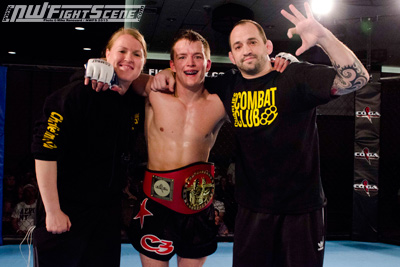 In an amateur 170 lb contest, Tom "Gunn" Wilson out of COGA MMA & Fitness took home yet another submission victory, this time over Bellingham MMA's Tyler Thompson. Wilson locked Thompson in a seated triangle choke, landed some strikes, and then rolled with the triangle still intact and took Thompson's arm getting the tap at 1:58 of the 2nd.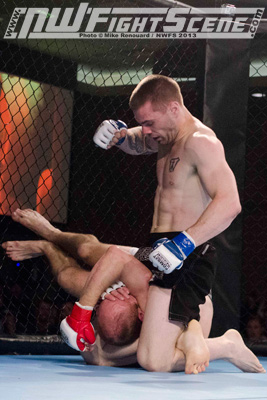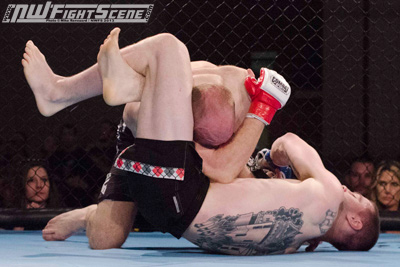 At 145 lbs, C3's Jake Furney and Livewire MMA's Jake Fletcher engaged in spirited battle that was mostly spent on the feet and saw both fighters exchanging punches and kicks. In the end, Furney was given the judges nod 30-27, 29-28, 29-28.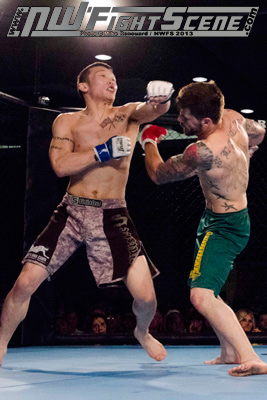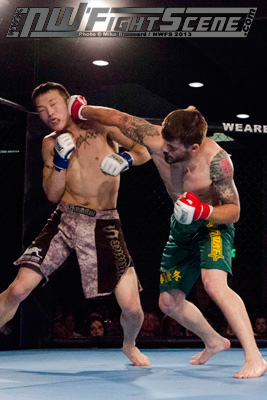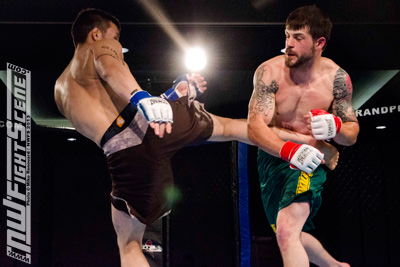 One other fight went the distance as Hunter Clagett of Bellingham MMA and Livewire MMA's Diego Sato went at it for 3 rounds in a 130 lb catchweight bout, with the decision going to Clagett 30-27, 29-28, 29-28.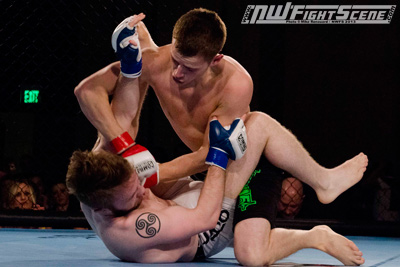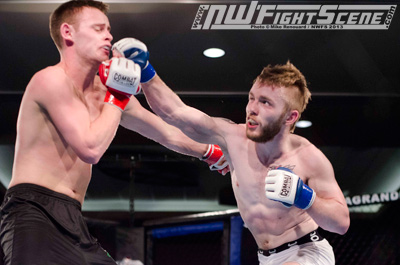 C3's Jamey Lynch choked out Alan Gutierrez of Livewire MMA with a Howdy Choke at 2:27 of Rd 1 in a 155 lb fight.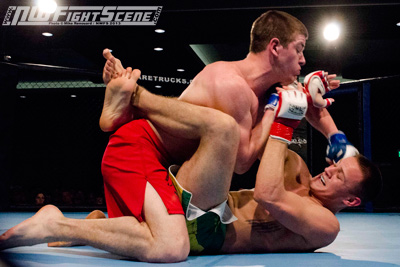 Jesse Nutting of Livewire MMA finished Independent BC fighter Thomas Proppe via TKO strikes at 1:13 of Round 2 in a lightweight contest. Both fighters throwing hard bombs in this one, looking for the finish and it was Nutting who got it.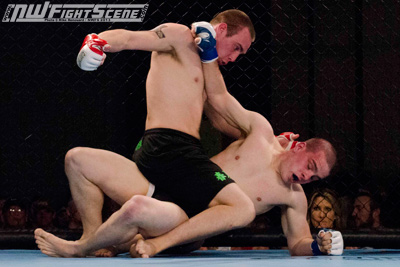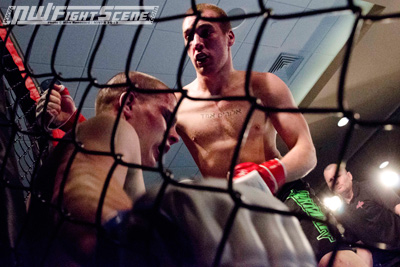 Livewire MMA's "Mad" Miles Coble took independent fighter Mike Buckley to the ground and relentlessly pounded him until Buckley verbally tapped at 2:31 of the first in their 195 lb catchweight fight.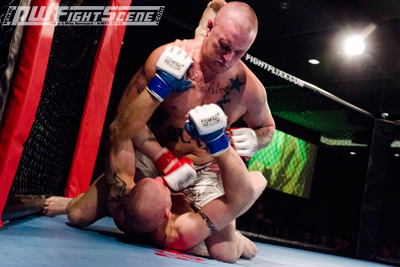 Opening the night was a matchup between a pair of light heavyweights and it was AKA's Thomas Hoeper who came out with the win, finishing Livewire MMA's Curtis Hagg on the ground with strikes with just 2 seconds left in the first round.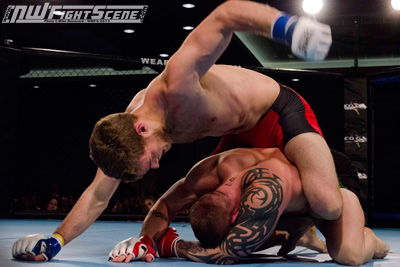 More info on COGA at combatgamesmma.com.