BudoFights 7: MMArch MMAdness - March 3rd, 2012
The Midtown - Bend, Oregon
Review, Post-fight Interviews & Photos by Spaniard
---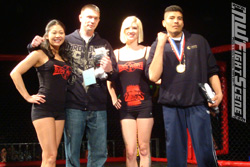 Budo Fights VII, held at The Midtown Rock Rink and Roll in Bend OR Saturday March 3rd, saw Professional middleweight, Corey "Agnar" Wyatt, move to 2-0 by defeating Redneck Militia's Levi Roan in the main event. Roan, making his pro deubut, came in as the crowd favorite and put Wyatt to the test, forcing Wyatt to scramble and defend a tough armbar. Wyatt then reversed Roan and slapped on an armbar of his own, one that Roan couldn't escape, tapping at 3:38 of the first round.
The co-main event had Budo Fights 170 lb Champion, Eli Peterson out of Next Level MMA, making his first title defense against undefeated rising star Sean Baker from Alive MMA. Baker wasted no time in going to his famed Ground and Pound strategy that has given him so much success in his previous fights. The plan got derailed for a second when the referee stopped and gave him a warning for dropping his opponent in a spiked position. But this didn't discourage Baker who went right back to his deadly game plan of GNP'ing the champ, until he finally softened him up enough for the Rear Naked Choke finish and the much deserved Welterweight Budo Fights Belt at 2:53 of round one.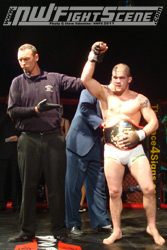 In a house they pretty much built, and with the "General" JT Taylor's first time appearing at a Budo Fights event, this was unfortunately not the night for the hometown Desert Dogs, going 0-4. Yet the record doesn't tell the entire story as the Desert Dogs demonstrated plenty of skill, athleticism, and heart. The "Fight of the Night" was a light weight battle between Desert Dog, Evan Bonetrager & Smith Martial Arts Raul Bello. They put on an amazing display of ground work and striking in a fight where neither fighter would give up, nor give in. They took it to each other and tested what both fighters had within them. In the end, it was Bello coming out on top in a terrific fight.
Another incredible bout was the 155 lb matchup between Next Level MMA fighter Julian Wallace & Desert Dog fighter Christian Graves which had the fans on their feet for all three rounds. Wallace told NWFS in a post fight exclusive that he couldn't shake people's hands afterwards as his own hands hurt so bad from hitting Graves so much. This fight is why you should go to see Live MMA fights with great young fighters showing plenty of skill and battling it out. In the end, Wallace was given the unanimous decision win as he got the better of the striking and used his head movement to counter strike and not get hit.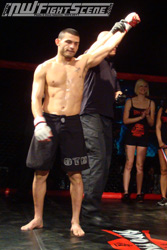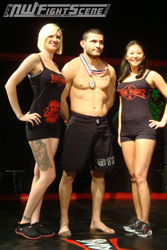 Unfortunately, some losses come in ways no one wants to see and for Micah Reid that happened in his fight with Kevin Deweese when a nasty looking injury stopped him. His elbow became dislocated from a takedown and the win was given to Deweese. This was a title fight for Reid but not for Deweese who didn't make weight. Deweese said after he wouldn't want to win the belt this way. As for Reid, the doctor moved his arm around a bit and then Reid was up and moving like it was nothing. WOW, what a tough dude!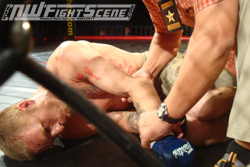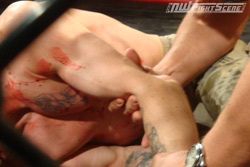 Professional Fighter Glena "Heartless" Avila was brought in the cage and helped to announce the female Budo Fights 115 lb Title bout between Amy Cadwell from Charlie's Combat Club & Janna Piper from Next Level MMA.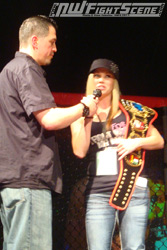 Everyone loves the girls in the NW and they got right at it throwing 1, 2 combinations right down the pipe. Piper was staying in the pocket, trying to come straight down the middle as Cadwell was trying to stay to the outside and use the entire cage. Piper started to catch Cadwell, landing more and beating her up. This was the pattern for the majority of the fight as Cadwell tried to get in and out, but Piper kept catching her and beating on a tired Cadwell. The judges scored the fight unanimously for Janna Piper who is the new Budo Fights 115lbs Champion.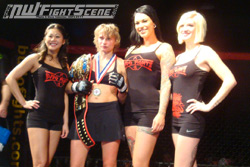 Much more info on Budo Fights can be found at budofights.com
---
Budo Fights 7: MMarch MMadness Results
Bout 1 - 155 lbs
Cameron Anderson (Smith Martial Arts) def Stephon Sarmieanto (Redneck Militia)
by Rear Naked Choke @ 1:19 Rd 1
Bout 2 - 145 lbs
Sam Sealander (Steel Dragons Fight Team) def Nick Spencer (Desert Dogs)
by KO @ 2:48 Rd 1
Bout 3 - 155 lbs
Raul Bello (Smith MA) def Evan Bonetrager (Desert Dogs)
by Triangle Choke @ 0:45 Rd 3
Bout 4 - 155 lbs
Kody Hammond (Alive MMA) def Josh Jewell (Team React)
by Unanimous Decision (All judges 30-27)
Bout 5 - 155 lbs
Julian Wallace (Next Level MMA) def Christian Graves (Desert Dogs)
by Unanimous Decision (30-27, 30-27, 29-28)
Bout 5 - 115 lb Amateur Title Bout
Janna Piper (Next Level MMA) def Amy Cadwell (Charlie's Combat Club)
by Unanimous Decision 49-46, 48-47, 50-45)
Bout 6 - 135 lbs
Kevin Deweese (Team Knoxx) def Micah Reid (Desert Dogs)
by TKO (Injury) @ 0:41 Rd 1
Bout 7 - 170 lb Amateur Title Bout
Sean Baker (Alive MMA) def Eli Peterson (Next Level MMA)
by Rear Naked Choke @ 2:53 Rd 1
Main Event - 190 lb Pro Fight
Corey Wyatt (Midtown MMA/OR Kickboxing Academy) def
Levi Roan (Redneck Militia) by Armbar @ 3:38 Rd 1
---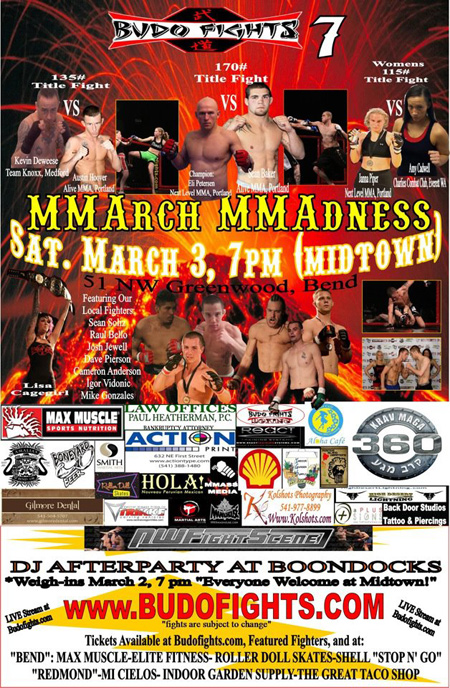 ---