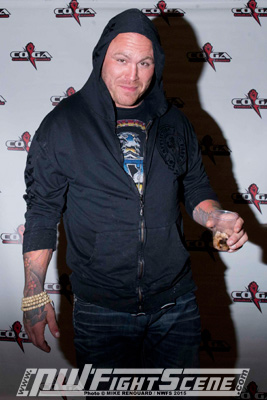 Chris "The Crippler" Leben
SANTA MONICA (February 6, 2015) – Bellator MMA is proud to announce the signing of Chris "The Crippler" Leben (22-11) to an exclusive multi-year, multi-fight contract. The former World Extreme Cagefighting Middleweight World Champion has fought professionally since 2002, and holds the record for most fights in the UFC at 185-pounds (22).

Since taking a break from the sport in 2014, Leben has resided in San Diego, Calif. and served as a coach at Victory MMA & Fitness. Known for his tendency to put on an exciting show each and every time he enters the cage, Leben was a member of the inaugural cast of "The Ultimate Fighter" alongside fellow Bellator MMA competitors Stephan Bonnar and Josh Koscheck. The 35-year-old has fought elite talent throughout his mixed martial arts tenure, against names the likes of: Wanderlei Silva, Anderson Silva, Brian Stann, Michael Bisping, Patrick Cote, Mark Munoz, and Bellator MMA's own Alessio Sakara.

"If I were to draw up the prototypical Bellator MMA competitor, there would be parts of Chris [Leben] in there," Bellator MMA President Scott Coker said. "The guy has never had a boring fight and as I've said from day one, we're going to continue to grow from the ground up and buy from the top down. I know that Chris still has a lot of fight left in him and I'm excited to see him fight We are hoping to see his Bellator debut this Spring."

"Focusing on just coaching at Victory MMA has been amazing, but recently, I started to get the itch to compete again," Leben said. "So I extended an olive branch to the people at Bellator and here I am. I'm in great shape, I love the possible matchups this roster has to offer and I'm ready to show the world why they call me 'The Crippler.'"
Leben joins a budding roster of Bellator MMA talent, with recent signings that include: Benson Henderson, Anastasia Yankova, Lena Ovchynnikova, and Sergei Kharitonov.
It has yet to be determined what weight class Leben will compete at, but when asked what division he hopes to settle in, Leben made it clear: "I'll go wherever the big fights are."
About Bellator MMA
Bellator MMA is a leading Mixed Martial Arts organization featuring many of the best fighters in the world. Under the direction of veteran fight promoter Scott Coker, Bellator is available to nearly 500 million homes worldwide in over 140 countries. In the United States, Bellator can be seen on Spike TV, the MMA television leader. Bellator MMA is comprised of an executive team that includes top industry professionals in television production, live event orchestration, fighter development/relations, venue procurement, sponsorship creation/development, international licensing, marketing, advertising, publicity and commission relations. Bellator is based in Santa Monica, California and owned by entertainment giant Viacom, home to the world's premier entertainment brands that connect with audiences through compelling content across television, motion picture, online and mobile platforms.
About Spike:
Spike is available in 98.7 million homes and is a division of Viacom Media Networks. A unit of Viacom (NASDAQ: VIA, VIAB), Viacom Media Networks is one of the world's leading creators of programming and content across all media platforms. Spike's Internet address is www.spike.com and for up-to-the-minute and archival press information and photographs, visit Spike's press site at http://www.spike.com/press. Follow us on Twitter @spiketvpr for the latest in breaking news updates, behind-the-scenes information and photos.