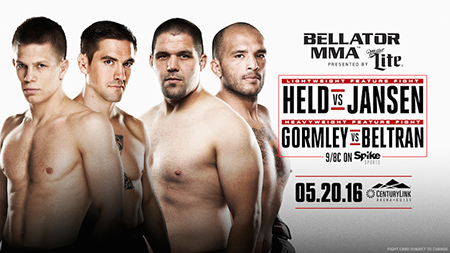 SANTA MONICA, CALIF. (March 24, 2016) – A lightweight bout pitting Marcin Held (21-4) against Dave Jansen (20-3) and a heavyweight contest pairing Chase Gormley (12-5) versus Joey Beltran (17-12), have been added to the main card of "Bellator 155: Carvalho vs. Manhoef" at CenturyLink Arena in Boise, Idaho on May 20.

The fights join a card that already features a colossal Middleweight World Championship main event, when Rafael Carvalho (12-1) defends his belt against the fiery Melvin "No Mercy" Manhoef (30-12-1). In addition, former Bellator MMA Featherweight titlist Pat Curran (21-7) will return to action for the first time since June, when he faces the resilient Georgi Karakhanyan (24-5-1) in the card's co-main event.

Tickets for "Bellator 155: Carvalho vs. Manhoef" start at just $25 and are on sale now at Bellator.com, the CenturyLink Arena Box Office or CenturyLinkArenaBoise.com. The event airs live and free on Spike at 9 p.m. ET/8 p.m. CT. An eight-fight preliminary card airs live on Bellator.com and The Bellator Mobile App beginning at 6:30 p.m. ET.

Held, a 13-fight Bellator MMA veteran, looks to begin another long winning streak after seeing his most recent six-fight string snapped at the hands of division champion Will Brooks during "Bellator 145: With A Vengeance." The 24-year-old submission specialist has recorded wins in 11 of his last 13 fights, with six of the previous seven coming by way of knockout or submission. His juicy matchup with "The Fugitive" at "Bellator 155: Carvalho vs. Manhoef" marks his 2016 debut and first fight since November of 2015.

After a unanimous decision victory over the Polish native back in 2013 at "Bellator 93," Dave Jansen will look to once again knock off Held in the evening's lightweight feature bout. "The Fugitive" enters his ninth fight with Bellator MMA and looks to add to his impressive 7-1 record with the promotion. With winning streaks of seven and 13 fights over his illustrious nine-year career, the 36-year-old Oregon native will once again have his eyes set on starting a new stretch of wins when he steps into the cage on May 20.

In heavyweight action, Chase Gormley will look to build on an impressive three-year run that has seen him win five of his last six fights when he takes on Joey Beltran. The Titan Fighting Championship heavyweight kingpin won the promotion's title with a unanimous decision win against Jon Madsen back in March of 2015.

Since entering the Bellator MMA fray in 2013, Beltran has competed against some of the top fighters the promotion has to offer, with matchups against: Quinton "Rampage" Jackson, Vladimir "The Janitor" Matyushenko, Emanuel Newton, and Brian Rogers. After transitioning to middleweight in April 2015, "The Mexicutioner" has won two of three fights, but now returns to the heavyweight division he once roamed.

Updated "Bellator 155: Carvalho vs. Manhoef" Fight Card
Middleweight World Title Fight: Rafael Carvalho (12-1) vs. Melvin Manhoef (30-12-1)
Featherweight Co-Main Event: Pat Curran (21-7) vs. Georgi Karakhanyan (24-5-1)
Heavyweight Feature Bout: Dan Charles (10-3) vs. Augusto Sakai (9-0)
Lightweight Feature Bout: Dave Jansen (20-3) vs. Marcin Held (21-4)
Heavyweight Feature Bout: Joey Beltran (17-12) vs. Chase Gormley (12-5)

Preliminary Card
Bantamweight Preliminary Bout: Joe Hamilton (3-0) vs. Tyler Freeland (3-0)
Flyweight Preliminary Bout: Veta Arteaga (1-0) vs. Jackie Vandenburgh (0-1)
Featherweight Preliminary Bout: Vince Morales (3-1) vs. Hamilton Ash (3-1)
Bantamweight Preliminary Bout: Brendon Raftery (4-2) vs. Casey Johnson (4-0)
Lightweight Preliminary Bout: Scott Thometz (9-5) vs. Josh Tyler (7-3)
Middleweight Preliminary Bout: Sean Powers (9-5) vs. Will Noland (15-6)
Bantamweight Preliminary Bout: Ricky Steele (5-0) vs. Erick Cronkhite (2-1)
Bantamweight Preliminary Bout: Jesse Brock (21-8) vs. Olly Bradstreet (39-12)

About Bellator MMA:
Bellator MMA is a leading Mixed Martial Arts organization featuring many of the best fighters in the world. Under the direction of veteran fight promoter Scott Coker, Bellator is available to nearly 500 million homes worldwide in over 140 countries. In the United States, Bellator can be seen on Spike, the MMA television leader. Bellator MMA is comprised of an executive team that includes top industry professionals in television production, live event orchestration, fighter development/relations, venue procurement, sponsorship creation/development, international licensing, marketing, advertising, publicity and commission relations. Bellator is based in Santa Monica, California and owned by entertainment giant Viacom, home to the world's premier entertainment brands that connect with audiences through compelling content across television, motion picture, online and mobile platforms.

About Spike:
Spike is available in 98.7 million homes and is a division of Viacom Media Networks. A unit of Viacom (NASDAQ: VIA, VIAB), Viacom Media Networks is one of the world's leading creators of programming and content across all media platforms. Spike's Internet address is www.spike.com and for up-to-the-minute and archival press information and photographs, visit Spike's press site at http://www.spike.com/press. Follow us on Twitter @spiketvpr for the latest in breaking news updates, behind-the-scenes information and photos.