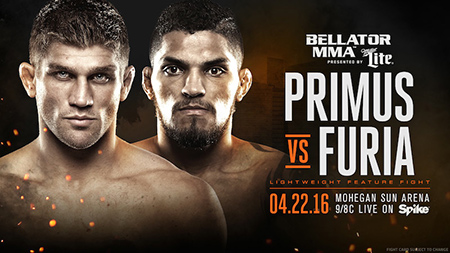 \
SANTA MONICA, CALIF. (March 22, 2016) – The main card line-up for "Bellator 153: Koreshkov vs. Henderson" on April 22 continues to grow, with today's addition of Brent Primus (6-0) versus "Toninho Furia" (27-5) in lightweight action at Mohegan Sun Arena in Uncasville, Conn.

The bout joins a main event that features the highly anticipated Bellator debut of Benson "Smooth" Henderson (23-5), as he challenges welterweight champion Andrey Koreshkov (18-1) for his belt. Former featherweight titlist Patricio "Pitbull" Freire (24-3) meets John "Macapa" Teixeira (19-1-2) in the co-headliner and Connecticut's own "Irish" Brennan Ward (13-3) returns to action, when he welcomes Evangelista "Cyborg" Santos (20-16) into the Bellator MMA fray at 170-pounds.

Tickets for "Bellator 153: Koreshkov vs. Henderson" start at just $30 and are on sale now at Bellator.com, Ticketmaster.com and the Mohegan Sun Box Office. The event airs live and free on SPIKE at 9 p.m. ET/8 p.m. CT, while preliminary bouts will stream live on Bellator.com and The Bellator Mobile App. Additional contests will be announced shortly.

Widely regarded as one of the sport's top prospects, Primus is a fighter who has sacrificed a fledging landscaping company that he owned in order to pursue his dreams of MMA gold. Primus returns to the Bellator MMA cage fresh off a hard-fought victory over Derek Anderson at "Bellator 141: Guillard vs. Girtz." Now, the Brazilian jiu-jitsu black belt will look to apply his craft for the fifth time under the Bellator banner – making his first appearance during the SPIKE-televised main card.

Following his promotional debut, "Toninho Furia" has decided to make return to the 155-pound lightweight division from featherweight, where he last competed. The 27-year-old Brazilian Top Team product has competed professionally since 2005 and has won nine out of his last ten matchups. Furia has a proven affinity for ending fights early, with eight of his victories coming in the opening frame.

For more information on these two prospects, take a look at each of their profiles on Bleacher Report:

Brent Primus – "The Beaten Path: Prospect Brent Primus Traded His Own Business for MMA Gloves"

"Toninho Furia" – "The Beaten Path: Longtime Prospect Gleristone Santos Is Ready for Bellator Debut".

"Bellator 153: Koreshkov vs. Henderson" Updated Fight Card:
Welterweight World Title: Andrey Koreshkov (18-1) vs. Benson Henderson (23-5)
Featherweight Co-Main Event: Patricio Freire (24-3) vs. John Teixeira (19-1-2)
Welterweight Feature: Brennan Ward (13-3) vs. Evangelista "Cyborg" Santos (20-16)
Lightweight Feature: Brent Primus (6-0) vs. Gleristone "Toninho Furia" Santos (27-5)

Preliminary Card:
Lightweight Preliminary Bout: Sam Watford (1-0) vs. Dean Hancock (2-0)
Featherweight Preliminary Bout: Chris Foster (8-4) vs. Felipe Lavandoski (5-0)
Lightweight Preliminary Bout: Jason Bakanowski (3-2) vs. T.J. Hepburn (4-2)
Featherweight Preliminary Bout: Pete Rogers (2-3) vs. Mike Mangan (0-3)
Light Heavyweight Preliminary Bout: Mike Zichelle (7-4) vs. Joe Cronin (19-16)
Featherweight Preliminary Bout: Matt Bessette (17-7) vs. Keith Richardson (14-6)
Middleweight Preliminary Bout: Tim Caron (3-0) vs. Justin Sumter (0-0)
Bantamweight Preliminary Bout: Blair Tugman (7-6) vs. Jay Perrin (2-1)

About Bellator MMA:
Bellator MMA is a leading Mixed Martial Arts organization featuring many of the best fighters in the world. Under the direction of veteran fight promoter Scott Coker, Bellator is available to nearly 500 million homes worldwide in over 140 countries. In the United States, Bellator can be seen on Spike, the MMA television leader. Bellator MMA is comprised of an executive team that includes top industry professionals in television production, live event orchestration, fighter development/relations, venue procurement, sponsorship creation/development, international licensing, marketing, advertising, publicity and commission relations. Bellator is based in Santa Monica, California and owned by entertainment giant Viacom, home to the world's premier entertainment brands that connect with audiences through compelling content across television, motion picture, online and mobile platforms.

About Spike:
Spike is available in 98.7 million homes and is a division of Viacom Media Networks. A unit of Viacom (NASDAQ: VIA, VIAB), Viacom Media Networks is one of the world's leading creators of programming and content across all media platforms. Spike's Internet address is www.spike.com and for up-to-the-minute and archival press information and photographs, visit Spike's press site at http://www.spike.com/press. Follow us on Twitter @spiketvpr for the latest in breaking news updates, behind-the-scenes information and photos.