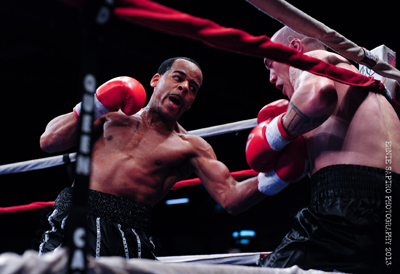 King Raheem in action

Tacoma, WA (May 20th, 2013) - Superstar King Raheem is once again headed to Tacoma, WA to fight in the main event for Halquist Productions' Battle at the Boat 92 at the Emerald Queen Casino. In March, after a two year layoff from boxing, Raheem (32-3-0, 19 KO's) dominated Santos Pakau (28-8-2, 11 KO's) in the official comeback to the sport he loves.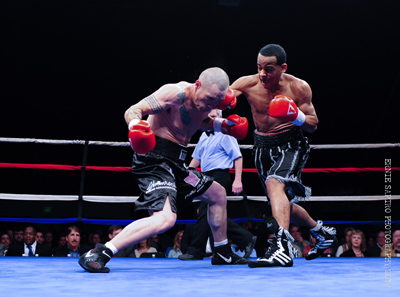 Battle at the Boat 92 is scheduled for Saturday, June 1st at the Emerald Queen Casino in Tacoma, WA. Tickets for the event are still available and can be purchased through www.ticketmaster.com and at the Emerald Queen Casino box office. Doors for the event will open at 6:00 PM with the first fight scheduled for 7:00 PM.

Raheem's next test on his path to become a world champion will be Uganda's Justin Juuko (45-11-1, 30 KO's). Juuko, who has previously fought for the WBC and WBA world titles, is expected to be a good matchup for Zahir as he continues to get back into fighting shape. It could be a very intriguing night for Raheem as Juuko has fought some of the best in the world including: Floyd Mayweather Jr., Miguel Cotto, and Diego Corrales.

In Raheem's last fight at Battle at the Boat 91, Raheem was scheduled to go ten rounds against Santos Pakau in a match that was supposed to knock the rust off after not having fought in over two years. He may still need time to do that as Raheem went straight to work with the jab and landed the TKO victory 2:20 into the 2nd round.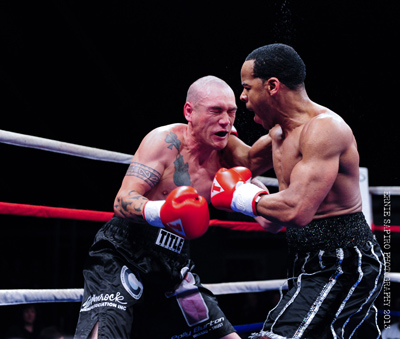 The king's boxing career has been full of ups and downs. The Philadelphia native accumulated a 213-4 amateur record and earned the opportunity of a lifetime when he participated in the 1996 Olympics with teammates and some of boxing's finest: Floyd Mayweather Jr, Eric Morel, Fernando Vargas, David Reid, and Antonio Tarver.

After compiling a 26-1 professional record, Raheem got his next opportunity to fight Mexican legend, Erik Morales for the vacant WBC international title. The fight was supposed to be a warm up fight for Morales as he was scheduled to fight Manny Pacquiao shortly after. Raheem surprised the boxing world by defeating Morales with a convincing unanimous decision and winning Ring Magazine's upset of the year award. Raheem didn't get the chance to fight Pacquiao like many would believe, but instead landed a fight with Acelino Freitas for the vacant WBO lightweight title. After a back and forth war with Freitas, Raheem lost the fight via heart breaking split decision.

Raheem hasn't fought for another world title since, but training out of his "King Raheem's Boxing and Cross Training" gym in Atlanta, GA, signing with Halquist Productions, and staying focused at once again returning the top, he has every chance at getting a title fight in the near future.

When asked what advice he would give to kids to become a successful boxer like himself, Raheem said "No matter what you believe you are correct. If you believe you can't, you won't. Always believe in yourself even when no one else does."

Halquist Productions has built a reputation around the nation as the premier fight promoter in the Northwest. The Battle at the Boat boxing series continues to be the longest running professional boxing series at any Tribal casino in the United States. Numerous title fights have taken place at the Emerald Queen Casino through Battle at the Boat. The promotions prominence has brought in every major sports network including: ESPN, HBO, and Showtime to televise past featured bouts. Five other bouts including a six round semi-main event along with an undercard featuring four, four round fights is also scheduled throughout the night. For more information on Battle at the Boat 92 and all other Halquist production events, please visit www.Halquistproductions.com and the official Facebook and Twitter pages of Halquist Productions, Battle at the Boat, and CageSport.
---
MAIN EVENT: 10 Rounds
Zahir Raheem (32-3-0, 19 KO's) - Philadelphia, PA
vs.
Justin Juuko (45-11-1, 30 KO's) - Kampala, Uganda
SEMI-MAIN EVENT: 6 Rounds at 142 Lbs.
Dave Petryck (4-3-1) - British Columbia
vs.
Gabriel Pineda (3-0-2, 1 KO) - Hillsboro, OR
UNDERCARD: All bouts scheduled for 4 Rounds.
Drew Brokenshire (debut) vs. William Fernandez (0-2) at 147
Antonio Neal (1-0-0, 1 KO) vs. Carlos Rodriguez (1-1-0, 1 KO) at 147
Zach Cooper (2-0-0, 2 KO's) vs. TBA
Omar Avelar (2-6-0, 1 KO) vs. TBA
*All bouts are subject to change
*Must be 21 years or older to enter the Casino.