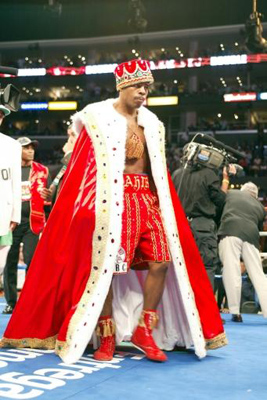 Zahir Raheem

Tacoma, WA (March 18th, 2013) - After two years, fight fans all around the world will get their chance to once again witness Zahir "King" Raheem (31-3-0, 18 KO's) back in the ring in pursuit of a world title. Raheem is scheduled to fight on Saturday, March 23rd at the Emerald Queen Casino in Tacoma, WA where northwest boxing fans will get the first look at the superstar when he takes on Toppenish's Santos Pakau (28-7-2, 11 KO's) in the Main Event of Battle at the Boat 91.

"I'm excited for the opportunity to fight for Halquist Productions and I look forward to a very successful journey, "said Raheem about his much anticipated comeback to boxing.

Boxing enthusiasts throughout the world remember a crucial day in 2005 when lightweight champion, Erik Morales, took on the rising Zahir Raheem. The fight was intended to be a warm up fight for Morales before his scheduled super fight rematch against Manny Pacquiao. Raheem didn't have the same plan in mind. He stepped into the ring determined to let the world know he was ready for a title shot. He did just that. With the vacant WBC International lightweight title on the line, Raheem battled through 12 rounds with Morales and controlled the entire fight. The judges awarded Raheem with the unanimous decision. Ring Magazine named the fight "Upset of the Year" and Raheem was suddenly on his way to what appeared to be stardom.

No one would step up to fight the crafty boxer out of Philadelphia until seven months later when Raheem finally got a shot at the vacant WBO lightweight title against Acelino Freitas. Raheem knew that it was a must win in order to prove his win over Morales was no fluke. The fight went 12 rounds. One judge scored the fight 115-113 for Raheem. The other two judges disagreed, scoring closely for Freitas. Raheem would lose the fight via a heartbreaking split decision. After defeating Morales and barely losing to Freitas it was almost impossible for Raheem to find a quality opponent. An opponent he knew he deserved. Raheem was left to face easy wins again, ultimately taking away the challenge that feeds fighters. His last fight would come in August of 2010 where he KO'd Roberto Valenzuela in the 2nd round.

Now signed with Halquist Productions, Raheem has been given a new hope to his dream of becoming a world champion. The first step in the process will come in the main event of Battle at the Boat 91 this Saturday when he will step into the ring against Santos Pakau at the Emerald Queen Casino.

In the Semi-Main event of Battle at the Boat 91, Vancouver's Virgil Green (5-1-0) is set to face Dave Petryk (3-3-1) out of British Columbia. Green is replacing the originally scheduled Marcelino Pineda who was injured while training last week. Green trains out of the Fisticuffs gym with head coach, Leonard Gabriel, and reigns as the current Northwest Jr. Welterweight Champion.

The action packed undercard is filled with local talent:
Julian Dutkel (debut) vs. Calvin Medley (debut)
Zachary Cooper (1-0-0) vs. Josh Solis (debut)
Antonio Neal (debut) vs. Juan Carlos Rodriguez (1-1-0)
Ricardo Moldonado (debut) vs. Dex Montenegro (1-1-1)

With the long term promotional contract signed with Halquist Productions, fans throughout the Northwest will get a chance to see Raheem work his way to another world title fight throughout 2013 at future Battle at the Boat events. The Battle at the Boat series continues to be the longest running boxing series at any Tribal casino throughout the United States. Halquist Productions has promoted fights that have been televised on every major sports network including ESPN, ESPN 2, HBO, and Showtime. For more information about Battle at the Boat 91 and all other Halquist Production events, please visit www.Halquistproductions.com.
---