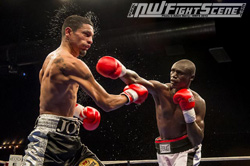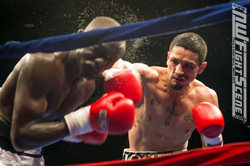 Halquist Productions' 86th Battle at the Boat went down March 31st at the Emerald Queen Casion in grand style with 6 exciting pro boxing contests, the debut of ring announcer Danny Bonaduce (yes, that Danny Bonaduce!), as well as in-between rounds entertaiment from the Smokin' Hot Espresso ring girls.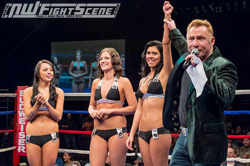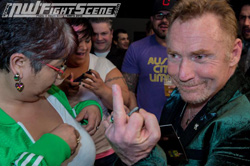 The main event was a ten round war that capped off the evening of combat excitement and featured two tough Lightweights making their first appearances on the Battle at the Boat stage. North Texas based Jose "El Loco" Hernandez entered the bout at 12-5-1, with a two fight win streak and a solid reputation as a tenacious fighter who always brings the fight. Peter Oluoch, fighting out of Nairobi Kenya, came in at 11-5-2 and was making his North American debut with all 17 of his professional fights, save for one in Russia, taking place in Africa. This one was a barn-burner from start to finish with both fighters active throughout. It was Hernandez though who was the more accurate and did more damage with his power punches and after 10 rounds, all 3 judges saw it his way.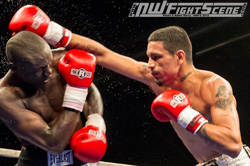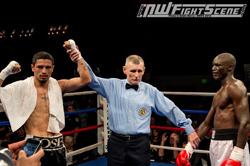 The Semi-main event saw the ladies throw down as two of the best in the country battled it out over five rounds in a Super Featherweight contest. Sarah Pucek out of Ft Langley BC, no stranger to the Battle at the Boat going 4-0-1 in previous appearances, took on Los Angeles fighter Lisette Medal. The pair went toe-to-toe, both trying to put the other away with big shots, and after 15 minutes of action it was Medal getting the judges nod to move to 6-1-1 as a pro.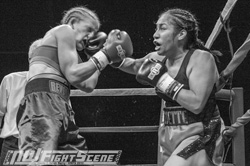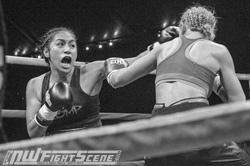 Crowd favorite Nate Serrano, fighting at welterweight out of Yakima, bounced back from a controversial decision loss at the last Battle at the Boat by getting a TKO over Nick Balestra from Sacramento. Serrano got knocked down early in the 2nd round but quickly got back with bad intentions, wasting no time in knocking Balestra down and eventually out with the ref stopping it at 1:54 of the 2nd.
Cue crowd going crazy!!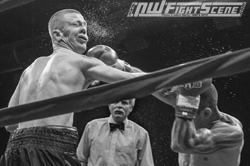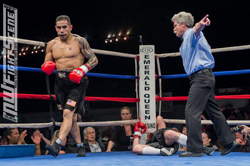 Highly acclaimed amatuer fighter, Ray Lampkin Jr, finally made his pro debut after a 7 year layoff from the sport. The Portland native, training out of the Knott Street gym, took on Beau Hamilton who trains with Team Do Somethin' in Yreka CA and who also was making his pro debut. These Welterweights came at each other for four rounds and talked trash at each other for four rounds in a highly entertaining bout that went Lampkin Jr.'s way on the scorecards.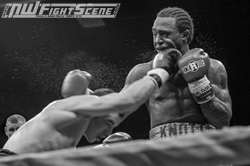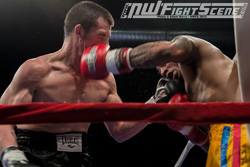 In other action, Kent WA's Isaac Tadeo took out Montana fighter Jesse Udhe via stoppage at 2 minutes into the third round in a Super Welterweight fight. In the night's opening bout, it was Bay area fighter Jonathan Zumudio spoiling Kelso WA's William Hernandez pro debut by majority decision.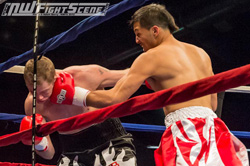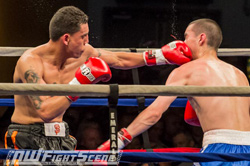 The next Battle at the Boat is scheduled for June 2nd. Before that, on April 28th, the all-pro MMA show Cagesport will be held inside the I-5 Showroom at the Emerald Queen Casino. More info on both events at www.Halquistproductions.com.
---