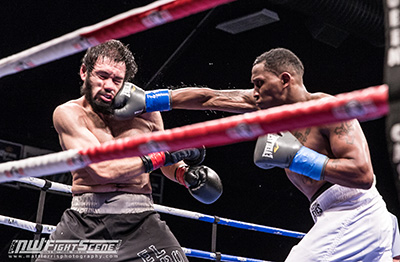 Walter "2 Guns" Wright lands a hard right in the Semi-main Event

Halquist Productions and the Emerald Queen Casino rang in the 2018 fight year on Jan 12th with Battle at the Boat 114, featuring 6 pro boxing contests. The main event was a 10-round, 138 lb matchup that had Denver CO's Manuel Perez - a veteran of 41 fights over 14 years - take on Miami's John "Action" Jackson who came in with just 3 losses in 22 fights dating back to 2005. A closely-fought bout to start, Jackson caught Perez with a solid left that scored a knockdown in the 2nd round. Perez answered over the next few rounds with an aggressive attack that forced Jackson against the ropes, Perez scoring in bunches. The late rounds saw intense action from both fighters as they tried to put the other away. In the end, it went to the judges who saw it for Perez 99-92, 97-92, 96-93.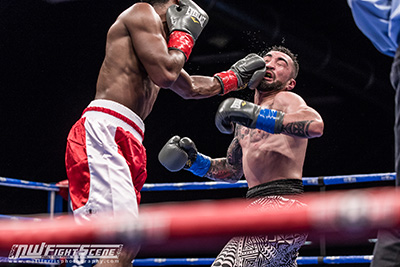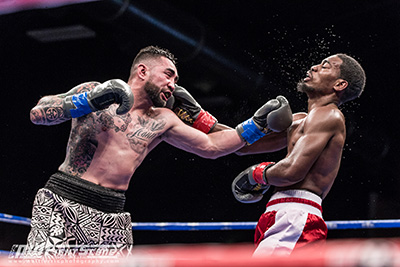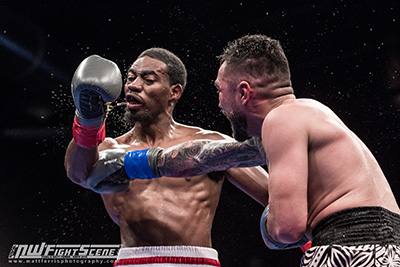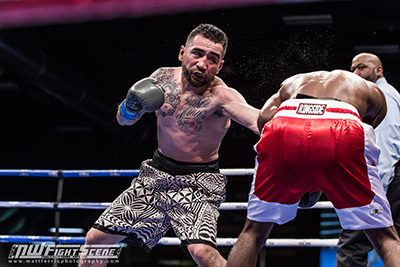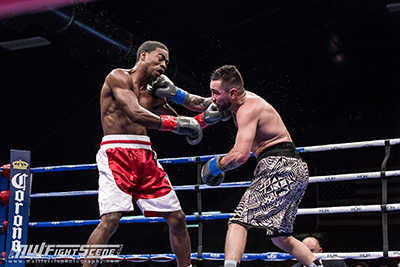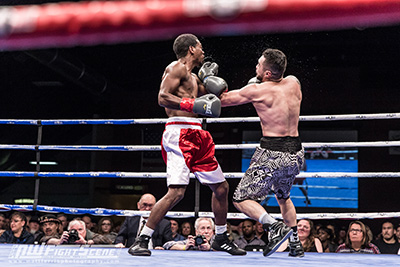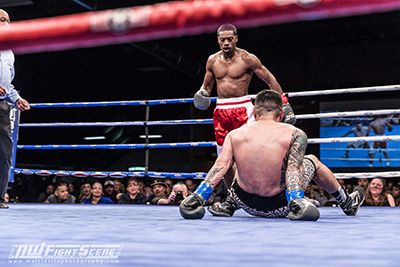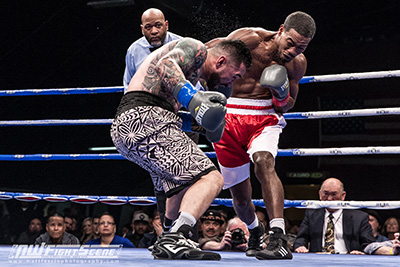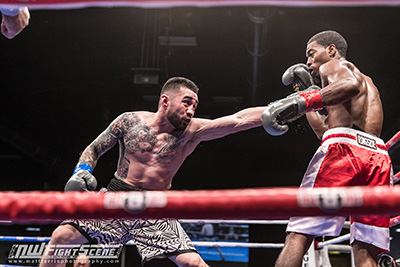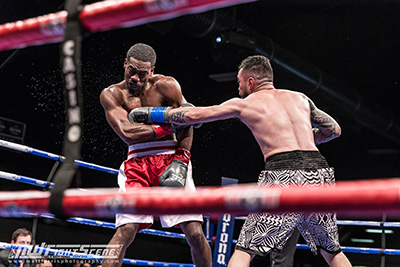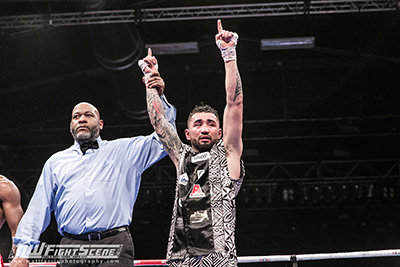 The Semi-main Event saw the return to the ring of Walter "2 Guns" Wright - a former star of ESPN's The Contender back in 2006 and a veteran of 11 fights at the Emerald Queen Casino, going 10-1 at the venue from 2003 to 2010. Having last fought in 2013, the 36-year-old Wright stayed patient in this comeback bout with 26 year-old Medford OR fighter Rafael Valencia, doing enough to win each round, before he began to open it up with some heavy shots late in the fight that bloodied Valencia. After 6 rounds of fighting, all three judges saw it 60-54 for Wright.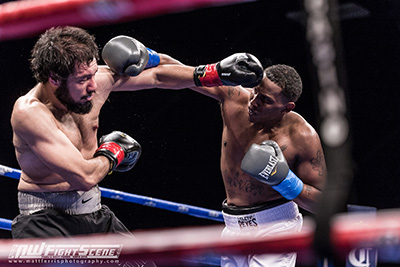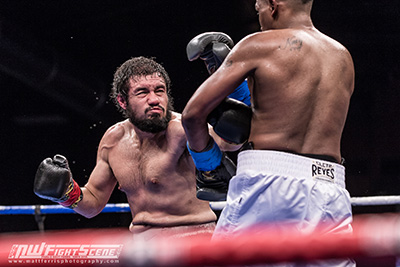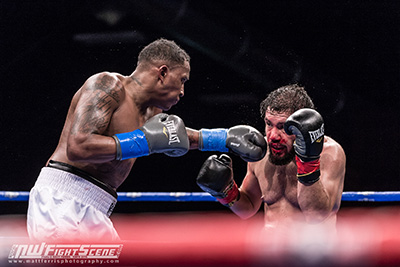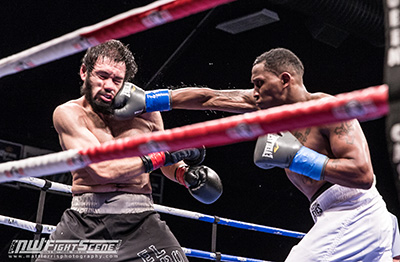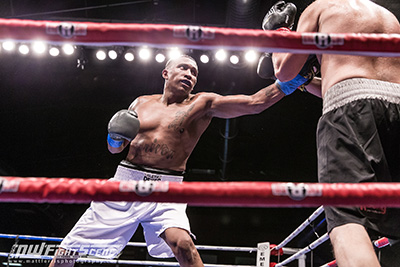 The crowd-favorite fight of the night was the 4-round war between debuting Anthony Zender of Tenino WA and Jorge Linares of Edmonds WA. Zender, a veteran of 17 pro MMA bouts, set the pace, charging straight at Linares with heavy hands and forcing the 22-year-old on his heels. A big right hand from Zender dropped Linares late in the round and got the fans on their feet. Linares recovered in the 2nd and 3rd rounds, showcasing his boxing skills, but he still had a handful with an aggressive Zender. The final round saw both men visibly tired but still giving it their all, standing toe-to-toe to the final bell. All three judges saw it for Zender with a score of 38-36 across the board.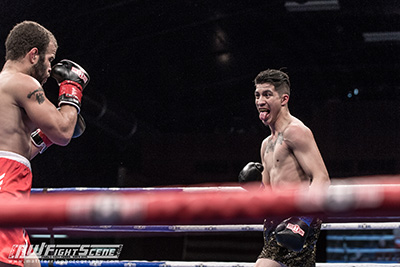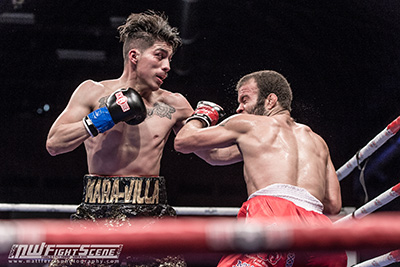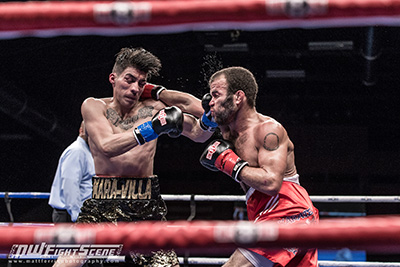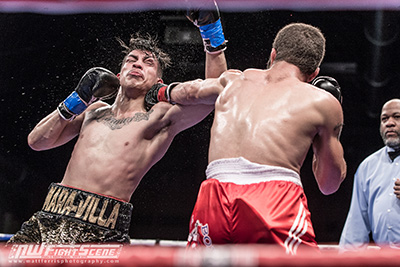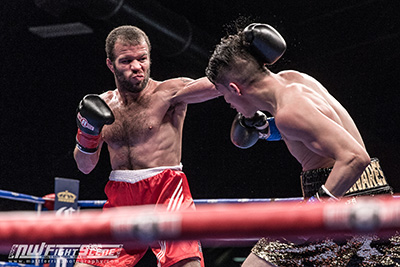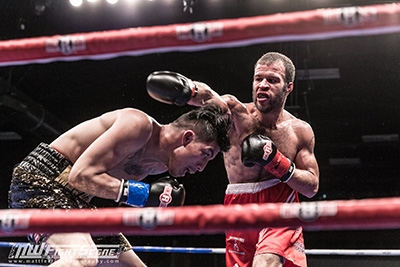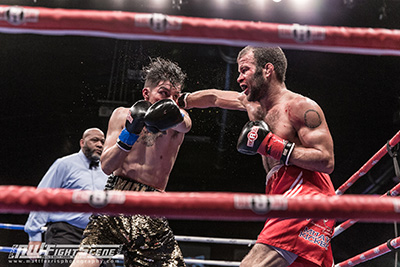 Eduardo Torres, fighting out of RHG Boxing in Yakima, scored a knockout win over a debuting Chris Varner with Olympia's United Training Center. It was Varner catching the crowd's attention early as he got in Torres face before the fight even started. At the opening bell, Varner came out strong, throwing big bombs. Torres calmly weathered the storm, then started firing back, connecting with some heavy shots before a strong left dropped Varner at 42 seconds of the first. The 25 yr-old Torres - a veteran of 16 pro MMA bouts - improves his boxing record to 2-1-1 with 1 KO.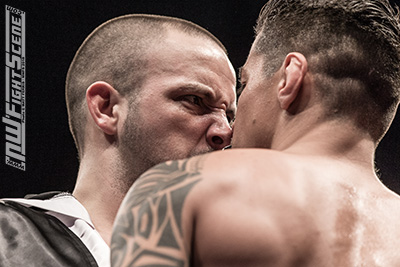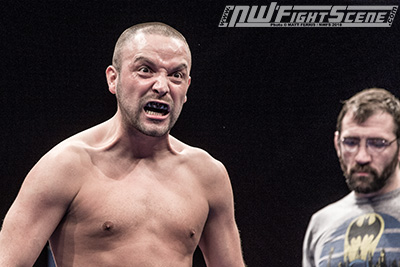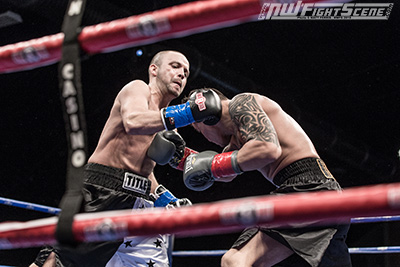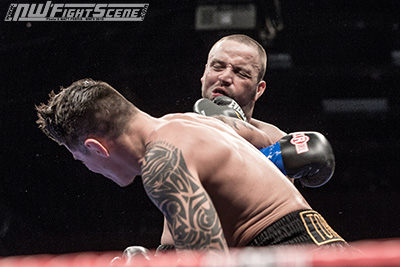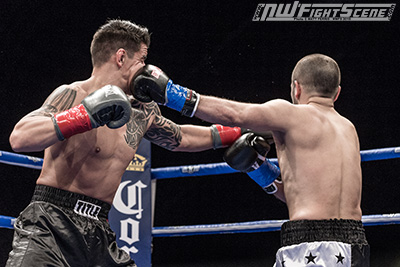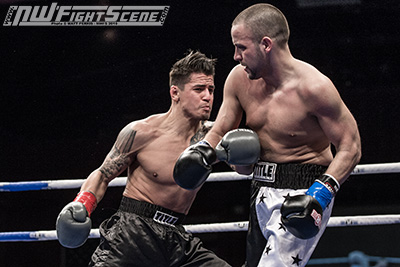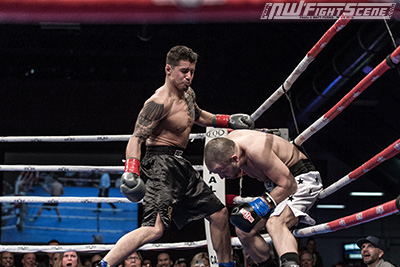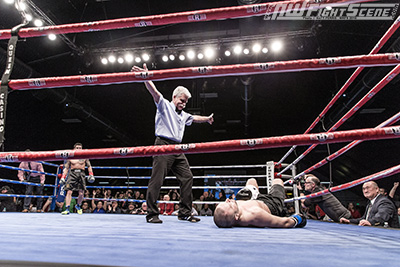 Fatlum Zhuta, fighting out of Anchorage AK, had the fastest finish of the night, knocking out late replacement Eddie Hunter of Kent WA at 39 seconds of the first round. Zhuta forced Hunter against the ropes and as Hunter turned to escape, Zhuta landed with a crisp right-left combo that dropped Hunter, who was unable to get back to his feet before the ref waved it off. Since opening his career with a draw in July 2014, Zhuta has won 5 straight with 4 knockouts.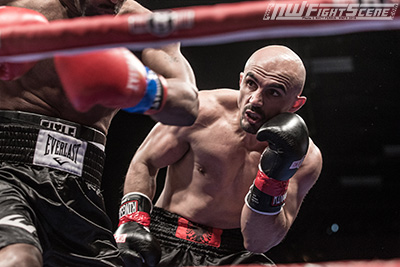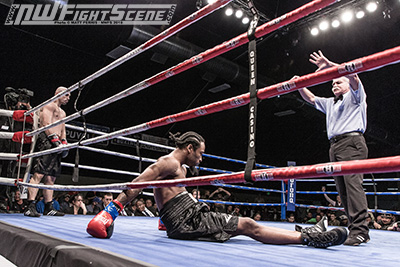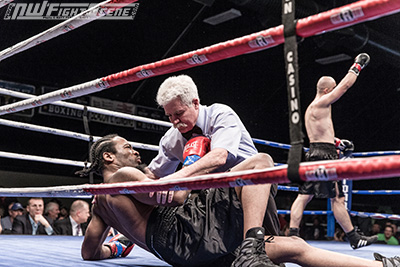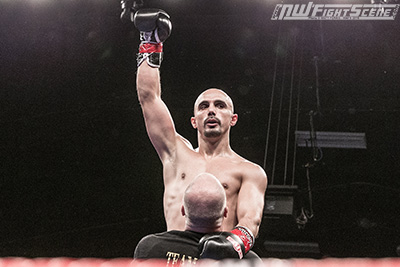 Opening the fights was Yakima's Carlos Villanueva and Portland's Alex Cazac, squaring off in a 185 lb catchweight bout. The bout started out slow but the fighters picked it up in the final three rounds, both men busy scoring points in flurries and counter-punching. It went to the judges who awarded Villanueva the win via split decision, 39-37, 39-37, 37-39.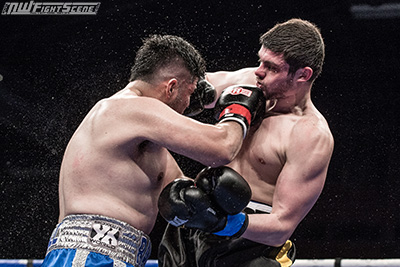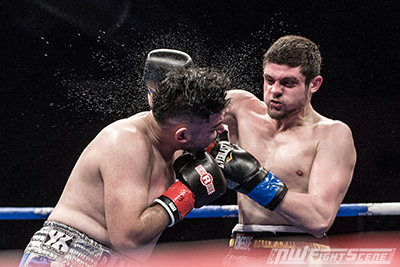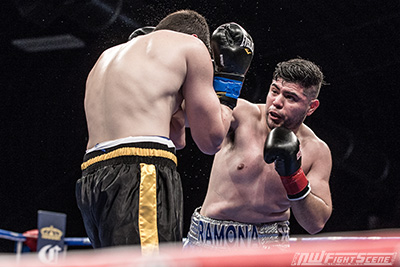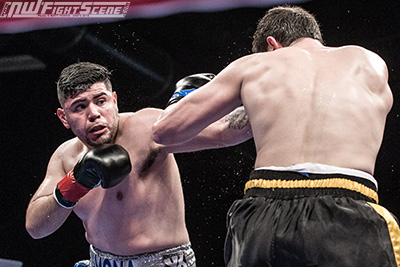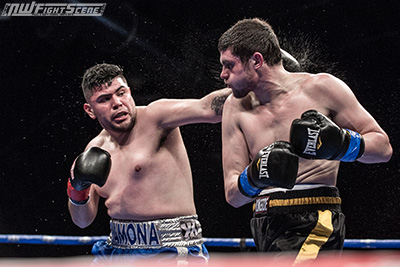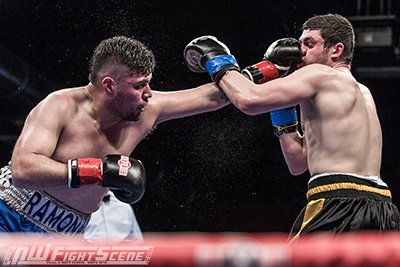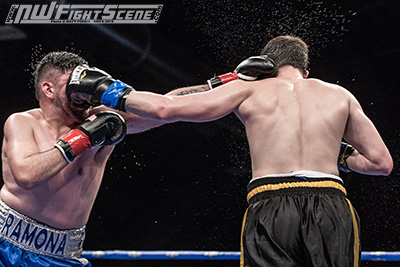 Halquist Productions next event is CageSport MMA 49 on February 10th, followed by Battle at the Boat 115 on March 17th, both events at the Emerald Queen Casino. More info at halquistproductions.com.
---
Battle at the Boat 114 Results

Main Event - 138 lbs (10 Rds)
Manuel Perez (29-12-1, 7 KOs - Denver) def John Jackson (17-4-2, 13 KOs - Miami)
by Unanimous Decision (99-92, 97-92, 96-93)

Semi-Main Event - 167 lbs (6 Rds)
Walter Wright (15-4, 7 KOs - Seattle) def Rafael Valencia (3-9, 2 KOs - Medford OR)
by Unanimous Decision (All judges 60-54)

140 lbs (4 Rds)
Anthony Zender (1-0 - Tenino WA) def Jorge Linares (2-1, 2 KOs - Edmonds WA)
by Unanimous Decision (All judges 38-36)

154 lbs (4 Rds)
Eduardo Torres (2-1-1, 1 KO - Wapato WA) def Chris Varner (0-1 - Lewiston ID)
by KO @ 0:42 Rd 1

168 lbs (4 Rds)
Fatlum Zhuta (5-0-1, 4 KOs - Anchorage) def Eddie Hunter (10-14-2, 3 KOs - Kent WA)
by KO @ 0:39 Rd 1

185 lbs (4 Rds)
Carlos Villanueva (3-3 - Yakima) def Alex Cazac (0-2 - Portland)
by Split Decision (39-37, 39-37, 37-39)