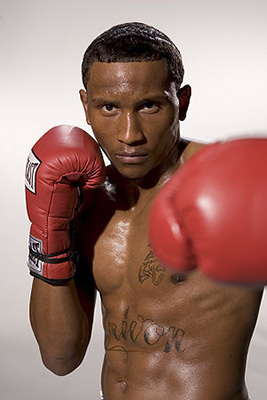 TACOMA, Wash. - Seattle's Walter "2 Guns" Wright makes his return to professional boxing on Friday, Jan. 12 at the Emerald Queen Casino in Tacoma, Wash. when he fights at Battle at the Boat 114.

A 2001 U.S. National Amateur Championship finalist, Wright (14-4, 7 KOs) will step inside the ring for the first time in five years. He will face Rafael Valencia in a 6-round bout in the 167-pound division.

"Walter is back in business," said Wright's trainer Kenny Ellis. "He's looking sharp and really excited to get back in there and do what he does best."

The six-bout card will also feature a 10-round main event between welterweights John Jackson (17-3-2, 13 KOs) and Manuel Perez (28-12-1, 7 KOs).

Tickets are available through the EQC box office and all Ticketmaster Outlets. Preliminary bouts will start at 8 p.m. Doors open at 7 p.m.

This will mark Wright's 12th career fight at the Emerald Queen Casino. He has an all-time record of 10-1-0 with 6 knockouts at the Tacoma venue.

"Sometimes as a professional athlete the mental side of the sport can really weigh on you. Physically, (Walter) was fine, but he just needed some time away from boxing. It ended up being the best thing for him," said Ellis, a former WBA NABA middleweight champion who used to train with Wright. "He's in the gym looking better than ever. He's been putting in the work."

A product of the Tacoma Boxing Club, Wright was a rare five-time Tacoma Golden Gloves champion - becoming just the seventh fighter at the time to win five or more titles at the long-running amateur tournament.

Wright won his first Tacoma Golden Gloves titles in 1999 in the 147-pound division. He added titles at 156 in 2000 and 2001 and at 165 in 2002 and 2003. Only Mylon Watkins, a former two-time National Golden Gloves champion, has won more local titles, winning six consecutive Tacoma Golden Gloves championships between 1981 and 1986.

Wright notched his first professional victory on Nov. 14, 2003 with a victory over Jose Medina in front of his hometown crowd, winning by unanimous decision at Seahawks Stadium.

Five months later he made his Emerald Queen Casino debut, defeating previously undefeated Mike Hannah by TKO which quickly made him a fan favorite among local fight fans.

Wright would post his 10th straight victory on Oct. 22, 2005 by knocking out Kemal Kolenovic at the Emerald Queen Casino.

His stellar 10-1 record and exciting in-ring style caught the attention of the producers of the ESPN reality show "The Contender" who added Wright to their Season 2 lineup to participate in the show's welterweight tournament.

Wright became one of the show's breakthrough stars, winning his 11th consecutive fight by beating Andre Eason in the first round.

Wright would eventually lose on the show in the tournament's semifinals to future two-time IBF world super welterweight champion Cornelius Bundrage by decision.

Wright would close out "The Contender" by scoring a TKO victory over Vinroy Barrett at the Staples Center in Los Angeles on Sept. 26, 2006 on a televised national audience on ESPN.

Two more triumphs at the Emerald Queen Casino would follow, including a win by TKO over undefeated Dan Wallace on Jan. 12, 2007 before losing to former IBU world super welterweight champion Peter Manfredo in 2013 in his last bout.

"I'm very excited to see Walt make his long-awaited comeback to boxing," said promoter, Brian Halquist. "He's working hard. If anyone can make a comeback work, it's Walter."

Highlighting the undercard will be a pair of undefeated fighters in Jorge Linares (2-0-0) and Fatlum Zhuta (4-0-1, 3 KOs).

Linares will face the debuting Journey Newson in a four-round 140-pound bout, while Zhuta squares off against Eddie Hunter (10-13-2, 3 KOs) in a clash of super middleweights.

Battle at the Boat 114 will feature the VIP experience with 3rd Row Seats being discounted to $75 per ticket. All fans seated in in the VIP section (rows 1-3) will have an exclusive access point and a dedicated server to help create a true VIP experience.

Battle at the Boat 114 is brought to you by Brian Halquist Productions. For more information, please visit www.halquistproductions.com and the Battle at the Boat Facebook page.

Battle at the Boat 114 Card
Friday, Jan. 12, 2018

10 Round Main Event - Welterweights
John Jackson (17-3-2, 13 KOs) vs. Manuel Perez (28-12-1, 7 KOs)

6 Round Semi-Main Event
167 pounds: Walter Wright (14-4-0, 7 KOs) vs. Rafael Valencia (3-8-0, 2 KOs)

4 Round Undercard Bouts
172 pounds: Fatlum Zhuta (4-0-1, 3 KOs) vs. Eddie Hunter (10-13-2, 3 KOs)
140 pounds: Journey Newson (debut) vs. Jorge Linares (2-0-0, 2 KOs)
185 pounds: Alex Cazac (0-1-0) vs. Carlos Villanueva (2-3-0)
145 pounds: Eduardo Torres (1-1-1) vs. Chris Varner (debut)

ABOUT BRIAN HALQUIST
Brian Halquist Productions is the Northwest premiere fight promotion company creator of the famed "Battle at the Boat" boxing series promoting more than 20 years and over 110 fights at the Emerald Queen Casino. BHP has also built the largest professional MMA series on the USA's west coast with "CageSport MMA" nearing more than 50 fights. Brian Halquist Productions has promoted events for ESPN, ShowTime and HBO and featured on Showtime's historic boxing event in St Lucia, West Indies. Brian Halquist Productions has been promoting fights and concerts for over 30 years in the Pacific Northwest.