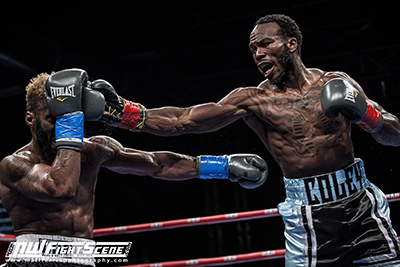 Aaron Coley en route to a unanimous decision win in the main event of Battle at the Boat 110

Brian Halquist Productions took over the Emerald Queen Casino I-5 Showroom for another great Battle at the Boat, the promotion's 110th in the long-running pro-boxing series dating back to 1997. In the main event, a 157 lb 10-round catchweight bout featured 29 year old Dashon Johnson of Escondido taking on 26 year old Aaron Coley of Hayward CA. The fight would go the distance in a hard-fought battle, with Coley picking up his 14th pro win via unanimous decision 97-93, 97-93, 96-94.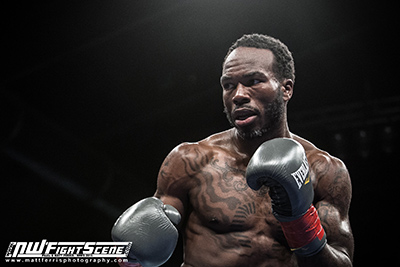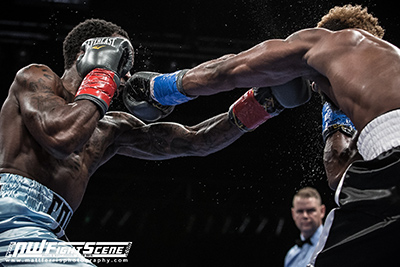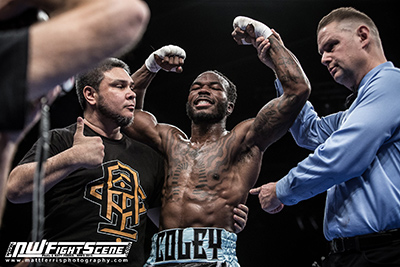 In the Semi-main event, Yakima's Andres Reyes - a regular staple at the EQC having fought 7 times there since turning pro in 2014 - took on Spokane's Jacob Szilasi of Spokane who was making his 2nd straight Battle at the Boat appearance. It was Reyes who came out the winnner, scoring a 2nd round TKO to improve his record to 6-2-1.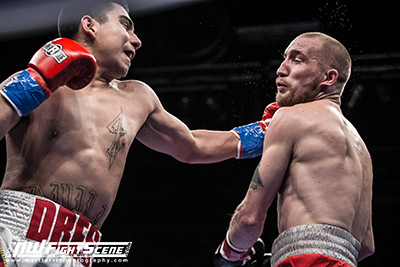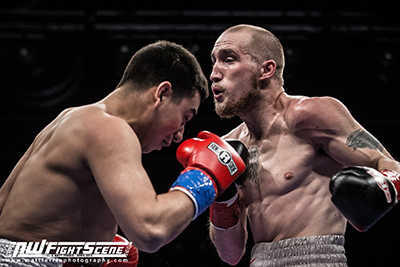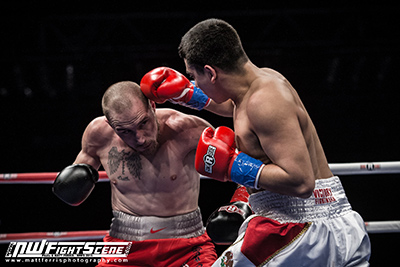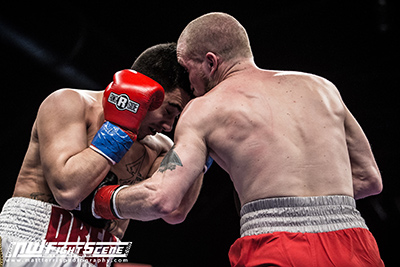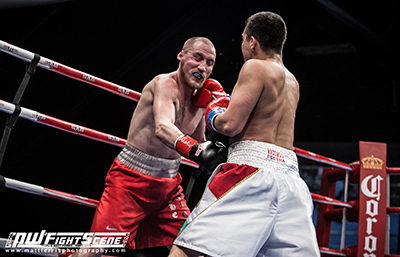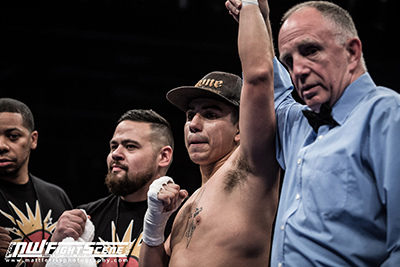 In a light heavyweight bout, Fife WA's Cameron Sevilla-Rivera had the pro experience with 12 fights under his belt with 6 wins and 2 draws, while Vancouver BC's Kian Heidari was making his debut. Both pugilists put on a show, punishing each other over 4 rounds, with the end result a split draw.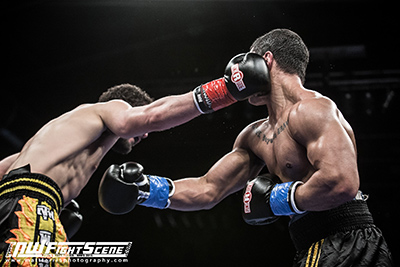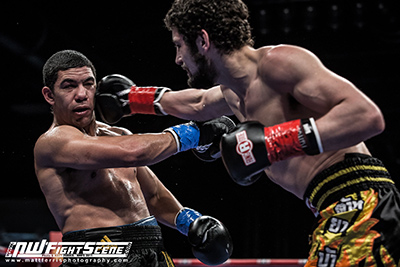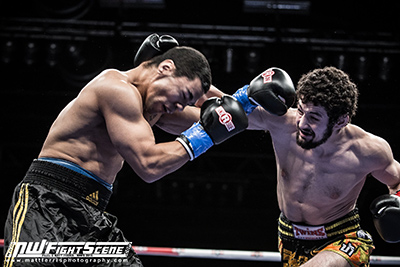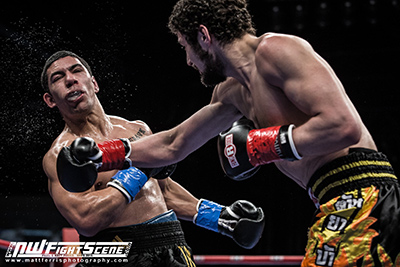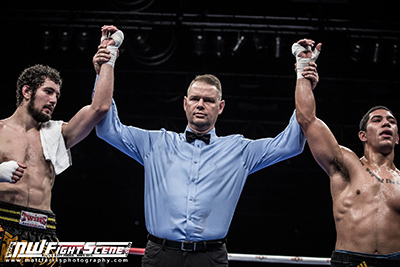 NW MMA veteran Zach "Skindog" Skinner of Olympia won his pro boxing debut via 3rd Rd TKO in a war with Tacoma's Jesse Barich, also making his debut.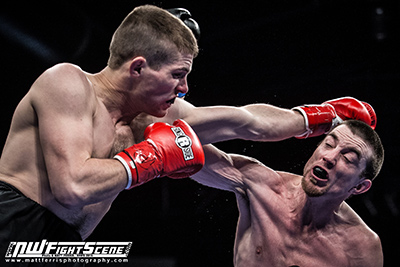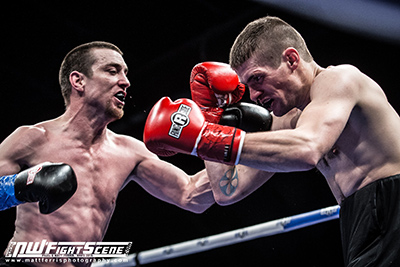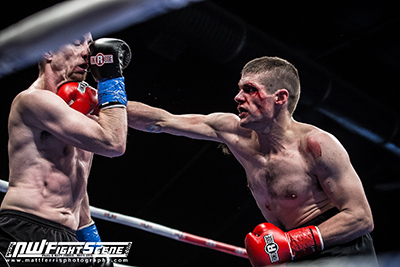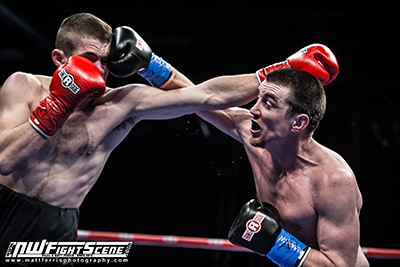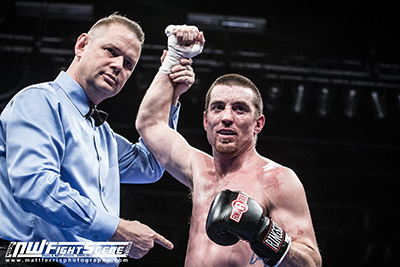 Cruiserweight Jon Jackson of Olympia WA improved his record to 3-0 with a 1st round TKO of debuting Kevin Roberson.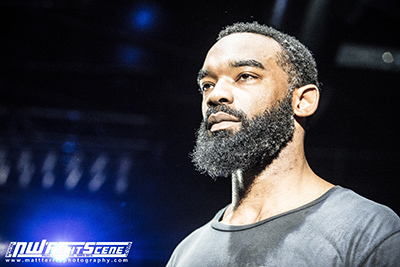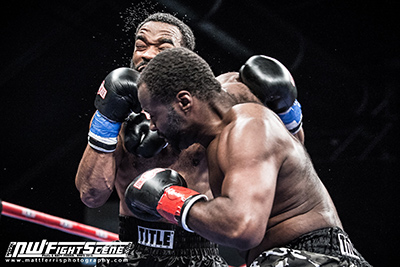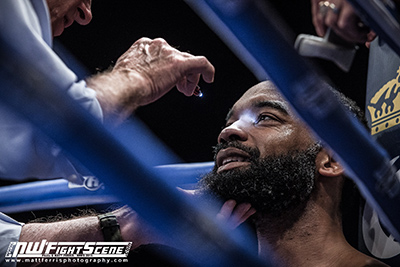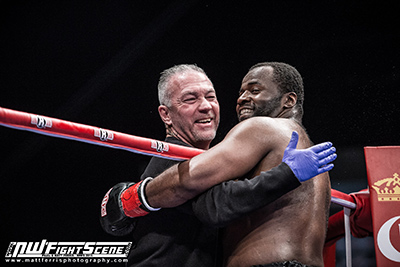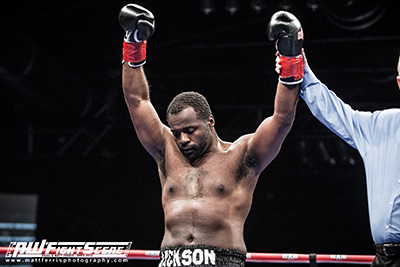 Chicago's GIovanni Cabrera-Mioletti bested Portland's Niko McFarland by unanimous judges decision to move his pro record to 6-0.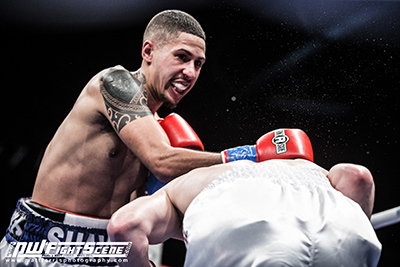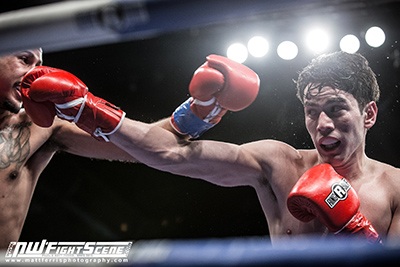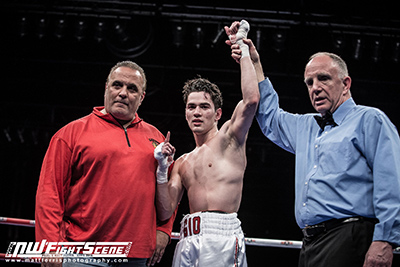 Battle at the Boat 111 is scheduled for June 3rd at the Emerald Queen Casino.
More information at halquistproductions.com.
---
Battle at the Boat 110 Results
Main Event – 157 lbs (10 Rounds)
Aaron Coley (14-1-1, 6 KOs - Hayward CA) def Dashon Johnson (22-21-3, 7 KOs - Escondido CA) by Unanimous Decision (97-93, 97-93, 96-94)

Semi-main Event - 140 lbs (6 Rounds)
Andres Reyes (6-2-1, 1 KO - Yakima WA) def Jacob Szilasi (4-4, 4 KOs - Spokane WA)
by TKO @ 0:59 Rd 2

175 lbs (4 Rounds)
Cameron Sevilla-Rivera (7-4-2, 5 KOs - Fife WA) vs Kian Heidari (0-0-1 - Vancouver BC)
results in a Split Draw (39-37, 38-38, 37-39)

135 lbs (4 Rounds)
Gio Cabrera-Mioletti (6-0, 1 KO - Chicago IL) def Niko McFarland (0-3 - Portland OR)
by Unanimous Decision (All judges 40-36)

200 lbs (4 Rounds)
Jon Jackson (3-0, 1 KO - Olympia WA) def Kevin Roberson (0-1 - Seattle WA)
by TKO @ 2:21 Rd 1

147 lbs (4 Rounds)
Zach Skinner (1-0, 1 KO - Olympia) def Jesse Barich (0-1 - Tacoma)
by TKO @ 0:35 Rd 3