10-round Middleweight Bout Headlines Boxing Card

TACOMA, Wash. – Middleweights Dashon Johnson and Aaron Coley square off in a 10-round main event of Battle at the Boat 110 at the Emerald Queen Casino in Tacoma, Wash. on Saturday.

Tickets are available through the EQC box office and all Ticketmaster Outlets. Preliminary bouts start at 7 p.m. Doors open at 6 p.m.

The latest edition of Battle at the Boat, the nation's longest-running tribal casino boxing series and will celebrate its 20th anniversary in July, will feature six bouts.

Johnson will look to notch career victory No. 23. A former MMA fighter with appearances on two UFC Fight Night cards, Johnson has won his last three fights at the venue, including a victory over Mike Gavronski in a contest for the WBA-NABA United States super middleweight title on Nov. 7, 2015.

Johnson scored a TKO win over Ricardo Pinell (14-2-1) in his last outing on Jan. 20.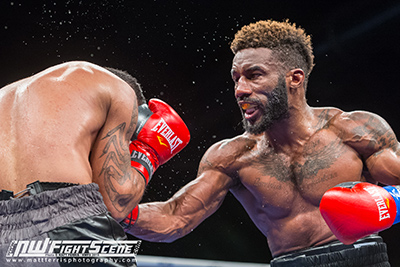 Dashon Johnson at Battle at the Boat 109

Coley (13-1-1) makes his local debut in the main event. The 26-year-old southpaw has won his last four fights with his last and only career setback occurring nearly two years ago against Ievgen Khytrov, a world top 20-ranked middleweight who fought Immanuwel Aleem for the vacant WBC Silver middleweight crown in January.

"A lot is on the line in this main event for both fighters," promoter Brian Halquist said. "Both of these guys are right on the cusp of breaking through into that upper echelon of the middleweight division. This really can be viewed as an eliminator bout with the winner moving on to big things."

Battle at the Boat 110 will feature the VIP experience with 3rd Row Seats being discounted to $75 per ticket. All fans seated in in the VIP section (rows 1-3) will have an exclusive access point and a dedicated server to help create a true VIP experience.

The card will also feature a 140-pound semi-main event between Andres Reyes and Jacob Szilasi, a 135-pound fight between undefeated Gio Cabrera-Mioletti and Niko McFarland, and a 175-pound bout between Cameron Sevilla-Rivera and Kian Heidari.

Battle at the Boat 110 is brought to you by Brian Halquist Productions. For more information, please visit www.halquistproductions.com and the Battle at the Boat Facebook page.

Battle at the Boat 110 Card
Saturday, March 18, 2017

10 Round Main Event – 157 pounds
Dashon Johnson (22-20-3, 7 KOs) vs. Aaron Coley (13-1-1, 6 KOs)

Undercard
140 pounds: Andres Reyes (5-2-1) vs. Jacob Szilasi (4-3-0, 4 KO)
175 pounds: Cameron Sevilla-Rivera (7-4-1, 5 KOs) vs. Kian Heidari (debut)
135 pounds: Niko McFarland (0-2) vs. Gio Cabrera-Mioletti (5-0-0, KO)
200 pounds: Jon Jackson (2-0) vs. Kalven Roberson (debut)
160 pounds: Jerome Jones (1-1-1, KO) vs. Lexus Pagampao (1-1)

ABOUT BRIAN HALQUIST
Brian Halquist Productions is the Northwest premiere fight promotion company creator of the famed "Battle at the Boat" boxing series promoting more than 19 years and over 100 fights at the Emerald Queen Casino. BHP has also built the largest professional MMA series on the USA's west coast with "CageSport MMA" nearing more than 50 fights. Brian Halquist Productions has promoted events for ESPN, ShowTime and HBO and featured on Showtime's historic boxing event in St Lucia, West Indies. Brian Halquist Productions has been promoting fights and concerts for over 30 years in the Pacific Northwest.