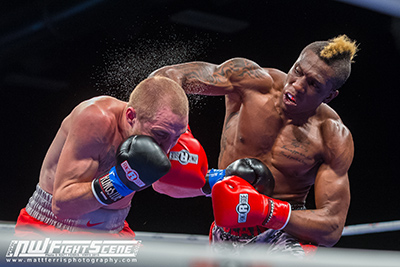 Sean Gee connects with a right at Battle at the Boat 109

Halquist Productions kicked off their 2017 fight year with a special Friday Night edition of their long-running professional boxing series at the Emerald Queen Casino in Tacoma. Battle at the Boat 109 saw 6 pro boxing matchups, including a 10-round middleweight showdown between veteran Dashon "One Love" Johnson and talented up-and-comer Ricardo "Prime Time" Pinell in the main event. The 28-year-old Johnson, fighting out of Escondido CA, came in a winner of 6 of his last 8 fights, and was making his 5th main event appearance at the EQC, most recently defending his WBA-NABA USA super middleweight title a year ago at Battle at the Boat 104. San Francisco's Pinell meanwhile entered the ring having won 9 of his last 10 bouts, and was making his 2nd Battle at the Boat appearance.

The first round looked like it might just be the last round for a moment when Johnson landed a powerful right hand halfway through that floored Pinell. After surviving the 10-count, Pinell lasted out the round and came out strong in the 2nd, scoring with some stiff jabs before Johnson closed out the frame with a flurry of punches. Pinell picked up the pace in the third and started to find his rhythm, stringing together some nice combos. However, in the fifth round, Johnson's power again displayed itself, knocking Pinell to the canvas for a second time and forcing Pinell to dig deep to make it to the round's end. Johnson punished Pinell in the 7th round, snapping Pinell's head back with some well-placed shots, but Pinell kept coming back at Johnson, showing tremendous heart throughout. The fight looked as if it would go the distance, but Johnson had other ideas, pushing Pinell against the ropes and unleashing a barrage that forced Pinell's corner to throw in the towel at the 1:56 mark of the final round. Great performance from Johnson!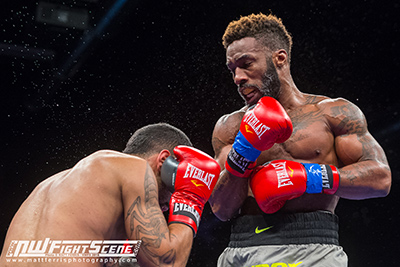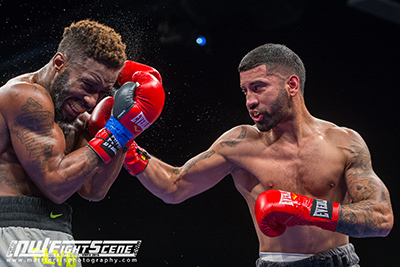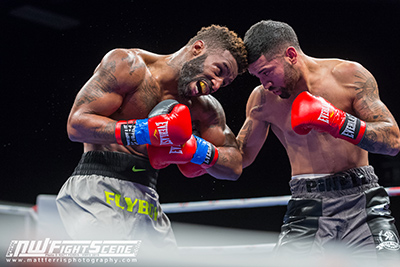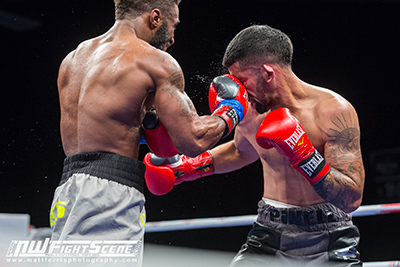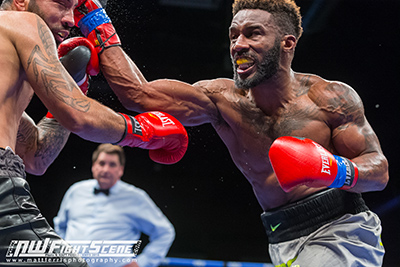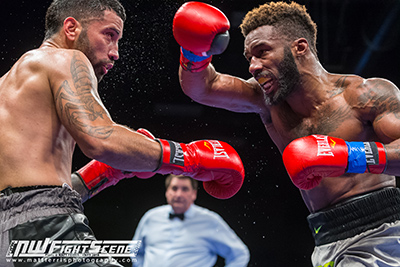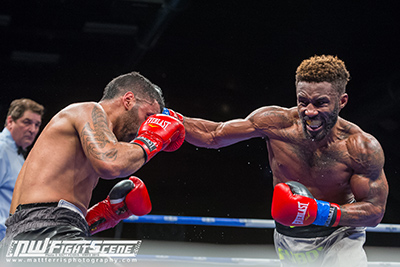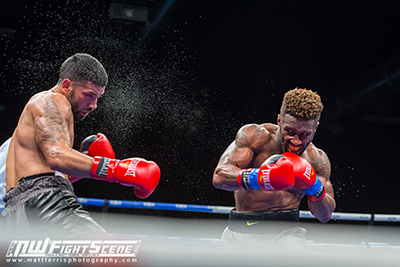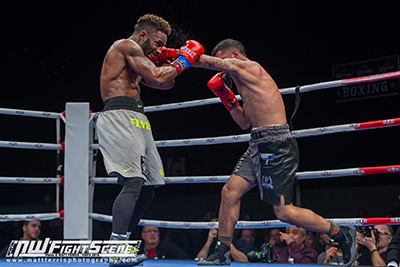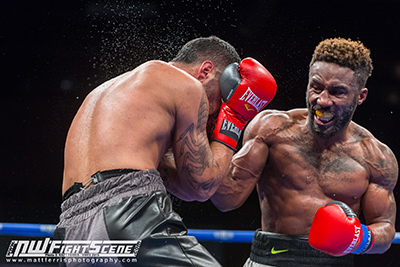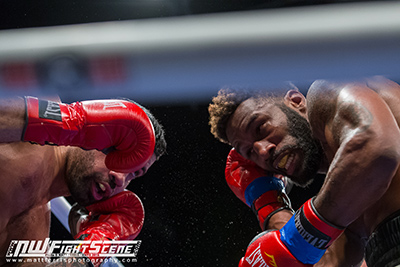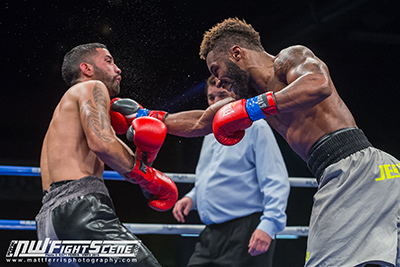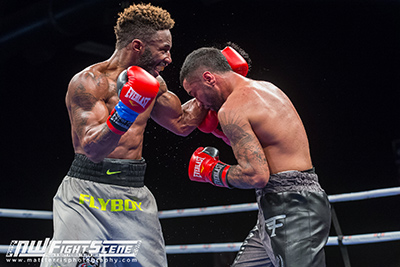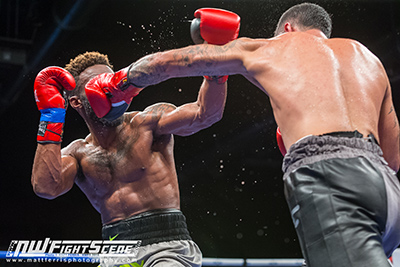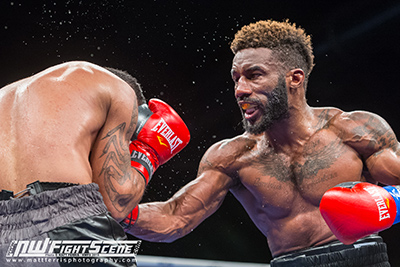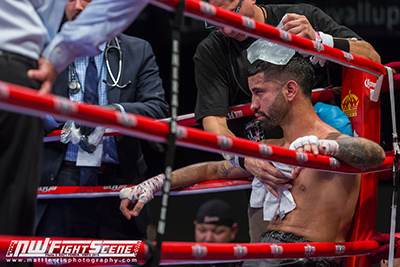 In the Semi-main Event, Seattle native Giovanni Cabrera-Mioletti, now based in Chicago, took on Salem OR's Marcos Cardenas in a 5-round lightweight bout. The first round started off a bit wild with both fighters throwing but missing numerous shots, Cabrera-Mioletti though started to find a rhythm and success with his jabs in the 2nd. Cabrera-Mioletti bloodied Cardenas face, connecting again and again with his left hand. Cardenas was able to put together some nice counters, but as the fight progressed it was the faster Cabrera-Mioletti wearing down Cardenas with his offensive output. After 15 minutes of action, the scorecards were unanimous for Cabrera-Mioletti 49-46 x3, who now is 5-0 as a professional.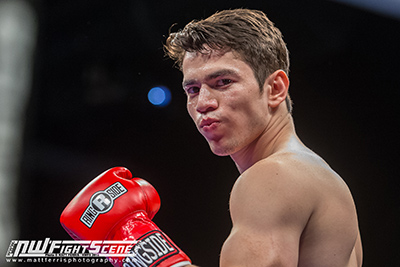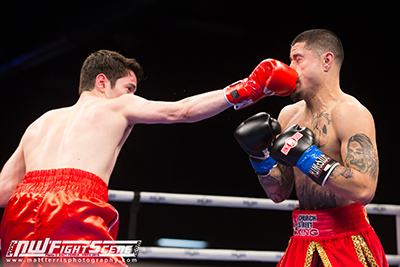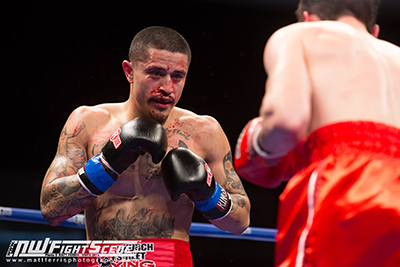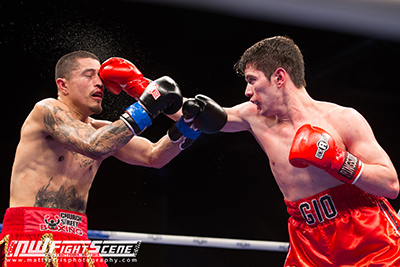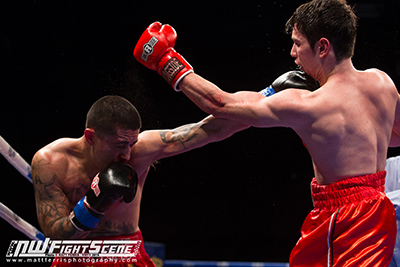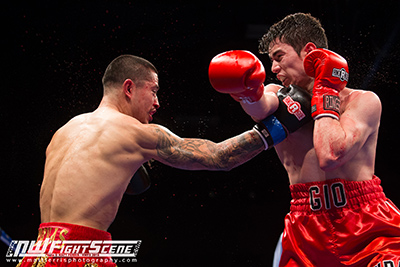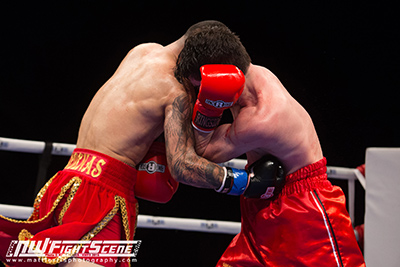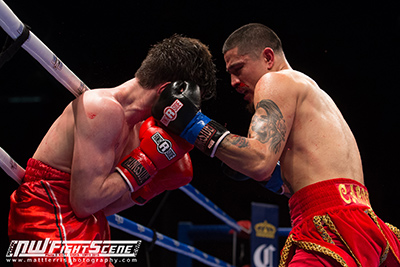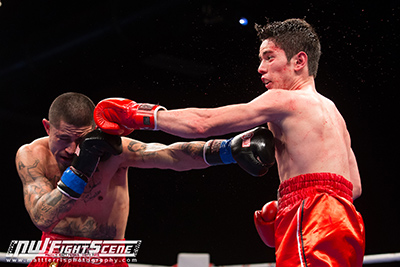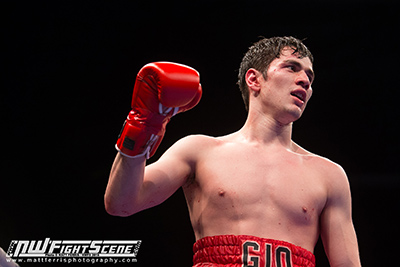 23-year-old Richard Vansiclen of Seattle had an illustrious amateur career before turning pro last year and winning his first bout with a KO. In his 2nd pro bout, Vansiclen faced NW MMA veteran Justin Davis of Olympia, who was fighting in his 4th boxing bout, winless his first three. Davis came out aggressive, walking Vansiclen down and throwing big bombs. Vansiclen though avoided any damage and 2 minutes in, countered with a hard body shot that caused Davis to turn away in pain. The referee immediately stepped in and stopped the contest, giving Vansiclen another KO win at the 2:15 mark of the first round.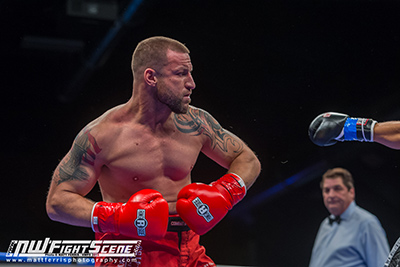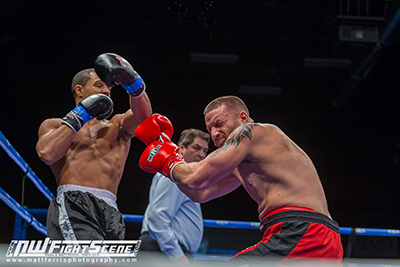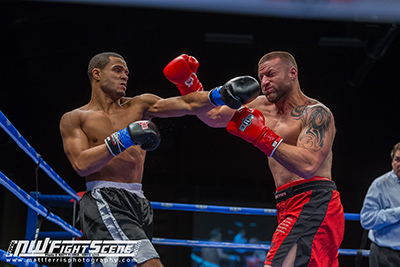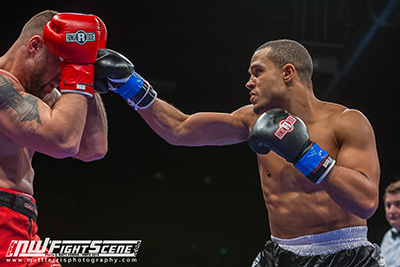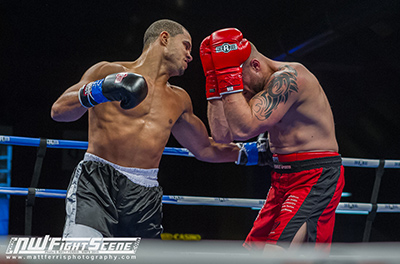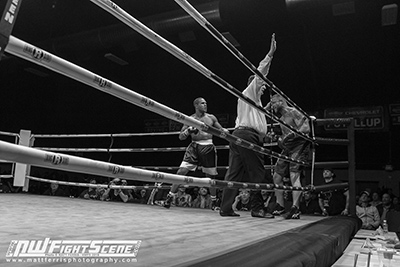 A Super Welterweight matchup saw Yakima's Nate "The Fighting Marine" Serrano and Seattle's Zach Cooper go all 4 rounds, both fighters having their moments in a high-paced, action-packed fight. In the 2nd round, Cooper lost his mouthpiece twice at the hands of Serrano, the 2nd time the mouthpiece flying high in the air and out of the ring. A finish looked imminent but Cooper recovered and brought the heat in the third round. In the final stanza, both fighters stood in the pocket and banged, both connecting with hard shots. It went to the judges with one calling it even at 38-38, while the other two saw it for Serrano 39-37, 39-37, giving Serano the majority decision victory.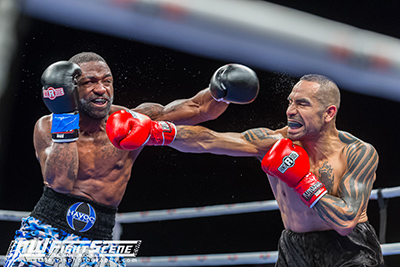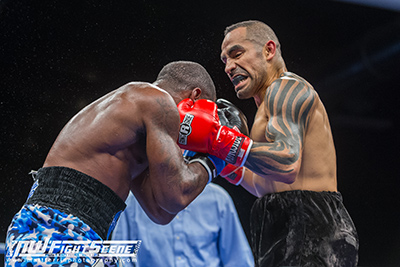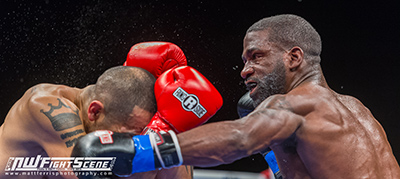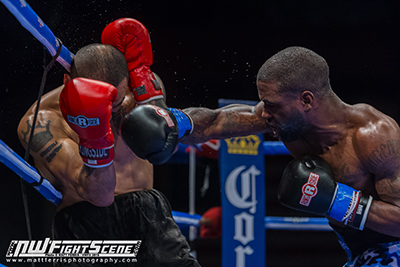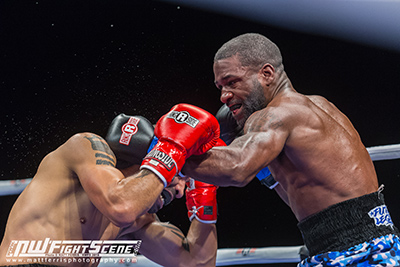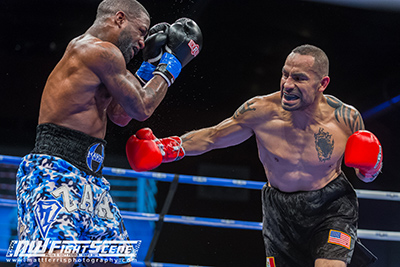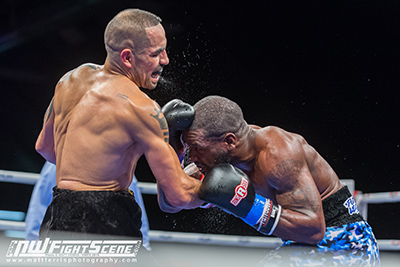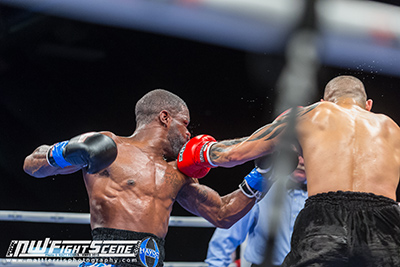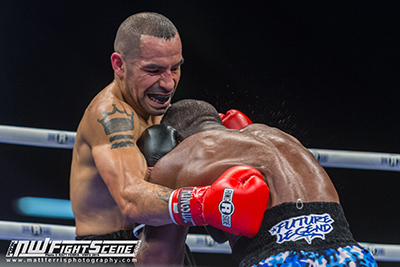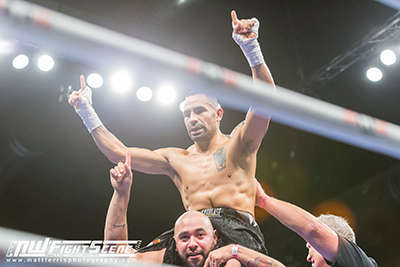 A Super Lightweight contest between Portland's Sean "Beast of War" Gee and Spokane's Jacob Szilasi was the crowd-pleaser of the night. Gee fights with a reckless abandon, putting everything he has behind his punches, and in opponent Szilasi, he found someone that would stand toe-to-toe with him. The first round was close, both men scoring with their offense. In the 2nd, a flurry from Szilasi was answered by a big right from Gee, snapping Szilasi's head back. The third round was perhaps the wildest round of the night, both fighters standing in the pocket and landing huge power punches that brought the fans to their feet. In the fourth round, Szilasi pushed the pace with Gee countering. The final moments of the fifth and final round saw both fighters letting their hands fly, garnering a standing ovation from an appreciative audience. It went to the judges who gave Gee a split decision win 49-46, 48-47, 46-49.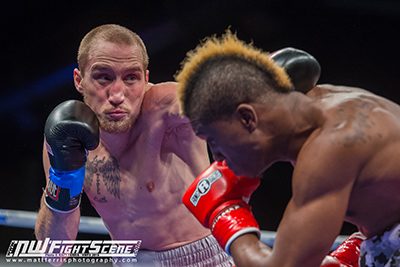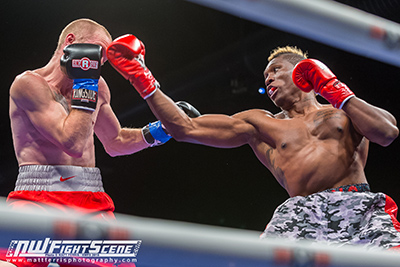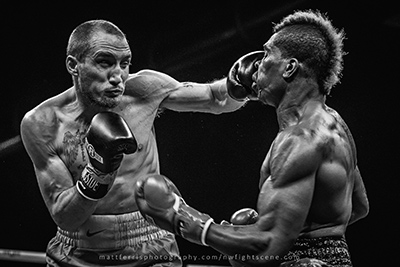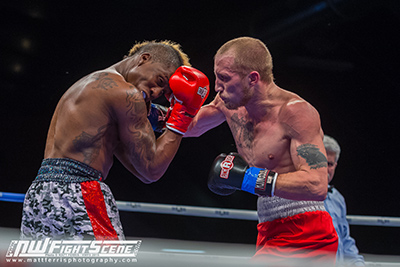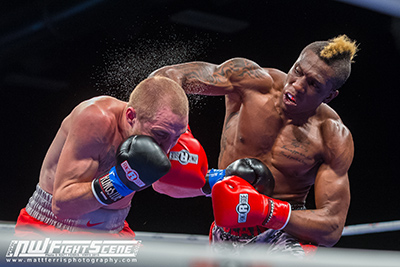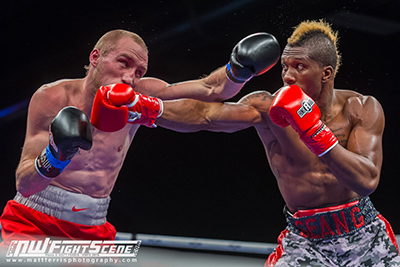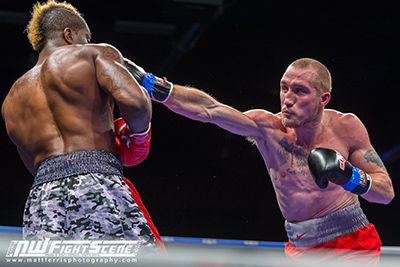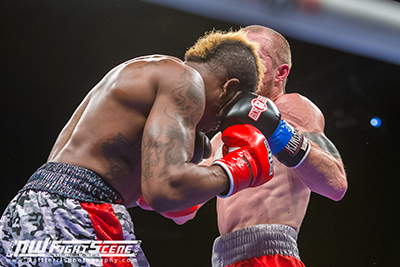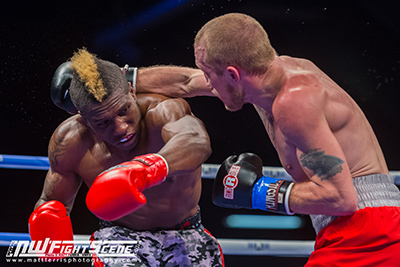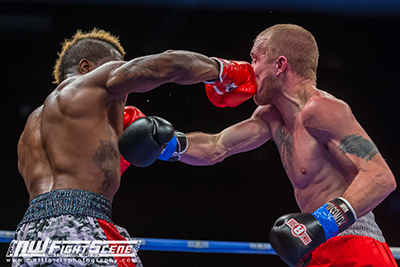 In the opening bout of the night - a 195 lb catchweight fight - Yakima's Carlos "El Toro" Villanueva of took home the win over a much taller Shaiton 'The Hitman" Wilson out of Seattle. Villanueva established his jab early, and just as often followed with a big right hand. In the 2nd round, Villanueva scored with a flurry of punches that got the crowd cheering. The pace settling down in the third and fourth with Villanueva continuing to outpunch his opponent. Wilson put together some combos to end the fight, but it was too late to affect the scorecards with all three judges seeing it 40-36 for Villanueva who moves to 2-0, while Wilson drops his pro debut.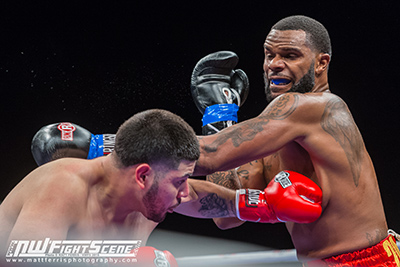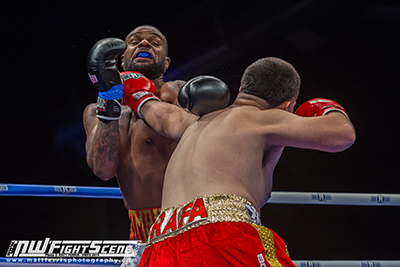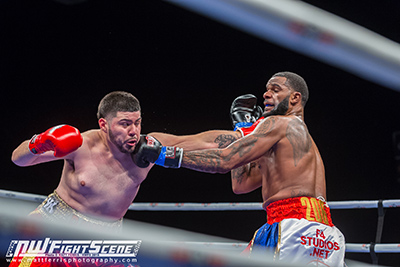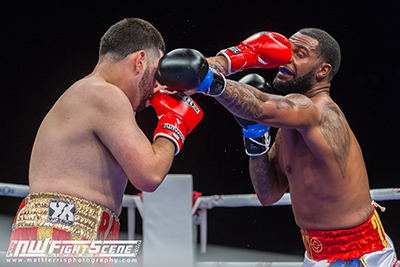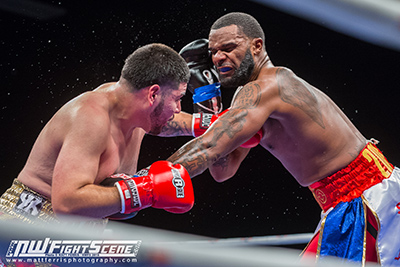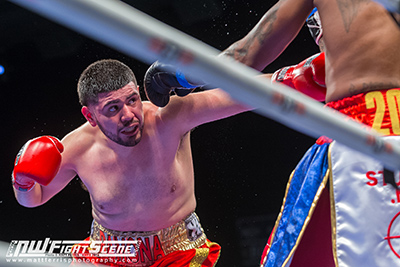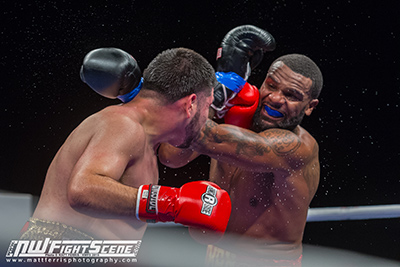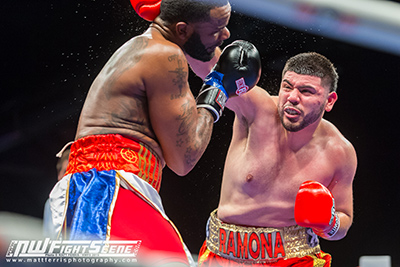 On February 25th, Halquist Productions will present CageSport 44 with perhaps their most highly anticipated Pro MMA main event to date. CageSport Lightweight Champion Justin "Ruckus" Harrington will defend his belt against former UFC fighter Julian "Juicy J" Erosa. Both fighters were introduced to crowd by Danny Bonaduce, and both showed a tremendous amount of respect for the other when talking about the upcoming matchup. Expect a war between these two classy fighters!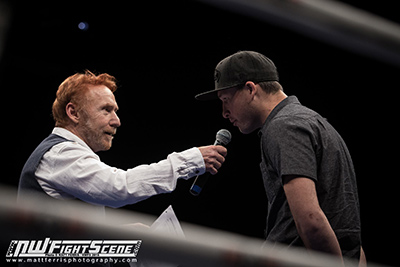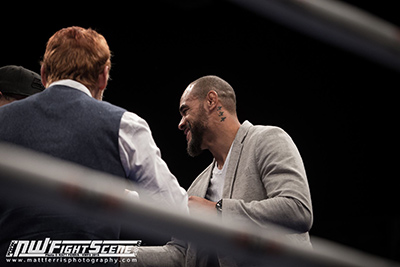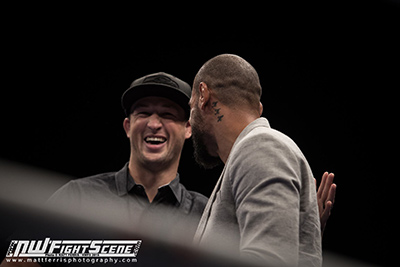 Boxing returns on March 18th with Battle at the Boat 110.
More information at halquistproductions.com.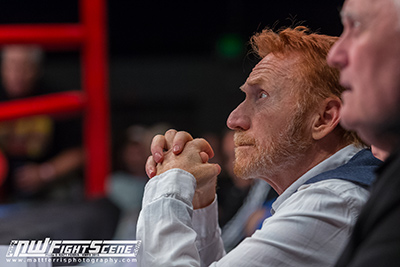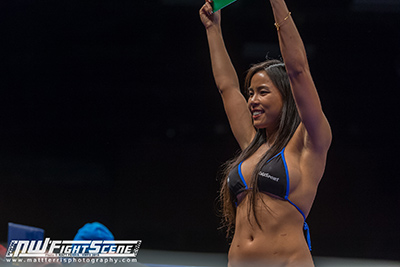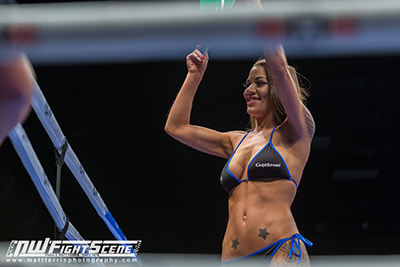 ---
Battle at the Boat 109 Results
Main Event - 160 lbs (10 Rds)
Dashon Johnson (22-20-3, 7 KOs - Escondido CA) def Ricardo Pinell (14-3-1, 8 KOs - San Francisco) by TKO (Corner stoppage) @ 1:56 Rd 10

135 lbs (5 Rounds)
Giovanni Cabrera-Mioletti (5-0, 1 KO - Chicago) def Marco Cardenas (6-6-1, 2 KOs - Salem OR) by Unanimous Decision (All judges 49-46)

185 lbs (4 Rounds)
Richard Van Siclen (2-0, 2 KO's - Seattle) def Justin Davis (0-4 - Olympia)
by TKO (Figher Retirement - Body shot) @ 2:15 Rd 1

153 lbs (4 Rounds)
Nate Serrano (5-5-2, 3 KOs - Yakima) def Zach Cooper (5-3-2, 3 KOs - Seattle)
by Majority Decision (39-37, 39-37, 38-38)

141 lbs (5 Rounds)
Sean Gee (4-6 - Portland) def Jacob Szilasi (4-3, 4 KOs - Spokane)
by Split Decision (49-46, 48-47, 46-49)

195 lbs (4 Rounds)
Carlos Villanueva (2-0 - Yakima) def Shaiton Wilson (0-1 - Seattle WA)
by Unanimous Decision (All judges 40-36)