10-round Middleweight Bout Highlights Card at Emerald Queen Casino

TACOMA, Wash. – Brian Halquist Productions begins its 2017 combative sports schedule with the 109th edition of the Battle at the Boat boxing series on Friday at the Emerald Queen Casino in Tacoma, Wash.

The nation's longest running tribal casino boxing series, Battle at the Boat kicks off its 20th year with a 10-round middleweight main event between Dashon Johnson and Ricardo Pinell.

Tickets are available through the EQC box office and all Ticketmaster Outlets. Preliminary bouts will have a special start time of 8 p.m. Doors open at 7 p.m.

Battle at the Boat 109 will feature the all new VIP experience with 3rd Row Seats being discounted to $75 per ticket. All fans seated in in the VIP section (rows 1-3) will have an exclusive access point and a dedicated server to help create a true VIP experience.

Johnson, who is also a former MMA fighter with appearances on two UFC Fight Night cards, was last seen by local fight fans defeating Mike Gavronski for the WBA-NABA United States super middleweight title on Nov. 7, 2015, winning the contest by eight-round TKO.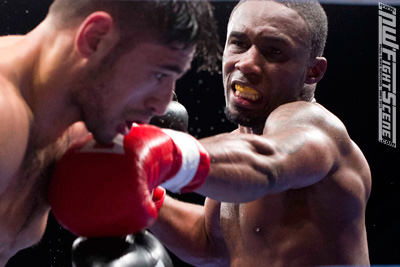 Dashon "Flyboy" Johnson

Pinell (14-2-1, 8 KOs) has won four straight and nine out of his last 10 bouts, with his only setback after going the distance with former WBA NABA super welterweight champion John Thompson two years ago.

"The fans here are very familiar with Dashon and know what he can do inside that ring," promoter Brian Halquist said. "Mike Gavronski is 10-1 all-time at the Emerald Queen Casino. His lone loss is to Dashon Johnson. That should tell you what kind of fighter Dashon is. He is very gifted. Pinell is a rising star in the division. This should be an excellent way to open our 2017 boxing schedule."

Seattle's Richard Vansiclen, a 2015 graduate of the University of Washington and former UW boxing team member, will step inside the ring for just the second time in his career. The 23-year-old Vansiclen (1-0, KO) meets fellow 185-pounder Justin Davis in a four-round bout.

As an amateur, Vansiclen was a three-time West Coast Regional champion, a three time All-American, a Golden Gloves champion, and National champion before narrowly missing qualifying for the Olympic Games in Rio de Janeiro as a member of USA Boxing.

The card will also feature a 153-pound contest between Zach Cooper (5-2-2, 3 KOs) and Nate Serrano (4-5-2, 3 KOs) and a 135-pound fight between undefeated Gio Cabrera-Mioletti (4-0-1, KO) and Marco Cardenas (6-5-1, 2 KOs)

Battle at the Boat 109 is brought to you by Brian Halquist Productions. For more information, please visit www.halquistproductions.com and the Battle at the Boat Facebook page.

Battle at the Boat 109 Card
Friday, Jan. 20, 2017

10 Round Main Event – 160 pounds
Dashon Johnson (21-20-3, 6 KO) vs. Ricardo Pinell (14-2-1, 8 KO)

Undercard
141 pounds: Sean Gee (3-6-0) vs. Jacob Szilasi (4-2-0, 4 KO)
135 pounds: Marco Cardenas (6-5-1, 2 KO) vs. Gio Cabrera-Mioletti (4-0-1, KO)
153 pounds: Zach Cooper (5-2-2, 3 KO) vs. Nate Serrano (4-5-2, 3 KO)
195 pounds: Carlos Villanueva (1-0-0, KO) vs. Shaitan Wilson (debut)
185 pounds: Richard Vansiclen (1-0-0, KO) vs. Justin Davis (0-3)

ABOUT BRIAN HALQUIST
Brian Halquist Productions is the Northwest premiere fight promotion company creator of the famed "Battle at the Boat" boxing series promoting more than 19 years and over 100 fights at the Emerald Queen Casino. BHP has also built the largest professional MMA series on the USA's west coast with "CageSport MMA" nearing more than 50 fights. Brian Halquist Productions has promoted events for ESPN, ShowTime and HBO and featured on Showtime's historic boxing event in St Lucia, West Indies. Brian Halquist Productions has been promoting fights and concerts for over 30 years in the Pacific Northwest.