Fan favorites Tadeo and McCleary to fight on card at the Emerald Queen Casino

TACOMA, Wash. – Welterweights Virgil Green and Jonathan Chicas will face off in the main event of Battle at the Boat 106 at the Emerald Queen Casino in Tacoma, Wash. on Saturday, June 11.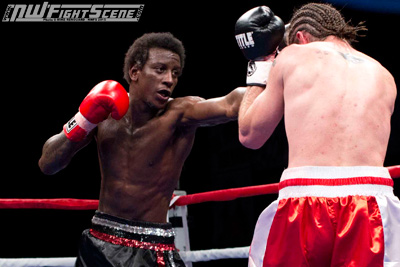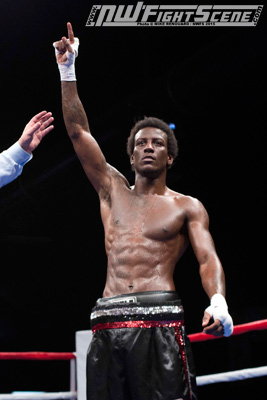 Virgil Green

Presented by Brian Halquist Productions, the six-bout card also features the return of fan favorites Isaac Tadeo and Jeremy McCleary.

Tickets are available through the EQC box office and all Ticketmaster Outlets. Preliminary bouts start at 7 p.m. Doors open at 6 p.m.

Battle at the Boat 106 and all future Battle at the Boat events will feature the all new VIP experience with 3rd Row Seats being discounted to $75 per ticket. All fans seated in in the VIP section (rows 1-3) will have an exclusive access point and a dedicated server to help create a true VIP experience.

Green (11-4-0, 4 KOs) will make his 2016 debut in the 10-round contest, having last fought on Dec. 29, 2015 when he fought undefeated Miguel Cruz in a televised bout on FS1.

Local boxing fans should be very familiar with Green, a native of Vancouver, Wash., as a third of his professional bouts have taken place at the Emerald Queen Casino. He won his pro debut locally in 2010 and has registered victories in his last two contests in Tacoma and four of five overall.

Chicas, who fights out of San Francisco, brings a record of 14-2-0 with 7 KOs into the main event. Chicas is coming off a TKO victory over Bilal Mahasin on Jan. 23.

The undefeated Tadeo (7-0-0, 3 KOs) thrilled the EQC crowd at Battle at the Boat 105 on March 26 when he defeated Chad McKinney by unanimous decision. Tadeo, a resident of Auburn, Wash., squares off against hard-hitting Tommy Turner (4-5-0, 3 KOs) in a six-round middleweight bout.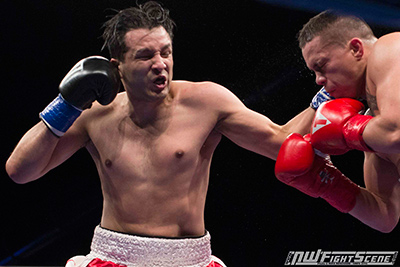 Issac Tadeo

The immensely popular McCleary, a super featherweight from Enumclaw, Wash., faces Giovanni Mioletti in a four-round clash. McCleary sports a record of 8-2-0.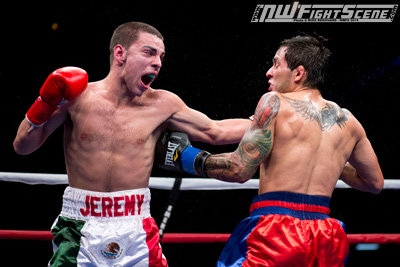 Jeremy McCleary

"Isaac and Jeremy are by far two of the most popular boxers we've ever had fight here, and we are talking 20 years and 100 plus shows. So, that's saying a lot," promoter Brian Halquist said. "The reason the fans love them is because they give everything they have when they step into that ring. The crowd respond to that. You can always tell when one of them is fighting on a card because the noise level goes through the roof. It's going to be deafening to have both of them fight on the same night. Buy your tickets fast because these guys have strong followings."

Additional bouts include Tacoma's Andre Keys facing Antonio Neal, Damian Savino squaring off against Will Marshall and Andres Reyes taking on Marco Cardenas.

Battle at the Boat 106 is brought to you by Brian Halquist Productions. For more information, please visit halquistproductions.com and the Battle at the Boat Facebook page.

Battle at the Boat 106 Card
142-pounds (10 rounds)
Virgil Green (11-4-0, 4 KOs) vs. Jonathan Chicas (14-2-0, 7 KOs)

158-pounds (6 rounds)
Isaac Tadeo (7-0-0, 3 KOs) vs. Tommy Turner (4-5-0, 3 KOs)

137-pounds (4 rounds)
Andres Reyes (4-1-0) vs. Marco Cardenas (5-5-0, 2 KOs)

130-pounds (4 rounds)
Jeremy McCleary (8-2-0) vs. Giovanni Mioletti (debut)

154-pounds (4 rounds)
Andre Keys (1-1-0, 1 KO) vs. Antonio Neal (3-5-0, 3 KOs)

185-pounds (4 rounds)
Damian Savino (debut) vs. Will Marshall (0-1-0)

ABOUT BRIAN HALQUIST
Brian Halquist Productions is the Northwest premiere fight promotion company creator of the famed "Battle at the Boat" boxing series promoting more than 19 years and over 100 fights at the Emerald Queen Casino. BHP has also built the largest professional MMA series on the USA's west coast with "CageSport MMA" nearing more than 50 fights. Brian Halquist Productions has promoted events for ESPN, ShowTime and HBO and featured on Showtime's historic boxing event in St Lucia, West Indies. Brian Halquist Productions has been promoting fights and concerts for over 30 years in the Pacific Northwest.