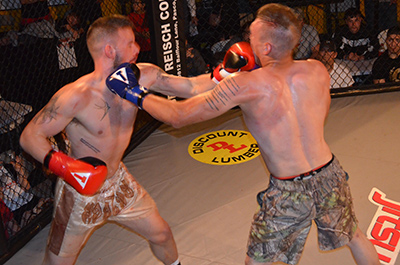 In the main event, John Penney and Aaron Goedhart go the distance in a five-round war

Alpha MMA #2 took place in front of another sold out crowd. The fans were treated to eight total fights (5 MMA & 3 kickboxing), including the first ever Alpha MMA Championship bout.

Fight #8 – Main Event –Alpha MMA Welterweight Kickboxing Championship
John Penney def Aaron Goedhardt via Majority decision
The main event was a championship welterweight kickboxing match between two local rivals as John Penney from Wolfpack MMA took on Northwest Elite's Aaron Goedhart. In a five round war that could easily be the fight of year, John and Aaron put on a show for the fans. Each fighter had his moments in every round as they went back and forth, non-stop, for the entire fight. Both fighters took the best shots from their opponents and kept coming. The fight was completely up for grabs as they started the 5th and final round and both fighters came out swinging hard. Finally, half way through the round John connected on a series of shots that stunned Aaron, who stumbled to mat. The knock down proved to be the difference, as John Penney pulled out a majority decision to win the first ever Alpha MMA championship belt.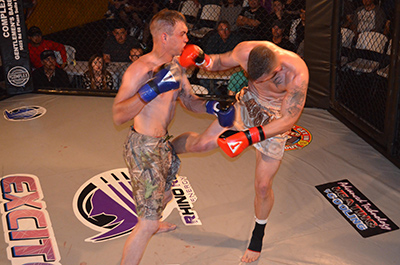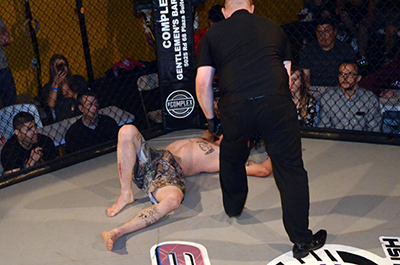 Fight #7 – Co-main event - Middleweight MMA
Chris Schell def Hector Ruiz via TKO
The co-main event pitted Chris Schell of Lost Boys MMA against Hector Ruiz from K.O.K Fight Club. The fight was competitive in the early going, but Chris took control with a takedown half way through the round and remained on top doing some damage with his ground and pound. Chris continued to inflict his will in the second and into the third, before the ref finally stopped the action mid-way through the final round, giving Chris Schell the TKO victory.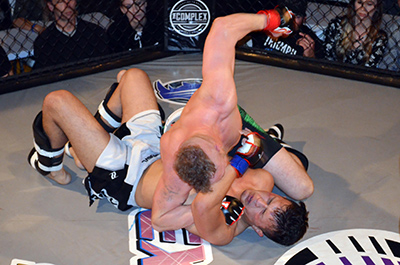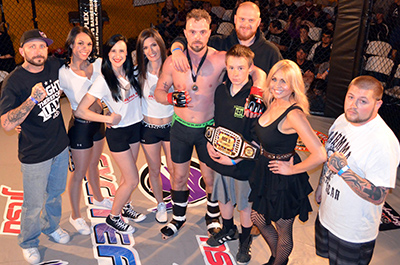 Fight #6 – Featherweight Kickboxing
Andrew Jared def Guri Gill via Unanimous Decision
A featherweight kickboxing match between independent fighter Andrew Jared and Alive MMA fighter Guri Gill went the distance in a very competitive back and forth battle. In the end, it was Andrew Jared who pulled out the unanimous decision victory.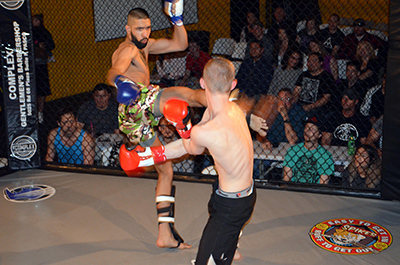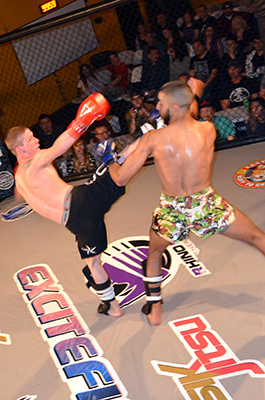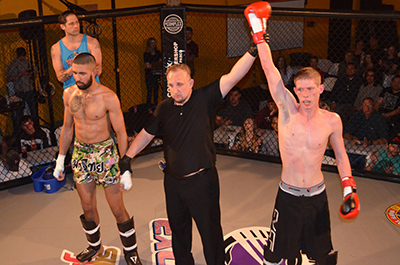 Fight #5 – Featherweight MMA
Richy Huizar Zuniga def Jaime Tovar via Unanimous DecisionVictory fighter Richy Huizar Zuniga used some high level wrestling to get multiple take downs each round and grind out a hard fought win again Wolfpack MMA's Jaime Tovar. Jaime didn't make it easy though as he continuously worked back to his feet after each takedown. In the end, Richy's takedowns were too much as he got the unanimous decision win.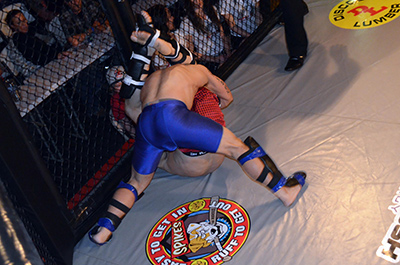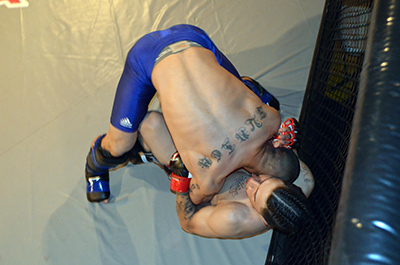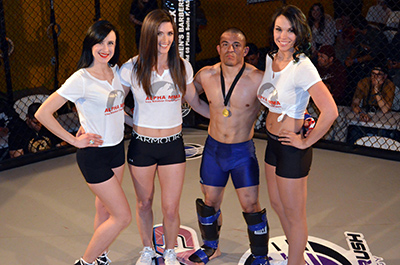 Fight #4 – Heavyweight MMA
Austin Dallman def Cole Janovich via TKO
Austin Dallman used constant pressure the entire fight to overwhelm Cole Janovich in the only heavyweight of the night. Austin started quickly with a barrage of punches, but Cole stayed calm and covered up, hoping that Austin would punch himself out. The first did go to the ground briefly, as Austin threw Cole to the canvas and almost locked in a rear naked choke, but Cole fought it off and used the scramble to get back to his feet. In the second round, Austin continued to push the pace, peppering punches until the ref stepped in to stop the fight.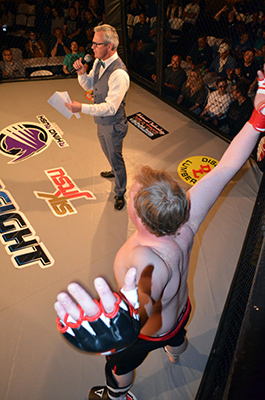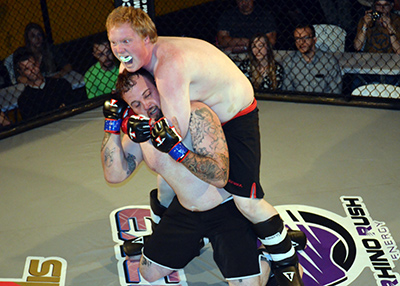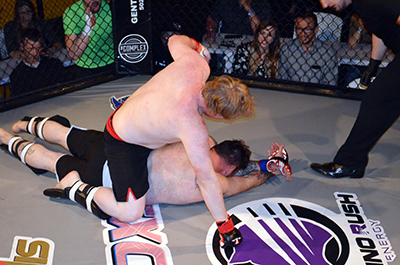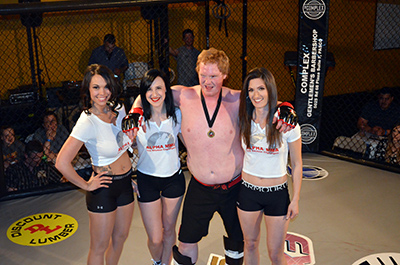 Fight # 3 – 140 lbs Kickboxing – Female
Anna Valdivinos def Melissa Debevec via Unanimous Decision
The only female fight of the night was a competitive kickboxing match that went the distance. Newcomer Melissa Debevec of Tri City Judo fought hard the entire fight, but in the end Anna Valdivinos of Wolfpack MMA was just too much. Anna did just enough each round to pull out the unanimous victory and remain unbeaten in kickboxing.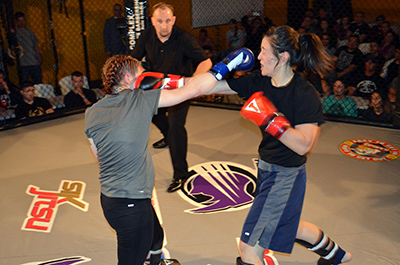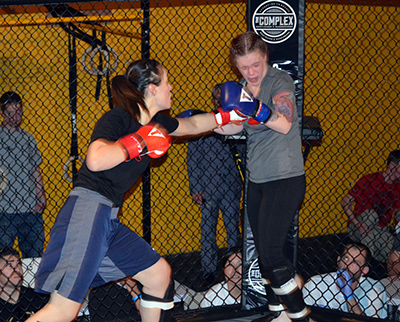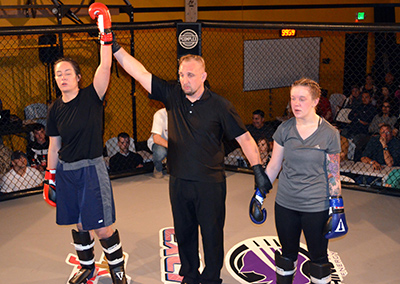 Fight #2 – 190 lbs MMA
Josh Rencken def Jake Morby via TKO
The second fight of the evening had two fighters making their MMA debut. The two fighters threw some big shots early in a competitive fight, but Josh Rencken used the clinch to secure and takedown and eventually moved to mount and rained down punches until the ref was forced to step in and stop the fight.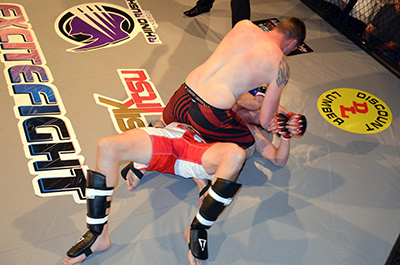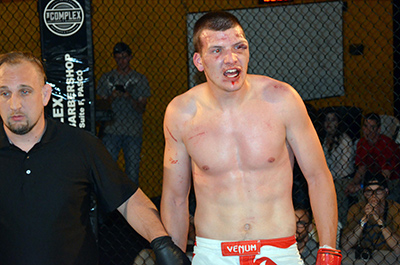 Fight #1 – Middleweight MMA
Trentin Thornhill def Justyn Peck via TKOTrentin Thornhill of Wolfpack MMA made his successful MMA debut to kick off the evening, but it wasn't easy. The two fighters met in the center of the cage and exchanged punches and kicks, both connecting. In the middle of one of those exchanges, Justyn caught Trentin with a straight right that dropped him to one knee. But Trenten immediately shot in and secured a double leg takedown. Justyn tried to lock in a guillotine choke but Trentin fought it off and eventually getting his head out with about 30 seconds left in the round. Trentin wasted no time and immediately started throwing some heavy ground and pound, forcing Justyn to cover up and the ref to step in a stop it just before the end of the first round.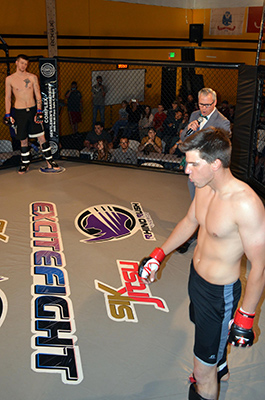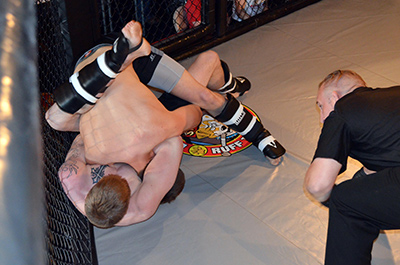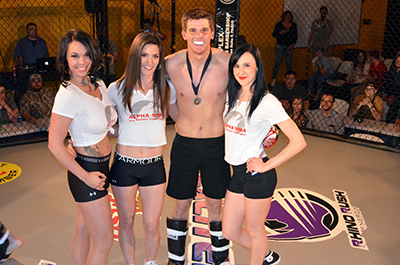 Alpha MMA Cagefights are presented by Wolfpack MMA.
Learm more at wolfpackfit.net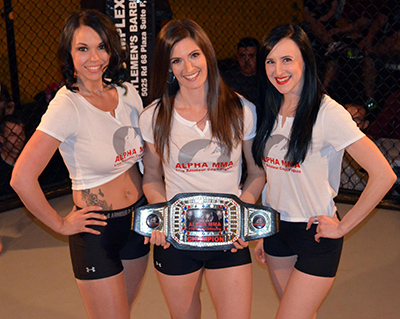 ALPHA MMA #2 RESULTS
Bout 1 - 185 lb MMA
Trentin Thornhill def Justyn Peck by TKO (Ref Stoppage) in Rd 1

Bout 2 - 190 lb MMA
Josh Rencken def Jake Morby by TKO (Ref Stoppage) in Rd 1

Bout 3 - 140 lb Kickboxing
Anna Valdivinos def Melissa Debevec via Unanimous Decision

Bout 4 - Heavyweight MMA
Austin Dallman def Cole Janovich via TKO (Ref Stoppage) in Rd 2

Bout 5 - 145 lb MMA
Richy Huizar Zuniga def Jaime Tovar via Unanimous Decision

Bout 6 - 145 lb Kickboxing
Andrew Jared def Guri Gill via Unanimous Decision

Co-main Event - 185 lb MMA
Chris Schell def Hector Ruiz via TKO in Rd 3

Main Event - Alpha MMA Welterweight Kickboxing Championship
John Penney def Aaron Goedhardt via Majority Decision