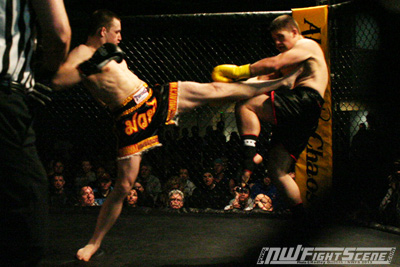 Absolute Chaos IV had Puyallup abolutely hopping Saturday night with 5 kickboxing matches, a Muay Thai fight, a submission grappling tag team match, and 4 MMA bouts, including a 155 lb MMA Title fight. The main event of the evening was a battle for the belt between Bobby McIntyre (Untied Training Center) and Cameron Sevilla-Rivera (Evolution Martial Arts/MABJJ). In the first round, McIntyre was landing good kicks while Sevilla-Rivera found success with his counterstrikes. McIntyre worked hard on a single leg, finally getting Sevilla-Rivera down only to have the agile fighter pop right back to his feet.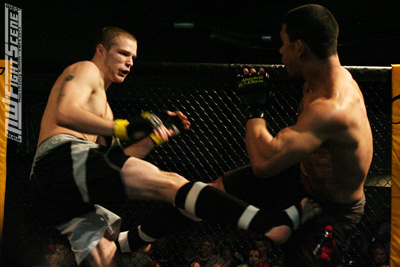 In the second round, McIntyre continued to look for a ground fight, and after 3 takedowns back-to-back-to-back found himself with Sevilla-Rivera standing behind. McIntyre was looking to hip toss, but was stalled by Sevilla-Rivera who had McIntyre's arm crossed over his own abdomen. With McIntyre bent forward, one-handed, and the free side of his body pinned against the cage, Sevilla-Rivera began to land strikes to McIntyre's head. Sevilla-Rivera was able to get McIntyre off-balance and drove him to the ground where he continued punching. His arms trapped, McIntyre was unable to defend and the ref stepped in, calling an end to the fight at 1:20 of round two. Cameron Sevilla-Rivera is the new Absolute Chaos 155 lb MMA Champion.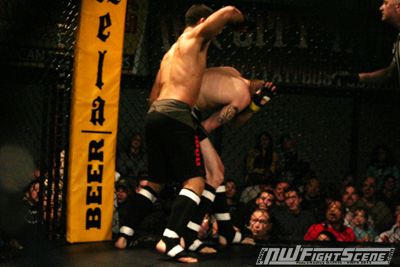 Fight of the night was an all-out war between Chip Leroy (Brian Johnson Fight Team) and Sergio Ulloa (MABJJ & Team Srisuk/Jones Jr. Muay Thai) in a 180 lb kickboxing match. The first round was fast-paced and hard-hitting; Leroy controlling the ring, but Ulloa landing more clean strikes. Upping the stakes in the second, Leroy began to use more than just straight punches and landed a huge right uppercut that buckled Ulloa. The referee got Ulloa back to his feet, and despite still being wobbly during the 8-count, let the fight continue. Leroy jumped in, looking to finish the fight, but Ulloa never got the memo, staying fast on his feet and soon he was firing back aggressively.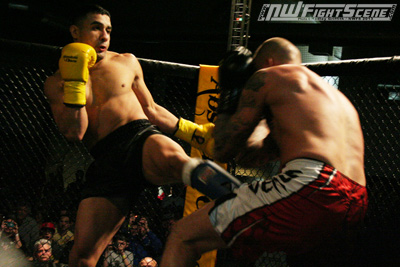 Going into the thrid, both men should have been tired after the pace they had set the first two rounds, but didn't show it as they absolutely teed off on each other, punch for punch and kick for kick. When Leroy began to press hard and keep his reach advantage, Ulloa would front kick and circle out. The last ten seconds was flat out everything they had left. Both battered and Leroy bloodied, they stood in the middle of the cage and waited for the judges decision which was unanimous for Chip Leroy.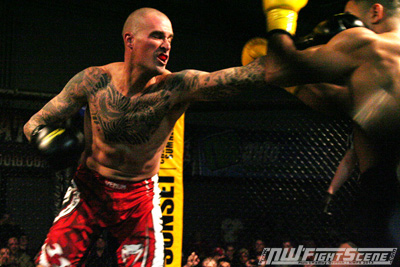 Submission of the night looked like it was going to be an armbar by Garrett Reitz (MABJJ & Team Sirsuk/Jones Jr. Muay Thai) when he faced off against Carl "The Insane Pilipain" Cuison (Independent). With half the crowd screaming "tap" on an unbelievably deep armbar, Cuison never quit and managed to twist his way to his knees and stack free.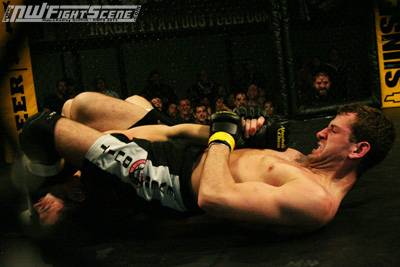 Safe from the armbar, he was still on the ground with Reitz, and while in top position, he was in guard. Reitz continued to stay agressive and attack for submissions - triangles and armbars - until Cuison decided getting back to the feet was the best gameplan. When he spun away from Reitz, Reitz followed and took his back. Reitz sunk both hooks in, flattened Cuison out, patiently hammered away at Cuison's face until he could shoot his arm across Cuison's neck and sunk in the rear naked choke. Reitz earned the tap at 2:27 of round 1.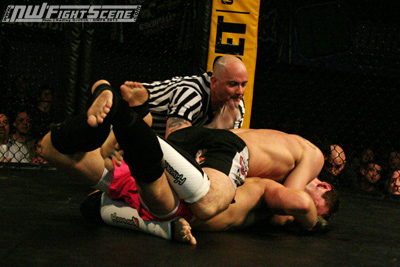 Reitz wasn't the only one with submissions that night. There was a tag team submission match with Erick Larson and Donovan Smith (Pinnacle Martial Arts/MABJJ) competing against Talon Hammons and Joey Shellum (West Coast Fight Team). Two five-minute rounds, with a lee-way period where both members of one team can attack a solo opponent at the time of the tap, strategy was key. The Pinnacle men used that tap time in between submissions to implement a two-on-one takedown attack. All four men were able to defend being attacked by two opponents simultaneously, but there were still submissions. Hammons got a choke on Smith, Larson got the tap from Hammons with a keylock, and Larson ended the second round with a rear naked choke on Shellum. The crowd was impressed by the level of skill and composure from all four men.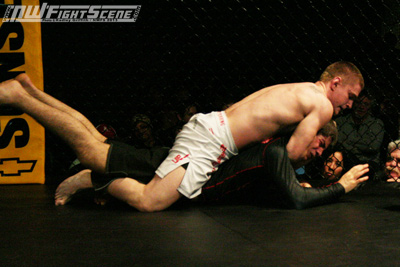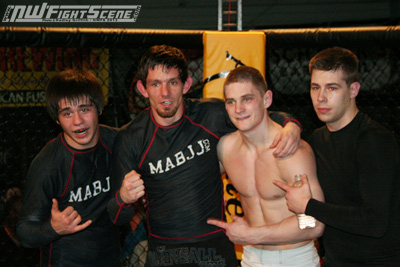 While there wasn't a knock out, Beau Maples (Ivan Salavery MMA) was able to achieve a TKO in his 190 lb MMA fight with Dylan Roate (Pinnacle Martial Arts/MABJJ). Maples and Roate exchanged well, but it was Maples that was directing the pace of the fight. Roate slowly began to become overwhelmed by the combos, clinch knees, and relentless attack. Maples kept pushing and finally got Roate on the defensive when the ref stopped the match just shy of the end of the first round.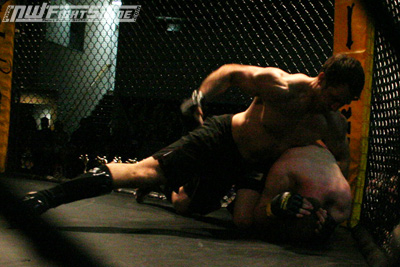 Absolute Chaos V will take place June 1st, again at the Clubhouse 71 location in Puyallup. Learn more about Abolute Chaos at absolutechaospromo.com.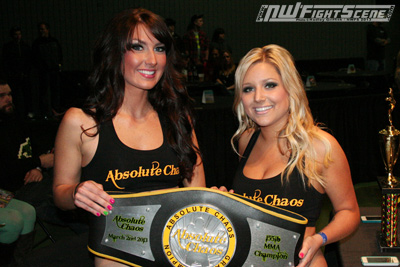 ---