A-Town Throwdown #6- January 19th, 2012
Soccer First Indoor Sports Arena - Arlington, Washington
Recap and photos by Hadley Griffith
---
The Cage Wars/ Ax Fighting promotion held their 6th fight card in Arlington on Saturday, January 19th. The A-Town Throwdown had seventeen fights, 9 kickboxing and 8 MMA - including the 185 lb mma title fight between Randy Davidson and AJ Fuentes. Davidson (AKA) never let the fight leave the ground, taking down Fuentes (House of Stone) in the opening seconds of every round and holding him there. Fuentes was successful in keeping Davidson broken down and unable to pass, but he suffered unrelenting strikes to his ribcage and gut. In the third round, Fuentes was able to slip in a triangle choke, but Davidson shucked the leg and captured side control. The fifth started the same as the other four rounds, Davidson shooting in immediately and securing the takedown; Fuentes using his guard to break Davidson down. But after four-plus rounds, the devastating body shots added up and Fuentes tapped to strikes 1:03 of round five.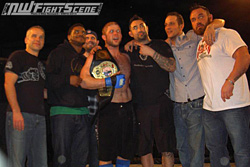 Fight of the Night ended in a split decision when Tom Wilson (Coga MMA) faced off with John Keay (Bellingham MMA) in a 155 lb MMA match. Keay showed his impressive boxing skills throughout the first - slipping, parrying, and footwork that Wilson couldn't overcome until the end of the round when he was able to close the distance and finally drag Keay down to the canvas. Changing tactics for round two, Wilson moved in quickly, pinned Keay against the cage and worked hard to get the fight to the ground. Once there, both Wilson and Keay transitioned well, with Wilson pressuring Keay with a rear naked choke. Keay managed to regain his feet just as the 10 second warning bell blew, and Wilson flurried combos till the bell sounded. With a round each, both came into the third round fast-paced. Wilson got the takedown, but Keay got the back and worked for his own rear naked choke. Wilson defended, scrambled out and escaped through the backdoor when Keay went to mount. Seeing Keay on his knees, Wilson attacked from the front head position, and Keay drove in for the double leg. Wilson scrambled and ended in Keay's guard. From there, Wilson began to ground and pound, with Keay defending and shelling up until he could push Wilson away and pop up to his feet as time ran out. The judges came back with a split decision in Wilson's favor.
Submission of the night was a back-and-forth 155 lb battle between Allan Gutterez (Live Wire MMA) and Brett Malone (AKA). Gutterez was taken down by Malone in the first, defended a arm triangle attempt and reversed Malone, but couldn't get any further. Round two Gutterez got the takedown. Both fighters worked for submissions and displayed exciting submission defense. Gutterez worked his way into mount and landed a few strikes before the bell sounded. Malone came out in round three with a takedown and pinned Gutterez against the cage while he worked for a dominant position. Gutterez worked for a triangle and was able to get the tap from Malone 1:38 into round three.
In a 180 lb women's mma fight, Becky Lewis (C3) gave up weight in order to compete against Kassy Sandaker (BJJ Spokane). Lewis began the fight with a leg kick that stumbled Sandaker. Immediately moving in for the single leg, Lewis got Sandaker down and transitioned into mount, fought through the break down to post up and absolutely overwhelm Sandaker with heavy strikes that were pin-point accurate. No wasted energy striking the arms or gloves, Lewis was patient and precise with her punches that quickly resulted in the ref stepping in and stopping the fight at 1:16 of round one.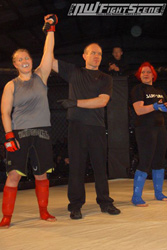 There weren't any knock outs, but there was a worthy TKO earned by Joe "Batman" Parker (Team Wise) in his 145 lb bout against Jake Fletcher (Live Wire MMA). The first round belonged to Fletcher, who secured two takedowns and showed some impressive striking on the feet. Parker would regain his feet after both takedowns, and shelled up when Fletcher had him backed up against the cage wall. Round two, Parker was ready when Fletcher got the takedown. Parker scrambled out from under and pushed Fletcher against the cage and unleashed a barrage of strikes that the ref put an end to at 1:36 of round two.
In a fast paced kickboxing match up in the 155 lb weight class, Jake Furney (C3) showed impressive footwork and combinations against the tough Jessie Nutting (Live Wire MMA). Furney had already competed in the submission tourney earlier in the day, winning his division and securing a 5-second submission in one of his matches. He was no less impressive in his kickboxing match. Nutting had the reach advantage as the taller fighter, but Furney used perfectly-timed push kicks to stall Nutting whenever Nutting attempted to rush attack. Furney circled in and out, landing nice combos and not allowing Nutting to counterstrike. Furney stayed to traditional strikes and kicks in the first, adding ax kicks and sweeping ankle kicks in the second. Head kicks were at the end of his combos in the third as he maintained a high pace that Nutting matched. Neither slowed or quit in this three round war, but the win was unanimously Furney's when the scorecards were tallied.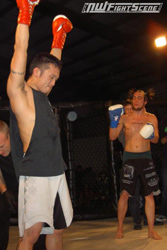 More info about the CageWars/Ax Fighting promotion at axfighting.com.
---
Bout 1 - 125 lb Kickboxing
Erick Ortiz (Live Wire MMA) def Hunter Clagett (Bellingham MMA)
by Unanimous Decision
Bout 2 - 135 lb Kickboxing
Jonathan Guerra (AKA) def Sean Sitchaisai (Chaisai Muay Thai)
by Unanimous Decision
Bout 3 - 155 lb MMA
Gabriel Stinson (Martial Sports) def Corby Ross (Team Wise)
by Rear Naked Choke @ 1:50 Rd 2
Bout 4 - 185 lb Kickboxing
Mike Mandic (Danny Boi Kickboxing) def Naalij Reddicks (Evolution Martial Arts)
by Split Decision
Bout 5 - 155 lb MMA
Allan Gutterez (Live Wire MMA) def Brett Malone (AKA)
by Triangle Choke @ 1:38 Rd 3
Bout 6 - 155 lb Kickboxing
Jake Furney (C3) def Jessie Nutting (Live Wire MMA)
by Unanimous Decision
Bout 7 - 170 lb MMA
Nate Read (Team Wise) def Dominic Sumner (Independent)
by Split Decision (30-27, 30-27, 28-29)
Bout 8 - 125 lb Kickboxing
Arky Garcia (C3) def Luis Gomez (Evolution Martial Arts)
by Split Decision (30-27, 30-27, 28-29)
Bout 9 - 155 lb MMA
Tom Wilson (Coga MMA) def John Keay (Bellingham MMA)
by Split Decision (30-27, 29-28, 28-29)
Bout 10 - 155 lb Kickboxing
Ryan Schecterson (Base MMA) def Kevin Butler (AKA)
by Split Decision (30-27, 30-27, 28-29)
Bout 11 - 145 lb MMA
Joe Parker (Team Wise) def Jake Fletcher (Live Wire MMA)
by TKO (ground and pound) @ 1:36 Rd 2
Bout 12 - 135 lb MMA
Joey Elzea (C3) def Drew Oetegen (Bellingham MMA)
by Unanimous Decision
Bout 13 - 155 lb Kickboxing
Woo Johnson (Evolution Martial Arts) def Victor Barajas (AKA)
by Split Decision (30-27, 29-28, 28-29)
Bout 14 - 170 lb Kickboxing
Chris Garcia (C3) def Nick Coughran (Battleground MMA)
by Unanimous Decision
Bout 15 - 175 lb Kickboxing
Matt Davis (AKA) def Martin Kwistkoski (KeLee's)
by Unanimous Decision
Bout 16 - 180 lb MMA
Becky Lewis (C3) def Kassy Sandaker (BJJ Spokane)
by TKO (ground and pound) @ 1:16 Rd 1
Bout 17 - 185 lb MMA TITLE
Randy Davidson (AKA) def AJ Fuentes (House of Stone)
by TKO (strikes) @ 1:03 Rd 5
---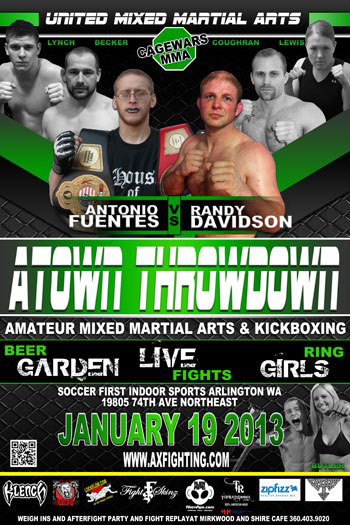 ---